Hockey Impact & Barrier Nets
HOCKEY NETTING
Product Ships: Ships in 2-7 Business Days
Netting Calculator
Enter Height and Width below to price custom netting options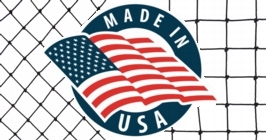 ft
in.
ft
in.
Only integer values allowed!
Description
Recommended Hardware
How to Install this Product
#18 x 1" is a great long lasting Hockey Barrier Net choice

The 1" Tarred Netting option is available in Diamond Mesh Pattern Only. It is highly recommended to have a diamond mesh pattern netting supplied with a rope bordering around the perimeter. For background on this, we offer this context video

#26 x 1" is a great choices for Heavy Duty Hockey Impact Barrier Netting available in several colors, Black, White, Gray, Blue, Orange, Yellow, Tan and Red.