Our History
In 1736 Gourock was established in Gourock, Scotland. While the name originated as "The Gourock Rope Works", it has retained the "Gourock" name over the years throughout various mergers and acquisitions. The company has had sales offices and manufacturing plants in numerous countries all over the world.
Gourock became a world leader manufacturing ropes and sails for schooners sailing the high seas throughout the 1700 and 1800's. Over the years other products such as netting, twine and hardware was made and sold in dozens of industries.
Currently, Gourock concentrates its efforts in the US and specializes in sport and industrial netting such as hop growing netting for agriculture and general utility netting for numerous uses including sports barriers to keep balls in the field. Gourock specializes in complete sports netting systems such as Baseball Batting Cages, Protective Screens, and Baseball Impact Nets. For golf Gourock supplies Golf Cages, Barrier Netting, Golf Impact Netting and Custom Golf Cage nets. Additionally, Gourock supplies Hockey goals and nets, Lacrosse Goals, Football Barrier Nets, Basketball Barrier Nets, Soccer Goals and installation hardware to properly secure the net systems. Customers include military forces such as: Air Force, Marines, Army and Navy. Government agencies include Coast Guard, FBI, NASA, DOT and Department of Homeland Security. Others include universities, private businesses, municipalities, schools, individuals, commercial contractors, industrial and agricultural Industries.
Referencing the Gourock.com website will provide an even greater spectrum of knowledge, as well as many great examples of the customized options available to you.  Also demonstrated, are dozens of standard products including screens, sports goals, hardware, netting systems, cages and enclosures.
Below are some images from the past.
This is an early 1950's map of Gourock locations throughout the world.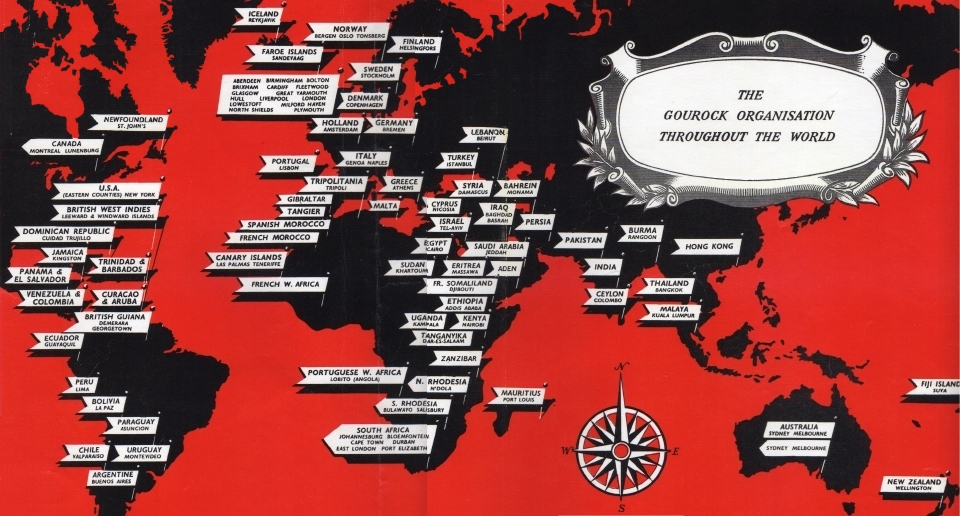 First image from the left is the Gourock logo used in the 1950's, the triangle with five stitches on each side and A1 in the center was the first Gourock trademark, the five stitches per inch represents highest quality in sailmaking.
Second image was the 1950's Gourock headquarters in Montreal Canada.
Third image is a Royal Warrant Plaque from Queen Elizabeth II, Royal Warrants are issued to companies that supply goods to the British Royal Court.
Fourth Image is a truck loaded with rope in 1958 headed for Russia, this was one of the first commercial breaks in the economic iron curtain between Great Britain and Russia