Batting Cage Suspension Kit for cages up to 70'
First you need to choose the pole size and type, for a 70' cage, 4" or larger galvanized or painted steel heavy wall poles or 8" x 8" treated wood or 8" or larger telephone type poles, the only drawback using wood is that it will bend over time from the weight of the cage.
This kit can also be installed indoors between walls, there is no limit to the span of the cables, this kit is for up to 70', for longer spans you will need more cable and hardware, for smaller cages you can purchase just want you need of the individual hardware needed, use the Batting Cage or Golf Cage Calculators to estimate materials needed just enter the size of cage and continue to "Installation Options" and you will see what is needed for your cage.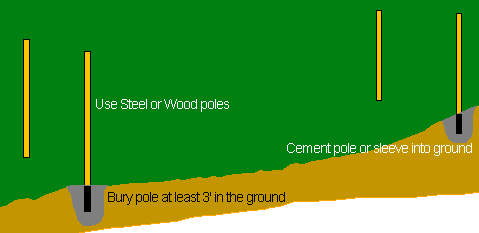 After the cement has cured you are ready to attach the suspension kit. You will need to purchase the appropriate eye bolts for your application. Since there are so many different ways that the suspension kit can be used we do not supply the eye bolts, you will need eye bolts that are about 2" longer than what you are attaching the eye bolts to. Below are a few guidelines.
4" steel poles you will need 3/8" diameter x 6" or longer eye bolts.
6 x 6 Wood posts you will need 1/2" x 8" or longer eye bolts.
12" Wall or beam in a building you will need 5/8" x 14" long eye bolts.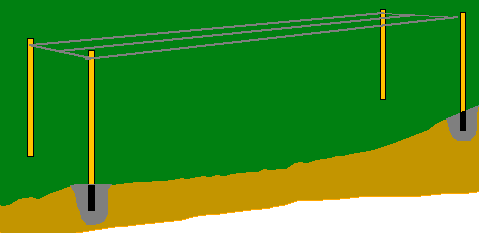 Once the suspension kit is installed you are ready to hang the batting cage net in place. Our suspension kit comes with complete instructions.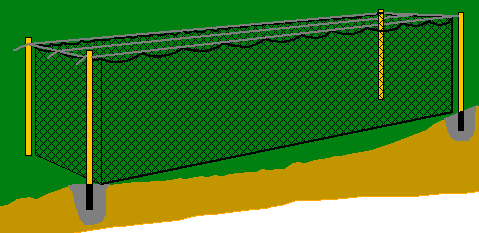 We carry the most common
hardware
for a do it yourself netting installation, please see hardware selection under the Hardware tab above or click
here
Here is how one of our customers used the suspension kit
Here is an article with more information about the suspension kit
To Purchase this kit click
here