Football Netting
Football
Custom Football Nets
Product Ships: Ships in 2-7 Business Days
Netting Calculator
Enter Height and Width below to price custom netting options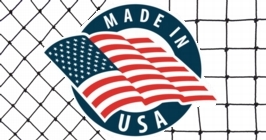 ft
in.
ft
in.
Only integer values allowed!
Description
Recommended Hardware
Gourock offers a variety of netting options for Football use from Kicking Practice Nets made to your specs to Goal Post Safety Nets.

Goal Post Safety Nets usually range from 30' - 40' high and 30' - 50' wide, for permanent installation #21 and up, for net that are pulled up when a field goal is kicked lighter weight #12 or #15 would be better, diamond cut with border would be the best choice.

Popular Impact Panel Kicking nets from 10' high x 10' wide to 12' high x 14' wide made from #36 x 1-3/4" diamond cut and usually with border

Kicking replacement nets are #36 x 1-3/4" diamond cut 7' x 7' with no rope border this net would fit a 47" wide x 84" tall 1.5" frame.