Netting Panels Built to Custom Designs: With Unique Entrance and Door Solutions
At Gourock.com we specialize in the supply of customized netting productions that are utilized for hundreds of different unique uses, markets, and industries. Netting is a great solution for a huge variety of different needs, and in many cases the netting that our customers require for their projects also would be best suited if they also incorporated different features and designs. In many instances our custom netting customers require some sort of way to pass-through the netting in order to get from one side to the other. This can be a pretty typical need at locations such as gymnasiums, sports facilities, gardens, industrial locations, and a variety of other popular areas that hang netting for barrier or protective purposes.
As we note throughout the Gourock site and this blog, we supply nets that are custom built according to most any particular sizing needs or dimensions that our customers prefer to be working with. This allows for great fitting netting panels that will maximize the function of the nets, have a pleasant aesthetic when installed, and have the highest ease-of-use. Gourock specializes in netting materials and craftsmanship that is 100% Made in the USA featuring the highest quality nylon, including DuPont® type 66-728 twisted-knotted mesh, along with type-6 braided-knotless mesh. We have direct online access to order custom netting according to your own preferred dimensions right through Gourock's convenient Online Custom Netting Calculator – and our wide product availability of twine thicknesses and mesh sizes allows you to source the best match for your netting needs and purposes.
In addition to custom netting sizes, at Gourock we also supply highly customized netting productions that include more unique design features as well. As noted earlier, many times our customers require entry doors, passages, portals, or other designs that allow for people to pass from one side of the netting panel to the other. Always feel free to get in touch with us directly to request a quotation on a more customized or individualized netting product need that you have, and it is our pleasure to take a look at your request and assist!
Here are 3 examples from the last several weeks that help demonstrate some of these types of netting productions that include customized sizing and entry or door/passage designs that were requested by our clients. These may help you get a good context on the types of custom netting options available for your consideration and what Gourock can provide for your needs!
The first custom netting example shows a unique net design that incorporates specific dimensions, a central notched-out area, and a 5′ tall rope bordered entrance slit. This net was constructed for a sports facility customer of ours that needed the mesh to cover an opening in a wall area in their building, with the notch being built into it so that the net could go up-and-over a piece of equipment that was in the middle. And in order for staff to be able to get from one side of the net to the other, the 5′ tall entrance slit allows for easy passage as needed. This was built from square mesh pattern #36 X 1-3/4″ twisted-knotted nylon netting, with 5/16″ polyester rope border finishing on the edges.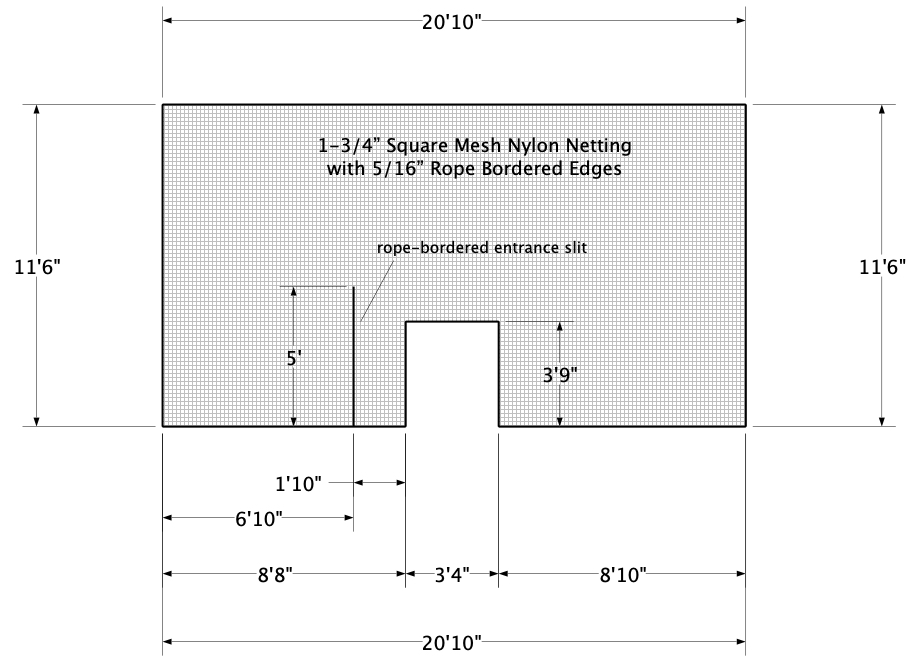 The second custom netting production example shows a couple of nets that both include some very particular design features. These nets were for a batting cage practice facility, and the nets were needed to contain errant baseballs from leaving the batting practice areas. Both were built from diamond mesh pattern #21 X 1-3/4″ twisted-knotted nylon netting, with 5/16″ braided polyester rope bordered edges. The first custom net included a tapered bottom edge that was to follow the sloping floor of one part of the hitting space. The second custom baseball net was to be installed on a part of the space that has a flat floor, so was a rectangular shape. However on that net our customer wanted to include an entrance door for batters to enter-and-exit the hitting cage area, while ensuring that the netting was always sealed-up to avoid any balls getting out. So in this case the netting panel had a built-in 4′ wide overlapping netting entrance that was located 1′ in from the far left edge. This allows players to pass-through the 2 layers of netting to enter or exit the batting practice space – while making sure that the integrity of the barrier netting is always intact to allow all baseballs to remain properly contained.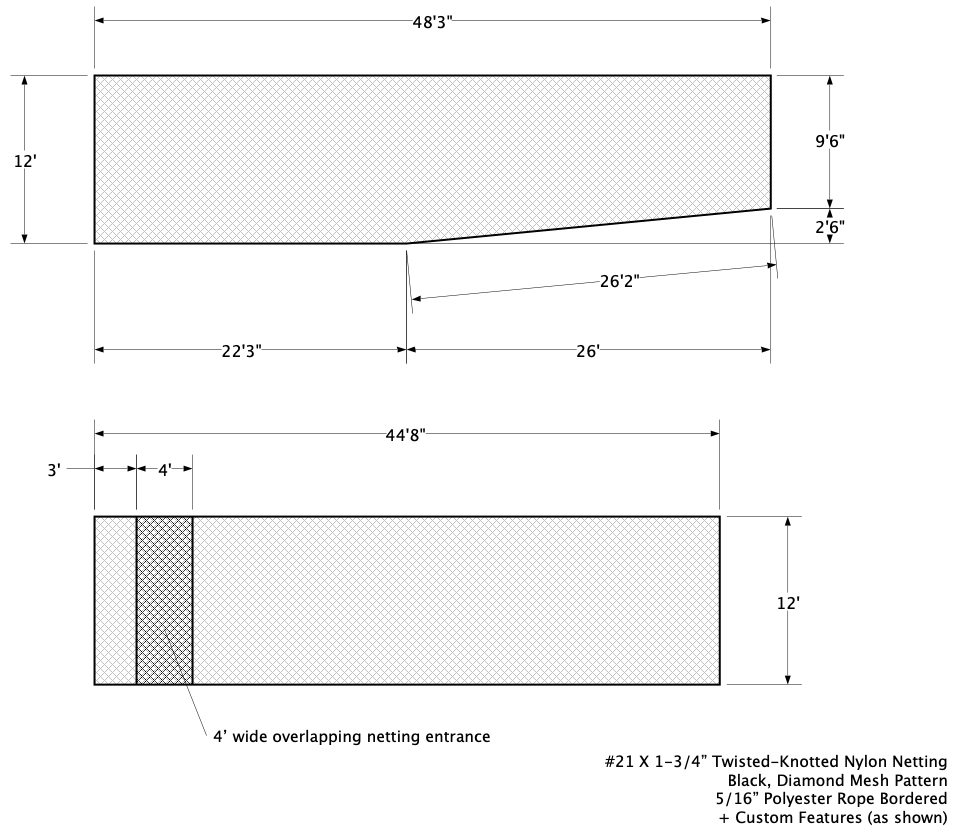 And then the third custom netting example shows a pair of nets that also have the overlapping netting entrance design built into the panel as well. In this case the overlapping net entrances were 3′ wide, and also located 1′ in from the edges of the panel. These two custom nets were constructed from the #21 X 1-3/4″ knotted nylon netting with 5/16″ polyester rope bordered edges. These 2 nets were being installed at opposite ends of an outdoor garden and orchard location in Hawaii, to cap-off the ends of a long length of netting-enclosed trees and plants. Our customer wanted to be able to keep the orchard and gardens completely enclosed with netting to protect from deer and birds – but also needed a way of entering and exiting the space easily. So for the 2 vertical nets that were being used on the ends of the netting enclosure, these overlapping entrance doors were the preferred solution for their needs.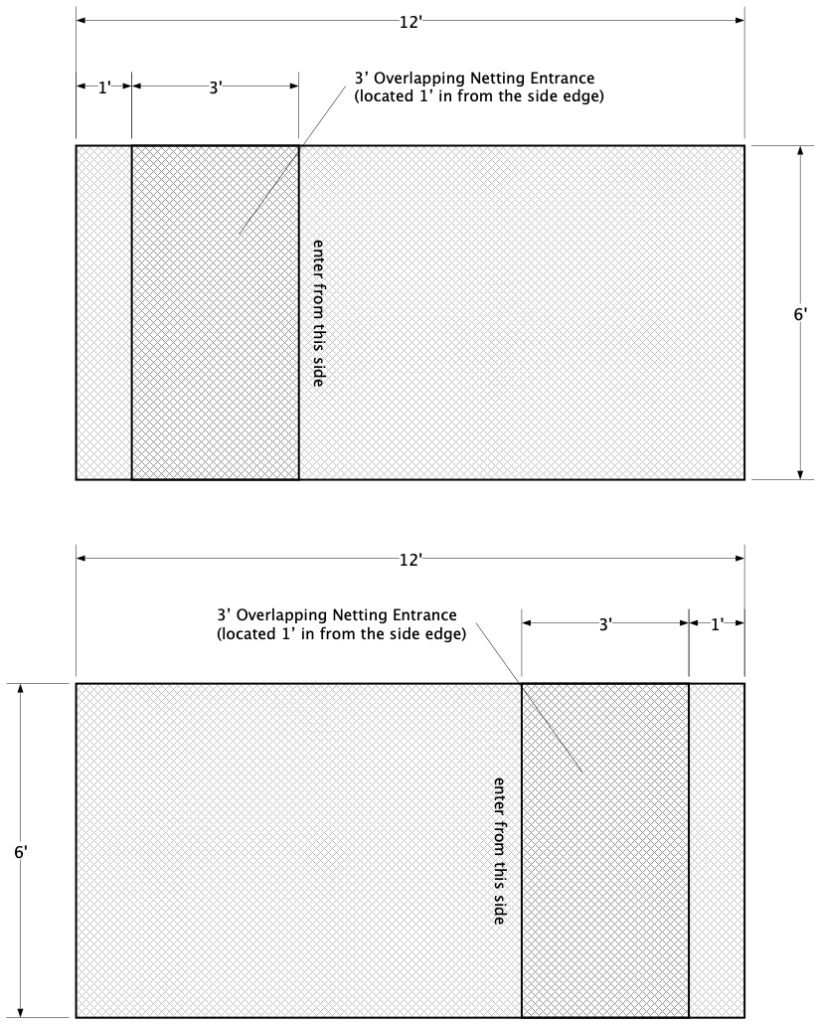 Many thanks again to all of our very appreciated custom netting customers and clients! We great appreciate your business, audit is our pleasure to be your dependable and trusted source for netting, custom, nets, and netting solutions!
– Josh Grzyb @ Gourock Netting