Municipal Sports Complexes and Country Clubs: Safety with Netting Solutions
Over the last 2 decades plus, Gourock.com has been a premier source for customized golf barrier netting, baseball field containment nets, and commercial sports netting for a wide variety of large-scale and municipal athletic facilities. We specialize in very high quality netting products that are 100% Made in the USA from premium netting materials – and featuring expert hand-craftsmanship. Barrier nets and protective netting products from Gourock are custom constructed to most any particular sizing or dimensional needs that our clients have – and are a very popular choice for high-end athletic facilities, sports complexes, golf courses, driving ranges, and municipal athletic locations.
Primarily constructed from DuPont® Type 66-728 Twisted-Knotted Nylon Netting, we have experience in netting supply and sports nets that are installed at very large scale commercial installations. The nets that are available from Gourock are a premium choice for our clients that require customized sizing of the netting, maximum durability and longevity from the mesh materials and construction, and fast production turnaround times. All orders are fabricated per-invoice, and ship directly to your location from the netting production facility in Washington State. Some of the very popular industry clients that Gourock serves are operators of municipal or civic sports complexes, professional and collegiate athletic facilities, golf courses and golf training establishments, and other industrial customers that require netting for containment or protective purposes. Throughout many examples in this blog and through the Gourock.com site you can locate dozens of examples of golf barrier netting, softball and baseball nets, industrial barrier nets, fairway property protection netting, athletic complex safety netting, and many other multipurpose barrier netting applications that we have facilitated.
To add some additional context on the high quality netting productions available to you from Gourock Nets, here are three more recent examples from the last several weeks that help demonstrate some more of the premium nylon netting jobs that we have shipped out. Each of these following custom netting examples were produced according to our client's very specific sizing requirements, production needs, and also some very unique fabrication features and designs. Many of the large-scale netting customers that we supply require very particular and unique characteristics to be incorporated into the nets that they'll be installing on-site, in order to fit and function correctly for the location of protective need. Nets that are built correctly for each specific site will have maximum effectiveness, durability, performance, and dependability over the years – making the nets from Gourock.com a preferred selection for large scale athletic installations.
In this first example of custom nylon barrier netting, you can see a series of 7 nets that we supplied to a country club location in Montana. Each of these nets were built to height of 34′, and had a variety of lengths ranging from 62′ up to 84′. Constructed from the #18 X 1″ tarred twisted-knotted DuPont® nylon netting, these golf barrier nets also were fully perimeter rope-bordered with 5/16″ braided Dacron® polyester line. Because the netting panels were being clipped to tensioned steel cables on all 4 sides as well as down the middle, these netting panels also incorporated a central rope rib-line (wind-line) at the 17′ mark as well. Our client also took delivery of 800′ of the 5/16″ rope on the side, as well as 1675 of the 5/16″ steel snap-hooks that we also have available. The #18 X 1″ tarred knotted nylon mesh is a recommended product selection for very long-term outdoor golf barrier netting installations and for golf course nets that are seeking maximum golf ball protection durability for 10+ years.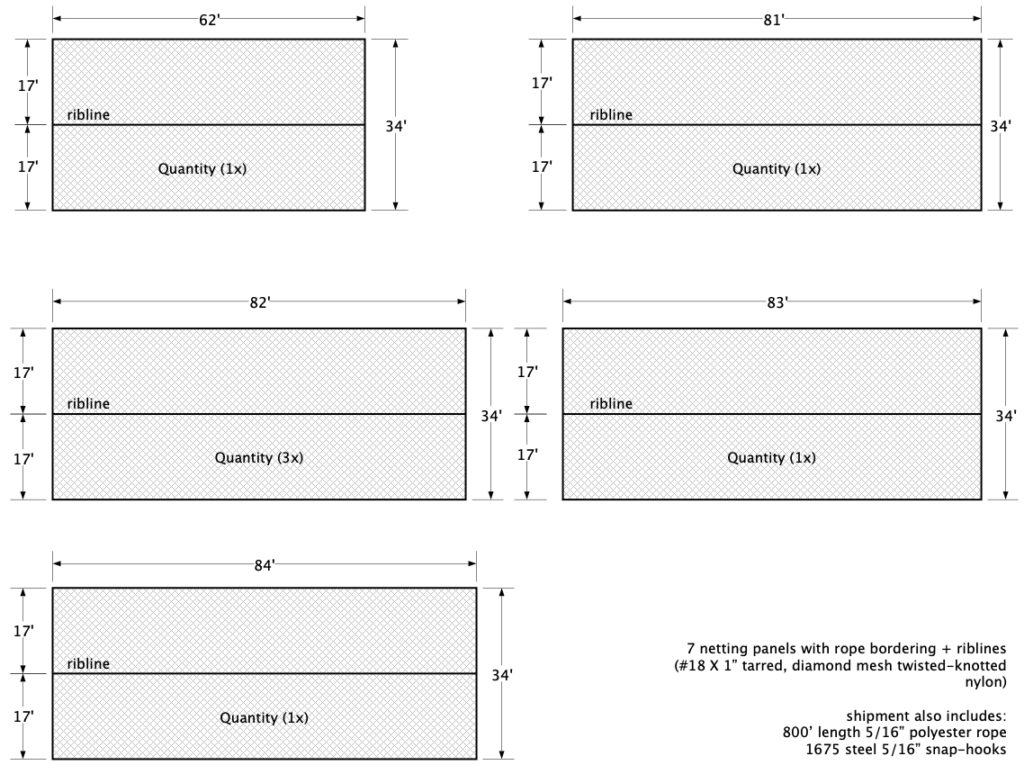 As you can see in this second barrier netting example, this series of 7 netting panels are very uniquely shaped and have a great deal of customized construction requirements and details. This round of commercial barrier netting was produced and supplied for a municipal athletic complex in Kansas, primarily concerned with baseball and softball containment and safety considerations. These baseball nets were built from the very durable #36 X 1-3/4″ DuPont® type 66-728 twisted-knotted nylon, in a diamond mesh pattern, with 5/16″ polyester rope bordered perimeter edges. The #36 X 1-3/4″ nylon netting is the preferred selection for commercial baseball netting installations, and is a very popular choice for baseball and softball nets at municipal stadiums, commercial training facilities, and other industrial sites that require barrier nets and protective nets. Because our client had a very specific set of areas and spans to cover with netting, each net had to incorporate a series of unique tapers, angles, and sizes in order to work correctly for the job.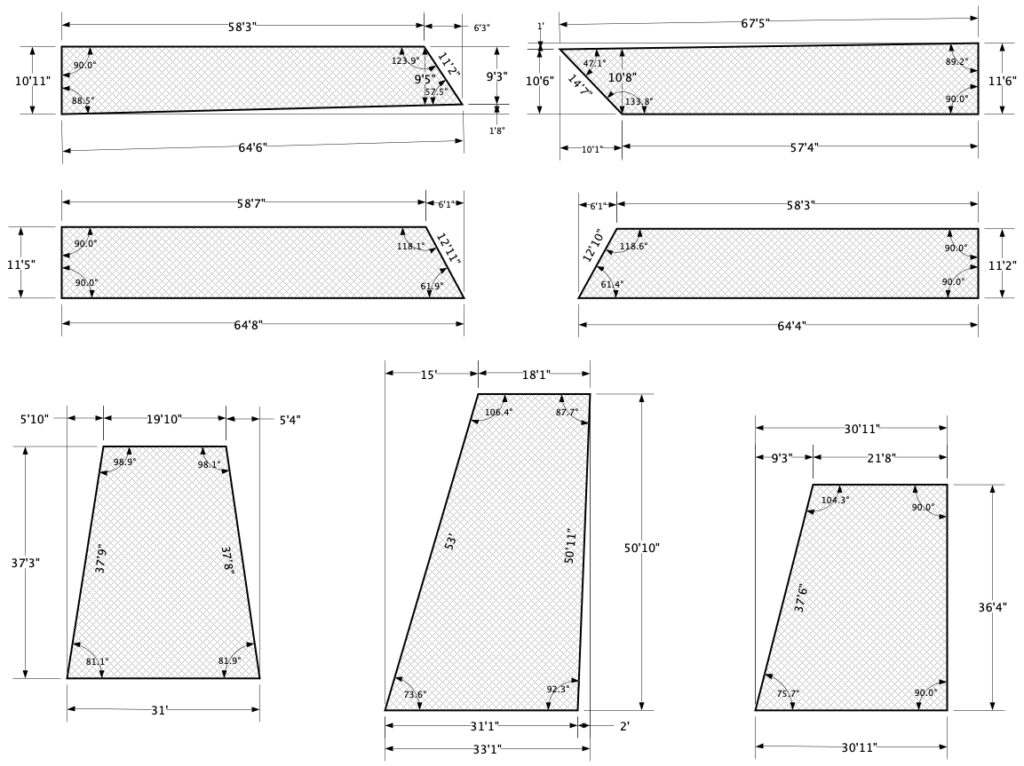 And then in this third netting example, this series of 3 barrier netting panels shows some very long nets that we supplied for a golf course location in Oregon that needed to replace the nets at their driving range. Each of these nets was constructed to a height of 30′ and 34′, and a length of 391′-6″. Once they were delivered to the golf course location, they were to be installed stacked on-top of each other vertically – resulting in an overall netting coverage height of 94′ X 391′-6″. Our golf customer wanted the rope bordering design of the nets to line-up with their existing poles and cables – so you can see in the netting designs that there are a series of horizontal and vertical rib-line ropes built into each panel. Constructed from #18 X 1″ tarred twisted-knotted nylon netting, these commercial golf range nets are built to last for long-term outdoor installations – maximizing resiliency to UV and moisture exposure, along with high tensile strength and premium craftsmanship.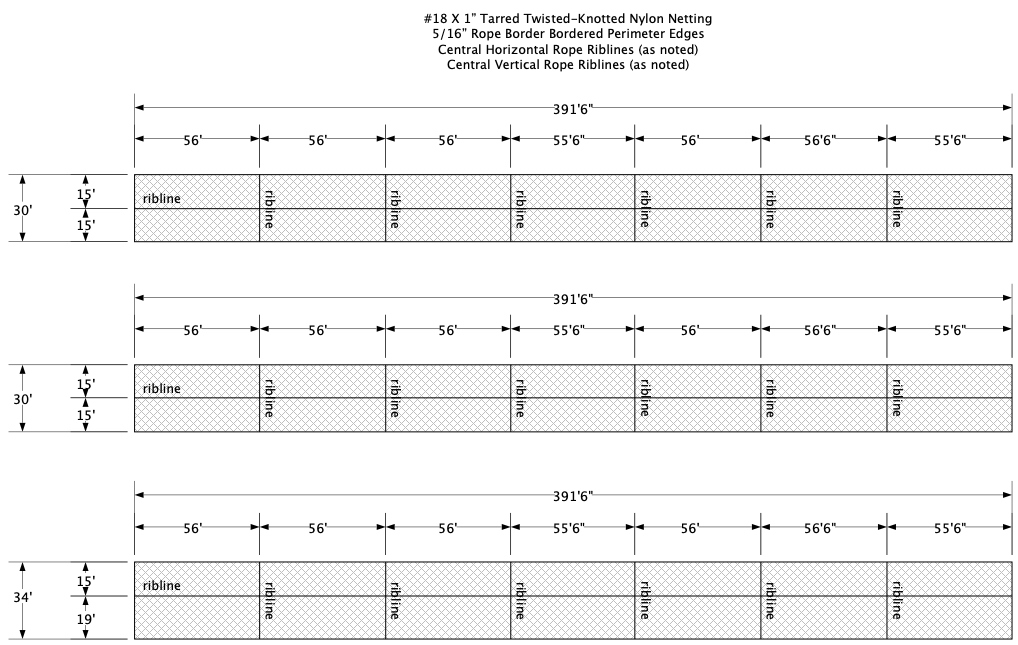 Many thanks again to all of our very appreciated custom netting clients, commercial netting customers, and industrial netting patrons! It is our pleasure to be your trusted barrier netting supplier, and we value your business and feedback very much!
– Josh Grzyb @ Gourock Netting