Custom sport court ball containment netting for pickleball, basketball, and tennis barrier net projects.
When considering the optimal enhancement for sport court locations, such as basketball and pickleball courts, incorporating ball containment netting emerges as a game-changing solution. These custom nets, meticulously crafted to unique sizes, stand out as the premier product choice. The advantages are undeniable—besides safeguarding surrounding areas from stray balls, ball containment netting significantly elevates the functionality of the sport court itself. Players can focus on the game without the interruption of chasing rogue balls, while spectators can relish the action with peace of mind. This innovative addition not only ensures a seamless and enjoyable experience but also reflects a proactive commitment to safety and precision. Elevate your sport court's potential with tailored ball containment netting, paving the way for uninterrupted play and an enhanced overall ambiance.

The surge in pickleball's popularity across America has led to a corresponding demand for specialized infrastructure, including ball containment nets and court divider nets, essential for optimizing playing areas. This trend spans beyond commercial athletic facilities to encompass residential sport court locations. Custom sizing emerges as the ultimate solution for managing a variety of ball types, from pickleballs to tennis balls and basketballs, accommodating diverse multiport needs. As enthusiasts and players embrace this fast-paced sport, the incorporation of tailored netting not only ensures the safety of neighboring areas but also enhances the functionality of the courts themselves. Elevate your pickleball experience with purpose-built nets, a testament to the growing prominence of this dynamic and exhilarating game.
Recent Custom Netting for a Unique Sports Containment Need
At Gourock.com we have facilitated sport court ball containment nets for a huge variety of different customers and clients over the years. Since all sport court locations have their own individual needs and characteristics, the custom netting that we supply is a perfect match for ball containment nets and barrier nets for these types of projects. Generally speaking, Gourock supplies barrier nets that are constructed according to any dimensions preferred by our customers, allowing them to get the perfect fit and function for their ball containment needs. In addition, our range of twine thicknesses and mesh sizes are very attractive for all types of athletic considerations – since many sport court locations are being used for a variety of different activities that use balls of varying diameters. Pickleball courts are often integrated within the same playing space as basketball hoop and tennis court locations – so a multipurpose netting mesh is needed to contain and block all of those different ball sizes accordingly.
In the last few weeks we had a special request from a customer to build a and ship a custom net that would not only function well for her pickleball and basketball court ball containment needs, but also for a special consideration she was dealing with pertaining to her dog. She had an old net that was spanning between her sport court poles that was being used to block basketballs over the years – but it had rotted out and was in separate need of replacement. Aside from the old net being in poor condition from weather exposure, her dog was also very attracted to the mesh and always wanted to bite into the bottom meshes of the panel – resulting in the dog pulling and tearing the net meshes that were near ground level. In addition, our customer had a great new pickleball set-up at their sport court – as well as a very nice view of the surrounding landscape, which the old tattered net was significantly reducing in quality.
Custom Sport Court Netting Solution
What we did to accommodate all of these factors and considerations was to design a custom barrier netting design that included pickleball containment netting for the majority of the overall area – which in this case was the #36 X 1-3/4″ DuPont® twisted-knotted nylon netting in a square mesh pattern. But to keep the bottom part of the net from being attractive for her dog to get his teeth into, we had the bottom 2′ of the overall netting panel constructed from the Polyethylene 50% Shade Cloth debris fabric material. So the end result was that the pickleball and basketball containment netting needs were met, and then at the same time the bottom length of the net did not allow for any sort of mesh opening that the dog could bite onto and tear up the panel. The shade cloth and the nylon netting mesh were permanently seamed together by machine sewing them with a polyester rope, resulting in a professional appearance and perfect function. In addition, the perimeter of the entire sport court netting panel was bordered with a 1-1/2″ webbing edge that had #2 brass grommets stamped every 12″. All-in-all, a very customized end netting production that not only looks fantastic – but it achieves all of the goals for ball containment, preserving the view of the property, and alleviating the damage caused by her dog.
There were 2 of these netting panels fabricated so that they could suspend them on each side of their basketball hoop, between the exiting fencing poles that were already on-site. Each net was constructed to the sizing of 9′ tall X 20′-2″ wide, and she laced them into placed by using nylon tying twine (lacing the grommets of the netting border and the vertical poles together). She also ran an aircraft cable between the poles on top and bottom to serve as connection points for the long edges of the netting panel. We did a decent amount of correspondence getting the sizing of the netting design dialed in so that the end result was a professional fit – and as you can see from the included photos below it was mission accomplished. The review from our very appreciated custom netting customer was "The Perfect Net!".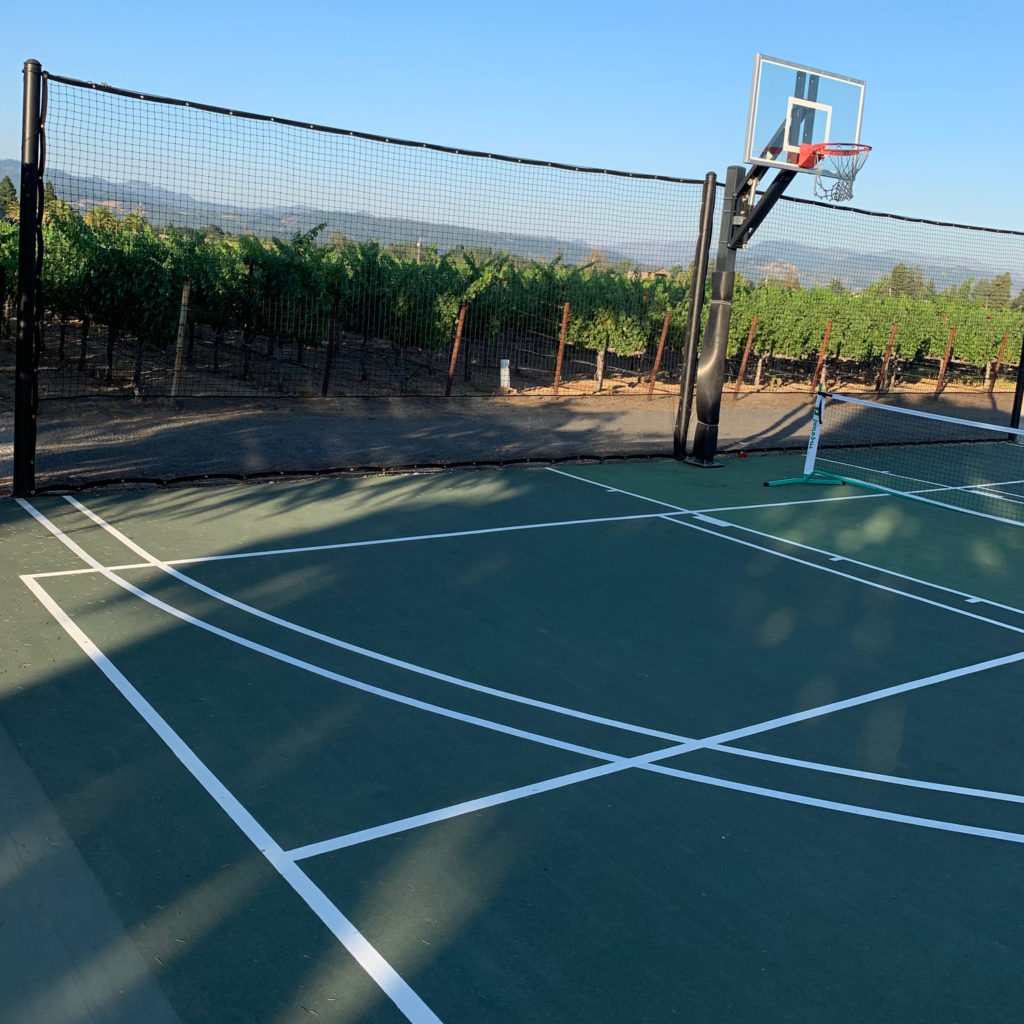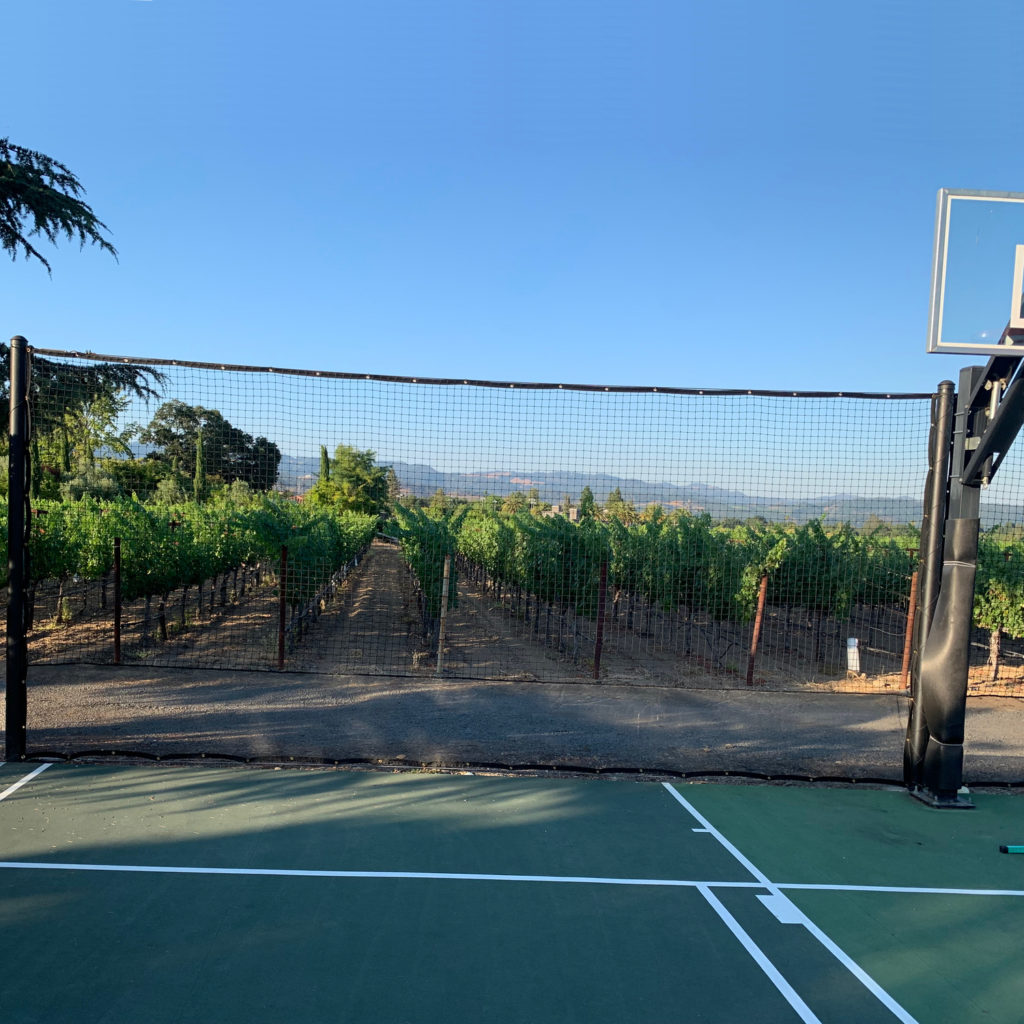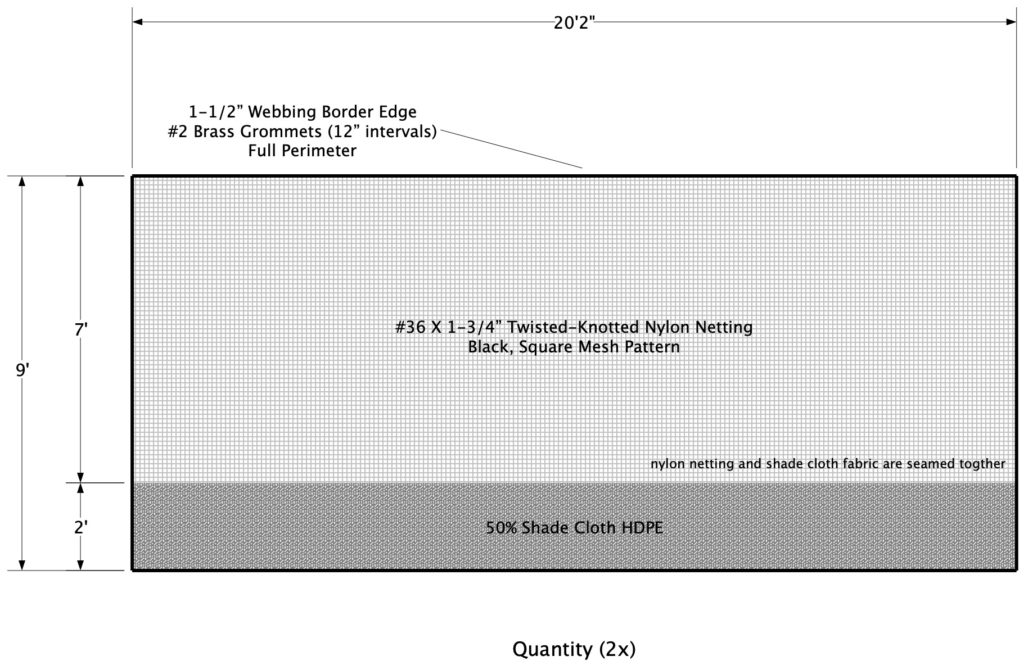 Many thanks again Robin! It was a great pleasure working with you, and very happy to see such a great end result for your custom netting needs!
Should you ever have an inquiry into customized sport court netting, ball containment nets, or similar barrier netting solutions that you are seeking – always feel free to get in touch with Gourock.com and we can assist with your project.
– Josh Grzyb @ Gourock Netting