Custom Netting Solutions for NCAA Basketball Courts at NDSU
Gourock.com specializes in the supply of netting products and containment nets that are utilized for a wide variety of different uses and customer needs. One very popular uses for the netting we have available is for basketball barrier needs, containment netting applications, and spectator protection net installations. For many different types of basketball court and arena locations, proper containment of basketballs and public safety considerations are well handled with nylon netting – especially for areas of high spectator traffic.
The #36 X 4″ square mesh twisted-knotted nylon netting that we have available for supply is a perfect match for most all organizational basketball court locations that are seeking a dependable solution for errant basketball containment, exclusion, and blockage. Directly through our Online Custom Netting Calculator on the Gourock.com site we offer this basketball barrier netting selection to be conveniently ordered to any particular sizing or dimensions required for your project. 4″ mesh size nylon netting is a very popular and recommended choice for basketball court applications, as well as for any sort of sports facility that is seeking to block larger diameter sports balls such as soccer netting, volleyball netting, and football containment nets. For most installations we recommend having this nylon netting finished-off around the perimeter edges with a 5/16″ braided polyester rope bordering, which will provide you with a strong attachment point to hang or suspend the netting from – as well as having a nice professional finished appearance while in-use. Basketball containment nets from Gourock.com are 100% Made in the USA and produced per-order, allowing you to source the perfect net for your specific location and needs.
We recently supplied North Dakota State University with #36 X 4″ nylon netting for their indoor basketball court facility. Their needs were to create a strong and dependable separation between the ends of the basketball courts and the public walkway and spectator stands that were located behind them. Also, the university wanted the separator to be visually non-obtrusive so that viewing the play remained great. Their area of basketball containment can be viewed in the below photo, and was best facilitated with a netting panel built to the sizing of 12′-6″ high X 65′ wide. The #36 X 4″ nylon netting was finished-off around the edges with 5/16″ rope bordering, and our customer at the university installed the netting by clipping the top and bottom edges to a pair of tensioned aircraft cables that spanned the open space of coverage. Along with the following image, the Associate Director of the facility sent us the feedback "Thank you again for your help, the net turned out great!".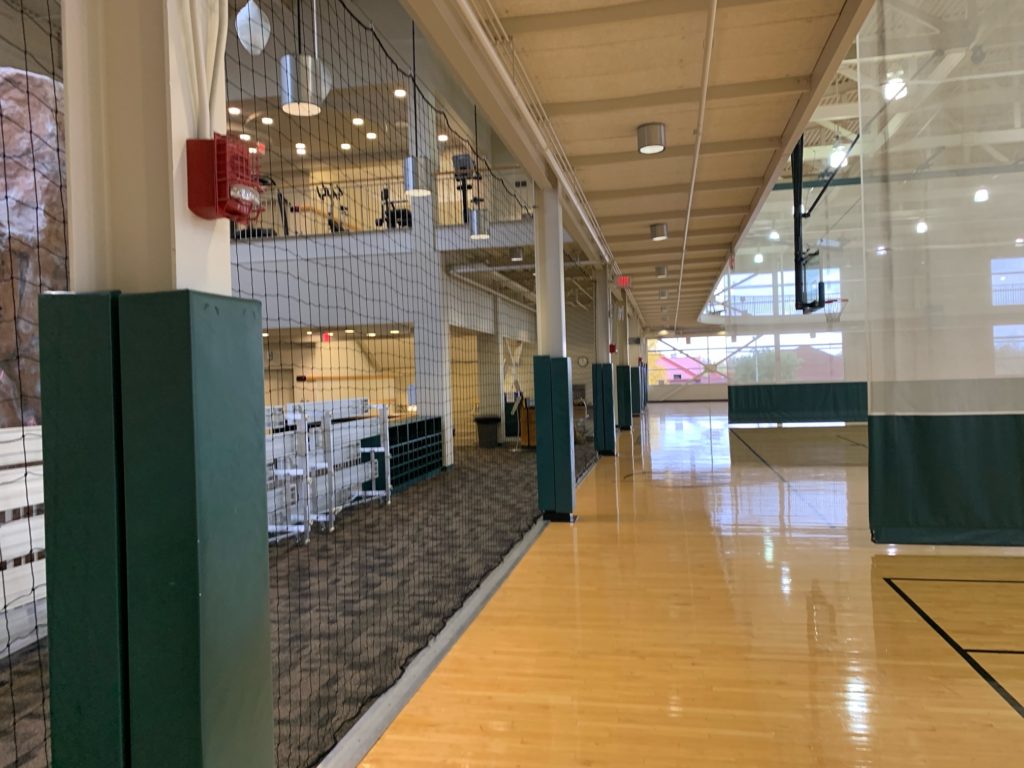 Many thanks again to all of our very appreciated custom netting and basketball netting clients, we value your business very much! It is our pleasure to be your trusted and dependable netting supplier, and always feel free to keep in touch at any time!
– Josh Grzyb @ Gourock Custom Netting