Twisted-Knotted Nylon Netting: Durable Protection for Cruise Ship Golf Cages
Golf netting, golf cage nets, and golf impact netting products have always been a specialty of Gourock.com and we have many years of experience with shipping golf practice nets to a huge variety of customers. The twisted-knotted DuPont® nylon netting that we have available is a fantastic mesh choice for golf applications – including at installations for golf cages, golf driving practice areas, and for directly driven golf ball containment needs. Custom golf cage netting is a Gourock specialty.
Golf hitting nets and netting used for driving golf balls into are very popular at pro shops, golf courses, training facilities, collegiate golf team locations, residential properties, and a variety of other unique locations. At Gourock.com we offer golf netting that is available to be ordered to most any custom sizing needs or dimensional requirements that our client's require, allowing for convenient access to the best fitting and performing golf containment nets for each particular locations. 100% Made in the USA and constructed from 3/4″ mesh size DuPont® Type 66-728 Twisted-Knotted Nylon, golf cage nets and golf hitting nets from Gourock are a fantastic selection for a wide array of users and necessities.
One of our very valued and longterm commercial netting clients specializes in supplying golf materials to the cruise ship industry, and we have produced a large volume of golf nets for them over the last decade. In some cases our client requires netting panels that are being utilized for golf ball containment on the cruise ships, and in other cases they require netting that will be installed for fully-enclosed golf cage hitting setups. Generally speaking, the #21 X 3/4″ knotted nylon netting is the preferred selection for these cruise ship golf driving nets, as it is a robust mesh choice that has high tensile strength, high abrasion resistance, and is well suited for outdoor marine environments.
The following two images show a pair of custom golf nets that we had produced and shipped out for another cruise ship golf cage installation. As you can see from the net fabrication drawings, these netting designs incorporate some pretty specific and particular sizing requirements, along with shape features that were needed for the hanging of the netting to be functional on-site. The overall end-result once installed was to be a fully-enclosed area in which cruise ship travelers would be entering and driving golf balls within, and the ship already had a structural framing in-place for the netting to be hung within. The netting used in this case was a square mesh pattern #21 X 3/4″ black twisted-knotted nylon, with 5/16″ black braided Dacron® polyester ropes sewn-in around the perimeter edges and at specific locations within the netting mesh area as well. One of the nets also incorporated an entrance area built into the netting to allow for convenient access to enter the cage netting enclosure. Once at the cruise ship, the netting would be hung and folded-together to create a box-like enclosure within the golf cage framing. These nets took about 2 weeks through the netting fabrication queue and then shipped off directly to our client.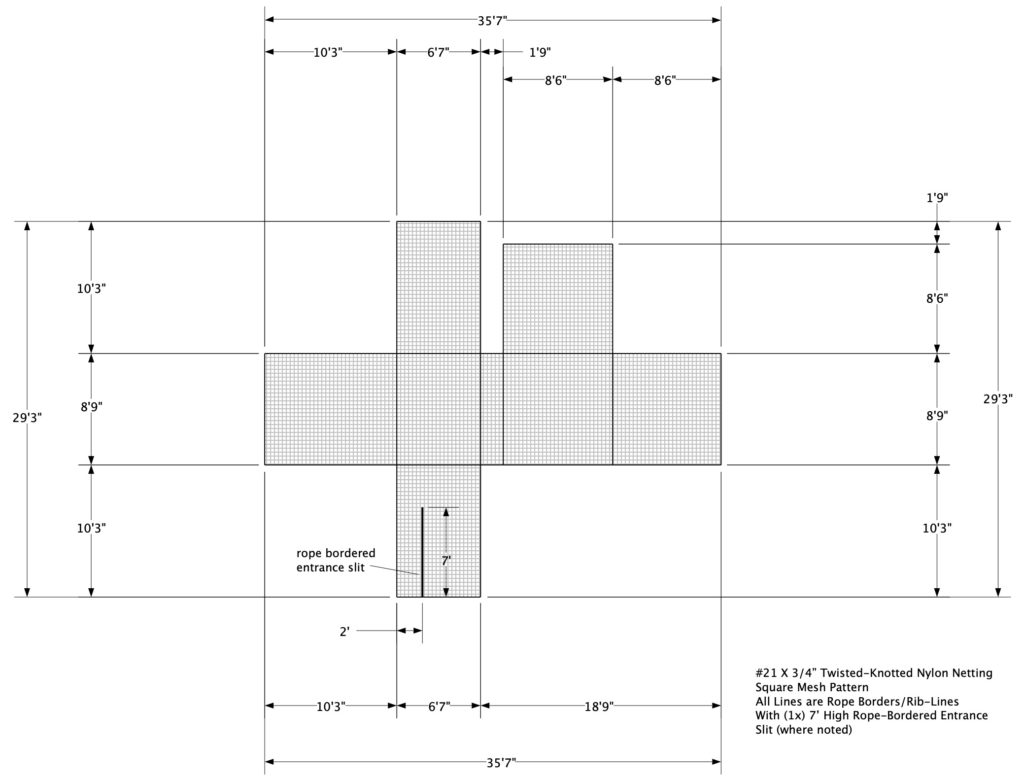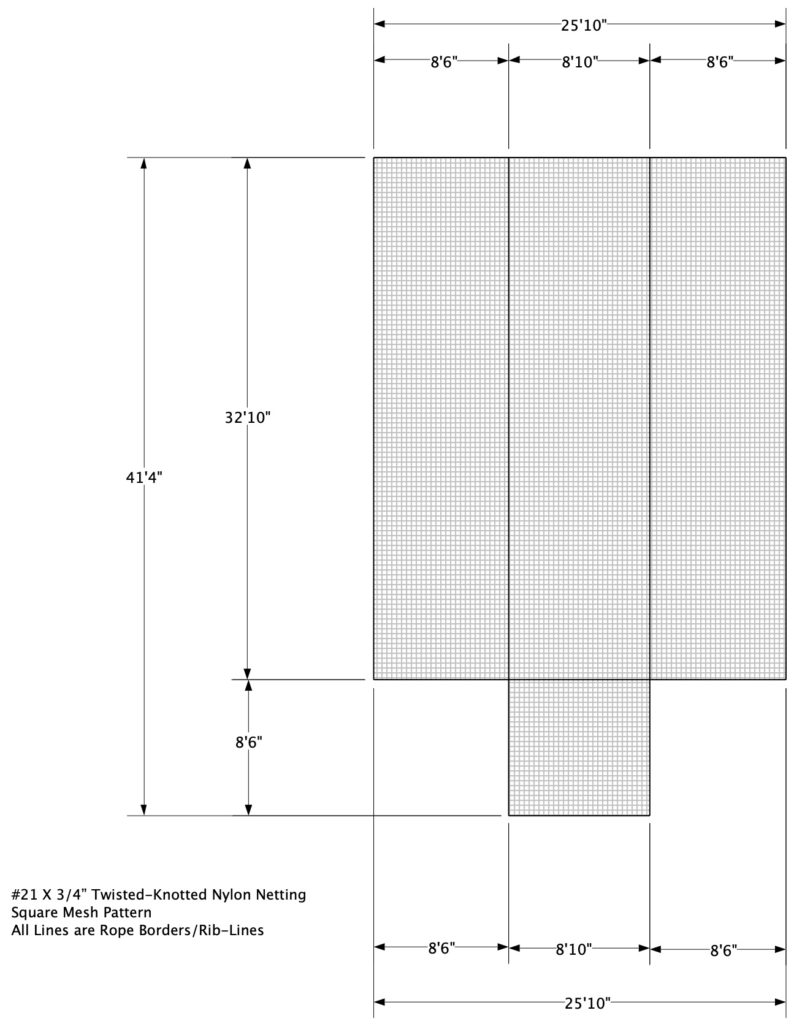 Many thanks again to all of our very appreciated custom netting customers! We value your business very much, and are proud to be your dependable custom netting supplier!
– Josh Grzyb @ Gourock Custom Netting