Customer-provided photos of their netting installation using #36 X 1-3/4″ knotted nylon nets to surround their sport court for basketball barrier and containment needs.
At Gourock.com we have supplied hundreds of private residential customers with the barrier and containment nets that they need for their sport court and basketball court installations. Containment netting for basketball, tennis, soccer, volleyball, and a huge host of different athletic activities are always available from us, and the nets are constructed according to any particular customized sizing dimensions needed for the project. Our company has always been a dependable netting source for premium barrier nets and containment netting products for many different municipal, scholastic, industrial, professional, and commercial sporting establishments – as well as for any private user or homeowner that is also seeking top-quality netting for their at-home sport courts or sport containment needs.
Gourock's Online Custom Netting Calculator, along with the several different sport netting categories within our site, offer you convenient and immediate access to custom sports netting and containment nets that are built per-order, according to whatever particular sizing needs will best work for your purposes. We see hundreds of private residential customers every year that require dependable containment nets to surround their playing areas or court areas – allowing them to properly contain balls and athletic equipment within their space.
For many residential basketball courts and sport courts, utilizing a multipurpose netting product is the best approach for their barrier nets that will be surrounding their playing area. For a lot of our sport netting customers, they want to have the ability to block or contain all types of sports balls – usually ranging from about tennis ball-sized up to the sizing of basketballs, soccer balls, and volleyballs. So in this case, the most recommended and functional netting mesh size option is the 1-3/4″, which we have available to supply in a wide selection of twine thicknesses – and of course they can each be produced according to any particular dimensions needed for the sport court project. 1-3/4″ twisted-knotted nylon netting is a fantastic netting selection for basketball court containment nets, sports court barrier nets, and multipurpose sports netting needs – and at Gourock.com we offer it in twine thicknesses of #12, #21, #36, and #72.
A recent client of ours has a new basketball and sport court installation at their home, which needed barrier netting to surround the playing area in order to keep all types of sports balls contained and to prevent them from rolling away. They set a series of steel poles around the court, and spanned some aircraft cabling between the poles – which is a really functional and recommended approach to hanging up sport netting. The netting can then be clipped to the cabling using snap hooks, which results in a very appealing combination of function, fit, and appearance for the overall netting installation. In this particular case our customer has opted to utilize the #36 X 1-3/4″ DuPont® Type 66-728 Twisted-Knotted Nylon Netting, in a diamond mesh pattern, with a 5/16″ Dacron® Rope Bordered Border. As you can see from their provided photos below, this netting not only looks really great around their court but it also adds a fantastic amount of additional function to their very nice sport court installation and property. We supplied the custom built netting panels, along with the cabling hardware items that they used to install within their poles – and the entire job had obviously turned out really well!
Many thanks again for your appreciated netting and hardware orders Tim & Aubree! It is our pleasure to be your trusted sport netting supplier, and it has been really nice working with you! Your photos are a great asset for all of our sport court netting customers that are researching similar projects, and of course your basketball court and netting installation looks fantastic!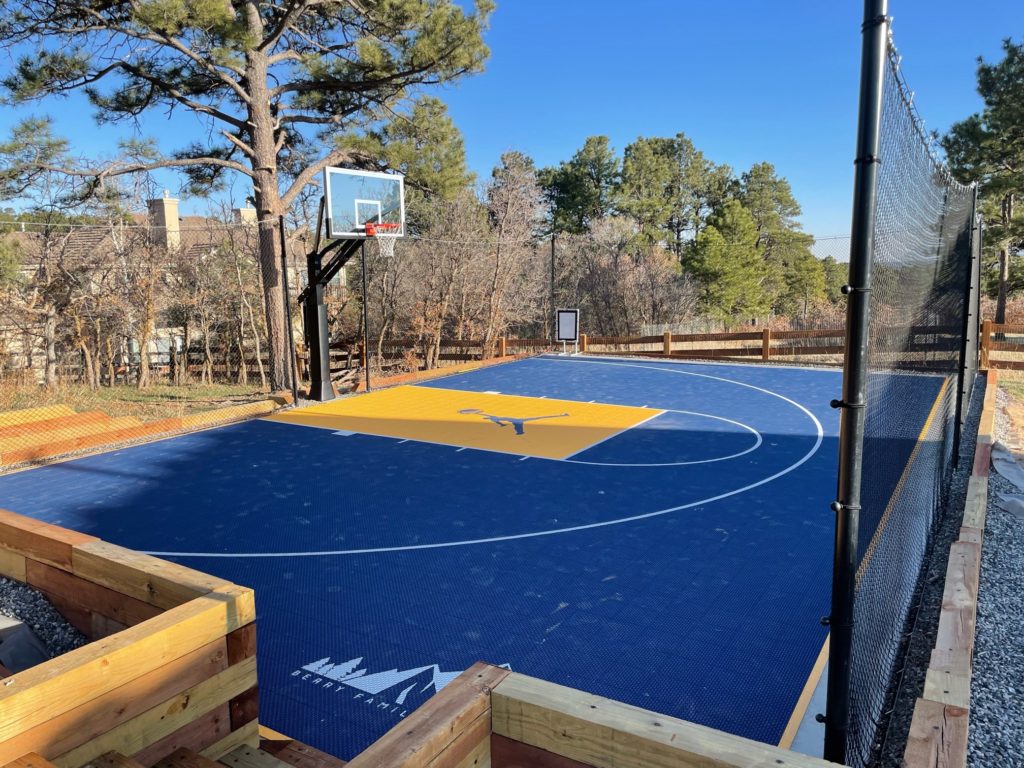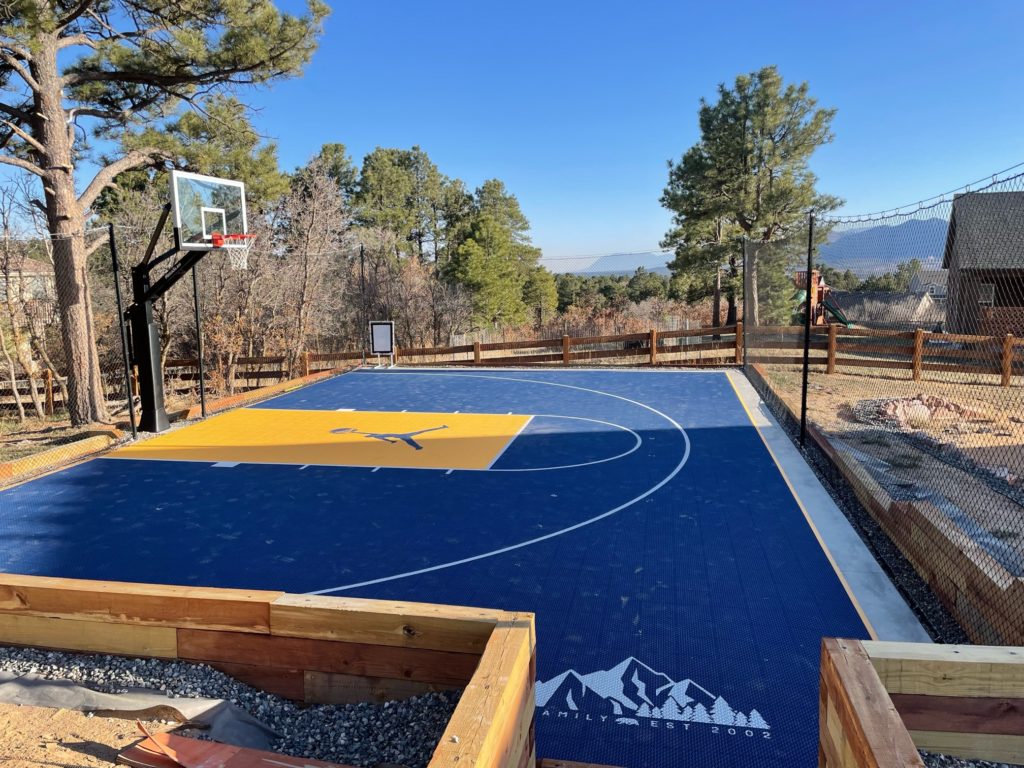 – Josh Grzyb @ Gourock.com Netting