Property Protection Netting: Customizable Solutions for Sports and Athletic Fields
The netting products available from Gourock are great solutions for a wide range of barrier, protective, or containment situations that present themselves to our customers. In many cases, the netting needs of our clients revolve around blocking certain types of expected objects from either leaving a particular area, or to prevent them from entering. In many instances, this application for the nylon netting that we supply is based around athletic, sports, and recreational installations. For example, protective netting to prevent golf balls from entering a property that is adjacent to a golf course fairway in order to protect windows, buildings, vehicles, and people. And related to that purpose, we also supply a lot of netting to golf courses and driving ranges that need the nets to contain golf balls within the playing or practicing area. In addition, there are many purposes for athletic safety netting at sports stadiums and fields – including spectator protection nets, backstop netting, scoreboard protection netting, player and coaching safety nets, concession area barrier nets, and other multipurpose or unique stadium netting needs. In addition, barrier netting and athletic containment nets are also installed around sport sports courts and training areas to contain balls and objects within the court practice space.
We specialize in the supply of custom netting panels and netting productions that are built according the the customized sizing needs of our customers and clients. Because Gourock.com prepares sports nets and barrier netting panels according to custom dimensions, this allows you to get the best fit, function, durability, and efficiency for the protective nets as they hang or are suspended within the installation area. We supply high quality netting materials including Nylon, Kevlar, HMWPE, and Polyester – all 100% Made in the USA. The various different netting selections that we offer are available in different twine thicknesses and mesh sizes, allowing you to select the best match for your sports or athletic containment netting needs. We have supplied thousands of athletic, sports, stadium, facility, court, and property owners with the containment and barrier nets they need at their unique locations – and we offer convenient online ordering of custom sports nets and netting panels directly through our Online Custom Netting Calculator.
Here are some recent examples of custom athletic barrier nets that we have supplied over the last few weeks. These nets not only have custom sizing features, but also incorporate other unique shape or design features including tapered edges, angled corners, and additional reinforcement ropes. As you are planning out your barrier net and athletic containment netting projects, thing may end up functioning the best if the netting panels can be uniquely shaped or built – so in these cases simply get in touch with us directly and we can correspond with netting quotations for our available options! These following custom netting examples will help provide a bit more helpful context into some of the specialized netting productions that we supply for different sports, athletic, and protection installations.
This following example features 6 custom netting panels that were built from the #12 X 1″ DuPont® Twisted-Knotted Nylon Netting, with a sewn-in 5/16″ Dacron® rope bordered perimeter edge. This 1″ netting is a great option for object barrier purposes for golf ball sized objects and larger, and features an extra resilient weather coating treatment making it highly durable for outdoor installations. 2 of the nets in this round of production also featured some angled corners and tapered edges in order to properly line-up with our client's installation structure.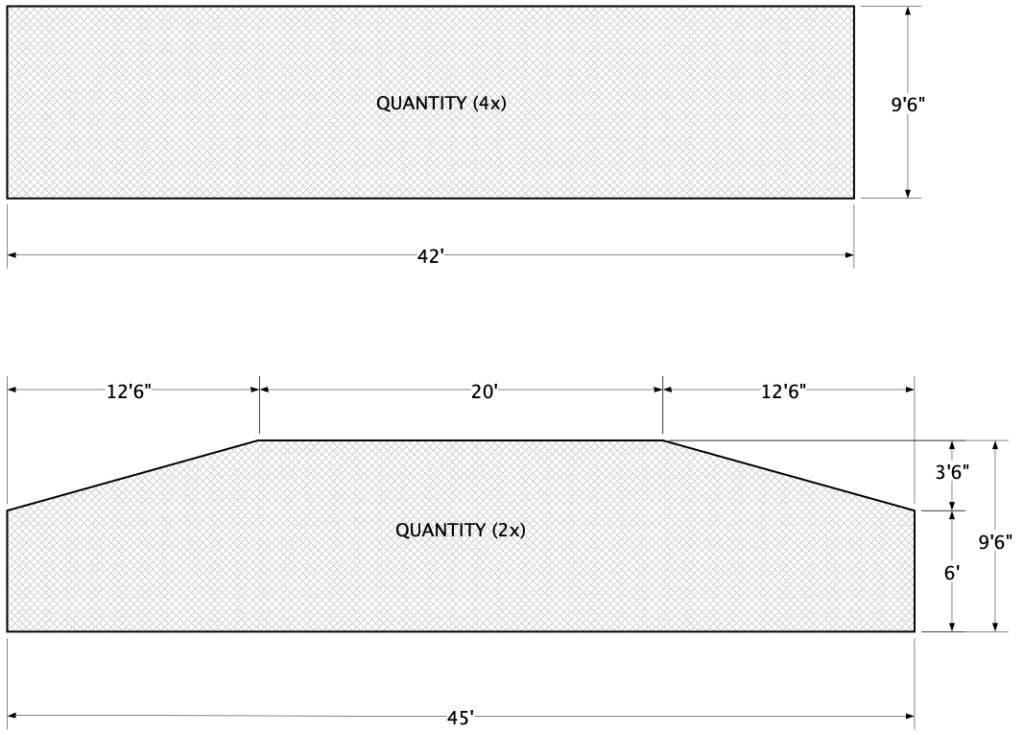 The following series of 3 nets were also constructed from the #12 X 1″ twisted-knotted nylon netting, with the 5/16″ rope bordering. Intended for a similar barrier and protective purpose as the previous netting example, this 1″ mesh nylon netting functions exceedingly well for full-time outdoor barrier purposes for objects that are golf ball sized and larger. The #12 X 1″ nylon netting we supply is a very popular selection for golf ball protection at properties that line fairways, and for the sides and ends of driving ranges. Each of the following custom netting panels incorporates unique dimensional sizing requirements that our customer had, including different tapers and angles built into different aspects of the overall shape. These nets were constructed this way in order to properly fit and perform within their installation support area.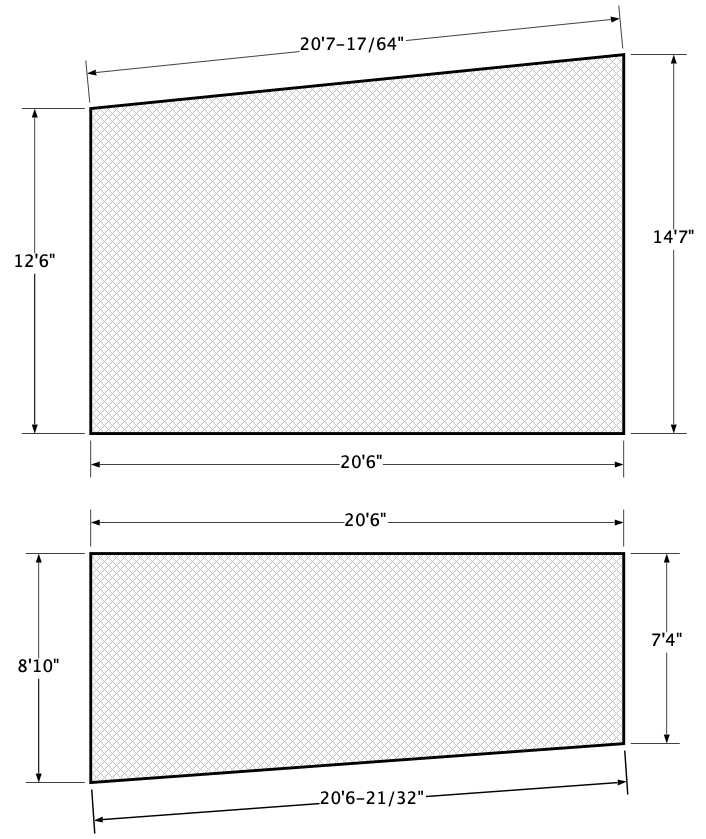 The next 4 custom netting panels that are displayed help demonstrate some custom nets that were produced with specialized dimensions and shape features in order to match-up with some different sides of an external framing structure. Our customer already had a tubular frame at his location that needed netting panels built to fill-in the sides, back, and top of it. This is a popular approach for golf cages and golf hitting cages, and the netting in this case was the #15 X 3/4″ DuPont® type 66-728 twisted-knotted nylon, which is a very popular selection for golf ball direct impact containment (basically, golf balls hit from a very close range). In this particular case our customer already had a projection screen in-place and simply needed surrounding containment netting to keep driven and hit golf balls within the practice area. The framing was designed with a sloping shape, so the nets were built to closely line-up with the framing design and allow for the best possible fit and appearance for the finished netting job.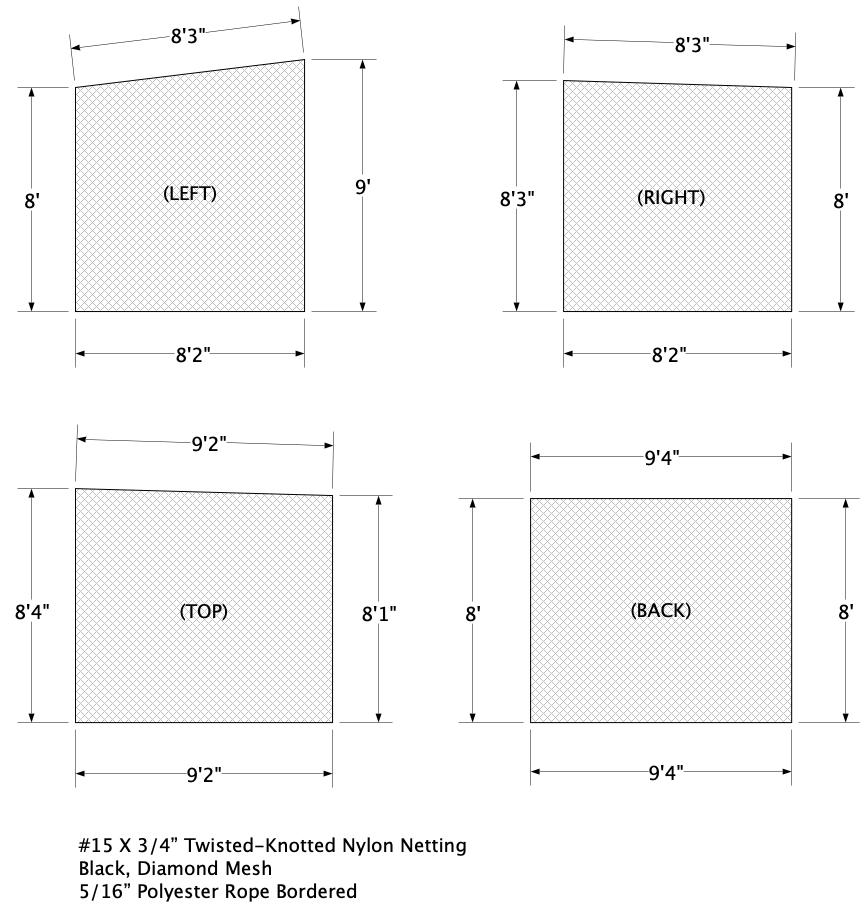 And then the final 3 custom netting panel examples demonstrate some nets that were constructed with the #21 X 1-3/4″ DuPont® Twisted-Knotted Nylon Netting and 5/16″ Dacron® Ropes. This netting selection is very popular for multiport applications for objects that are tennis ball sized and larger. It is great for sport courts and sporting court uses in which various activities are played, including tennis, baseball, pickle ball, soccer, basketball, volleyball, hockey, lacrosse, and others. The #21 twine thickness is a great selection for general sport barrier netting purposes, including sport courts for schools, facilities, organizational locations, and private residences. The nets in this round of supply also needed to incorporate a couple of interior reinforcement ropes (specified by our customer) in order to best function at their court space. And of course, the heights and lengths of each net were specifically built to match their measured support framing structure at the court.
Many thanks again to all of our netting customers and clients! We appreciate your business very much and it is our pleasure to be your custom netting supplier!
Josh Grzyb @ Gourock Netting