Twisted-Knotted Nylon Netting for Slot Car Racing Safety and Containment
Here at Gourock we specialize in the supply of nets, netting products, and netting materials that are very effective for a wide variety of unique customized protective and containment needs. One of the great features of the netting that we have available is that it is a very user-friendly material selection that can be effectively used for a very diverse array of personalized hobby netting applications. On our site and store we offer a helpful selection of twisted-knotted nylon netting choices, all of which you can order according to your own preferred sizes and dimensions. This convenient supply option allows you to source durable nylon netting that can be most useful for your project.
Hobby Netting Projects
In this recent example, one of our custom nylon netting customers needed protective barrier netting to surround his slot car racing track. His intention was to surround the track area, which was assembled and installed on top of a ping-pong table, with a wall of netting that was to block and contain slot cars as they fly off the track during use. This not only helps protect the cars themselves from damage, but also greatly enhances the efficiency of the racetrack installation and enhances overall enjoyment while racing.
In this example, our customer developed an installation technique that included a series of support posts that he bolted around the outer perimeter of the table, spaced out at equally spaced intervals. The top and bottom of each support post featured a screw-in hook, with the intention to hook the upper and lower meshes of the netting to. For the netting selection itself, the best and most recommended netting type to use for this use was the #15 X 3/4″ DuPont® Type 66-728 Twisted-Knotted Nylon Netting. This is a very high tensile rating nylon twine, with a low physical weight – making it an optimal choice for his purposes. The 3/4″ mesh size was prepared to a square pattern orientation, making it very easy to work with on-site. Our customer had the netting prepared to the dimensions of 1′ X 24′ which was their preferred sizing to work with on this project. We offer direct online ordering of netting for hobby projects right through our convenient Online Netting Calculator.
As you can see from the images below, his slot car barrier hobby netting installation turned out fantastic, and our customer included the note:
"The (netting) fence works perfectly – cars flying through the air bouncy gently off the netting and land back on the table, just as I had hoped, preventing damage from basement concrete walls and floor.  One photo shows the mounting detail – 3/4" black screw eyes mounted in black acrylic-painted 1" x 2" pine lumber.  The overall look is great – the black fencing/netting is not quite invisible, but certainly not visually intrusive."
Many thanks again to all of our very valued custom netting customers, we appreciate your business very much and it is our pleasure to be your trusted custom netting supplier! Always feel free to get in touch with us here at Gourock.com and we can always assist with your netting inquiries!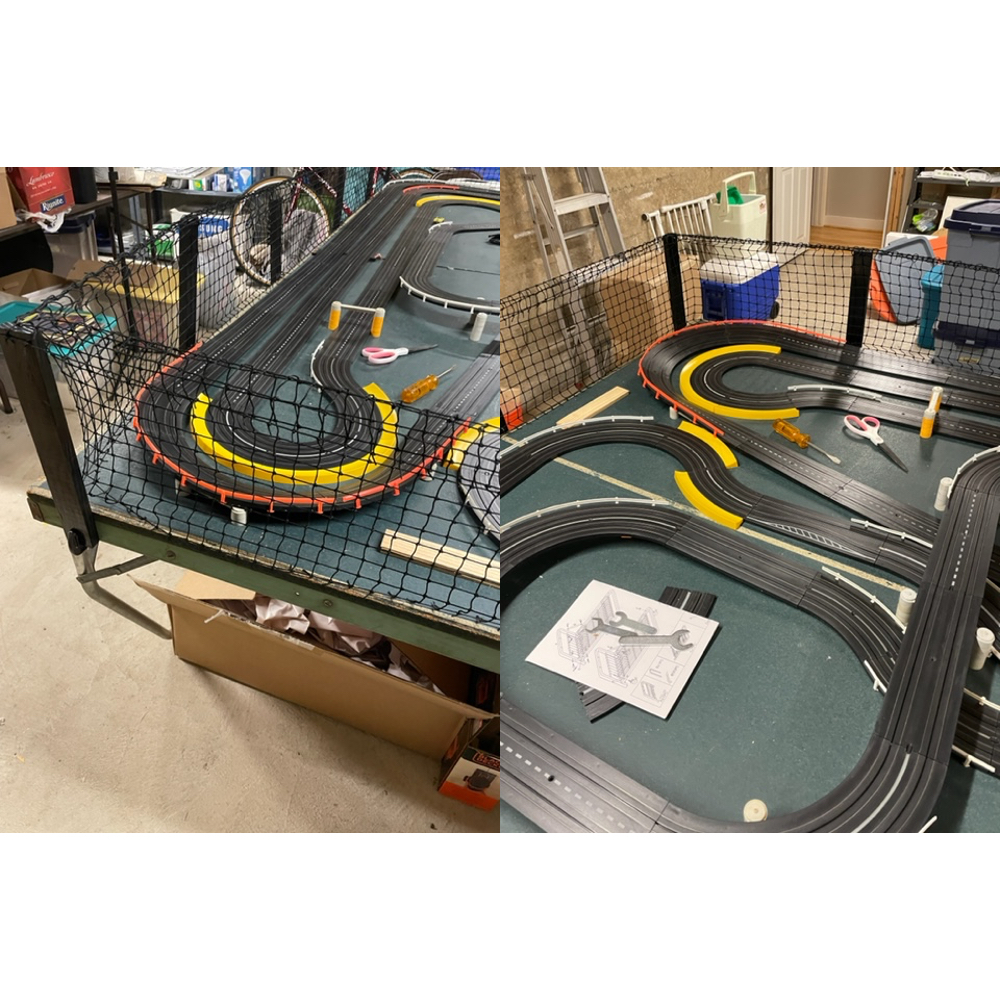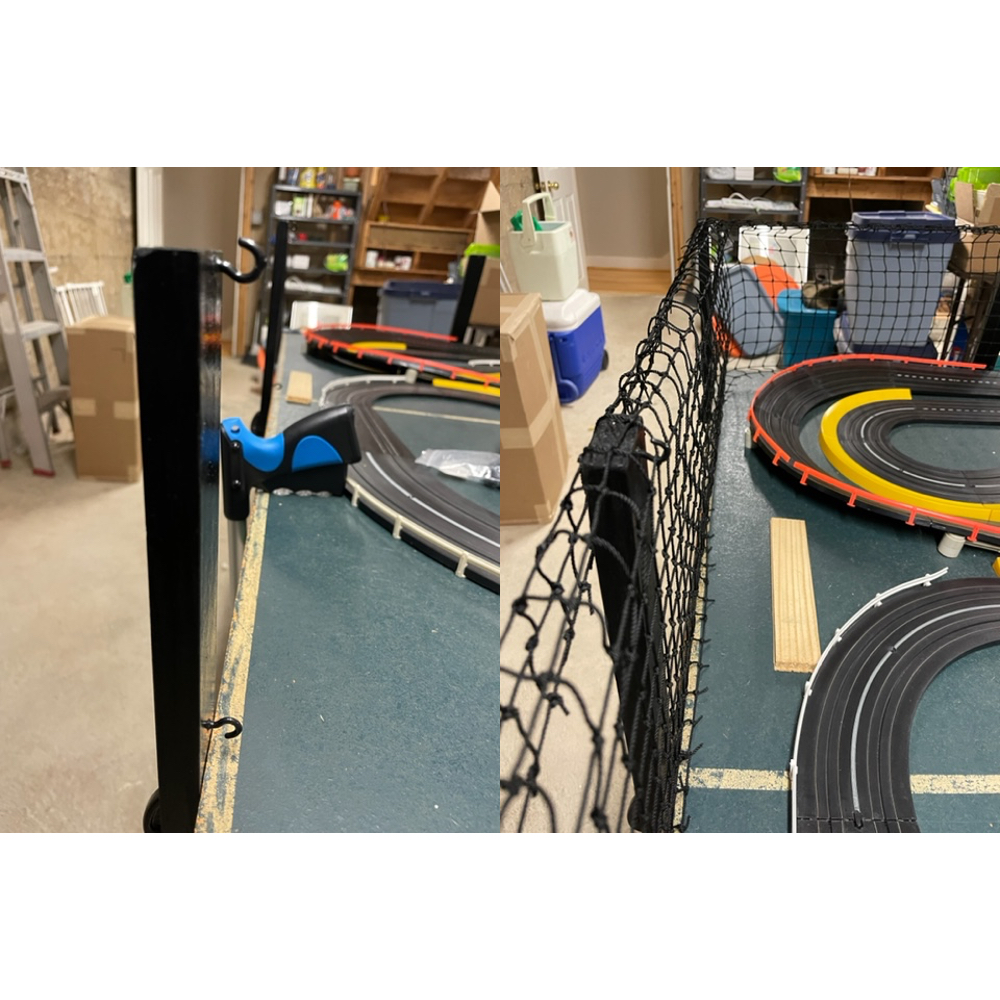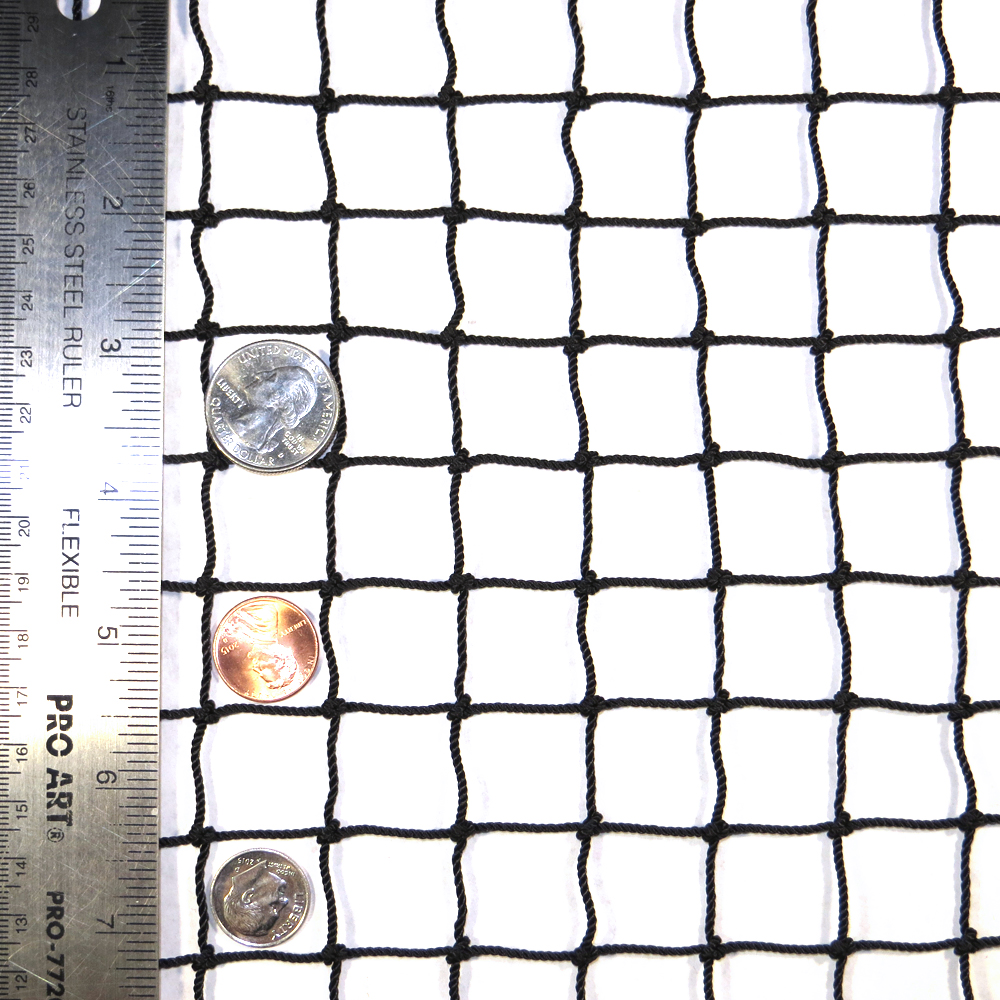 Josh Grzyb @ Gourock.com Netting