Baseball and Softball Batting Cage Nets: Customizable Solutions for Scholastic, Team and Commercial Use
Throughout our blog and site we have numerous examples of custom batting cage nets for baseball and softball batting practice that have been facilitated over the years, and here are a couple new examples that have shipped out in the last couple weeks. The batting cage enclosure nets that are supplied by Gourock.com are constructed according to most any custom dimensions and sizing you need, and are 100% Made in the USA featuring DuPont® Type 66-728 Twisted-Knotted Nylon Netting. In addition to the availability of custom sizing on the nets, there are also other more customized construction features that can be incorporated into the overall design of the netting.
At Gourock.com we specialize in the supply of custom nets and batting cage enclosure nets that are intended for all types of uses and customers, ranging from large scale commercial sports facilities to private individual residential family customers. Batting cage nets are conveniently available to order directly through our Online Custom Batting Cage Calculator – which allows you to enter in your own custom Height, Width, and Length dimensions for the netting enclosure to be built to. We offer the DuPont® nylon netting in twine thicknesses of #21, #36, and #72 – which provides a functional range of netting selections to best match your usage needs. We also offer free sample swatches of the nylon netting mesh types to be mailed out your way, so as you are researching baseball and softball netting you can always let us know your preferred mailing address to send the samples to and we'll get them going!
As mentioned previously, Gourock provides custom batting cage nets for many municipal and commercial training locations, and in many cases the most popular netting selection for these nets is the #36 X 1-3/4″ twisted-knotted nylon. For many batting cage locations like these, the nets are often constructed to a very specialized set of sizing dimensions in order to be properly installed within our customer's existing structure that will be suspending the nets. Sometimes this means that the overall cage enclosure needs to be extra-wide or otherwise oversized, and then conversely there are times when the framing/installation structure needs to account for shorter or narrower sizing requirements. Over the last couple weeks there have been a few custom batting cage netting shipments that are interesting to note, as they incorporate pretty unique construction features and necessities to best function at each location.
The first example shows an order that was for a pair of batting cage nets that were both built from the #36 X 1-3/4″ knotted nylon netting, and both had identical sets of dimensions and build features. These nets were produced for a school district for one of their high school baseball practice locations, and were being hung underneath their existing outdoor framing structure. Some of the custom netting design aspects of these nets include reduced length sizing, a 3′ diameter end-panel portal, and a secondary layer of impact netting included separately. These nets were fabricated and shipped out within 2 weeks of our customer's purchase order, and you can view some of the netting design details in the included product image posted here.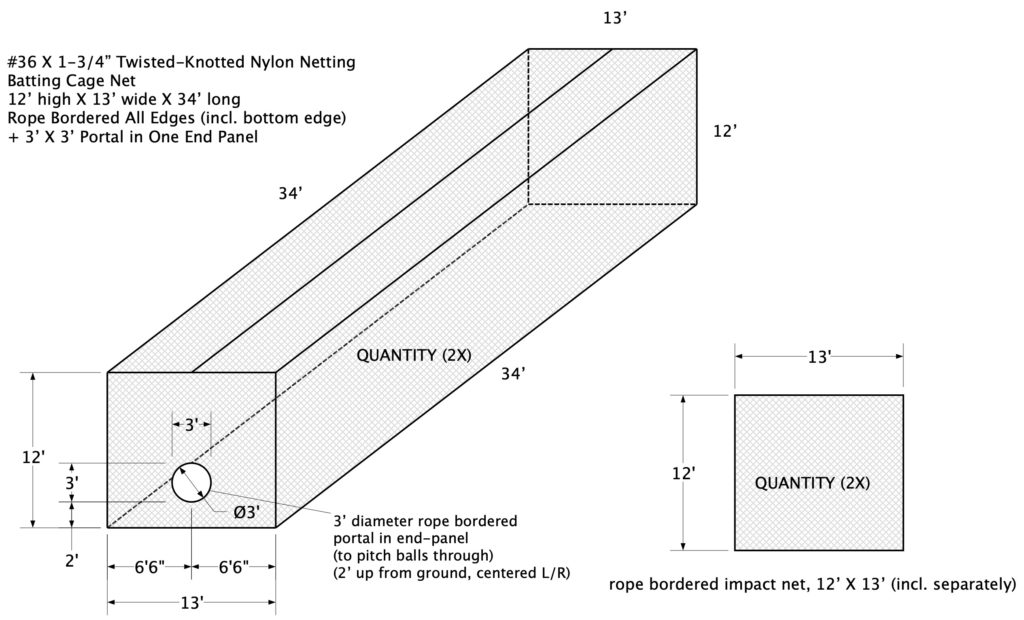 The second custom batting cage netting example is a good demonstration of nets that are produced to extra-wide sizes in order to provide maximum volume within a commercial training facility. These 2 nets were also constructed from #36 X 1-3/4″ twisted-knotted nylon netting, with 5/16″ Dacron® rope bordered edges. These nets were both manufactured to widths of 27′, and heights of 13′. In order to maximize the amount of available enclosure netting within their indoor facility space, having one of the nets built to a 60′ length and the other net built to a 25′ length was their preferred way to go. Other interesting custom design aspects of these custom nets include a series of ceiling line ropes, a series of side-wall support ropes, and 3′ overlapping netting entrance doors built into some specified corners. These 2 custom batting cage netting enclosures were produced and shipped out in about 2.5 weeks from the order being placed – transported via LTL to the sports training facility location.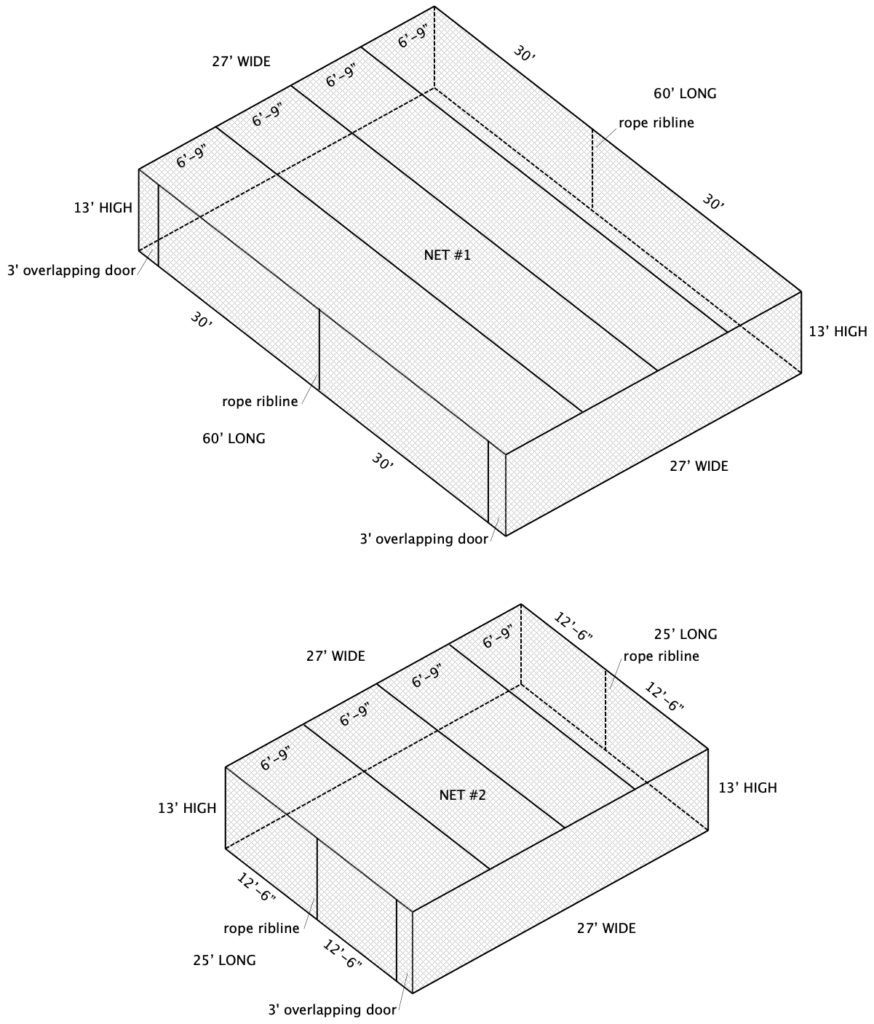 Both of these jobs were administered by us to our clients via a quotation and correspondence about their netting preferences and needs, so absolutely feel free to get in touch with us directly and we can always assist with your softball and baseball netting inquiries! Many thanks again to all of our appreciated custom netting customers, we value your business very much and it is our pleasure to be your trusted netting supplier!
Josh Grzyb @ Gourock.com Netting