Custom Netting Designs: Built to Meet Unique Needs
The netting materials and productions available from us at Gourock.com are used for a wide variety of protective, barrier, and exclusion needs. Custom netting designs are a great solution for property protection situations, as well as in areas that are needed to block, contain, or exclude objects from entering or leaving. For some general purpose context, protective nets are used for athletic purposes, window and structure barrier, bird and animal exclusion, debris and errant object containment, spectator and stadium protective needs, and many other unique uses in varying industries.
Throughout our site and store offerings, there are many different netting types that we have available for use in all of these sorts of protective applications. We offer mesh sizes as small as 1/4″, and as large as 4″ – with a wide range of useful mesh sizes in between. At Gourock we have over two decades of experience with custom netting supply for hundreds of different barrier and protective net uses, and we offer you nets that are custom produced per-order. This allows you the ability to install nets that are specifically designed and built to fit your own particular space or area of coverage, resulting in the best possible effectiveness and appearance.
In most instances, nets that are constructed to a standard rectangular or square shape design do a fantastic job for a barrier netting installation. We have the netting fabricated to most any particular widths and lengths (or heights and widths) that you require, ranging from quite small to very large in total sizing area. We are a popular custom netting source for customers of all types and volume levels, including very small private-use nets all the way to very large protective nets for military or industrial installations. In addition to netting panels that are based on 90º corner angles, Gourock.com also supplies nets that incorporate other unique sizing/shape details including tapered edges or angled sides. In many instances the custom netting panels will function the best for our customer if they are constructed with very specific sizing elements and sloped edges. In cases like this the netting will cover the uniquely-shaped area of coverage much more effectively, and will be more appealing and durable over time due to being fabricated specifically for the space.
Square or rectangular netting panels are immediately available for your convenient online ordering, directly through our Online Custom Netting Calculator. If you have inquiries into nets that may need some more unique shape features or custom netting designs, always feel free to get in touch with us directly and we can assist you with price quotes and options for consideration. To help elaborate a bit further on some recent netting jobs that include sloped/tapered/angled shapes, here are 3 examples of protective barrier nets that have shipped out in recent weeks for reference:
In this first example, our customer was a private residential client that required some protective netting to cover over the top of his solar panels. He has solar panels installed on the roof of his house, and his house is located along the fairway of an adjacent golf course – so he was experiencing damage to his panels from incoming errant golf ball shots. Due to the arrangement of his solar panels, the nets that he preferred to install needed to have tapered shape designs in order to function correctly. He wanted one net to cover the upper panels, and then a second net to cover the bottom panels. The best match material for this application was the #12 X 1″ DuPont® Type 66-728 Tarred Twisted-Knotted Nylon netting, with 5/16″ Dacron® rope bordered edges.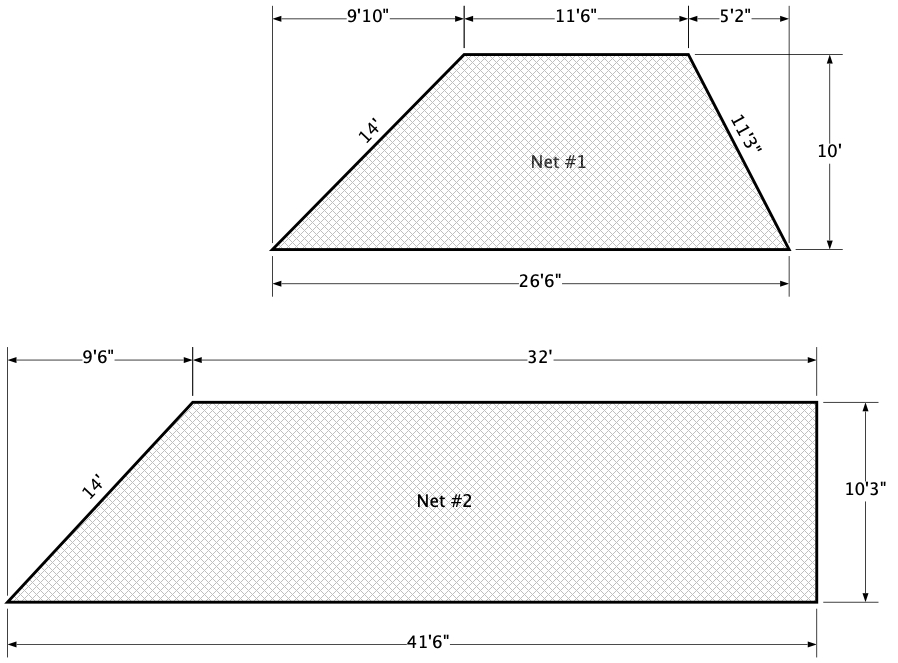 The second example demonstrates some custom netting panel designs constructed from the #36 X 1-3/4″ DuPont® Type 66-728 Twisted-Knotted Nylon netting, with 5/16″ Dacron® rope bordered edges. There were a series of rectangular nets, as well as a pair of more customized netting panels that needed to incorporate a sloping edge that allowed the net to contour from a 4′ height up to a 10′ height (over a 29′-2″ width span). This custom netting production was needed by our commercial fencing installation client, as they were building a barrier netting installation at a baseball stadium.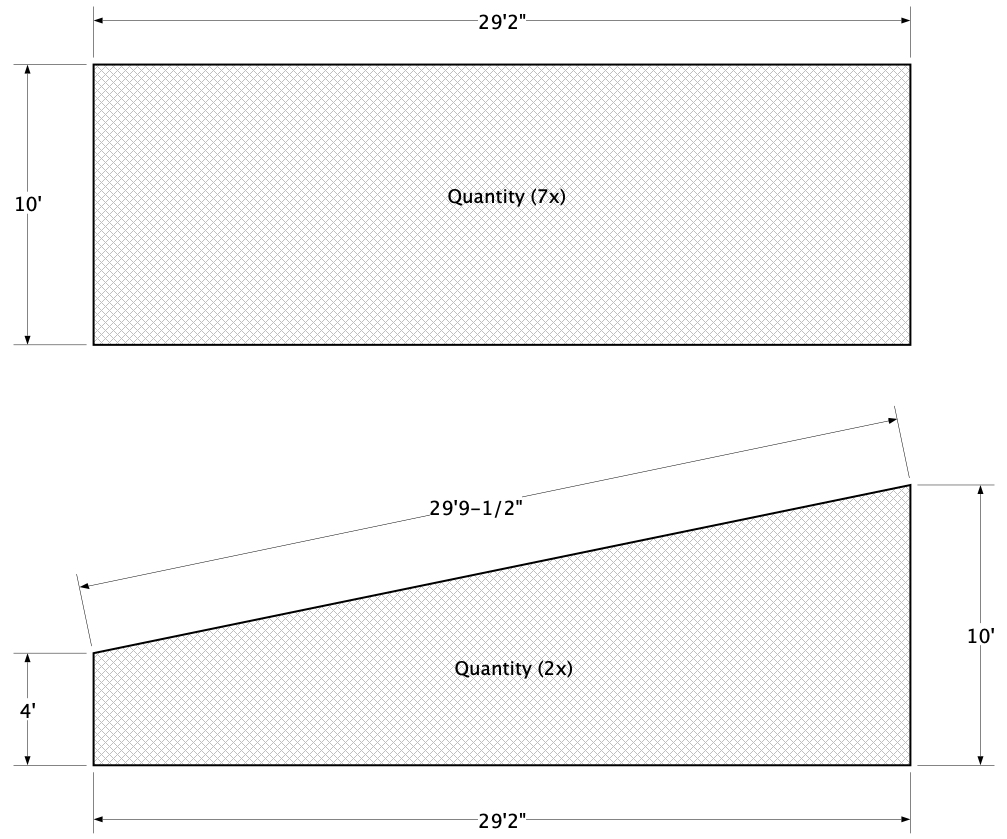 And the third custom netting example shows another series of nets that include a combination of rectangular-shaped netting panels alongside a pair of nets that also needed to incorporate a tapered sloping edge to account for height differences along the running length. These nets were all built from the #12 X 1-3/4″ DuPont® Type 66-728 Twisted-Knotted Nylon netting, with 5/16″ Dacron® rope bordered edges. They were needed by our client to be used as lightweight general-purpose barrier nets for multipurpose athletic applications.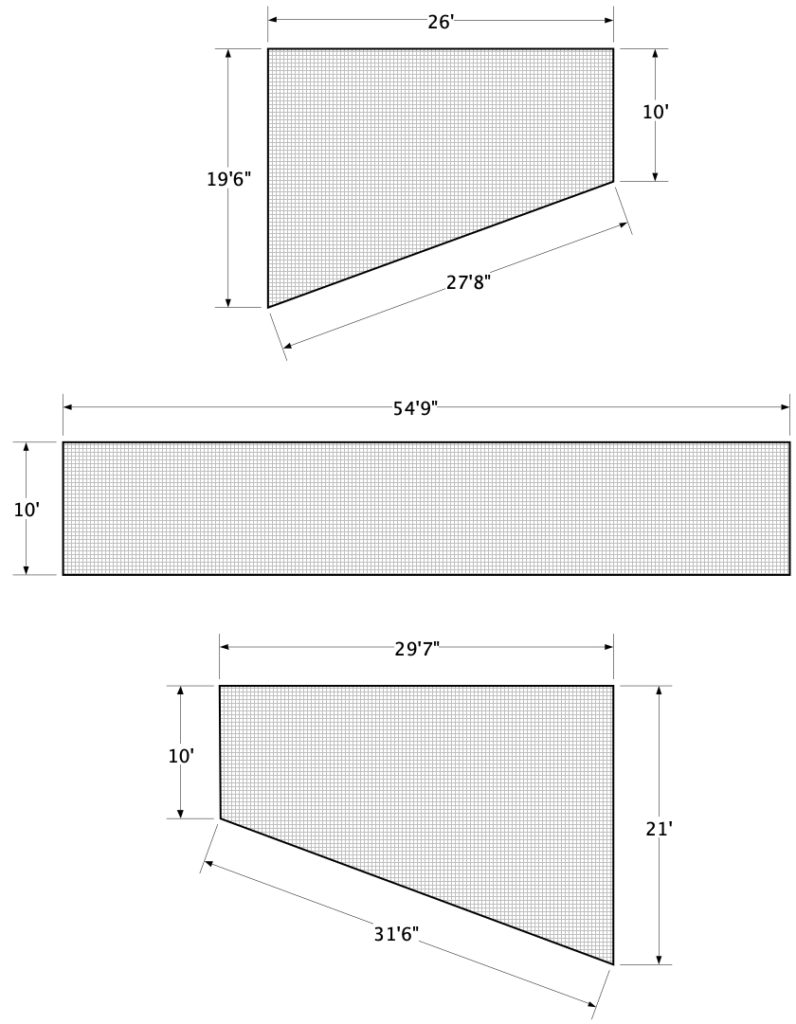 As you are doing your research into different netting options that you may be needing for your own projects or uses, absolutely feel free to get in touch with us at Gourock.com and we can quote you on tapered, angled, or uniquely-shaped custom netting panels and protective barrier nets. Many thanks again to all of our very appreciated netting customers and clients – it is our pleasure to be your trusted netting supplier!
Josh Grzyb @ Gourock Netting