Custom Netting for Baseball Stadiums, Bleachers, and Spectator Safety
For over 20 years Gourock.com has specialized in supplying custom barrier and safety nets for stadiums, concession areas, scoreboard protection, and other necessary netting needs for baseball and softball field locations. Baseball and softball stadiums often require the use of safety netting that is installed in strategic areas that need to contain, block, or otherwise exclude errant balls from either entering or leaving the space. Some examples of the different types of baseball stadium protective nets that we have supplied over the years include:
spectator safety and bleacher protective nets
scoreboard protection nets
concession area barrier netting
outfield ball containment nets
backstop and sideline barrier netting
dugout netting
railing nets and errant object exclusion netting
parking lot ball barrier nets
television camera and film operator safety netting
foul ball barrier nets
multipurpose barrier netting for unique needs or considerations
With Gourock as your sports and athletic netting source, you have convenient availability to have custom netting panels or nets built for your particular sizing or shape needs at your stadium or playing field location, allowing for the netting to have great fit and dependable function for many years. Most of the custom baseball and softball netting productions that we ship out are very well handled with the 1-3/4″ mesh size DuPont® Type 66-728 Twisted-Knotted Nylon Netting selections that we have available. But in addition to the nylon options, we also supply High Performance netting materials including 1-3/4″ mesh Twisted-Knotted High Molecular Weight Polyethylene as well (also branded in the marketplace as Spectra® or Dyneema® netting). All are 100% Made in the USA and handcrafted with professional workmanship in Washington State.
For baseball and softball barrier nets that are to be constructed to a customized set of height and width measurements, we offer you immediate online availability and ordering directly through Gourock's Online Custom Netting Calculator. This online custom netting tool allows you to order netting from most any sizing at all, and it can be selected to be prepared as relatively basic cut sections of mesh, or as netting panels that are professionally finished-off around the perimeter edges with Dacron® rope bordered edges.
Many of the custom sports nets that we supply and ship out for baseball stadium needs also need to incorporate very unique sizing or design needs, including features such as tapered or angled shapes, sloping edges, cutouts and notches, or extra-large sizing characteristics for spacious areas of coverage. If you have softball field netting or baseball stadium netting needs that will be best suited for nets that incorporate some of these types of customized features, always feel free to get in touch with us here at Gourock.com with your inquiries and we can get working on some quotations on options or selections that may best match your specific netting needs.
As a helpful example for a baseball stadium netting job that includes many different custom aspect to the net designs, see these following images of an order that was shipped out to a stadium location in Hawaii. These netting panels were needed to cover an open area that was located within the space between 4 individual playing fields. Within this open space was a spectator public area that included concession stands, walkways, merchandise vendors, and general access to the park visitors. The netting our client needed was intended to poorly cover this open zone and protect people and property from errant fouls balls and pop-ups from the surrounding fields. Our client provided us with a variety of different dimensions and areas that needed netting coverage, based on the locations of their vertical poles and tensioned aircraft cables that would be supporting the netting over the horizontal space. The material used for commercial and municipal athletic field applications like this was the #36 X 1-3/4″ DuPont® Type 66-728 Twisted-Knotted Nylon Netting with 5/16″ Dacron® rope bordered edges. This series of 10 netting panels were manufactured and ready to ship out in about 4 working weeks, and were delivered to our customer's site via freight delivery. As you can see, there are many different custom sizing, shape, and design characteristics for each net and coverage area that were all specifically built according to our client needs and confirmed dimensions.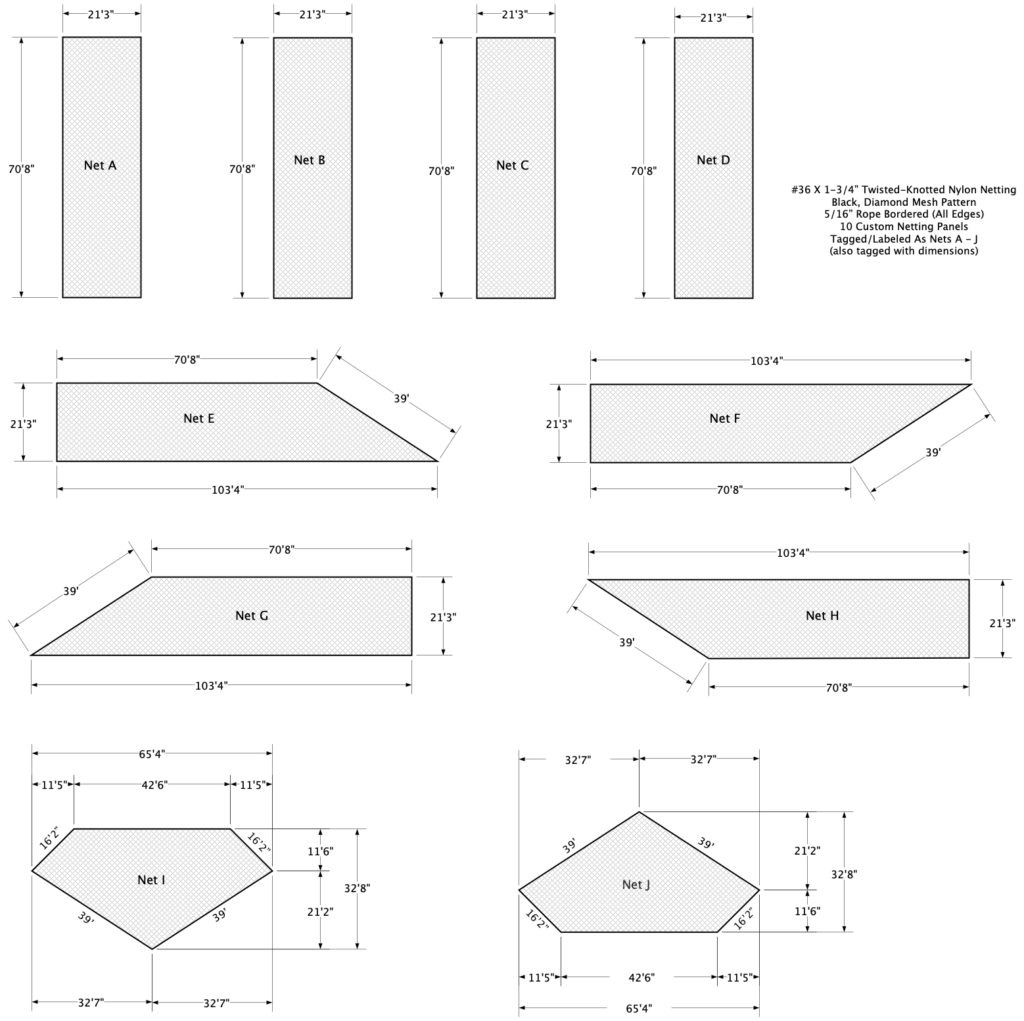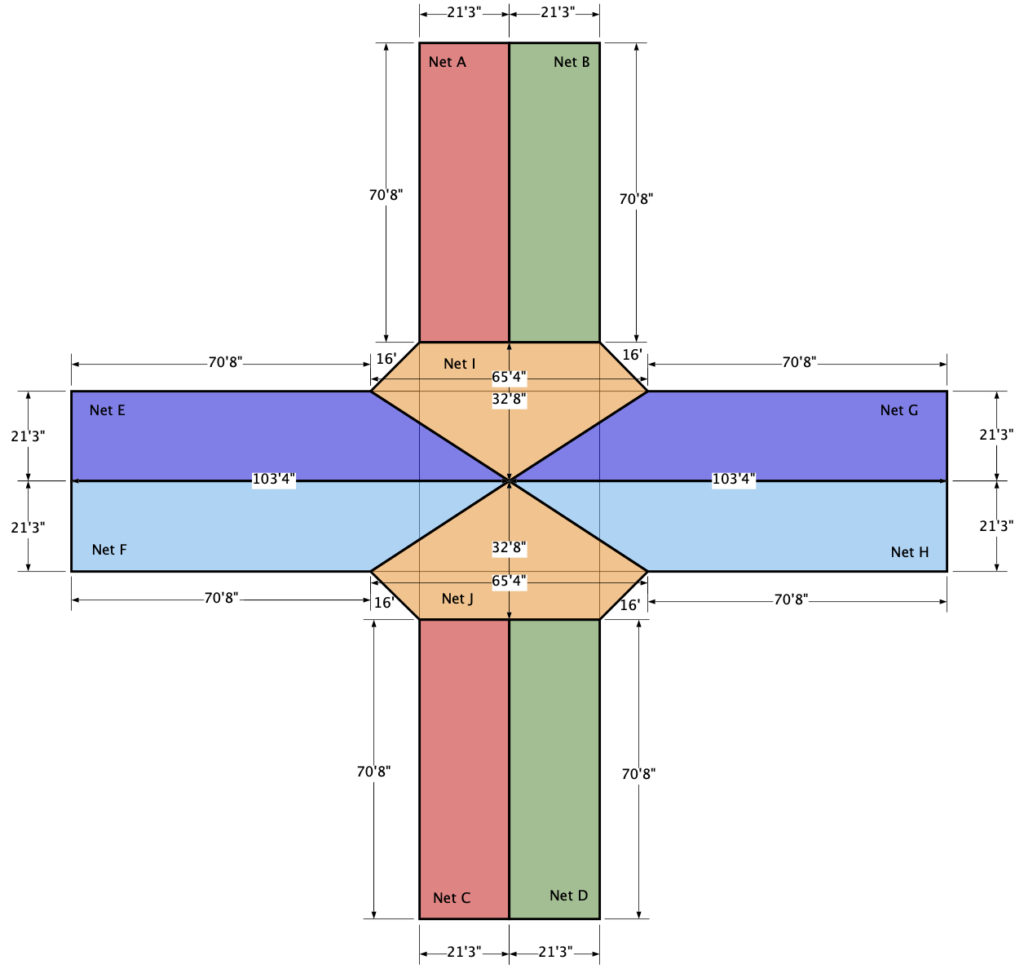 Many thanks again to all of our very valued custom netting customers and clients! Your business is very appreciated and it is our pleasure to be your trusted netting supplier!
Josh Grzyb @ Gourock Netting