Protecting Crops and Gardens with Custom Bird Barrier Nets
The custom nylon netting options that we have available at Gourock.com are very popular and dependable for many different bird exclusion, bird barrier, and aviary barrier purposes. Bird exclusion netting is an imperative feature that is found at a variety of different types of residential, industrial, agricultural, and municipal locations – and here at Gourock Nets we supply high quality netting options that function exceedingly well for all bird barrier purposes. Some of the considerations that our bird netting customers need to keep in mind revolve around bird issues that impact their locations – including property damage, minimizing waste and feces, crop protection, equipment protection, limiting access to retention ponds, fish protection, and other unique needs for excluding birds from either entering or leaving a particular area.
Gourock specializes in the supply of custom nets and netting products that are primarily produced from the highest quality DuPont® Type 66-728 Twisted-Knotted Nylon. This is a 100% Made in the USA nylon twine netting product that incorporates very high tensile strength characteristics, excellent abrasion resistance, is UV stable and very well prepared/finished for full-time outdoor exposure, low wind-shear rating, and a reasonably lightweight physical presence to maximize ease-of-use. The variety of netting mesh sizes and twine thicknesses that we provide allows you to select the best match for the type of bird netting you need for your specific needs. For instance, some bird barrier nets need to account for very small birds as well as larger birds as well – such as exclusion from parking garages, pavilions, and retail areas. Whereas other instances only need to deal with larger birds, such as predatory bird exclusion, pond barrier, or falconry applications. In the DuPont® knotted nylon netting selections provided by Gourock.com, the range of mesh sizes goes from a small 3/4″ up to a large 4″ – so there are very relevant and functional mesh options available for your particular bird barrier needs.
We supply netting directly through our Online Custom Netting Calculator that allows you to immediately order bird exclusion netting according to whatever custom dimensions that you require. In addition, we also specialize in supplying netting productions that are more highly customized to specific shapes or design features. One of the very popular bird exclusion purposes that we supply netting for is for our clients that require bird nets for garden, agricultural, and crop protection needs. Here is a recent example from this last month in which we had a private property owner that needed bird netting to cover his garden area at his island residence. The following photos show the framing/post structure that surrounds the crop area, which already has lightweight fencing mesh on the vertical walls in order to keep out animals. The situation he needed to alleviate was birds coming in from the top and accessing his garden, so the best solution was the 3/4″ mesh size knotted nylon netting that we offer for bird protection needs. The 3/4″ mesh DuPont® nylon netting that we supply features a black coloring, and a latex/urethane treatment, making it an ideal choice for installations in which the material will be subjected to full-time outdoor UV and moisture exposure.
In this particular case, his poles and framing structure was built with a series of angled sides – so the netting itself needed to be fabricated to match the unique dimensions and layout of the existing layout. As you can see from the included production diagram, we facilitated a customized netting panel that included the various tapers required to match the installation space. In addition, this #15 X 3/4″ twisted-knotted nylon netting panel was built with a 5/16″ Dacron® rope bordered edging sewn-in, allowing for a robust attachment point around the perimeter of the completed netting panel. Once suspended over the pole area, birds of all sizes are now 100% impeded from access to the garden area beneath – completely solving the bird issue he was experiencing.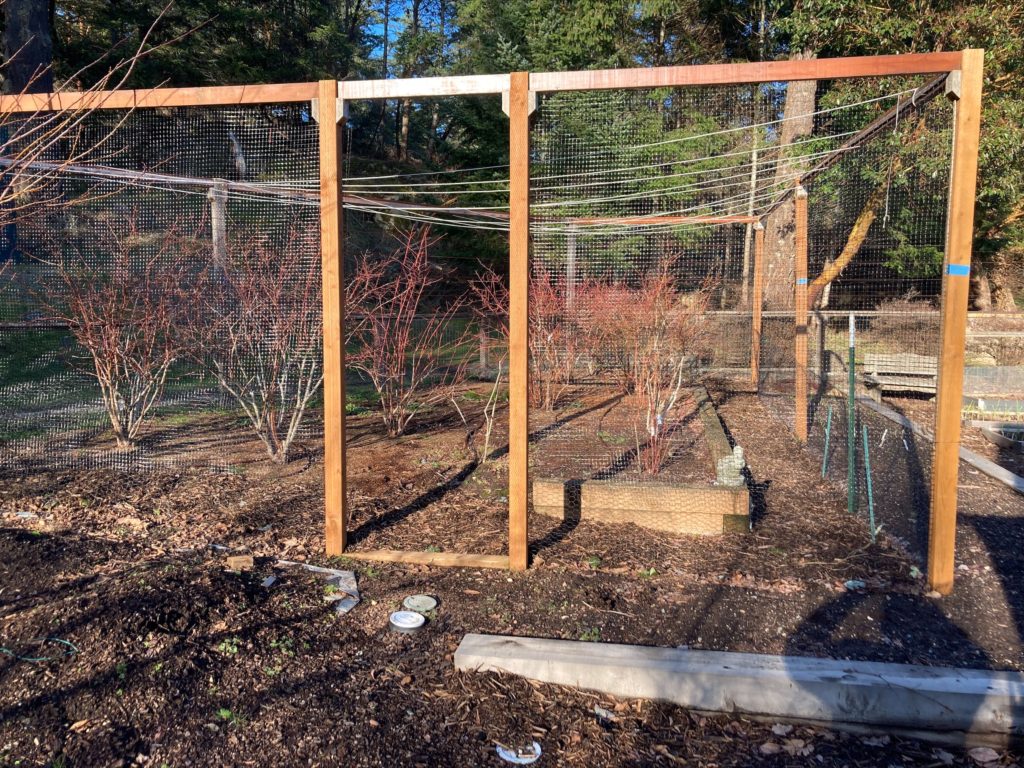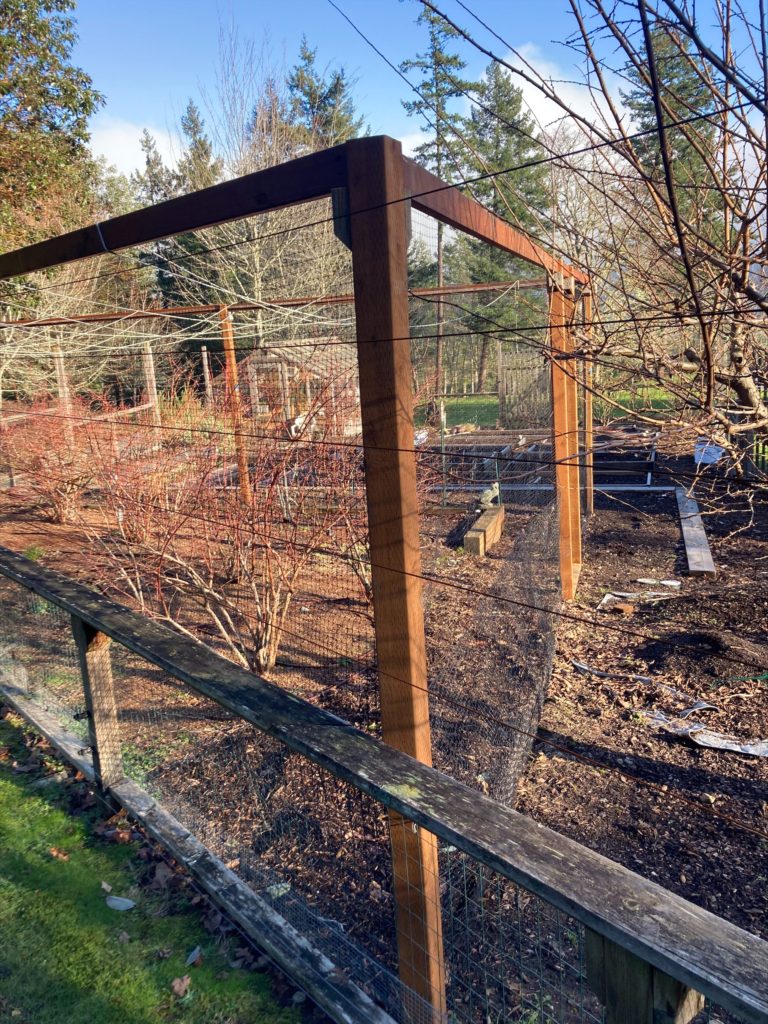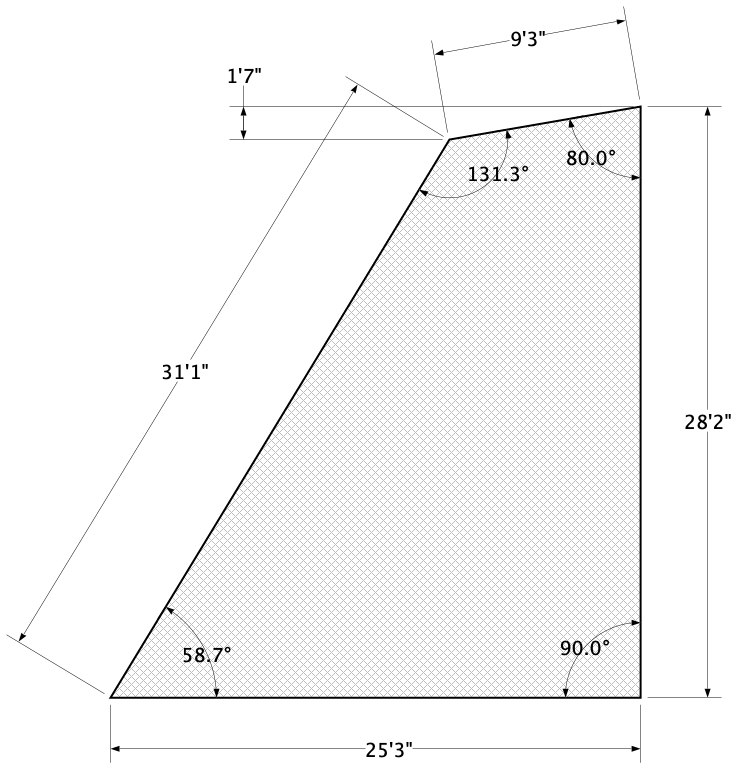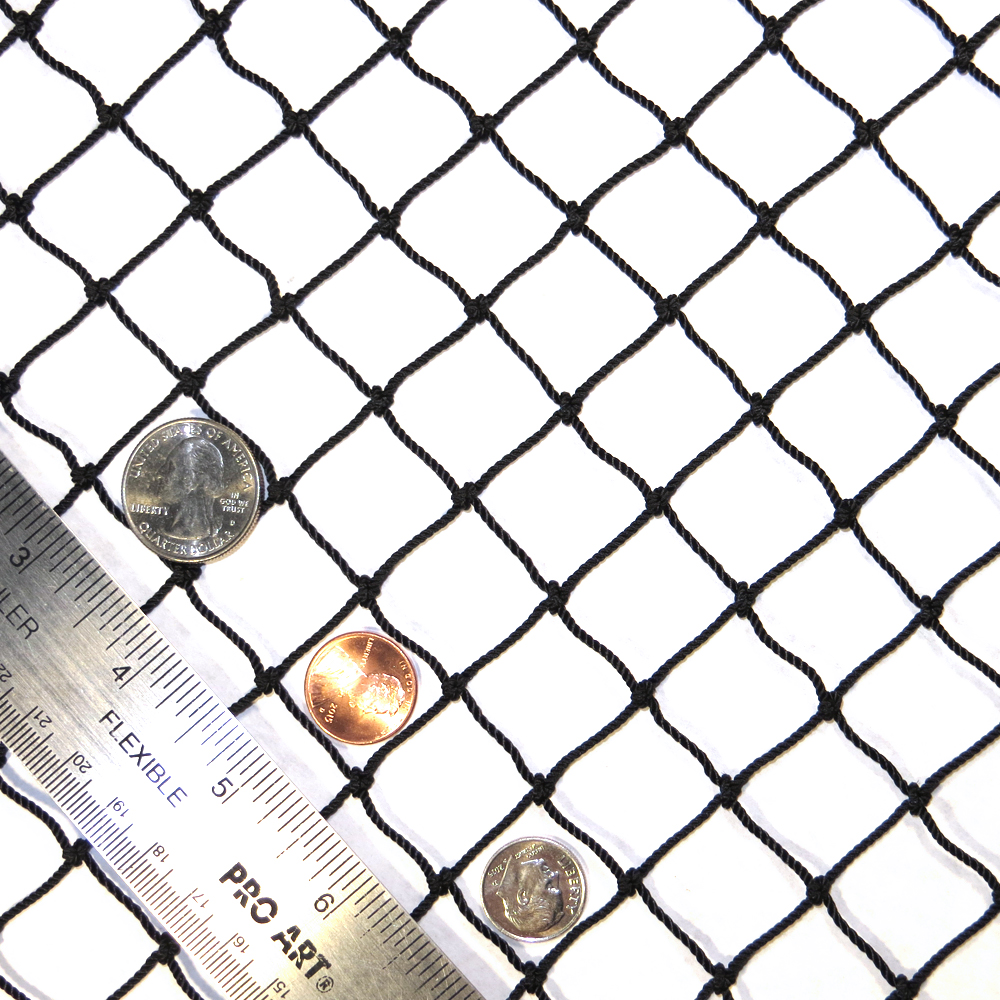 If you have a need for customized netting for your bird barrier or bird exclusion situation, always feel free to get in touch with us at Gourock.com and we can assist you with the bird netting aspect of your project. Many thanks again to all of our very appreciated custom netting clients, we value your business very much and it is our pleasure to be your nylon netting supplier!
-Josh Grzyb @ Gourock Netting