Bird netting, sports nets, barrier netting, and industrial netting products – made to customer specified sizing and shape requirements.
Custom netting products encompass a versatile range of solutions, including bird netting, sports netting, barrier nets, industrial netting, and safety nets. These tailored nets are meticulously crafted to customer-specific sizes and shapes, ensuring a precise fit for diverse applications. Whether you need bird netting to protect your property, sports netting for athletic facilities, or safety nets for various industrial needs, customized netting products offer unbeatable versatility and efficiency. Beyond functionality, these nets also deliver an aesthetically professional appearance and perform at the highest level of need, making them a smart investment for those seeking both form and function in their netting solutions. Discover the myriad benefits of opting for custom netting products that meet your exact specifications and elevate your performance.
Bird barrier netting offers a highly effective solution for safeguarding your property and improving cleanliness in areas plagued by avian nuisances. These specialized nets are designed to deter birds from roosting, nesting, and creating messes in various locations, from gardens and rooftops to warehouses and industrial facilities. Custom bird nets, in particular, are optimal for uniquely shaped areas that require precise coverage in mesh. By investing in tailored bird barrier netting, you not only ensure a perfect fit for your specific needs but also maintain the aesthetic appeal of your property while preventing damage caused by bird droppings and debris. Discover the many benefits of utilizing bird barrier netting to protect and enhance the cleanliness of your valuable spaces.
Sports netting is essential for maintaining safety and preserving the integrity of sports facilities, improving the overall experience for athletes and spectators. These specialized nets are designed to contain balls, such as soccer balls, baseballs, or golf balls, preventing them from causing damage or injury. Custom sports netting products are particularly advantageous for sports venues with irregular shapes, ensuring precise coverage. By opting for sports netting, you create a safer environment, protect property, and reduce the risk of accidents. The benefits of using sports netting to enhance safety and performance at your sports facility or recreational area are evident.
Recent Bird Netting Projects Supplied for Unique Customer Needs
Gourock.com specializes in the supply of custom netting products that are fabricated according to the many unique sizing requirements that our customers have for their projects. In many cases the projects are best suited with nets that feature customized shapes as well. In particular, many different bird netting, bird exclusion netting, and bird containment netting uses are most effectively handled with uniquely shaped nets. To help demonstrate some of the custom bird netting productions that are available to you from Gourock, here are a couple of examples from the last few weeks that will be helpful for context.
In this first recent custom netting example we are showing a pair of nets that were built for the ends of a quail pen enclosure. The quail pen framing was constructed from a series of arching tubes, and our client wanted to cap-off the ends with netting, as well as cover the arching top/ceiling with netting as well. The top netting was pretty straightforward, and was best handled with a typical rectangular net – in this case the dimensions were 39′-6″ X 60′-2″. However, the netting to cap-off the vertical ends of the bird netting pen needed to be built to closely line-up with the arching radial shape of the framing, and to work-around the entrance doors in the middle of each end. So as you can see in the production drawings below, these 2 custom nets were manufactured to a very specific set of dimensions and contours in order to accommodate our customer's specific needs. The nets on this project were built from #12 X 1″ twisted-knotted tarred netting, DuPont® 66-728 nylon, in a diamond mesh pattern – and with a sewn-in 5/16″ polyester rope bordered perimeter edge. This is an excellent and highly recommended material selection for bird netting projects, whether the need in to exclude birds from a certain area – or to keep them contained within an area. These nets were finished up in about 2 weeks from order, and shipped directly to our customer's location. Our appreciated customer provided us the feedback "Install of the netting went smoothly.  Fastened panels with zip ties loosely and made minor adjustments.  Then tightened all up and installed tin siding at base."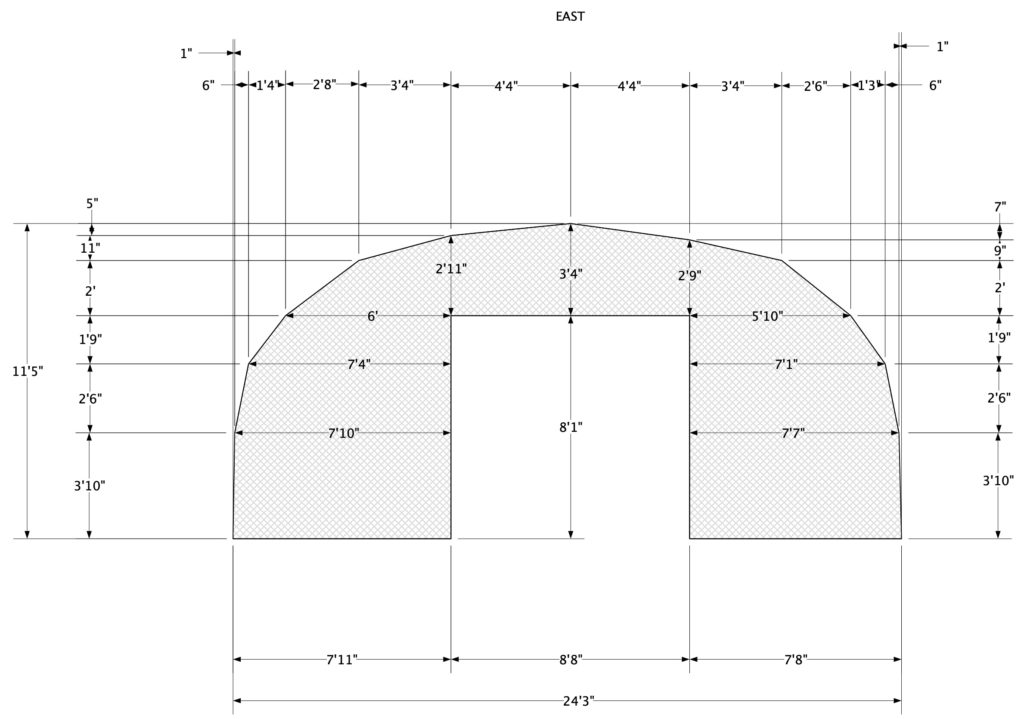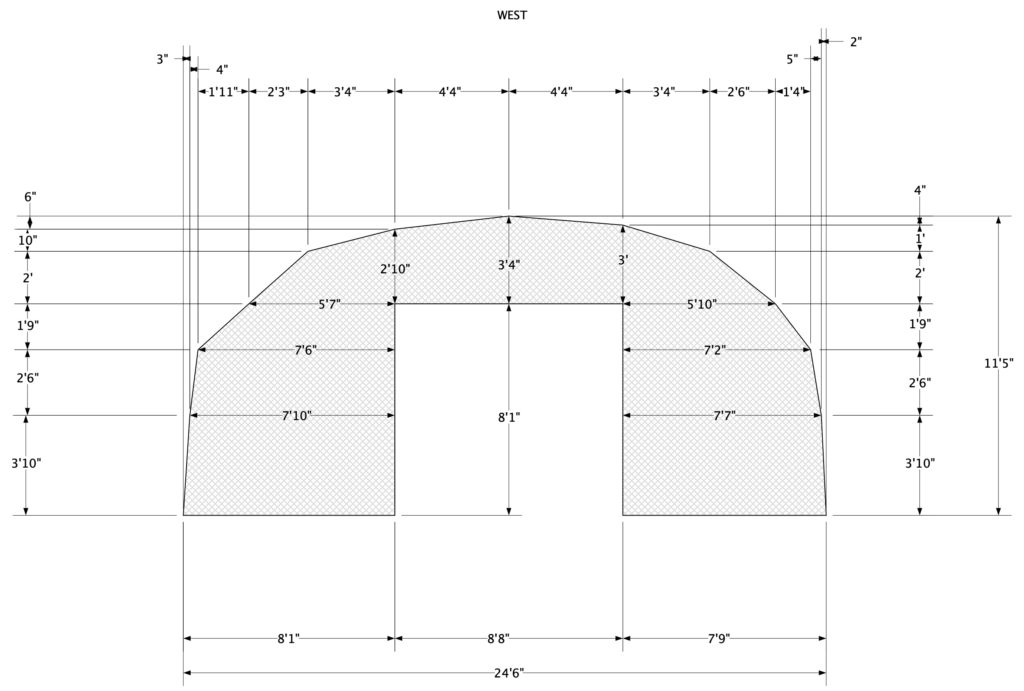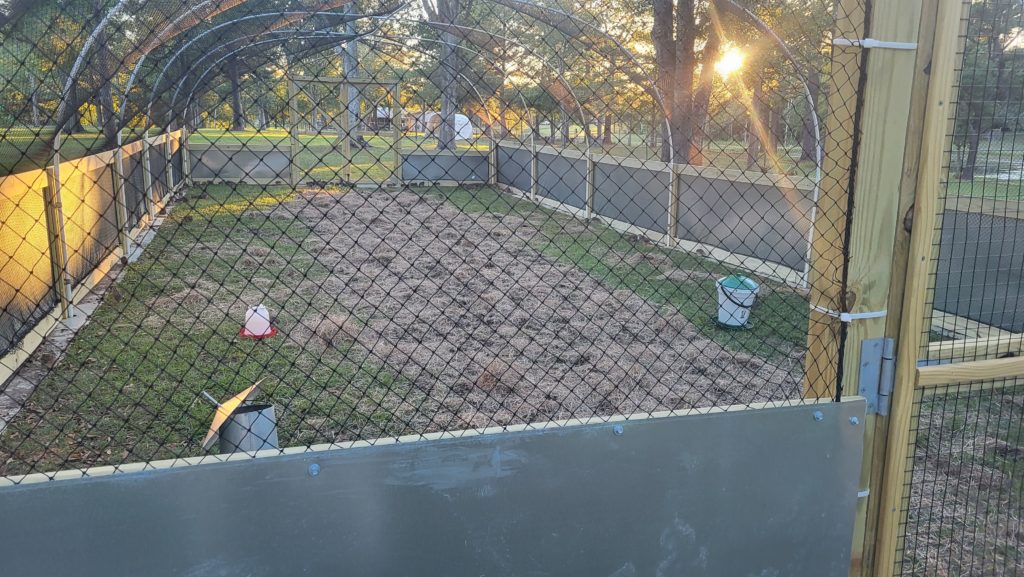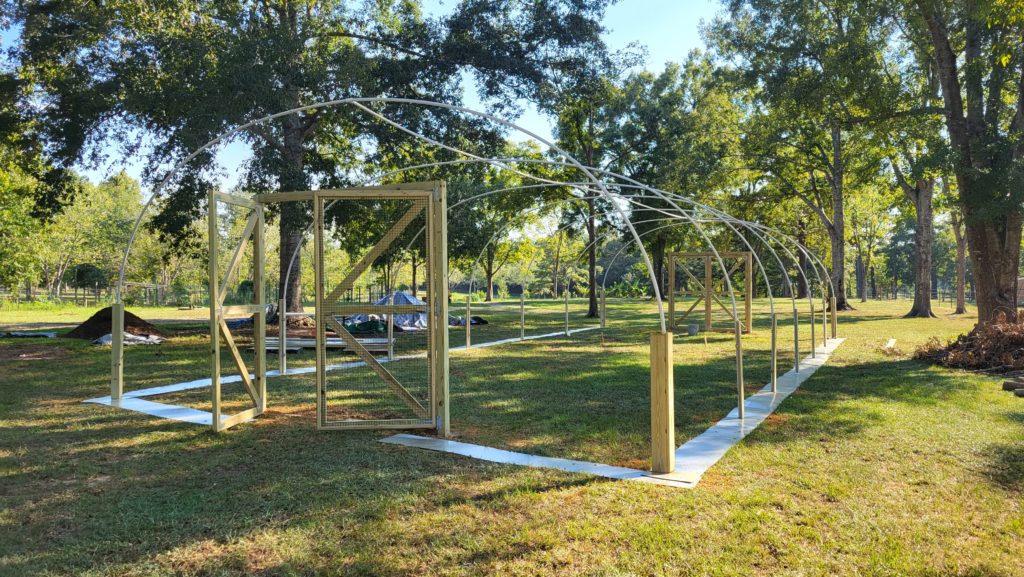 In this second custom netting product example we are showing a duplicate order for a longtime bird net customer of ours that required a couple more units for their industrial location. For their latest round of nets they also required custom shaped panels to line-up well with the contours of their storage pavilion. In this circumstance they are seeking to keep birds out of the interior area of the pavilion, and they utilize two of these netting panels per-end, allowing for them to meet in the middle of the open space and still allow for trucks and equipment to pass through the netting when needed (curtain-style). These custom netting products are built from the #18 X 1″ twisted-knotted tarred netting, DuPont® 66-728 nylon, in a diamond mesh pattern – and with a sewn-in 5/16″ polyester rope bordered perimeter edge.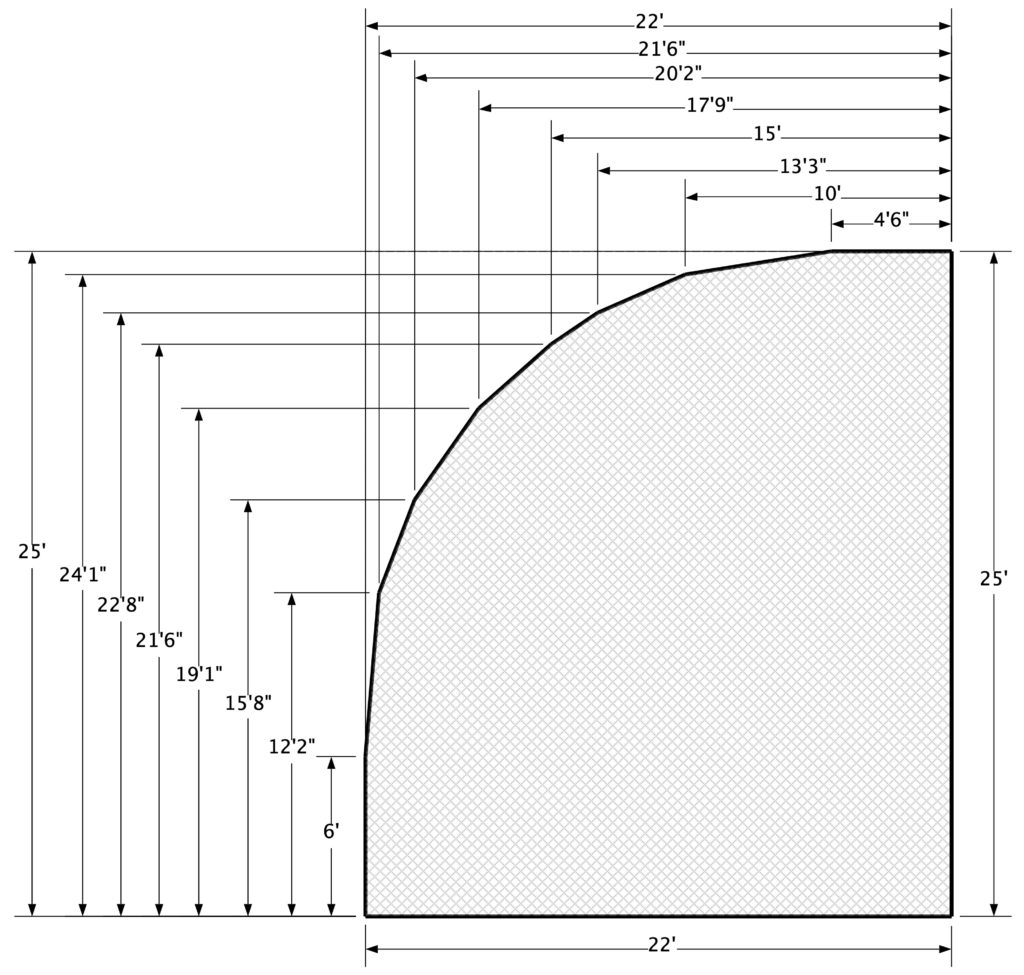 Sport Netting Built to a Custom Size and Shape for an Athletic Facility
In this third recent custom netting production example we are showing a custom design that was ordered and supplied to an athletic facility customer of Gourock's. In this particular case they needed a barrier net that would cover over the top of an area within their building that needed to be blocked from errant basketballs, general debris, and other sports objects. They wanted a netting solution that had a pretty small mesh size in order to account for most any type of object – large or small – so their preferred selection in this case was the 1/4″ hex-mesh Polyester Debris Netting. The space of mesh coverage needed to have some pretty specific dimensions and sizing needs to account for, as well as incorporating an angled side to it as well. In addition, the netting was preferred to be constructed with a 1-1/2″ webbing bordered perimeter edge with #2 brass grommets stamped every 6″. Along with this custom-shaped sports barrier net shown in the drawing below, the overall custom netting production also included 3 additional rectangular nets of the same construction (one net at 12′-6″ X 18′ and two nets at 13′ X 9′-6″). This total job was completed and shipped out in 7 working days of the order being placed, and shipped directly to our customer's sports facility location.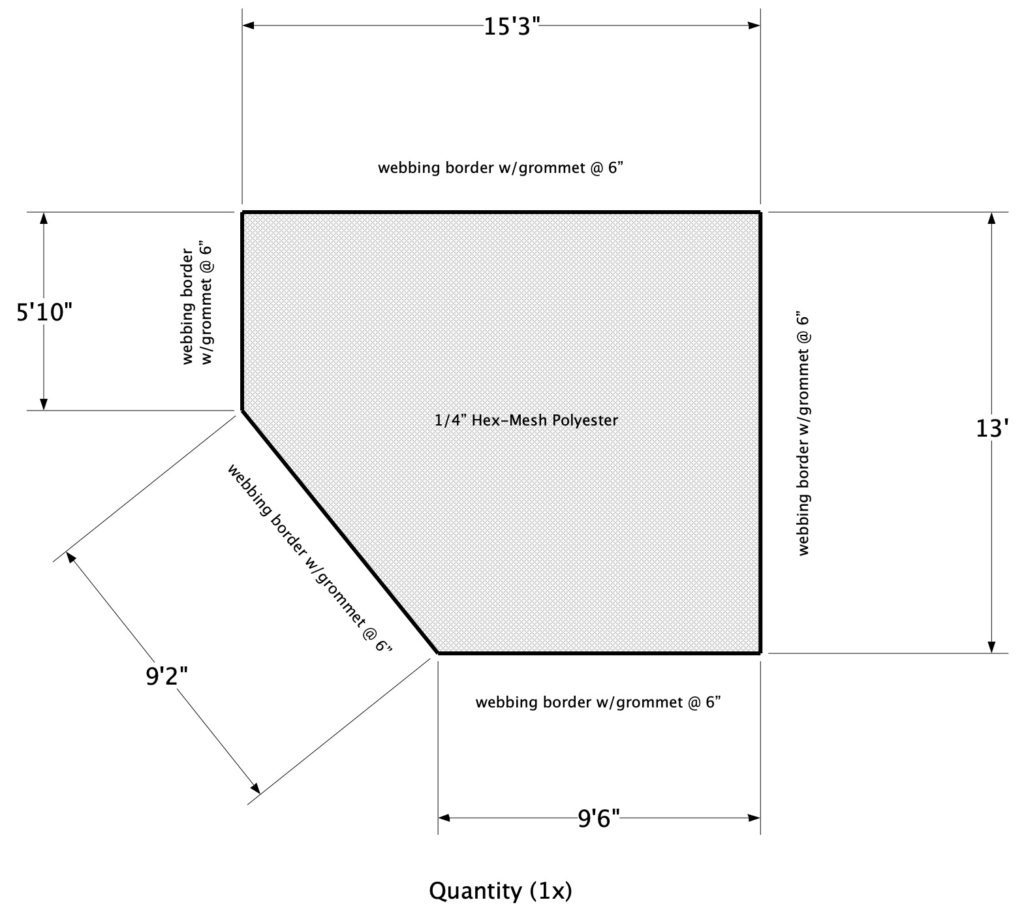 Many thanks again to all of our custom netting customers and clients! We appreciate your business very much, and it is our pleasure at Gourock.com to be your trusted and dependable netting supplier!
– Josh Grzyb @ Gourock.com Netting