Here at Gourock.com we specialize in the supply of unique netting shapes, nets, and netting productions that are built according to custom sizing and dimensional needs. In addition to netting panels that are constructed to specialty lengths and widths, we also have great availability for nets that incorporate unique shape requirements as well. Throughout the Gourock site and this company blog we detail hundreds of different nylon netting productions that have been fabricated to our customer's sizing and shape requirements, allowing our clients to source the netting solutions that will function in the best possible way for their particular projects. Gourock Netting specializes in a host of different netting selections, including several convenient twine thicknesses and mesh sizes – allowing for several effective net options for various uses and applications.
DuPont® Type 66-728 Twisted-Knotted Nylon Netting
The DuPont® nylon that we have available is a very high-quality Made In USA netting selection that is very durable, quite user-friendly, and throughout many different marketplaces is considered the premium option for effective netting solutions. Throughout the Gourock.com site and online store we offer twine thicknesses ranging from #12 (1.7mm) to #72 (3.5mm), and then mesh sizes starting at 3/4″ and going up to 4″. Due to our wide-ranging experiences with a very diverse array of different industries and netting clients, we generally have netting supply options that will be a great match for your project or installation needs. Here are three recent examples from the last few weeks that help demonstrate some of the custom netting solutions that are available from Gourock, each showing some unique product features and intended uses. Should you have inquiries into sourcing custom nets for your uses – large or small – absolutely feel free to get in touch with us though our convenient contact page and we can take a look at your needs and supply you with a quotation for our available netting options.
#36 X 1-3/4″ Knotted Nylon Netting, Circular-Shaped Net for Agricultural Purpose
This example shows a unique netting job that was produced to a circle shape with a 13′ diameter. There were 2 nets of this design and sizing that our customer required, and both of the nets were constructed from the #36 twine thickness nylon, with a 1-3/4″ mesh size. These netting panels were built with a diamond mesh pattern, and incorporate a perimeter edging of 5/16″ braided Dacron® rope. The intended usage for each net was for an agricultural need, specifically as hay bale cover netting for horse slow feed uses. These 2 circle nets were produced and ready to ship out in one business week from the order being placed.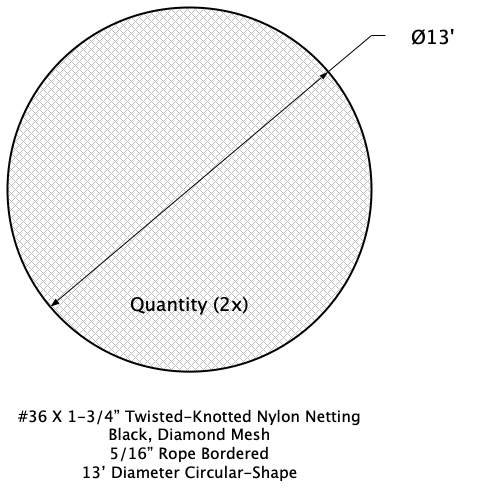 #21 X 1-3/4″ Knotted Nylon Netting, Custom Tapered-Shape Net for Pond Cover Needs
This example shows a custom net that Gourock supplied for US Fish & Wildlife that was needed to cover a fish hatchery pond in Oregon. It is a very large area unique netting shape of approximately 81′ X 148′, and it was required to have a tapered-shape sizing feature incorporated into it to functionally match and cover the pond area. So one end has an 81′ width, while the opposite end has a 65′ width. The resulting tapered edge allows for an exact match for the actual pond area – and thee custom netting shape will ensure maximum durability, ease-of-installation, and efficient usage over the years. The 1-3/4″ mesh size is optimal for predatory bird exclusion, along with large debris barrier. The 2.0mm twine thickness of the #21 twisted nylon twine has a high tensile strength, resulting in a very strong and reliable cover net that provides maximum efficiency and reliability for a long time period. The perimeter edges are 5/16″ polyester rope bordered, and this net was produced and ready to ship out within 2 working weeks of the order being placed.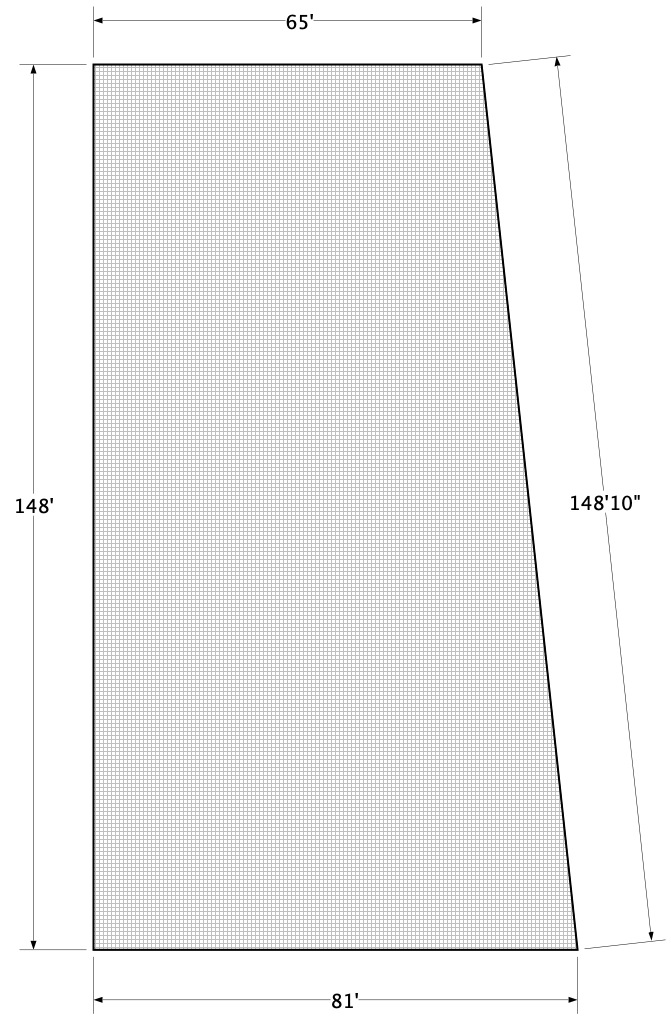 #21 X 1-3/4″ Knotted Nylon Netting, Custom Tapered-Shape Nets for Amusement Park Games
One of our recent clients in the last few weeks required 10 netting panels that were to be used as barrier and containment nets at their seasonal amusement park game installation. 3 of the nets were standard rectangular-shaped, however 7 of them needed to incorporate more customized unique netting shapes in order to best fit their framing and structural setups on-site. This example shows 5 netting panels that were built with a bottom edge that tapers from an 11′-6″ height sloping upward to a 9′ height – running along an overall length of 17′. It also shows 2 netting panels built to a trapezoidal-shape with the front edge being 15′ wide and the back edge being 10′ wide, and an overall depth of 10′. All of these nets were constructed from the #21 X 1-3/4″ DuPont® knotted nylon netting, which is a very popular multipurpose mesh selection for many different containment and safety barrier applications. The 5/16″ Dacron® polyester rope bordering was sewn-in to the perimeter edges of each net, allowing for fantastic strength around the edges and great ease-of-installation at the game site. All 10 netting panels were produced and ready to ship out in about 7 working days from the order being placed.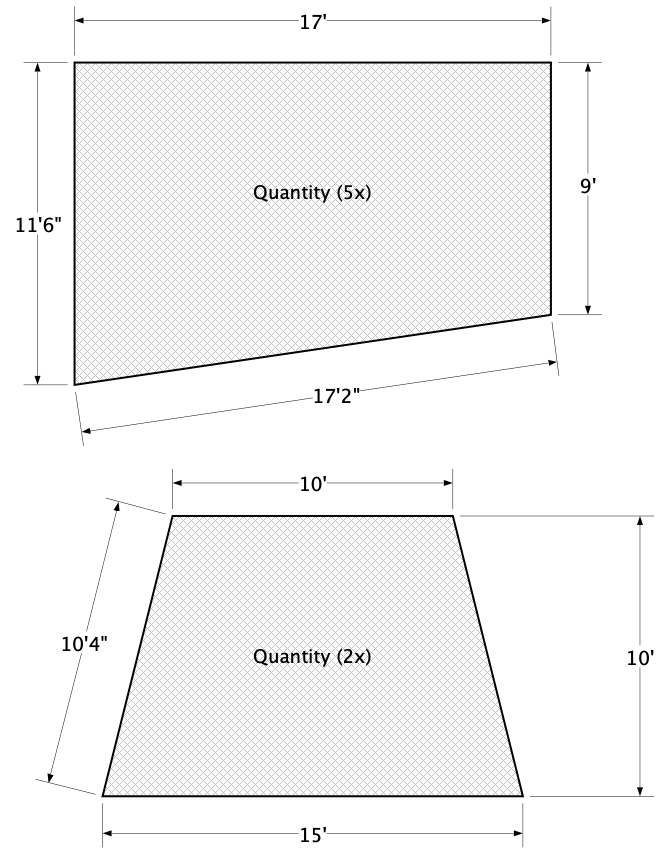 Many thanks again to all of our greatly appreciated custom netting clients and customers! It is our pleasure and privilege to be your source for the highest quality netting products for your unique net uses!
-Josh Grzyb @ Gourock Netting