HMWPE Netting and DuPont® 66-728 Nylon Netting for Professional Level Batting Cage Nets Built to Custom Sizing
Here at Gourock.com we have always specialized in custom netting, custom nets, and netting products that are built-to-order according to customized dimensions and sizing. Batting cage netting tunnels and batting cage enclosure nets have consistently been an expertise of ours, and having baseball and softball nets constructed to custom dimensions are a fantastic netting product solution for many different clients of ours. At Gourock.com we supply batting cage nets for a very wide spectrum of baseball, softball, and multi-sport customers – including those that require nets for commercial, professional, and high-abrasion training applications.
Professional level batting cage nets and netting enclosures are typically the types of products that are expected to be subjected to a high amount of wear, abrasion, and consistent impacts from baseball and softballs. This is due to the very high forces upon the netting from highly skilled batters, and also the consistent daily traffic through the netting during training schedules and batting practice sessions. In addition, many professional and commercial sports training areas have some pretty specific and unique sizing requirements for the netting that will be installed within the practice space – usually depending on the dimensions of existing framing and installation structures, or due to useable area constraints within an indoor area. Gourock Netting offers batting cage nets that are built according to most any height X width X length needs – and our nets are 100% Made in USA from the highest quality netting materials available. Over the years we have done hundreds of baseball and softball nets that all have unique sizing requirements and features, and here are two examples from the last few weeks that help demonstrate a couple very high-end professional batting cage nets that are built from the most premium materials that we have available.
#72 X 1-3/4″ DuPont® Twisted-Knotted Nylon Netting, Large Batting Cage Enclosure Net
The heaviest and thickest twine netting selection that we supply at Gourock.com is the #72 X 1-3/4″ nylon. This is a thick and strong twisted nylon twine that is composed of DuPont® 66-728 nylon, and features a very high tensile rating and abrasion resistance. This is the optimal netting selection for many professional batting cage installations that expect a high amount of wear-and-tear from baseball and softball impacts over time. For our commercial sports clients, this heavy #72 netting selection is the best choice for their enclosure nets and batting cage tunnels. In many cases, professional training locations and facilities need to cover their entire hitting and training area with containment netting – essentially creating a "shell" of impact and ball containment netting throughout their entire space. This is pretty popular for indoor establishments and indoor training facilities that prefer to work within a large volume playing space.
This following professional netting enclosure was built to suit our customer's space and volume preferences for their indoor facility in Wyoming. This net was constructed to the dimensions of 16′ high X 46′ wide X 76′ long, in order to fully-cover the majority of their available batting, pitching, and training area. There are also some other unique features incorporated into the netting design, in order to be most functional for their needs and uses. These extra features include a pair of 3′ overlapping-netting entrance doors that were located on specific locations of the netting walls, and then also the installation of 13 additional ceiling line ropes running both along the width and length of the ceiling net. Each one of these ceiling line ropes includes a 6′ long rope tail extending off the end, which were ordered by our customer in order to aid with their installation method and techniques on-site. This batting cage netting enclosure weighed about 880 lbs. when complete, and was produced within 3 working weeks of the order being placed.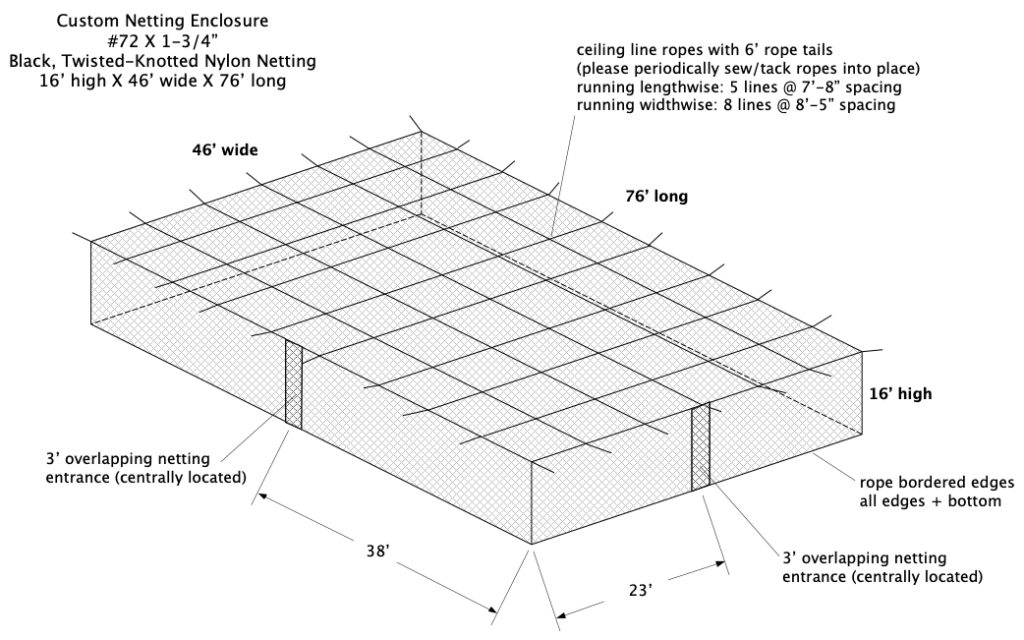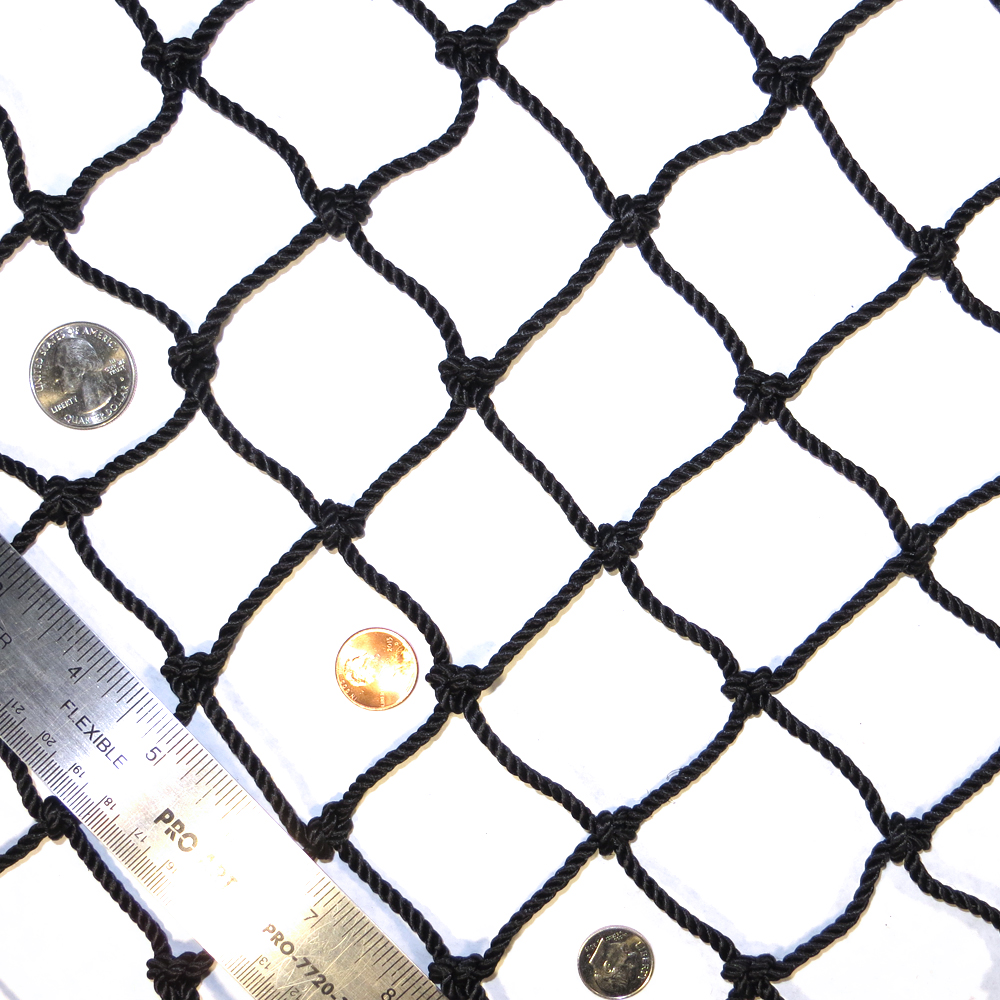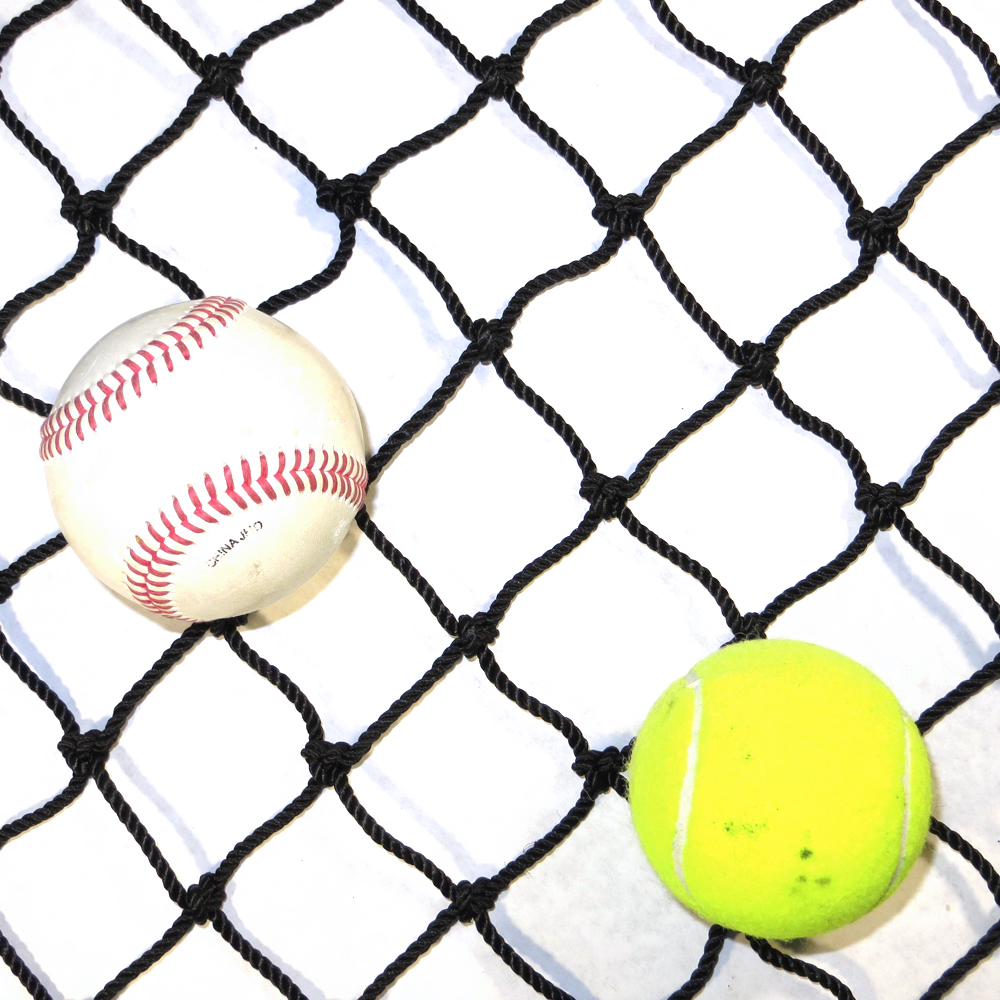 High Molecular Weight Polyethylene Netting, #18 X 1-3/4″ Knotted 'Dyneema®/Spectra®' Batting Cage Netting Enclosure
On the other end of the netting twine spectrum for commercial and professional baseball and softball uses is the #18 X 1-3/4″ HMWPE net material that we have available at Gourock. HMWPE is an abbreviation for High Molecular Weight Polyethylene, which is an incredibly high-tensile strength premium material that is considered a "High Performance" netting material selection. HMWPE is the material that is used for netting selections that go under the trade names of Dyneema® and Spectra®, and is a netting selection for commercial, industrial, and professional customers that require an extremely high-strength material that also is as minimally thick as possible. We generally see the Dyneema® netting being used for high-end sports applications that involve cameras and other technology that is utilized at sports stadiums, training facilities, and gymnasiums. Many coaches and trainers prefer to utilize modern camera technologies within their approaches and regimens – and in order to properly use the cameras they need to make the netting obstruction as minimal as possible. But at the same time, the netting needs to have a very high strength characteristic in order to properly protect equipment from impact damage from baseballs and softballs. Another typical situation for the use of the #18 X 1-3/4″ knotted HMWPE netting is around professional and NCAA sports stadiums that are being filmed by production firms such as ESPN. They need to have maximum protection from balls, while also needing the netting to be as minimally obtrusive as possible.
One recent baseball training facility client of Gourock's uses high-speed cameras within their batting and pitching training programs, and needed a netting enclosure built from the #18 X 1-3/4″ HMWPE netting in order to take advantage of its phenomenal combination of strength and lightness. For situations in which high-speed cameras are a vital component of the batting and training regimen, the most typical selections of thick/heavy knotted nylon nets are often not the preferred selection. Thick twine nylon nets are fantastic for high durability, dependable abrasion resistance and very strong tensile rating – however often are too thick and can be a visual obstruction for proper camera usage. So in these cases, the ultra high-strength Dyneema® fiber is a great selection to minimize the amount of mesh in-front of the cameras, while maintaining high strength durability and safety upon ball impacts.
This recent HMWPE batting cage net was built to our customer's ordered sizing of 22′ high X 20′ wide X 85′ long and in a square mesh pattern. It also incorporated a pair of 7′ tall entrance doors located on the ends, built from 3′ overlapping HMWPE netting as well. All edges and center-ceiling line were finished with 5/16″ Dacron® rope bordering, along with 6′ rope tie-off tails off the upper ceiling ends as well. This net was fabricated and ready to ship out to our customer in Washington within 2 working weeks of the order being placed.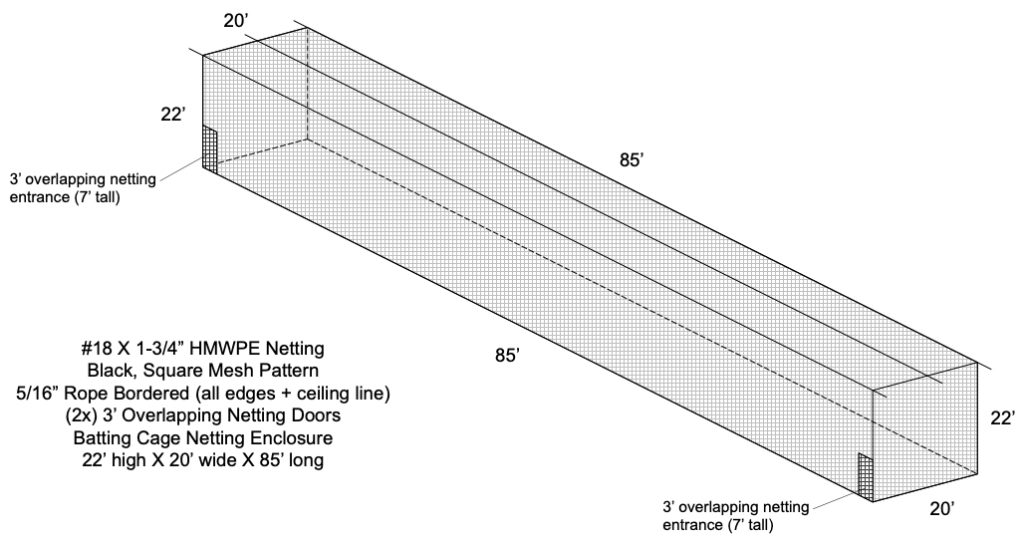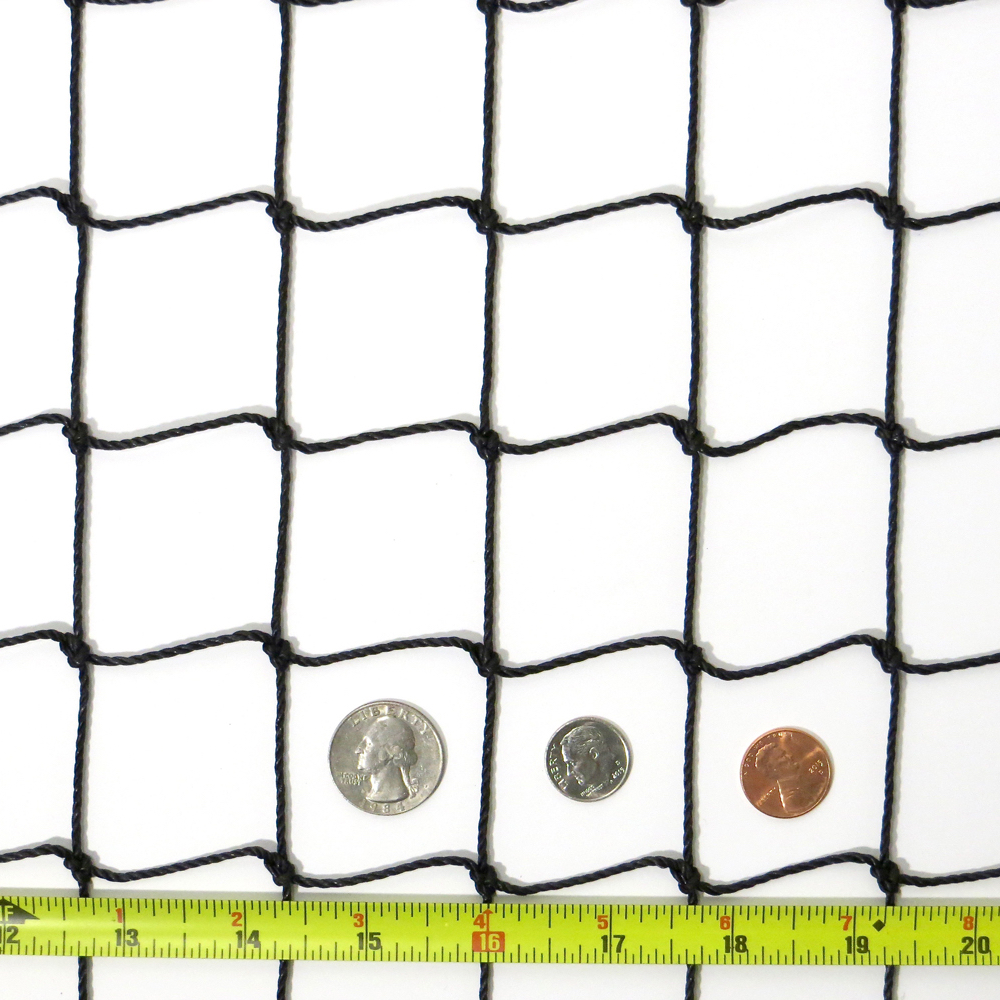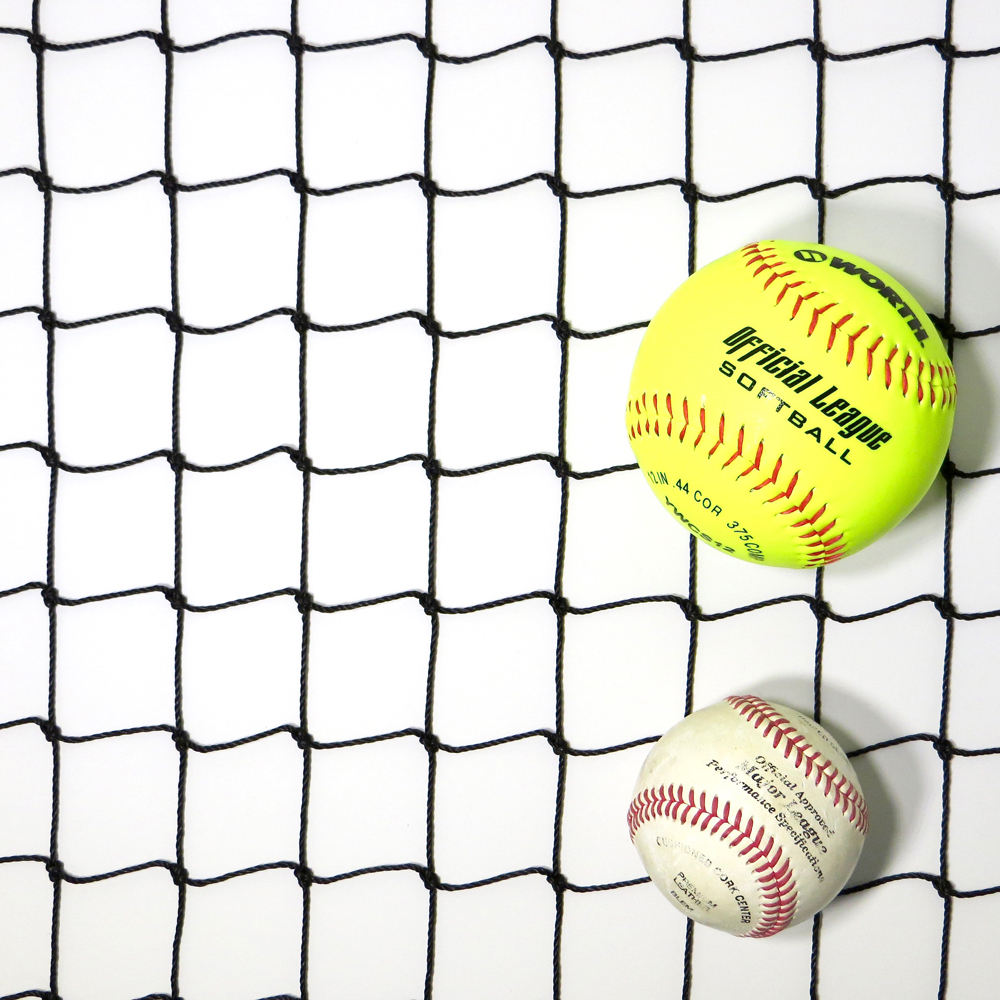 Directly through our Online Custom Batting Cage Calculator we allow for very convenient online ordering of custom batting cage nets that are built to any Height X Width X Length – from the twisted knotted nylon netting selections that we offer. However, if you have something more customized in-mind for your batting or sport sports facility application we certainly invite you to get in touch with us with some of your initial details or needs and we can get a correspondence underway on the netting project.
Many thanks again to all of our very appreciated custom netting customers! It is our pleasure to assist and supply you with the nets that you need, and thank you very much!
Josh Grzyb @ Gourock.com