Baseball Netting, Softball Nets, and Baseball Stadium Custom Nylon Netting
Supplying netting and sports nets for baseball and softball uses has always been a speciality of Gourock.com. For two decades our company has been a leader in online ordering and sourcing of custom netting productions that are used for a wide variety of different baseball and softball applications, including batting cage nets, hitting nets, netting enclosures, stadium barrier nets, spectator protection netting, pitching and fielding nets, impact netting, and many other types of custom or uniquely built netting products for specialized baseball and softball needs.
The baseball netting and custom softball nets that we offer are 100% Made in the USA, from premium American materials such as DuPont® Type 66-728 Twisted-Knotted Nylon Netting, DuPont® Kevlar, and High Molecular Weight Polyethylene (HMWPE – "Dyneema", "Spectra"). Directly through Gourock's convenient Online Custom Batting Cage Calculator, Online Custom Impact Panel Calculator, and Online Custom Netting Calculator you have immediate access to pricing and ordering custom nets that are constructed according to any particular dimensions or sizing that you're aiming for. Netting panels for stadium protection and baseball containment applications are very popular and produced per-order, allowing for you to get the best possible fit, function, and appearance for your netting installation. Same with the batting cage nets and netting enclosures – those sports netting products are also fabricated per-order to your own specified dimensions. This allows for direct sourcing of batting cage nets and pitching nets that are built to fit your own particular training area or available space.
With quick production turnaround times, 100% Made in USA materials and production, and many years of experience in custom netting supply, Gourock.com is your expert source for netting supply. Ranging from the largest and most complex commercial and industrial sports training facilities, to individual small-area nets intended for private residential clients, at Gourock we have facilitated it all. With fast and secure online ordering options immediately available to you right through our online store, we also welcome your emailed correspondence of more customized netting designs, features, or commercial volume requests – so always feel free to contact us directly with your requests and we can always take a look!
Every week of the year we are working on many different types of customized netting supply orders for a variety of unique clients and customers. Over the last couple weeks there have been three baseball netting and softball netting productions that have shipped out that help demonstrate some of the custom net options available for your consideration.
The first example shown below is a series of three custom netting panels that were constructed from a very popular baseball netting selection, which is the #21 X 1-3/4″ Twisted-Knotted Nylon. The three nets on this particular invoice were produced for a commercial contractor that builds backstops for baseball and softball stadiums and fields. Two of the nets are used for the left and right sidelines, with one longer net to span behind the plate. Featuring custom dimensions and incorporating tapered-shapes, these baseball barrier nets are built to fit our customer's pole and support cable/wire locations. These nets were finished and ready to hit the road within 7 working days of the order date.
The second custom netting example shown below demonstrates a batting cage net that is also built from the #21 X 1-3/4″ DuPont® nylon netting. This batting cage net was custom built to the sizing of 10′ high X 18′ wide X 60′ long – and also features a built-in custom overlapping netting entrance door on one end-corner. This net was made for a private residential client, and was built within 7 working days of the order being placed.
Thirdly, the final netting job shown below also shows a custom batting cage net built from the #21 X 1-3/4″ knotted nylon netting. This baseball netting enclosure was built to the sizing of 11′ high X 11′ wide X 40′ long, and was also being installed at a home/residential location. Our customer already had an existing framing structure on their property that they needed to suspend netting from, and specifically wanted an entrance area located on one of the end panels – which we were easily able to accommodate. This net was also completed and ready to ship out within 7 working days of his order being placed.
Many thanks again to all of our greatly appreciated custom netting customers and clients! It is always a pleasure working with you on your netting supply needs, and we're proud to be your high-quality premium baseball and softball netting supplier!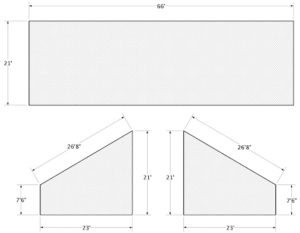 – Joshua Grzyb @ www.gourock.com