Nylon Netting and Nylon Nets Built to Customized Shapes and Sizes
At Gourock.com we specialize in high-quality netting supply and providing our customers with customized netting products that are built per-order according to custom dimensions. Primarily featuring twisted-knotted nylon netting materials, the custom nets that we ship out are constructed according to different specialized sizes and shapes that will best match each client's particular needs. The use of netting and nets is an extremely popular and functional solution for many different applications within athletic, industrial, protection, safety, municipal, residential, and multipurpose needs.
With over 20 years of professional experience supplying custom netting productions for our customers, Gourock.com is highly regarded as a superior source for customized nets made from premium materials, and 100% Made in the USA. Primarily specializing in DuPont® nylon, we also specialize in nets composed from polyester, Kevlar, and HMWPE (Dyneema/Spectra) netting selections as well. The netting options that we have available are directly available online through our very convenient Online Custom Netting Calculator, which allows you to directly source nets that are built according to most any 2 dimensions that you require for your project. However, we also provide nets that are more highly customized with special shapes, tapers, angles, and unique features.
For instance, there are many different situations in which the netting that is being used for a particular project would have the best overall function and fit when it has angled and tapered shape properties. Some very popular instances include nets that are being installed over baseball and softball backstops, nets that need to follow an angled support cable between poles/rafters/supports, protective barrier netting on the sides of golf simulators, nets to cover boat decks, tapered protective nets for stadium locations and spectator areas, and uniquely shaped netting nets that are installed over solar panel arrays for golf ball barrier and hail protection purposes.
At Gourock.com we can supply custom tapered netting shapes that are built to sizes both very large and also quite small in overall sizing. We are a firm that works with clients in a huge variety of industries and markets, ranging from massive industrial firms to individual private residential users. The best way to get some correspondence underway regarding the custom netting sizing or shapes that you may need for your project is to contact us directly at Gourock and send over a basic diagram or description of your needs. We are more than happy to take a look at everything for you and get some pricing options summarized for you on the netting, along with some good recommendations or suggestions on the most applicable netting type, twine thickness, and mesh size for the intended purpose of the nets.
Here are 6 recent examples of different types of custom netting panels that we have quoted, built, and supplied for a variety of our appreciated customers. All of these examples shown in the product design drawings help demonstrate the various different sizes and unique details that we often ship out for different clients in different industries. Each of these nets were composed from the highest-quality Made in USA DuPont® Type 66-728 Twisted-Knotted Nylon Netting and incorporate 5/16″ Dacron® Rope Borders sewn-in around the perimeter edges. The average production leadtime for these and similar custom nets is only about 7 working days and then they ship directly to our customers via UPS Ground shipment service.
Netting is a fantastic solution for a huge variety of safety, containment, exclusion, and protective applications. Here at Gourock.com we greatly appreciate all of our great custom netting customers, and it is our pleasure to be your trusted and dependable netting supplier! Many thanks again!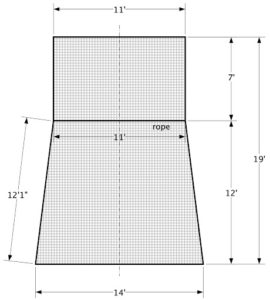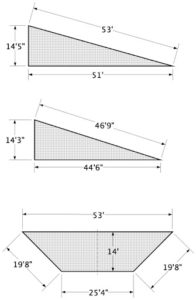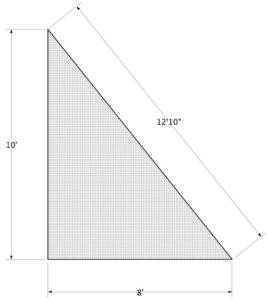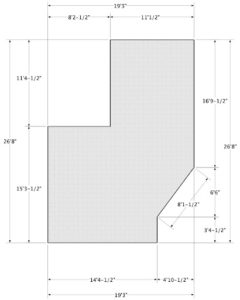 -Josh Grzyb @ www.gourock.com