Custom Nylon Netting Panels and Unique Nets Built From #36 X 1-3/4″ DuPont® Nylon
At Gourock.com we specialize in supplying our customers with top-quality netting products, custom netting panels, and nets that are constructed to customized sizes and dimensions. Applicable for a huge array of different industries and uses, the nets and netting productions that we supply are constructed according to the particular sizing needs that our clients require for their projects – which allows for the best possible fit and function for the overall job.
We offer a variety of dependable and functional netting mesh sizes, twine thickness, and materials – which allows for the best product match for different types of netting uses and needs. One of the very popular netting selections that we have provided for many years is the #36 X 1-3/4″ DuPont® Type 66-728 Twisted-Knotted Nylon. This netting is 100% Made in the USA, and is a really durable mesh selection for high-abrasion applications such as commercial sports and athletic installations, warehouse and industrial facility uses, longterm outdoor barrier and containment sites, and many other unique product needs.
Directly though Gourock's Custom Online Netting Calculator, you have immediate and direct access to this netting produced to most any particular dimensions that you require. We have specialized in professional direct sales and e-commerce for over 20 years, making Gourock.com a preferred supplier of premium netting products for clients of all volume levels – including thousands of private individual and residential customers. #36 X 1-3/4″ knotted nylon netting is a fantastic selection for its high tensile strength rating, UV resiliency, friction and abrasion durability, and ease-of-use. Our options in this netting selection include having the nets prepared in either a diamond mesh or square mesh pattern, along with a few different options for the finishing border edge. The finishing borders around the netting are typically made from 5/16″ Dacron® Rope, however we also offer more customized options including weighted-rope and webbing/grommet borders as well.
In addition to nets that are built to our customer's preferred 2-dimensional width X length (or height X length), Gourock.com also ships out hundreds of unique nets that also incorporate more specialized shape features and configurations. There are many different situations in which the netting would be most functional if built to sizing or shapes that include tapers, angles, or notch characteristics. These shape features are usually intended to match-up with existing framing or structural elements that currently exist on-site, so for the best possible function and fit for the nets there are necessary considerations to be made for the final product.
We present these four recent examples from the last few weeks that help demonstrate some of the custom netting designs that Gourock.com has the capability to quote, produce, and ship out to your location. Each one of these new examples of custom nets were built from the #36 X 1-3/4″ twisted-knotted nylon, with a couple of them in the diamond mesh pattern and others in the square mesh. Each one of these nets also features very specific sizing and shape requirements to best match our customer's needs, so you can see the different overall sizes along with tapers or angles as specified by each individual customer. If you have a situation in which a particularly shaped netting panel or net design will be the best match for your project, feel free to get in touch with Gourock.com directly with your request and we can always take a look and provide a quotation for you.
These following reference diagrams demonstrate 4 very different nets that were each needed for different industrial, athletic, and protective needs. Production leadtime for each was no longer than 7 working days, and then they ship out to customer location via UPS.
Many thanks again to all of our custom netting customers and clients! We appreciate your business very much, and it is our pleasure to be your preferred netting supplier!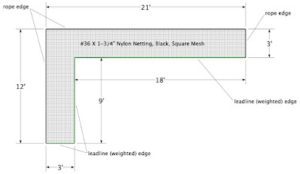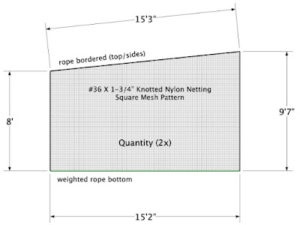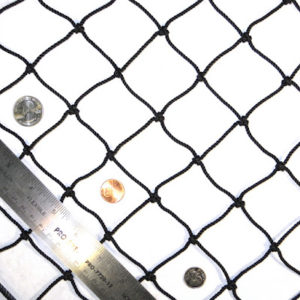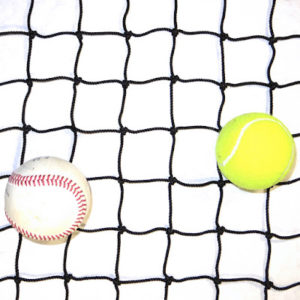 -Josh Grzyb @ www.gourock.com