Custom Golf Hitting Nets for Country Clubs and Golf Courses, Nylon Golf Containment Netting
At Gourock.com we have more than two decades of experience supplying high-end custom nylon netting products to country clubs, golf courses, and commercial golf training facilities. Featuring the highest quality 3/4″ Twisted-Knotted DuPont® 66-728 Nylon Netting, the custom golf nets and golf driving containment netting from Gourock are 100% Made in the USA, and are fabricated according to most any particular dimensions you need for your project or installation area. For some larger golf course driving and hitting containment applications the dimensions need to be quite large in order to provide a spacious hitting space and overall volume. In other instances there are more uniquely shaped golf cage frames that require the corresponding golf cage netting to be constructed with custom shape features or sizing details in order to achieve a nice fit. Gourock.com has a ton of experience with these two types of golf cage netting productions, as well as hundreds of other unique golf net needs that we have been requested to ship over the years – so always feel free to get in touch and we can assist with your netting inquiry!
The 3/4″ mesh size is the correct selection for golf ball containment situations in which driven golf balls are impacting the netting from a relatively close distance with full velocity. For example, golf cage nets and swing training impact netting panels are a couple of golf hitting and driving applications that require the netting to properly block, displace, and drop golf balls. Smaller mesh size netting is great for this as well, but once you get into a larger mesh size (such as 7/8″ or 1″) you're then into the "golf barrier netting" type of product – which is fantastic for the sides of driving ranges and other reduced-velocity golf protection locations, however is just a bit too large for close range uses like a golf cage installation. At Gourock.com we supply 3/4″ knotted nylon netting in two different twine thicknesses, which are #15 (1.8mm twine) and a heavier #21 (2.0mm twine).
Here are a couple of great examples from the last few weeks that demonstrate some of the highly custom golf cage containment netting productions that are available. Both of these were constructed for public golf courses and country clubs, and the intended purpose for each net was to be a golf swing warm-up net to drive directly into and have the space properly contain the balls within the area. In both of these golf course hitting nets, the outer netting walls were built from the #15 X 3/4″ knotted nylon – and then there was a secondary layer of impact netting included to 'double-up' the back end wall of the golf cage net, and this secondary baffle netting was constructed from the thicker #21 X 3/4″ knotted nylon netting.
The larger of these two custom nets has dimensions of 30′ high X 75′ wide X 120′ long. It is intended for use as an alternative to a full-sized driving range at the property, while still providing a lot of ample volume and space for proper golf shots and tracking ball trajectory. 5/16″ Dacron® rope borders reinforce all of the edges of the netting, and then secondary ceiling line ropes every 30′ allow our client to properly support the netting underneath a series of tensioned cables (spanning between poles). The 30′ high X 75′ wide secondary impact netting is also 5/16 Dacron® rope-bordered, features #21 X 3/4″, and was built to cover the entire back-end panel of the enclosure net. This netting production was facilitated and completed within 4 working weeks and then shipped out to our country club customer in Maine via LTL freight.
On the smaller custom net, the cage design for the netting needed to incorporate a tapered and angled overall shape in order to accommodate the specific sizing and dimensions of their existing framing. This is a one-user golf cage net, also made from #15 X 3/4″ knotted nylon for the outer walls. The secondary baffle/reinforcement was constructed from the #21 X 3/4″ knotted nylon netting, and it also had a weighted-rope bottom edge on the impact netting as well. This net was constructed within 10 working days and then shipped to our golf course customer in Connecticut via UPS.
We appreciate all of our custom netting customers and clients very much, and thank you again for your continued business! At Gourock.com it is our pleasure to be your golf course netting and golf driving netting supplier!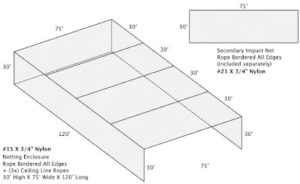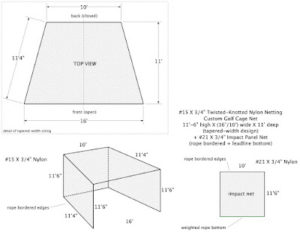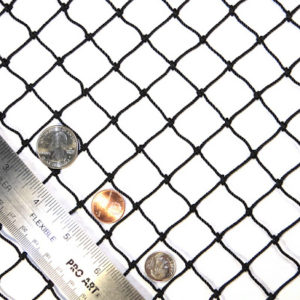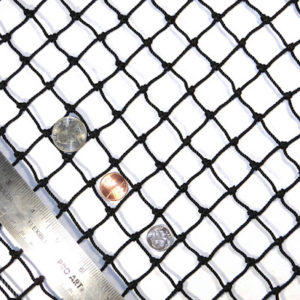 -Joshua Grzyb @ www.gourock.com