Golf Barrier Netting, Custom Driving Range Nets, and Property Protection Golf Netting
At Gourock.com we have always specialized in supplying barrier nets and protective netting products that are used for golf and golf range applications. Whether the purpose is to contain golf balls within an area, or excluding golf balls from entering a particular space – at Gourock we provide netting panels and nets that are constructed to fit and perform exceptionally. We feature the highest quality 100% Made in the USA golf barrier nets, constructed from DuPont® Type 66-728 Twisted-Knotted Nylon. This 1″ netting available from Gourock.com is a very high tensile strength material that also incorporates an additional tar-coating treatment, providing superior outdoor exposure resiliency and protective durability.
The golf barrier nets and protective netting that we have available are prepared per-invoice according to most any dimensions or sizing required for the overall installation area. Whether the job is a commercial golf driving range site, or a private residential property protection space, the 1″ tarred nylon barrier netting from Gourock is constructed for your particular needs, with fast turnaround times and expert hand craftsmanship. There are 2 different twine thicknesses for the golf nets, which are #12 (1.7mm, 116 lb./tensile) and then the thicker #18 (1.9mm, 191 lb./tensile). Both of them are fantastic options with many features and benefits – with the main differences being in the physical size of the netting twine and associated knots. The #12 is the lighter selection, making it as "invisible" as possible and with minimum weight overall. The #18 is the heavier twine, with the maximum overall durability and strength and a more robust abrasion durability. For either netting option, the nets are constructed with 5/16″ Dacron Rope Borders installed around the perimeter edges – and also through the interior area of the netting as well (if needed or requested).
As a longtime leader in e-commerce netting supply, the golf barrier net selections from Gourock are conveniently available online through the Online Custom Netting Calculator, along with the Golf Barrier Netting page of the site and store. We supply nets for all types of golf barrier and golf protective needs, ranging from commercial driving range installations, to window and solar panel golf ball protection jobs, to residential yard and deck protection situations, and more. Here are some examples of custom golf barrier nets that we have shipped out in the last few weeks, and hopefully they provide you with a bit of additional context on some of the custom netting options available to you from Gourock.com. Always feel free to contact Gourock directly if you require quotations or have questions about the golf barrier nets available from us.
Example 1: this is a series of 4 individual netting panels that were constructed from #18 X 1″ tarred knotted nylon netting, with 5/16″ rope borders. Each net was ordered and built to line-up with the existing poles and framework that our client was going to be hanging/affixing them to, so each netting panel has a unique set of dimensions along with a angled/tapered edge. These golf barrier nets were made for a private residential location that needed to protect the lawn area from incoming golf balls from an adjoining fairway.

Example 2: this is a series of 14 netting panels that were all constructed to a 34′ height, but needed to be in a few different lengths in order to line-up with the intervals of the existing poles on-site. The lengths range from 47′-6″ up to 51′-2″, and each net also incorporated a central rope rib-line running horizontally through the panels at 17′ (to line-up with a center cable used for wind). The material for each net is the #18 X 1″ tarred DuPont nylon, with 5/16″ Dacron rope bordered edges. These nets were built for a commercial installation in Connecticut at a highly respected golf country club and course.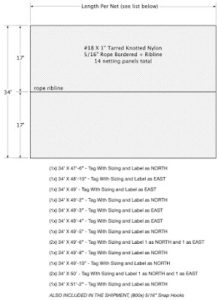 Example 3: this is a series of 12 netting panels constructed from the #12 X 1″ tarred knotted nylon netting, with 5/16″ rope borders. 7 of the nets also incorporated a vertical rope rib-line along the far left edge, spaced 1′ in from the side. 1 of the nets features ropes rib-lines all the way around the inner perimeter as well (also located 1′ in). All of these additional support ropes were requested for on-site options for connecting and clipping/hanging the netting within the editing on-site structures. This customer was a longtime valued client of ours that operates a commercial driving range business in California.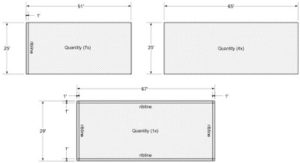 Example 4: this series of 3 nets were built for a golf course and driving range installation in Pennsylvania, and they were all built from the #18 X 1″ tarred knotted nylon netting, with 5/16″ polyester rope borders and a couple of central rope rib-lines. Each netting panel was 18′ tall, with lengths of 149′, 148′, and 49′ in order to properly line-up with the poles and cables installed on-site.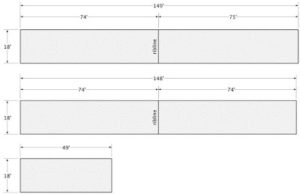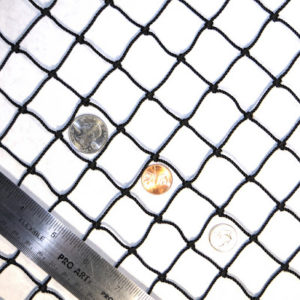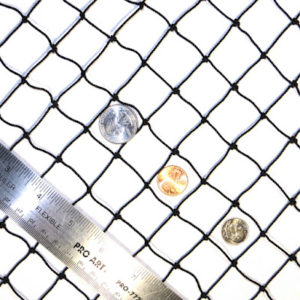 -Josh Grzyb @ www.gourock.com