Golf Range Barrier Nets: A Comprehensive Solution for Property Protection, Ball Containment, and Safety
Golf driving ranges are a great place to practice your swing, but errant golf balls can pose a serious hazard to property and people. That's why it's essential to invest in high-quality custom golf range netting.
Custom golf range netting is designed to meet the specific needs of your facility, taking into account factors such as the size of your range, the type of balls you use, and the surrounding environment. This ensures that your netting will provide optimal protection for your property and guests.
Property Protection
One of the most important benefits of golf range netting is property protection. Golf balls can travel at speeds of over 100 miles per hour, and even a slight miscue can send a ball flying into a nearby yard, house, or business. This can cause serious damage, and in some cases, even lead to injuries.
Custom golf range netting can help to protect your property and the surrounding area from errant golf balls. The netting is typically made from a durable material that can withstand repeated impacts, and it is designed to stop balls in their tracks. This can help to prevent costly damage and potential lawsuits.
Ball Containment
Another benefit of golf range netting is ball containment. Golf balls can be expensive, and it's frustrating to lose them to errant shots. Custom golf range netting can help to keep your golf balls within the bounds of your range, so you can spend less time searching for lost balls and more time practicing your swing.
Safety Considerations
Golf range netting can also help to improve safety at your facility. By preventing errant golf balls from flying into nearby areas, netting can help to protect golfers, spectators, and surrounding property from harm. This is especially important in areas where there is a lot of pedestrian traffic or where there are homes or businesses located near the range.
If you are the owner or operator of a golf driving range, investing in custom golf range netting is a wise decision. It can help to protect your property, contain golf balls, and improve safety for your guests.
Customized Driving Range Nets for a Client in Connecticut
At Gourock.com we specialize in supplying containment and safety barrier netting for a wide array of applications and needs. A very popular supply market for us is custom golf ball barrier nets for driving ranges, golf courses, fairways, and property protection from errant golf ball impacts. For over 20 years Gourock.com has been a go-to source for premium custom golf range netting and golf driving range nets for hundreds of customers and clients. Our company supplies golf ball containment netting and protective barrier nets that are constructed according to most any sizing needs required for the project, and constructed from the highest quality DuPont® type 66-728 tarred twisted-knotted nylon netting.
Driving range nets from Gourock feature a 1″ mesh size netting construction, which is the optimal mesh size for large area protective nets that need to functionally block golf balls. This means that golf balls are contained within a driving range hitting area, and also it means that golf balls are blocked from entering property that is adjacent to the driving range or golf course fairway. Gourock offers a couple different twine thicknesses for golf range nets, and the most popular and recommended selection for commercial barrier netting installations is the #18 X 1″ tarred twisted-knotted nylon netting. This is a 100% Made in the USA premium golf barrier netting product that carries a 10 year pro-rated UV warranty, and is a fantastic choice for longterm durability in outdoor golf ball containment netting projects. Throughout the Gourock.com website and company blog we provide many examples and context information regarding some of the driving range netting jobs we have shipped out over the years, and here we present a unique custom netting example for one of our clients in Connecticut.
Driving Range Netting Constructed to Unique Sizing and Features
For this recent driving range netting job, our customer was installing new barrier nets at the far end of a driving range location located at a country blue in Orange, CT. The location needed new nets to replace their old containment netting panels that were dilapidated and ready for full replacement. In this particular case there were 5 netting panels needed for the job – all constructed to a height of 48′ tall, and with running widths ranging from 44′ wide to 49′-11″ wide. The dimensions of the netting panels were to correspond with the spacing intervals of the support poles that were on-site, and the tensioned support cables that spanned between the poles. By using Gourock.com for the golf netting supply, you always have convenient access to nets that are built according to whatever sizing needs are required for the project – and since every location is unique, there are always personalized netting considerations to take into account. In order to achieve long-lasting golf barrier nets that will not only function as needed, but also have a professional appearance and aesthetic, you need to have them custom built to the actual sizing required for the job.
Aside from custom netting sizing, our client also had couple additional personalized features that they wanted incorporated into their driving range nets. In this case they wanted a visual "line" running horizontally through the netting that is used as a ball tracking tool for players driving balls from the tee box area. They way it was described to us was that their professionals liked to have a visual reference for ball height while they were teaching lessons (to monitor if driven golf balls were tracking over or under the reference plane). So how this was accomplished in this netting project was that there were 2 horizontal rope rib-lines built into the central areas of each netting panel, in a white colored rope. The 2 ropes were spaced out 8″ apart from one another. And then, they had us supply lengths of 6″ wide yellow vinyl material that was grommeted on the top and bottom edges of the vinyl (12″ interval spacing on the grommets). So the end effect was that when the installation contractor was hanging the netting panels into place, they could also affix the yellow vinyl strips to the white ropes (using tie-wraps) – which ultimately would result as a nice bright "reference stripe" running through the netting panels as requested. This overall netting production was completed within 3 weeks of the order being placed, and shipped directly to the country club location via LTL trucking service.
Here are some of the custom golf range netting photos and product details from this particular job as it was being installed (including a short video snippet) – hopefully they provide you with some good context for your research into golf range nets, golf barrier netting, and custom golf range netting options available from Gourock.com!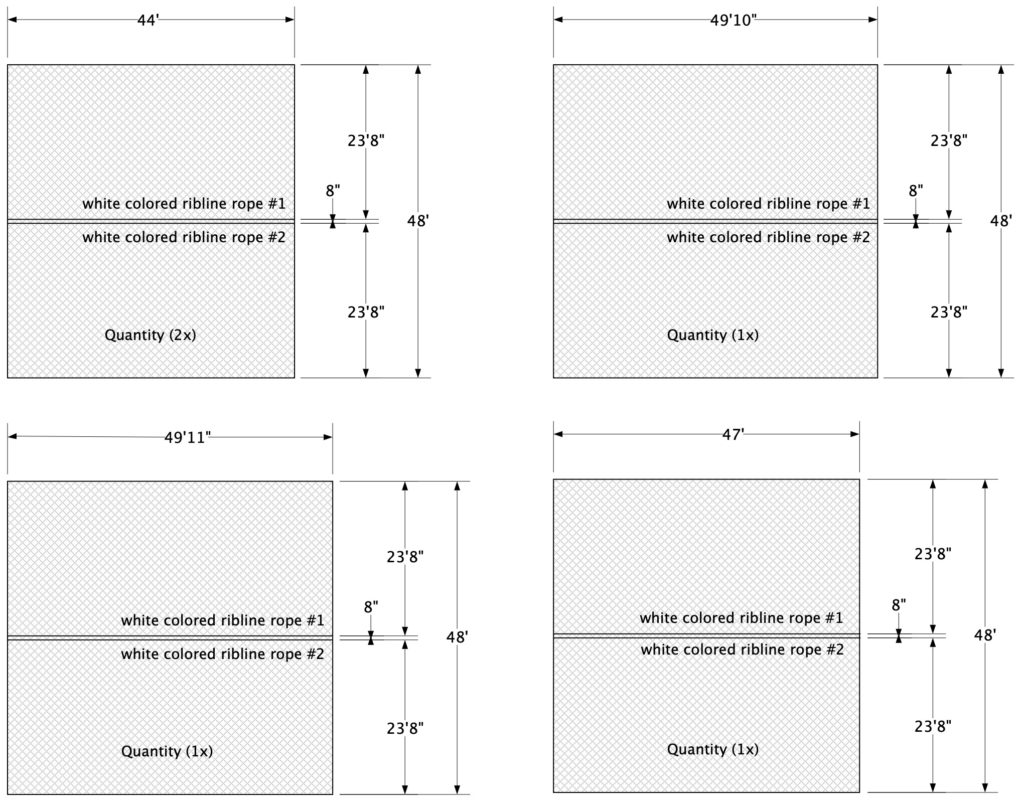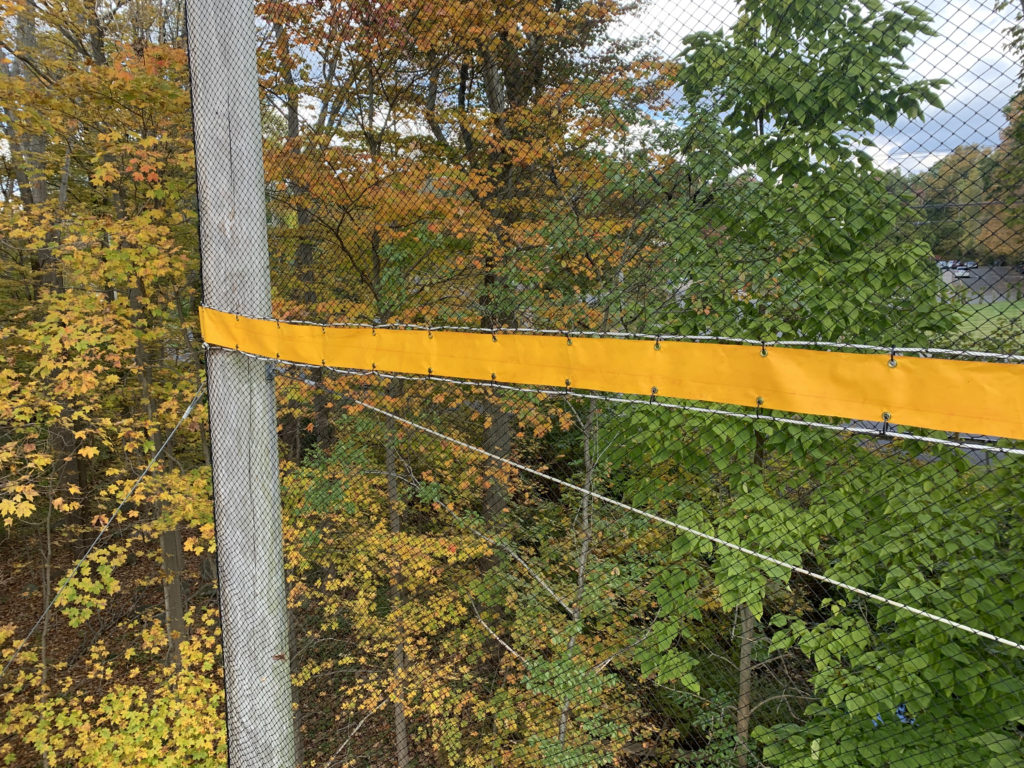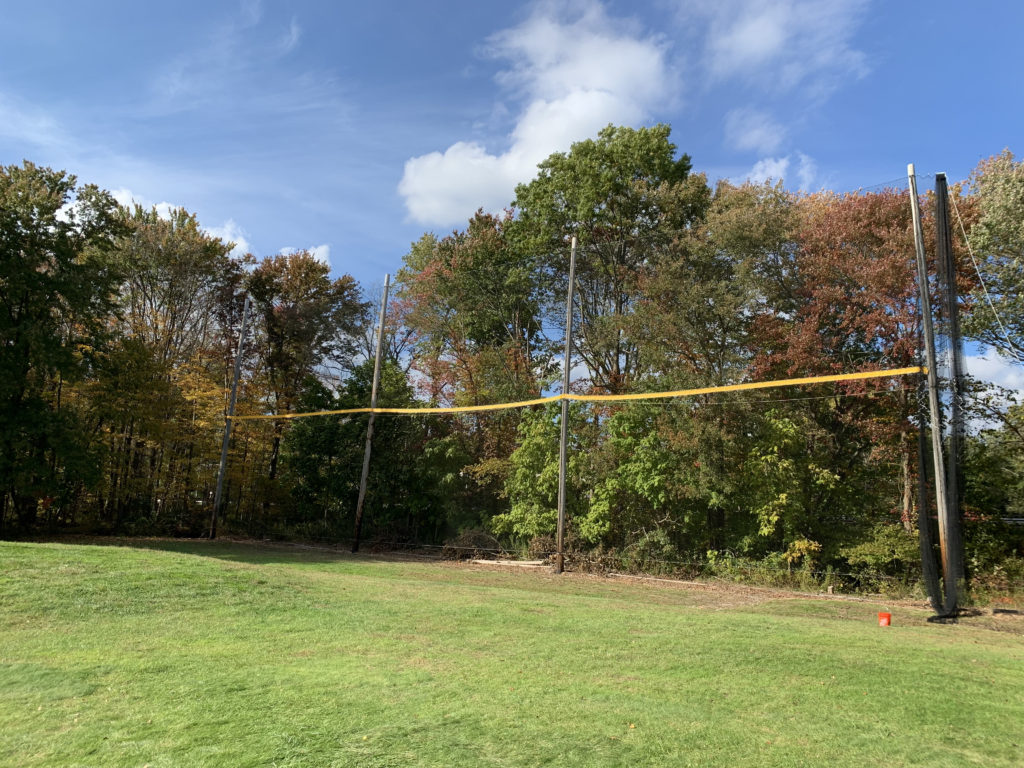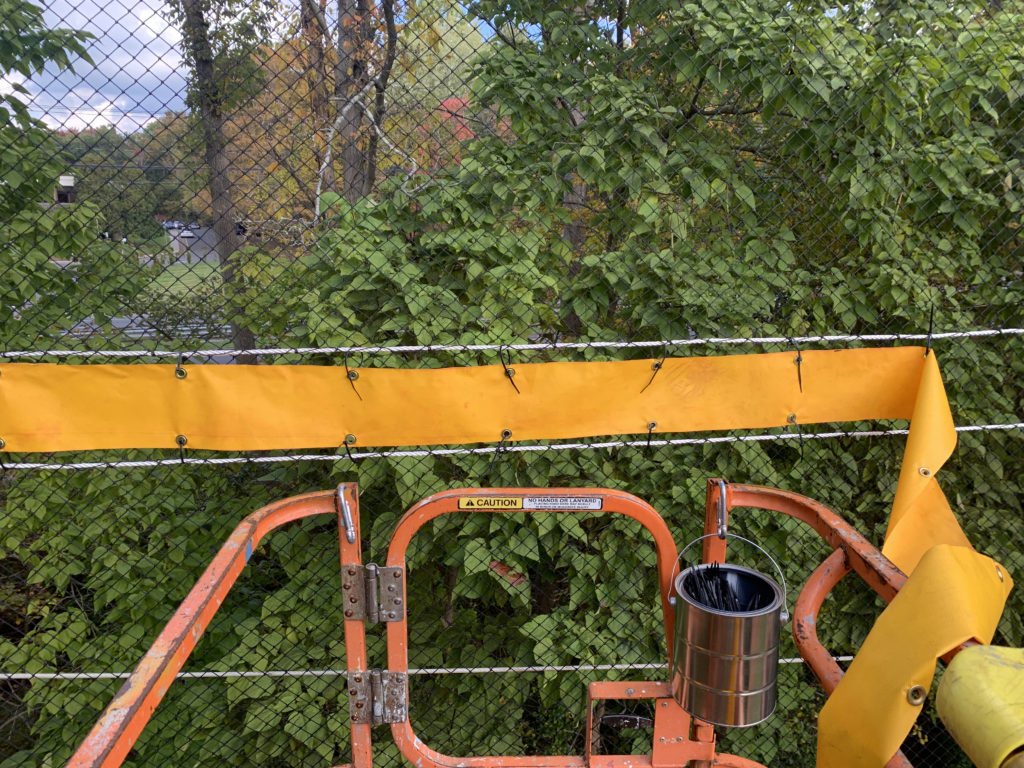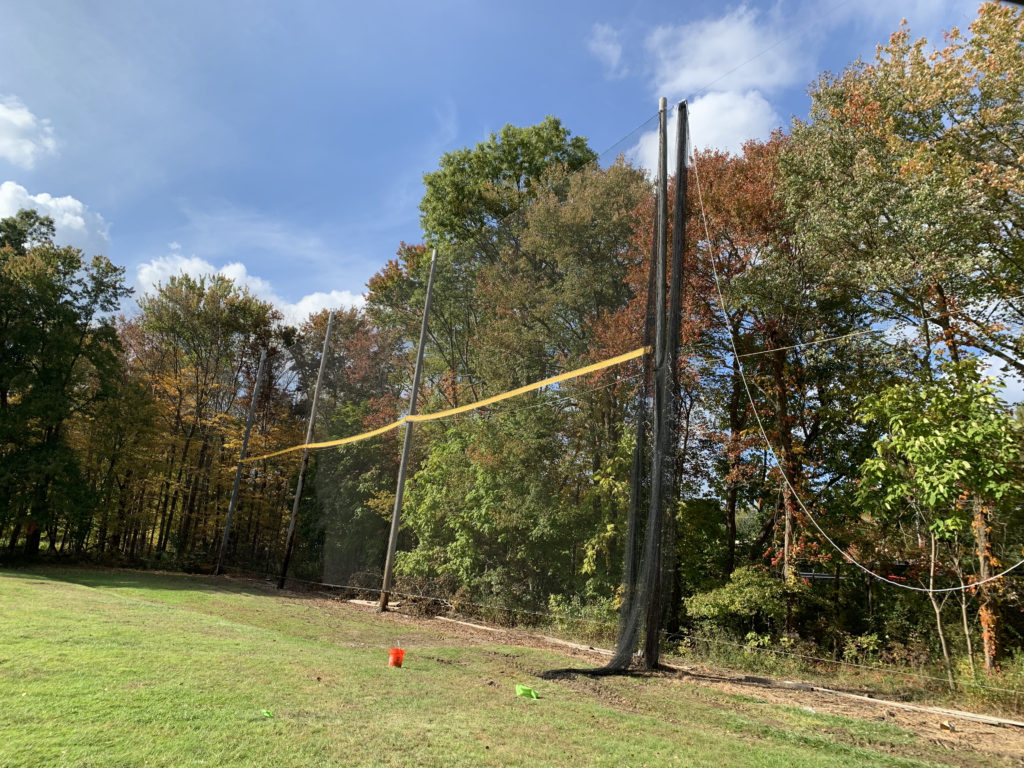 Many thanks again to all of our very appreciated custom netting customers and clients! It is our pleasure to be your trusted and dependable netting supplier!
– Josh Grzyb @ Gourock.com Netting