Custom Golf Netting for Driving Ranges and Property Protection
At Gourock.com we specialize in supplying you with the highest quality golf driving range nets, custom built to-order. The custom golf nets that we ship to our customers are 100% Made in the USA, and feature the highest quality netting materials and expert craftsmanship. Golf barrier netting is a very popular safety product used by driving ranges, golf courses, and private property owners in order to contain errant golf balls within a certain area, or from entering a specific location. Golf netting is very helpful to protect property and the public from golf ball shots that may damage buildings, injure people, and cause other general safety issues. Driving range nets are a critical component for the function of the hitting site. All in all, Golf nets not only enhance public safety but also contain range balls for collection and retention as well.
Custom Golf Nets Built from 100% Made in USA Twisted-Knotted Nylon Netting
Over the last couple decades Gourock has shipped out hundreds of golf barrier nets and custom net productions for our valued customers. Custom netting constructions are built according to most any particular sizing requirements that the job calls for – ranging from very large commercial driving range facilities to smaller scale residential property protection needs. The highest quality DuPont® Type 66-728 Twisted-Knotted Nylon Netting is used for Gourock's golf barrier nets, which is 100% Made in the USA and prepared for longterm outdoor durability.
Gourock.com supplies golf range netting panels made in a 1″ mesh size, in twine thicknesses of either #12 (100 lb. tensile rating) or #18 (191 lb. tensile rating) and both feature a resilient UV protective treatment known as 'tarring'. These nylon netting products are very durable to the elements, have a low wind shear rating, and are the preferred netting choice for golf range installations that are seeking to maximize their golf ball containment needs and property protection considerations.
Order Netting Online, Directly Through Our Online Store
At Gourock.com we specialize in the supply of custom nets and netting products that are used for a huge variety of different applications and needs. Custom nets for golf ball containment, driving ranges, and property protection have always been a very popular product for us to supply. Driving range nets are conveniently ordered directly through our site and online store, and we offer our Online Custom Netting Calculator which allows for immediate availability for golf nets that are built to any sizing requirements you have for your barrier netting project.
In addition, you can also take a look at some great context information and example images of golf range nets on this golf barrier netting page of the Gourock site. We supply clients of all types, ranging from large industrial jobs to small private residential needs – and it is our pleasure to accommodate you with the highest quality netting projects for your property!
Golf Barrier Netting Selections and Recommendations
The #12 X 1″ tarred twisted-nylon netting is a fantastic selection for golf ball protective needs, and it carries a 5 year UV warranty (prorated). This golf netting choice is very popular for homeowners who have properties along fairways, for solar panel protective netting, and for golf courses and driving ranges that seek the minimal visual characteristic of the #12 twine.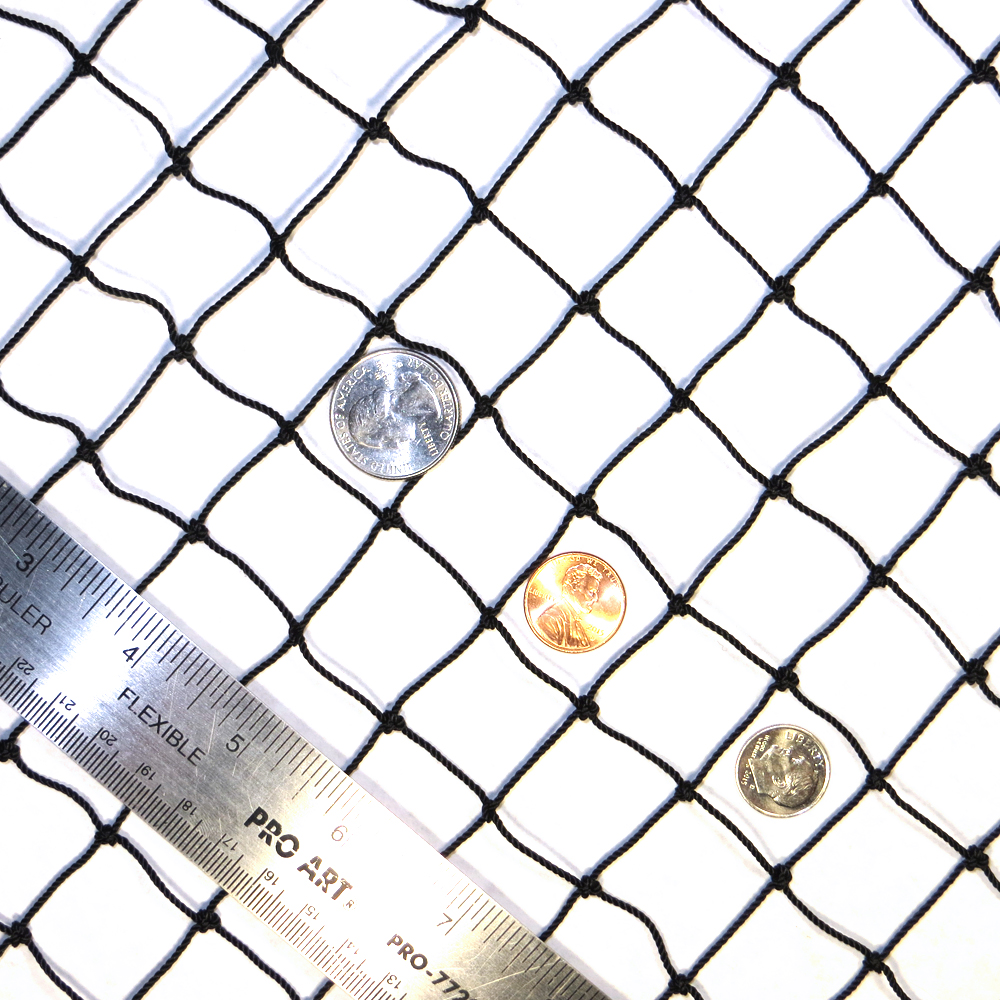 The #18 X 1″ tarred twisted-nylon netting is a very durable selection for golf ball protective needs, and it carries a 10 year UV warranty (prorated). This golf netting choice is very popular for driving ranges, golf courses, and commercial golf establishments that wish to maximize the strength and resiliency of their golf ball safety nets. It is also very popular for private property owners that wish to install the same type of netting that would be found at such locations.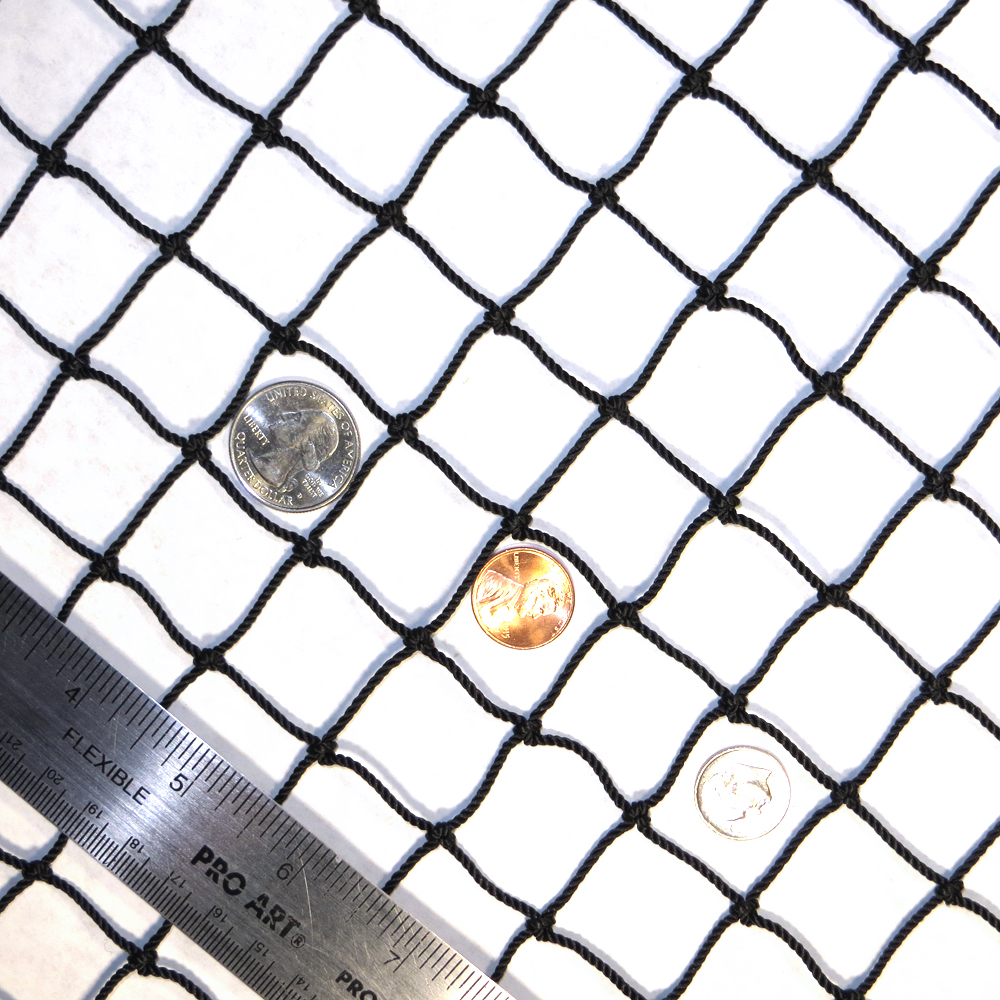 Recent Driving Range Netting Supply Example
Over the last few weeks we have facilitated a number of golf barrier nets for a variety of driving range and golf course customers. Since any dimensions are available to be produced, we have prepared netting panels of many different sizing requirements – all based on customer need. Custom driving range nets from Gourock.com can also be more specialized with the addition of central rope rib-lines, or other unique features such as tapered shapes or angled edges. And of course, the 1″ knotted nylon netting is a premium golf net selection for golf ball protective applications of all types.
We recently shipped out a series of 8 golf driving range netting panels to a municipal golf course location in South Bend, Indiana. These golf barrier nets were each made to the dimensions of 45′ high X 50′ wide, built from the #12 X 1″ tarred twisted-knotted DuPont® nylon. Each netting panel was 5/16″ polyester rope bordered around the perimeter edge, and also featured a central rib-line rope running horizontally through the net. The rib-line rope is meant to line up with a cable that was spanning between their installation posts, and when that rope is clipped to that cable it aids in stabilizing the netting panel with regards to wind.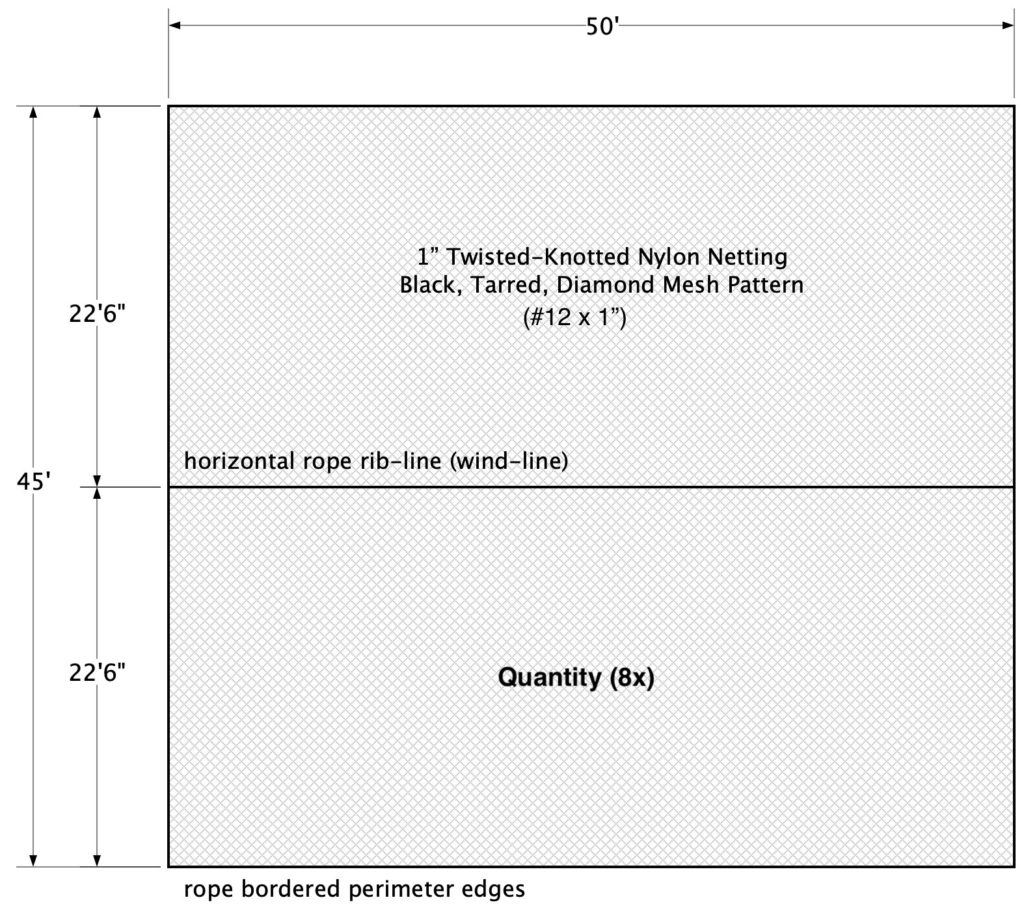 Many thanks again to all of our very appreciated custom netting customers and clients! It is our pleasure to be your trusted netting supplier!
– Josh Grzyb @ Gourock Custom Netting