Basketball containment nets for at-home driveway basketball hoops and residential basketball court barrier netting needs.
The use of ball containment nets for residential basketball hoop locations is a great enhancement to the use, function, and enjoyment of your playing space. Driveway basketball netting is a popular product offering at Gourock.com that really benefits the functional usage of home basketball hoop locations. In particular, basketball containment nets really help by keeping errant balls from rolling down hills, into the street, or from leaving the property. At Gourock.com we specialize in supplying nets for a wide variety of sport netting needs, and ball containment nets for driveway basketball hoops is a very popular product offering that we offer.
Custom Netting Options
Directly through our online store we conveniently offer nets that are built according to any sizing or dimensions that are needed for your barrier netting projects. For basketball barrier and containment applications there are a couple of 4″ mesh size selections that are very popular and dependable for sport courts and ball playing areas. 4″ mesh nylon netting is a great selection to block objects that are larger in diameter, such as basketballs, soccer balls, volleyballs, footballs, and similar sports. Gourock offers the 4″ square mesh in two different twine thicknesses, which are the #15 (lighter weight) and #36 (heavier weight). Both of these nets are fantastic choices for ball blocking purposes, and keeping basketballs properly contained within the court area and property line.
Twisted-knotted nylon netting is a very durable and dependable product selection for outdoor and indoor ball barrier purposes. Nylon netting features a high tensile strength rating, a high resistance to abrasion and friction, and is well prepared for longterm UV and moisture exposure. In addition, because nylon is so strong it doesn't need to be made in very thick twine diameters in order to have high strength reliability. This means that you can have minimally visible netting that doesn't particularly impede a view or appear visually obtrusive.
Basketball Nets for Home Applications
Gourock's customers for driveway basketball netting projects are often needing to keep balls from rolling into the street or down hills, from a pond or pool, or into some adjoining woods for instance. In addition, barrier nets help protect automobiles, buildings, and windows from being impacted by errant balls and shots as well. Also, when families are out playing hoops they want to have a good time out there rather than chasing down basketballs that routinely roll away into neighboring property. So utilizing basketball netting has many benefits for both enjoyment of playing as well as the safety of the playing space. Driveways are a very popular location for home basketball hoops, so we see a lot of customer need for containment nets at these locations. 100% Made in the USA and prepared according to your own custom netting sizing needs.
Recent Customer Photos of Basketball Netting Installation
A recent Gourock.com custom net customer just wrapped-up their installation of ball containment netting that they needed along the side of their driveway hoop playing space. They needed to keep their basketballs contained within their property to avoid errant shots from going over their wood fence and into the neighbor's property. They mounted a series of black steel posts directly to the fence, which were to serve as the supports for the barrier netting. This is a very popular and functional installation approach for our netting customers that already have an existing fence on their property – and it turned out really well in this case as well.
Netting Project Details
Our customer tensioned some aircraft cabling between the steel posts in order to have a nice level connection point to hook the netting to. This approach is optimal since the cabling keeps the netting nicely secured along the run, and also maintains a level and even aesthetic appearance. The netting selection in this case was the #15 X 4″ DuPont® Type 66-728 Twisted-Knotted Nylon Netting, with a 5/16″ polyester rope bordered perimeter edge. This is a great sports netting choice to block basketballs, and the 0.065″ twine thickness of the netting twine has a very low overall visual nature, which keeps the mesh very minimally visible. As you can see from our customer-provided photos, the both the driveway basketball playing space and the ball containment netting installation look phenomenal. They have the great benefit of maximizing the enjoyment of their ball playing area, as well as keeping basketballs properly contained with the barrier nets.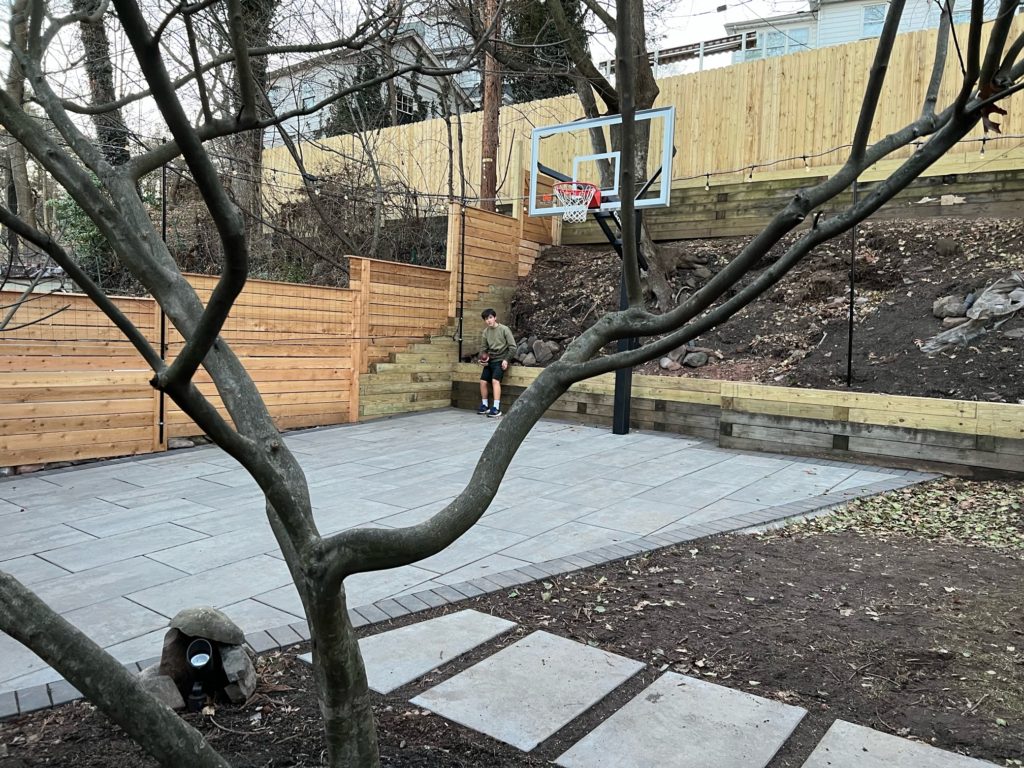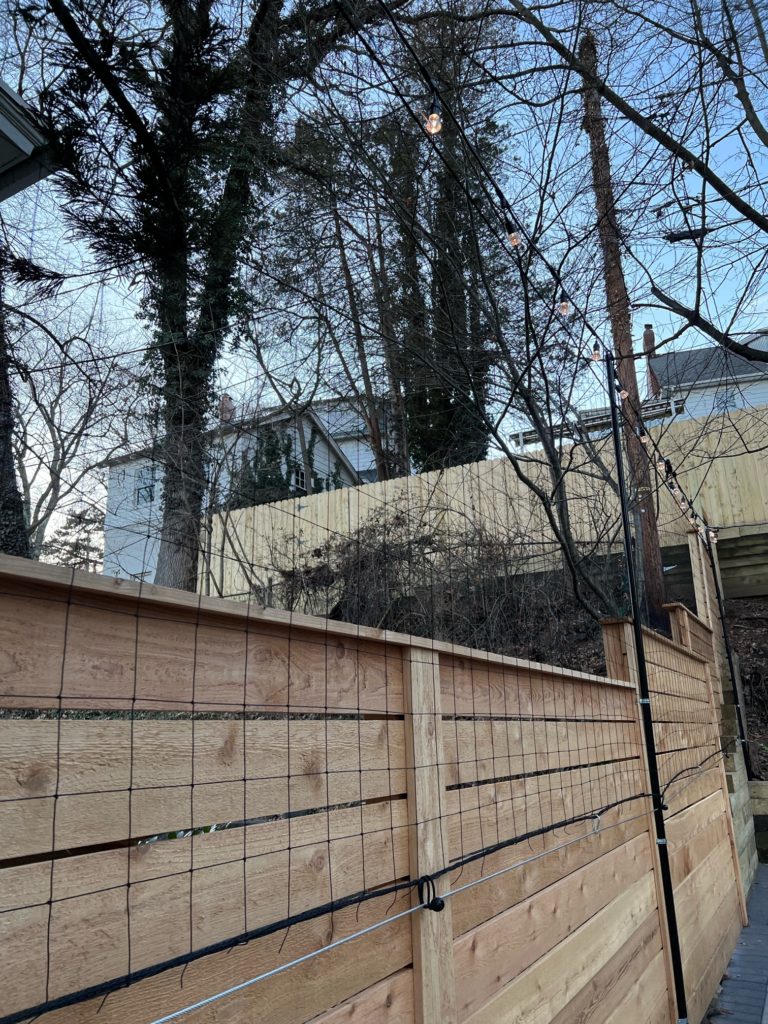 Many thanks again to all of our custom netting customers and clients! We appreciate your business very much, and it is our pleasure to be your trusted barrier netting supplier!
– Josh Grzyb @ Gourock Netting