Blocking birds from buildings and work areas with bird exclusion nets
Bird netting is a useful method for keeping birds out of unwanted areas. These nets are commonly used in different industries to protect working areas and public spaces from bird damage. They can also be used in buildings and other structures to keep birds from nesting or roosting. Bird exclusion nets have many benefits, including the prevention of property damage and the reduction of issues associated with bird droppings. They can also help prevent birds from causing disruption to businesses and other organizations. Overall, the use of nets is a practical and effective solution for keeping birds out of unwanted areas while also protecting property.
At Gourock.com we specialize in the supply of nets that are very well suited for these types of applications. Bird nets have always been a popular need for all types of industrial customers, schools, private businesses, and municipal locations. Some of the key features that make the protective nets from Gourock very appealing are their resilient durability, light physical weight, and ease of use. In addition, we offer complete customization of the sizing and dimensions needed for your project – allowing for a great fit and high performance while the netting is in use.
DuPont® Twisted-Knotted Nylon Mesh
Custom netting supply is the speciality that Gourock offers our clients, and high quality bird barrier nets are always available. DuPont® type 66-728 twisted-knotted nylon netting is a preferred choice for durable long-lasting bird netting installations, and we offer it in a variety of functional mesh sizes and twine thicknesses. This is a 100% Made in USA product, and the completed nets are built according to most any particular sizing needs that you need for your coverage space. So for instance, if you need bird netting that is meant to cover a specific area of a warehouse, pavilion roof, ceiling space, or the entryway of a building – we can facilitate that for you. Additionally, there are many customers that need bird exclusion coverage over retention ponds, tanks, parking garages, and sports stadiums. We handle all of these types of netting needs and more – and the barrier nets are constructed to all types of different sizes and dimensions, in both very large or small sizes as needed. Getting the right fit is the key to achieving great function and reliability from your exclusion netting installation!
For very large bird exclusion solutions consider a 4″ mesh size or 1-3/4″ mesh size selection. We offer several twine thicknesses in these mesh sizes, ranging from thin and lightweight to relatively thick and robust. For the majority of multipurpose bird barrier netting needs the 1″ mesh size knotted nylon is the most preferred selection. And getting down to a 3/4″ mesh size is also a popular selection for our customers that prefer a tighter mesh option to block all birds as well as other small objects or debris of concern. The DuPont® twisted twine is a very high tensile strength material, which means that you can achieve extremely strong nets without bulking up on a lot of physical weight. This makes for custom nets that have a fantastic ease-of-use while working with the product, and also minimizes the visual nature of the mesh when it is installed and in use.
Custom bird netting panels built to specialized shapes
For many years Gourock.com has been a preferred netting supplier for many different types of bird netting customers. Ranging from private property owners, to municipal and organizational clients, to industrial customers – the custom nets we provide are built to maximize function and durability for bird exclusion situations. In addition to conveniently offering bird netting panels directly through our online shopping cart, we also supply bird nets that are very customized in shape features. For many different types of areas or spaces that need to block birds from entering or roosting, there are unique designs or shapes to the building that are best suited for custom-shaped bird barrier netting productions. Examples of this include nets that are constructed to follow along the direction of a sloping roofline, and netting panels that are built with angles or tapers that correlate with shapes of windows and breezeways. There are many different needs for custom bird netting panels, since every location is unique with its own set of characteristics.
Bird exclusion is best handled with netting that not only covers the open area with perfect fit, but also with a proper mesh size selection and material construction. For our industrial clients that require premium performance from their bird netting installations, a fantastic choice is the #18 X 1″ DuPont® Type 66-728 Twisted-Knotted Tarred Nylon netting. The #18 twisted nylon twine has a very high tensile rating (191 lb minimum), a high resistance to abrasion and friction, and includes an extra-resilient weather treatment to maximize UV and moisture exposure. The 1″ mesh size is a perfect choice to block birds of all sizes, both small and large. Gourock.com offers this netting to be built according to your own preferring shape requirements, and we present another recent example of this custom net availability in the following example.
Custom Bird Netting for a Transportation Facility Storage Building
An industrial client of ours periodically requires custom nets to hang in front of equipment storage pavilions that they have at their public works transportation facility. They need to block birds from getting into the open side of the building as much as possible, so the use of custom bird exclusion netting panels is a key component to keeping their facility as safe and efficient as possible. The unique factors in this particular case are that their pavilion is an arch-shaped roof design, meaning that the front open side that is being covered with netting is also a radial/arch shape as well. In addition, they need to be able to allow for equipment, vehicles, and personnel to pass-through the bird nets. So the best netting solution for this client is a pair of nets that hang within the open area on the left and right sides, meeting in the middle. This allows for the two nets to be pulled-back (opened-up) and allow for safe passage of people, equipment, and vehicles as needed.
In addition, these bird exclusion nets are constructed in a custom shape that closely mimics the arching radial dimensions of their building roofline. As you can see in the design image below, this series of bird netting panels is highly customized for their exact sizing and shape requirements – which maximizes their effectiveness for blocking birds. Furthermore, the #18 X 1″ twisted-knotted nylon netting, with a 5/16″ braided polyester rope border perimeter edge are the construction materials for these nets. As mentioned previously, this is a high-strength netting selection that performs exceedingly well for bird barrier necessities at commercial and industrial locations.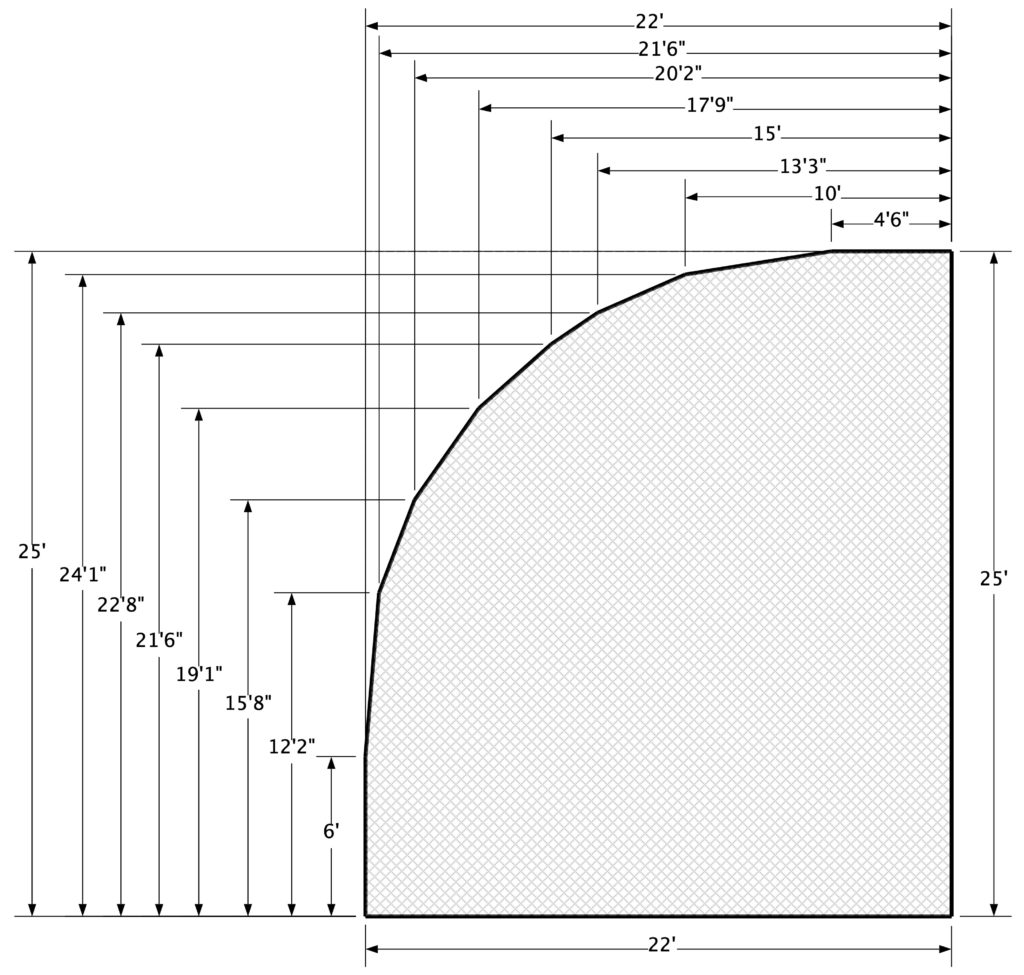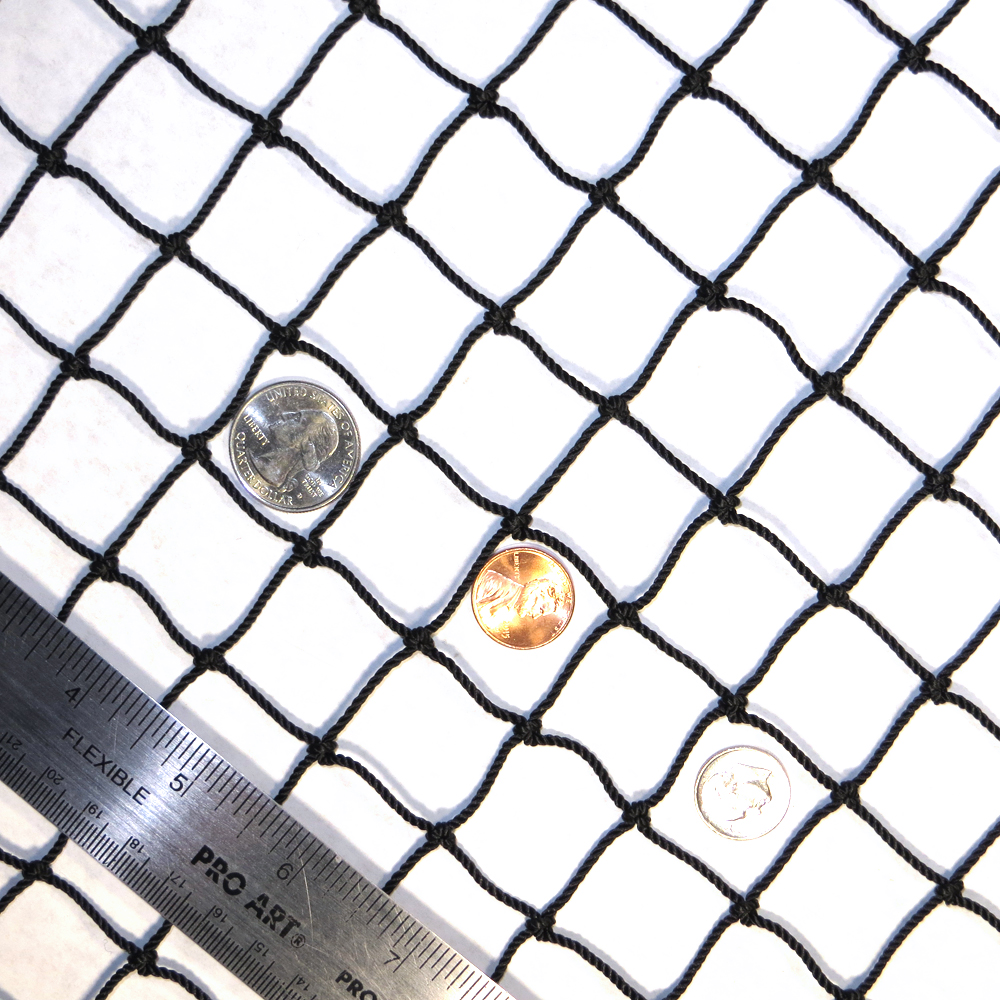 Many thanks again to all of our bird exclusion netting customers and clients! We value and appreciate your business very much, and it is our pleasure to be your trusted custom netting supplier!
– Josh Grzyb @ Gourock Netting