Protect Your Solar Panels from Debris & Golf Balls with Netting
Netting is a fantastic solution for many different types of protective and safety situations. Especially those that property owners and building managers may encounter. Over the many years of supplying specialty nets and custom netting products for our customers, Gourock.com has some great experience and expertise in a very wide variety of unique situations, projects, and applications for protective nets. At Gourock, we supply solar panel protection netting to meet the popular need of our clients to protect their panels from damage caused by objects like errant golf balls, large hail stones, airborne debris, and bird walks. Our premium netting mesh construction performs exceptionally well in ensuring the safety of solar panels.
Prevent Solar Panel Damage with Protective Netting
Many of our clients that require barrier nets to protect solar panel installations. Many are those that have homes or property that are located close to golf course fairways and golf course driving range locations. Often their solar panels are located up on the roof of their house, and errant golf ball shots can impact them from the adjoining fairway or golf range. This causes a lot of damage or rendering the panels inoperable.
We also see the same situation with municipal or organizational solar panel installations that are located in an open field that is in-line with a golf course fairway or range area. In these cases, golf ball shots can come flying in to the larger solar panel installation zone and cause damage as well. Consequently, damage to the panels and subsequent replacement costs are quite high, and mitigating those damaging factors is a primary objective for our netting customers in this case.
DuPont® Twisted-Knotted Nylon Netting in a 1″ Mesh Size
Gourock.com highly recommends the quality #12 X 1″ DuPont® type 66-728 twisted-knotted tarred nylon golf barrier netting for these types of solar panel protection projects. This particular netting choice features a high tensile strength nylon twine material. Therefore, the benefit is a relatively thin twine thickness while maintaining durable strength. In the case of the #12 twisted twine, this is a 0.062″ diameter with a minimum tensile strength rating of 100 lbs.
This golf barrier netting selection is built with a 1″ mesh size, which is optimal for golf barrier netting purposes – and it also features an additional extra-resilient weather coating (known as a 'tarred' netting) that enhances its UV and moisture protection. In fact, the #12 X 1″ tarred twisted-knotted nylon netting from Gourock.com carries a 5 year prorated warranty regarding UV exposure and durability. This netting features a relative average of about 10 years of dependable strength in full-time outdoor installations.
Custom Netting Advantages
Gourock.com offers this netting built according to most any specific dimensions or sizing requirements needed for your solar panel protective netting project, and the nets are 100% Made in the USA – built per-order. Typically manufactured with a sewn-in 5/16″ Dacron® polyester rope bordered edge, and often in a square mesh pattern for horizontally-installed nets, this particular safety netting is a perfect selection to protect solar panels due to it's function, lightweight construction, excellent durability, and ease-of-use.
At Gourock, we meet the needs of clients who want to protect their solar panels from golf balls and similarly sized debris or objects while maintaining strong energy performance. To minimize material spanning over the area and reduce or eliminate the risk of panel damage, potential panel replacement, and downtime, we offer netting solutions tailored to their specific requirements. Those factors strongly guide our clients to the #12 X 1″ DuPont® nylon netting in most instances. Gourock typically has the custom nets built and ready to ship out to your location within 5-10 working days of your order, just depending on netting sizing and volume level.
Solar Panel Protection with Bird Netting, Debris Nets, and Hail Barrier Netting
Other commonplace situations in which protective netting is needed over solar panels is to exclude problematic birds, to block large hail stones, and also as a general debris barrier for various objects that may be airborne due to wind or storms. There are many different techniques that our netting customers take to suspend the netting over their area – and a popular approach is to tension aircraft cabling between a series of surrounding support posts, and then to clip the rope bordered edge of the netting to the cable with snap hooks. That said, the nylon netting products we supply are very user-friendly, so you can always develop your own preferred installation approach using any materials you're comfortable with at your location.
Finally, should you wish to be mailed a sample swatch of the #12 X 1″ twisted-knotted nylon netting, or any of our other netting selections, the samples are free-of-charge and simply get in touch with us to let us know where to mail to! Many thanks again to all of our very appreciated custom netting customers – it is our pleasure to work with you and be your trusted netting supplier!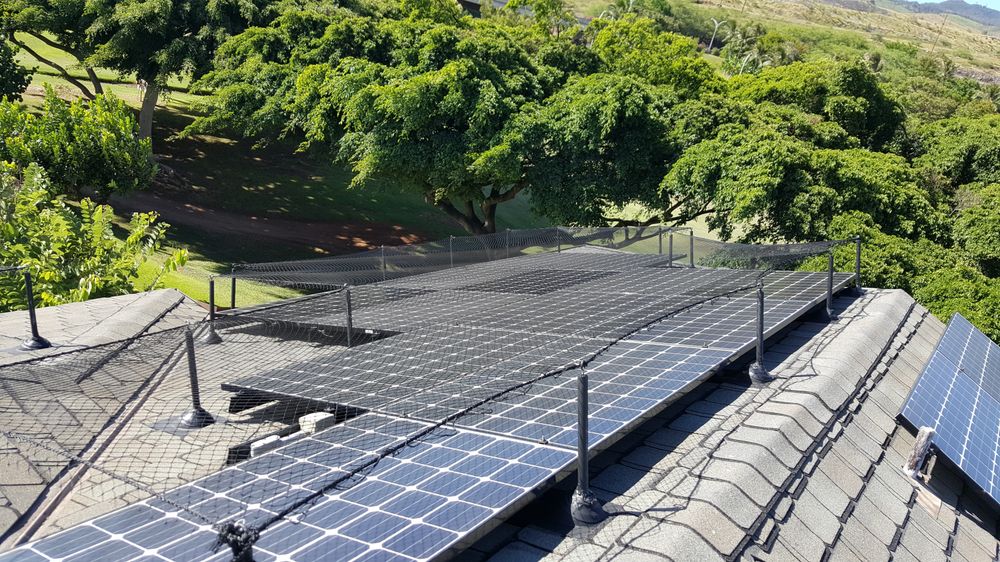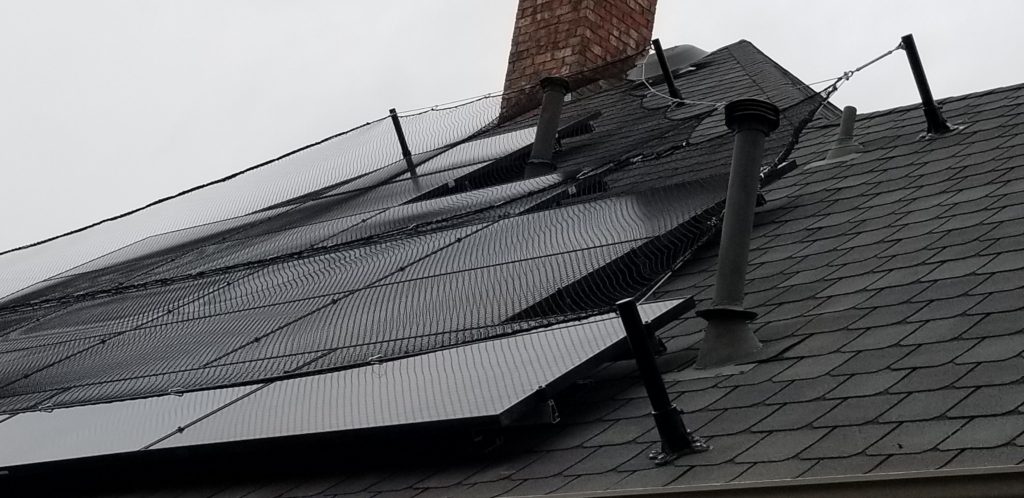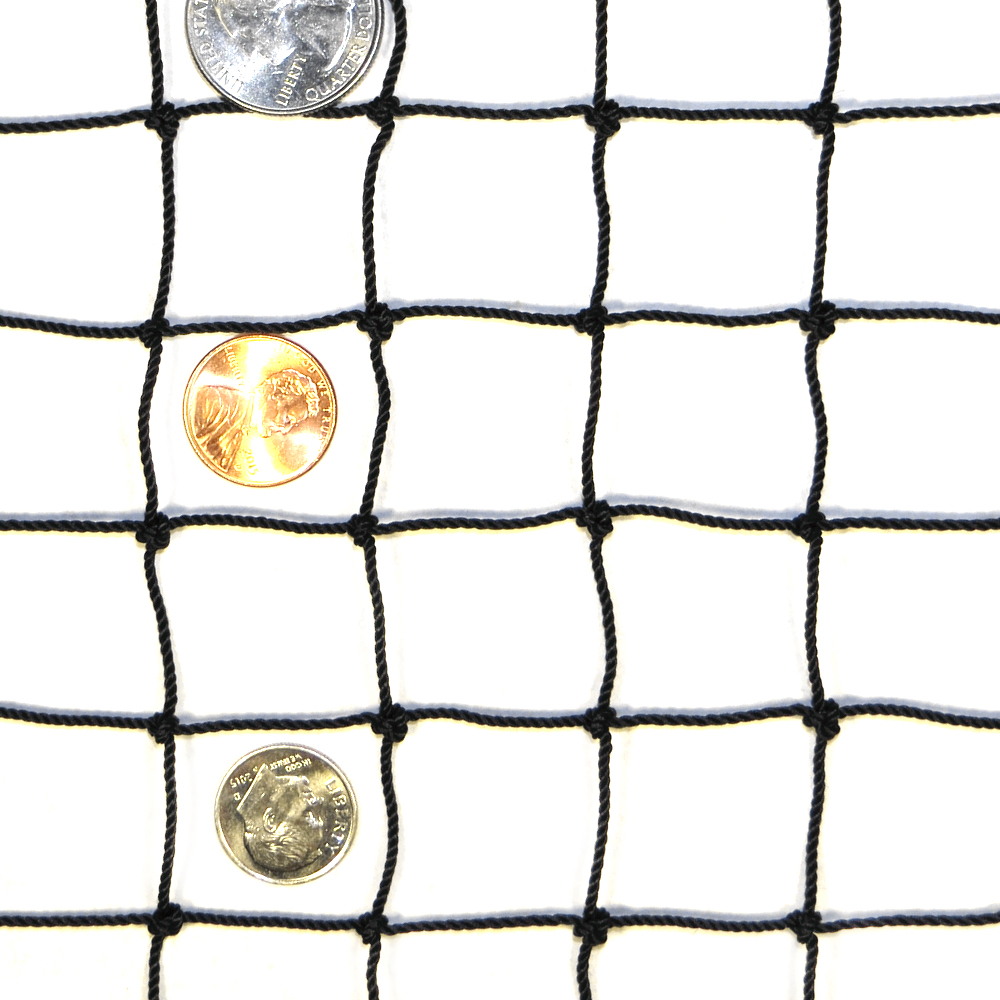 – Josh Grzyb @ Gourock Netting