Custom nets built for unique netting projects and applications, featuring angled shape designs.
When it comes to solving a variety of projects and safety needs, custom netting and unique nets emerge as an exceptional product choice. These versatile solutions offer tailored designs that cater specifically to different requirements, making them highly effective in residential, school, and municipal applications. One notable advantage is the use of premium nylon netting, renowned for its exceptional strength, durability, and flexibility. This top-quality material ensures reliable protection and long-lasting performance, making it ideal for a wide range of projects. Whether it's creating a safe play area in residential settings, securing playgrounds in schools, or implementing protective measures in municipal spaces, custom nets and specialty netting provide comprehensive safety solutions. Their adaptability and ability to be customized to specific dimensions and requirements make them an invaluable asset in promoting safety and achieving project success across various applications.
As you research reliable custom netting solutions produced to customer-specified dimensions, look no further than Gourock.com. With our extensive long-term product expertise, Gourock is a trusted source for your custom netting needs. Our convenient e-commerce experience allows customers to easily navigate and customize their netting orders online. Gourock.com also stands out by utilizing premium materials and top-notch fabrication techniques to ensure the highest quality end products. Whether you need netting for sports enclosures, municipal or scholastic needs, or residential projects, our fast turnaround times for custom netting orders ensure that you receive your tailored solution promptly. Gourock.com provides you with dependable and precisely crafted custom netting that meets your specific requirements.
Specialty nets that feature smaller sizes and tapered netting designs.
At Gourock.com we often supply custom nets that are built to relatively large sizes and dimensions, for projects that require maximum areas of protective coverage. Examples of these sorts of netting applications are at golf driving ranges, athletic stadiums, industrial barrier netting sites, and municipal public space protective netting projects. However, there are hundreds of uses for netting that are constructed to smaller sized dimensions for exclusion net, safety net, or multipurpose barrier netting needs as well. And in many thanks these cases the netting will best function for its purpose if the product design also incorporates angles or tapers within the overall specialty netting shape.
Built from premium DuPont® Type 66-728 twisted-knotted nylon netting, the variety of small area custom nets that have been facilitated by Gourock.com over the years are dependable project selections for your safety netting, exclusion netting, and general purpose barrier net needs. Small sized specialty netting designs are popular and useful for our customers at all types of locations including private residential properties, for schools and recreation departments, at sports practice facilities, for commercial netting and industrial net installation sites, and a huge variety of other unique usage locations. Through Gourock's convenient Online Custom Netting Calculator you alway have direct ordering opportunities for custom netting that is prepared to level dimensions – and we can always personally correspond with you for any additional requests that you have for specialty netting requirements that will function better for your project needs. So always feel free to get in touch with us at Gourock.com if you you'd like to be quoted on nets that incorporate angles or tapers, and it is out pleasure to assist you on your netting project!
Recent custom specialty netting examples, showing smaller sizes and tapered shapes.
To assist you with your research into custom nets and unique netting availability, we present four recent examples of specialty netting jobs that were built and shipped out to some of our customers over the last several weeks. Each of these examples demonstrate highly personalized nets that were prepared per-order for our client's specific need. They each show some relatively small area sizes, and an angled edge design built into the finished design – along with being 100% Made in the USA from premium twisted-knotted nylon mesh.
In this first specialty netting example you can see a pair of nets that each have a 9′ height on the left edge, and then a 4′ height on the right edge – resulting in a sloping taper along the top edge that runs the length of each netting panel. These nets were produced from #36 X 4″ square mesh nylon netting, with a sewn-in 5/16″ polyester rope bordered perimeter edge. Both of these specialty nets were fabricated and shipped for a private residential customer that needed them for his basketball containment netting requirements at his at-home sport court.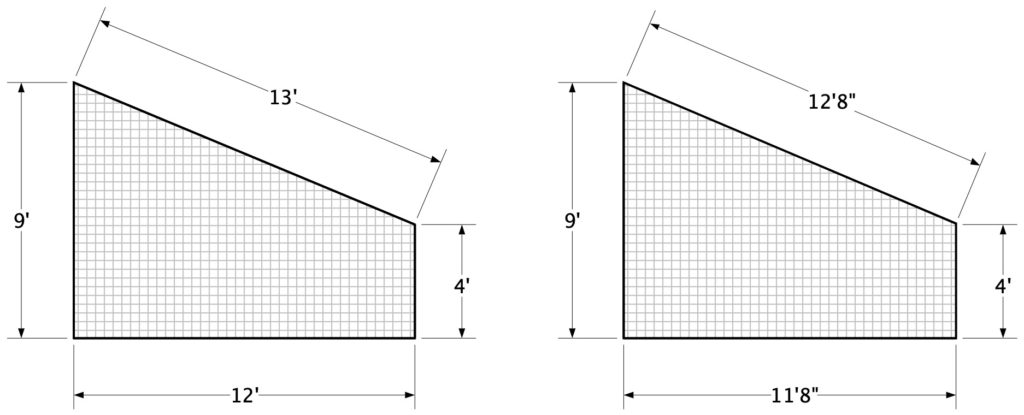 In this second example of a smaller sized netting panel that incorporates a tapered edge feature, we present this specialty netting production that was constructed from #21 X 1-3/4″ square mesh twisted knotted nylon netting. The left edge of the netting has an 8′ height, whereas the left edge is only a 3′-6″ height. The running length of the netting is 16′, resulting in a sloping hypotenuse of 16′-8″ along the top edge of the net. This customized net was requested by a private residential customer that needed to hang containment netting at their backyard sport court to prevent all types of errant athletic balls from flying over into their neighbor's property.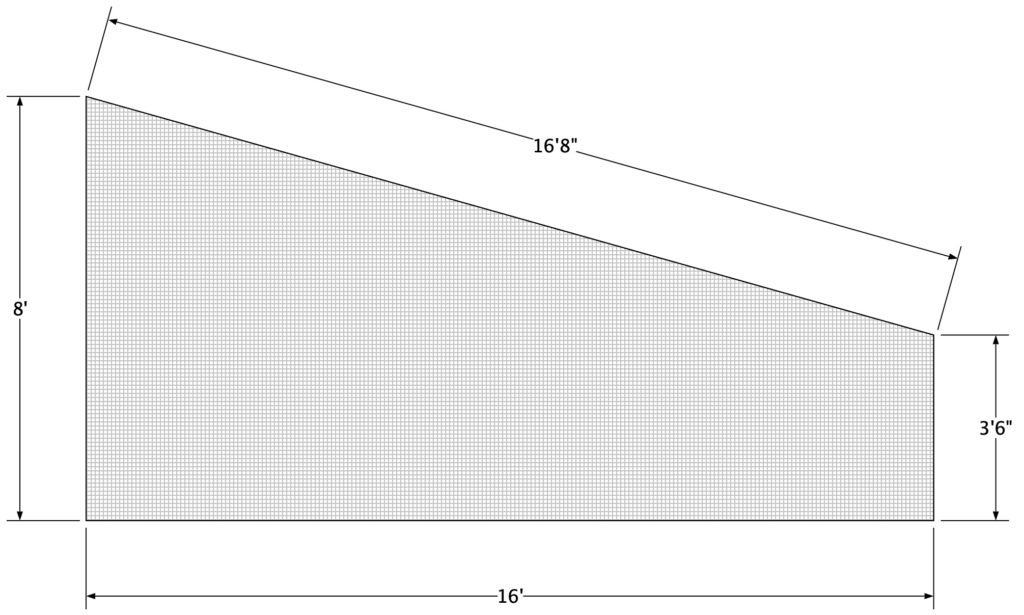 The third example shown below demonstrates three custom nets that we had built and shipped for a customer at a public school. This series of specialty netting productions was needed for a unique framing system that they used in one of their classrooms. They wanted to cover 2 of the sides of the frame, along with the back end of the frame, in order to prevent schoolchildren from being able to get into the space. Two of these netting panels were triangular in shape, and one of the nets was a trapezoid shape. All three are pretty small in overall sizing area, however these specific sizes were needed to function perfectly within the framing that they were working with. The netting selection for these was the #15 X 3/4″ square mesh pattern twisted-knotted nylon, with a 5/16″ polyester rope bordered perimeter edge.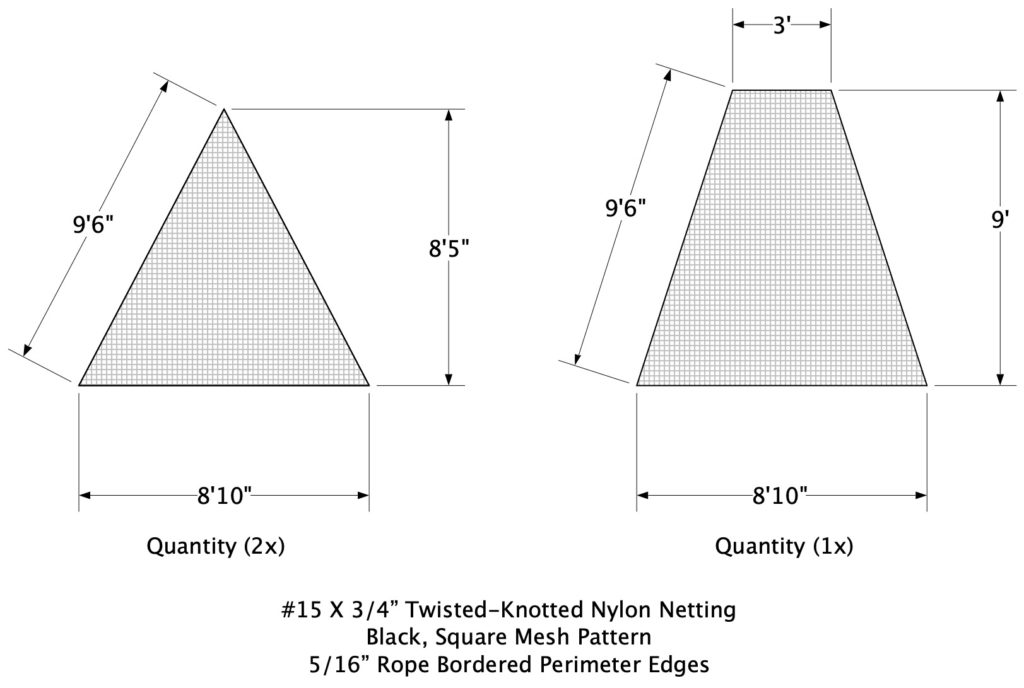 And then in this final fourth specialty net production example you can see a pair of small area nets that each have an upper tapered edges built into the product design. Both of these custom nets were fabricated with an 8′-6″ height on one end, with a 6′ height on the opposite end. The width of each net was 6′-7″, and then the upper tapered side of the netting panel resulted in a 7′-1/2″ sloping dimension. These nets were constructed with #36 X 1-3/4″ square mesh twisted-knotted DuPont® nylon netting, and also had a 5/16″ polyester rope bordered perimeter edge. These custom netting panels were shipped to a private property owner that was seeking predatory bird exclusion netting that was specifically constructed to align with the shape and sizing of the framing structure.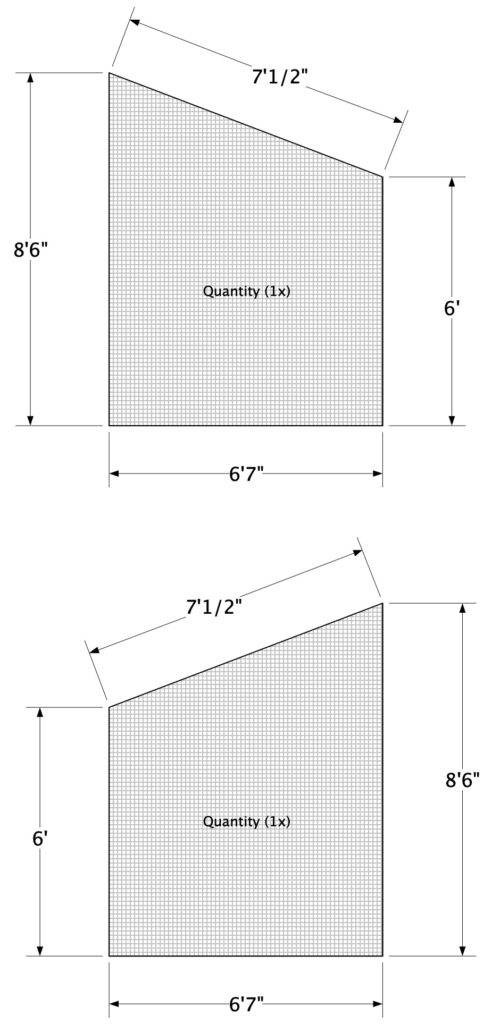 Specialty netting and custom nets are produced per-order.
Gourock.com is a longtime supplier of custom netting productions and specialty nets that are fabricated per-order, allowing you to source the best fitting and performing netting products for your exclusion, barrier, and protective needs. Whether you have large sized safety netting requirements or small area custom net sizing preferences, Gourock is your source for specialty netting fabrications. With quick turnaround timing, premium netting material dependability, and 100% Made in the USA production, we always invite you to get in touch with your specialty net sizing requests and we can correspond and quote you our available selections for consideration.
Many thanks again to all of our very appreciated custom netting customers! It is our pleasure to be your trusted netting supplier, and we look forward to continuing to be your valuable custom net product provider!
– Josh Grzyb @ Gourock Netting