Custom Batting Cage Nets Produced for Training Facilities and Professional Sports Netting Applications
Professional batting cage nets serve as a crucial component in baseball and softball training facilities, providing a safe and structured space for athletes to develop batting and hitting skills. These nets from Gourock.com are meticulously designed using durable materials, ensuring they can withstand the impact of powerful hits without compromising player safety. Constructed with high-strength DuPont® nylon netting, Gourock's professional batting cage nets offer excellent resistance against heavy baseballs and softballs, preventing them from escaping the enclosure. This feature not only protects the surrounding area but also facilitates focused practice sessions by keeping the balls within the designated hitting zone.
One of the primary advantages of professional batting cage nets is their versatility. They can be customized to fit various dimensions, making them suitable for both indoor and outdoor training facilities. This adaptability ensures that players at all levels, from Little League to professional leagues, can benefit from dedicated batting practice areas. Moreover, the usage of custom batting nets of means that facilities can be set up with additional features like pitching machines or video analysis systems, enabling players to receive helpful feedback on their performance and make necessary adjustments in real-time.
Unlock the Advantages of Customized Netting Products for Baseball Training Facilities
Discover the numerous advantages of utilizing customized netting products at baseball training facilities. These tailor-made solutions offer exceptional benefits, ranging from superior mesh materials to customizable sizing options that enhance durability, usage, appearance, and functionality of the training space. With nylon as the optimal mesh material for sports netting, these customized netting products provide a winning combination of strength, flexibility, and longevity, ensuring a safe and productive environment for athletes to hone their skills.
What sets customized netting products apart is the ability to tailor the sizing to specific requirements. This customization allows for a perfect fit, maximizing the netting's effectiveness in various training scenarios. Whether it's an indoor batting cage or an outdoor practice field, professional batting cage netting can be precisely sized to cover the desired area, ensuring comprehensive coverage and effective ball containment. The customized sizing also contributes to the aesthetic appeal of the training space, creating a visually pleasing environment that reflects the professionalism and attention to detail of the facility.
Additionally, customized netting product available from Gourock.com offer enhanced functionality. By aligning the netting dimensions with the facility's layout, players and coaches can optimize the training experience. This tailored approach enables specific training drills to be conducted with precision, focusing on different aspects of the game such as pitching, hitting, or fielding. The ability to customize the netting size also allows for convenient installation and removal, facilitating easy maintenance and adaptability to changing needs.
Recent Examples of Custom Batting Cage Nets, Produced and Shipped to Commercial and Municipal Athletic Training Facilities
At Gourock.com we have over 20+ years experience with supplying custom built batting cage nets for all types of high usage baseball and softball training facility locations. Professional batting cage netting products from Gourock are constructed from premium DuPont® Type 66-728 Twisted-Knotted Nylon Netting, and assembled per-invoice with expert hands craftsmanship – factory direct, 100% Made in USA. Many of our high traffic batting cage clients utilize customized sizing, design features, and personalized netting details incorporated into their enclosure nets in order to optionally function at their particular location. In the 3 examples below we are presenting you with recent examples from the last few weeks for custom batting cage enclosure net jobs that have been fabricated and shipped off to our customers at municipal, commercial, and training facility locations.
In this first custom netting example, the batting cage netting was manufactured to an extra-large volume sizing of 14′ high X 28′ wide X 70′ long. The overall cage netting design also included 3′ overlapping netting entrance doors in 2 of the corners, for efficient means of entering and exiting the batting enclosure. All edges of the batting cage net were 5/16″ polyester rope bordered – including the bottom edge, and the mesh used was #36 X 1-3/4″ Twisted-Knotted Nylon Netting, black in color and in a diamond pattern. Also included in this job was a separate 14′ high X 70′ long divider panel net that our client would be using at their convenience in order to separate the 28′ wide tunnel netting into a pair of 14′ wide hitting areas. This custom professional style batting cage netting project was shipped to a municipal sports complex, and was built within 2 business weeks of the order being placed.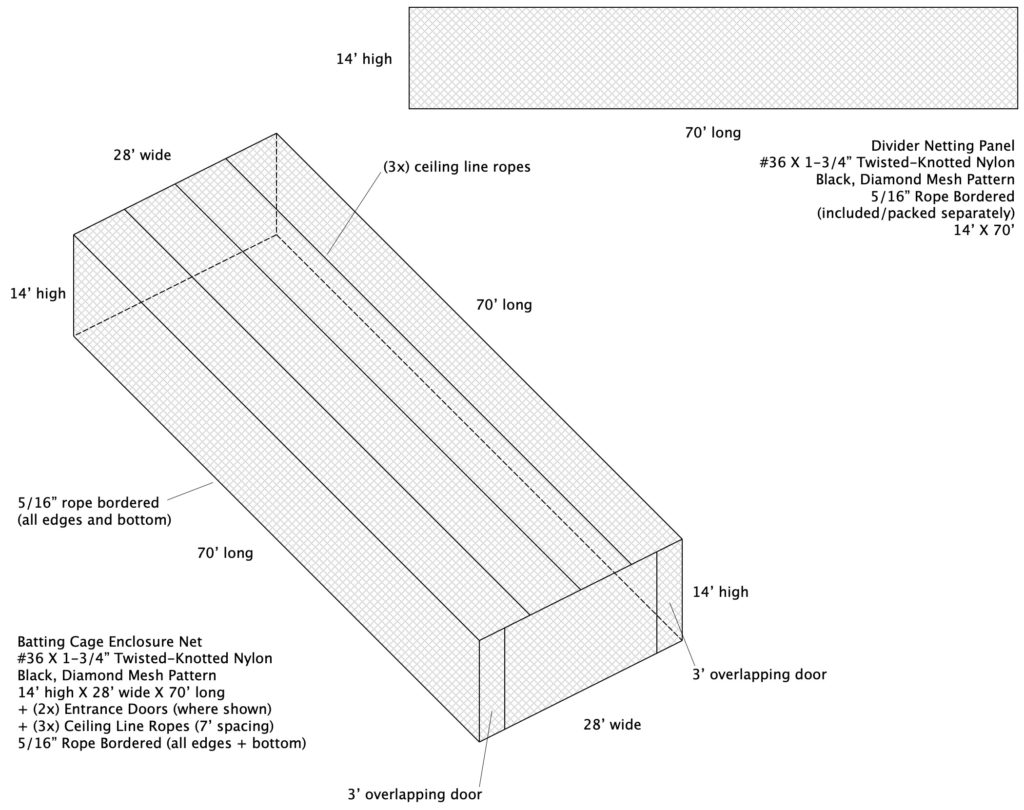 In this second customized baseball/softball netting job you can see a pretty similar design as the prior netting example. This professional batting cage netting project was ordered and manufactured for an athletic training facility that also wanted to utilize an extra-wide volume cage net along with divider panel net. In this case the batting cage net was constructed to the sizing of 12′ high X 28′ wide X 60′ long, and was supplemented with a separate divider net built to 12′ high X 60′ long. The same #36 X 1-3/4″ Twisted-Knotted Nylon Netting was used for this production, along with the 5/16″ polyester rope borders. However on this production the cage netting and the divider netting included weight rope bottom edges, which are often preferred for netting designs in which our clients prefer extra weight along the bottom perimeter of the netting in order to avoid any balls from lifting up or rolling underneath the netting. This job was also finished and ready to ship out within 2 working weeks of the order being placed, and shipped factory direct right to the facility location for installation.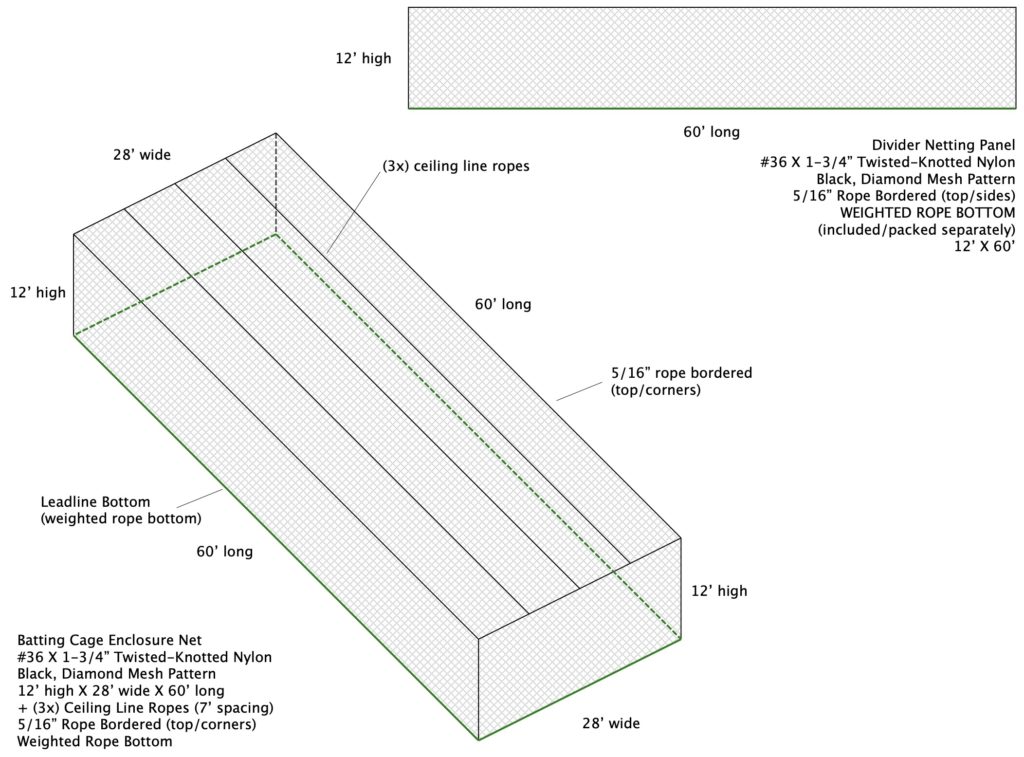 And finally in this third recent custom sports netting example we show a series of very unique nets that were specialty crafted according to some individualized feature requests by our client. This total job included four professional batting cage netting productions that varied in overall sizing, depending on where at the indoor training facility they were to be hung. Two of the batting cage nets were built to the dimensions of 20′ high X 12′ wide X 55′ long, one cage net was built as 15′ high X 12′ wide X 40′ long, and then one of the nets had sizing of 15′ high X 12′ wide X 65′ long. These nets were ordered by an indoor sports training facility that was expanding operations into softball batting and baseball batting practice offerings. However, they also wanted to incorporate small-ball training techniques as well, which uses balls that are a lot smaller in diameter than baseballs. So all of the vertical walls of these enclosure nets were constructed with 3/4″ mesh size knotted nylon netting, in a #21 twine thickness. Since the vertical walls were the only areas that would need to contain the small-ball training objects, the ceiling nets of each batting cage were built from the 1-3/4″ mesh size knotted nylon netting in the #36 twine thickness. All four of the custom cage nets were 5/16″ polyester rope bordered on all edges, and this total job was built and ready to ship out to our customer's location within 3 working weeks of the order being placed.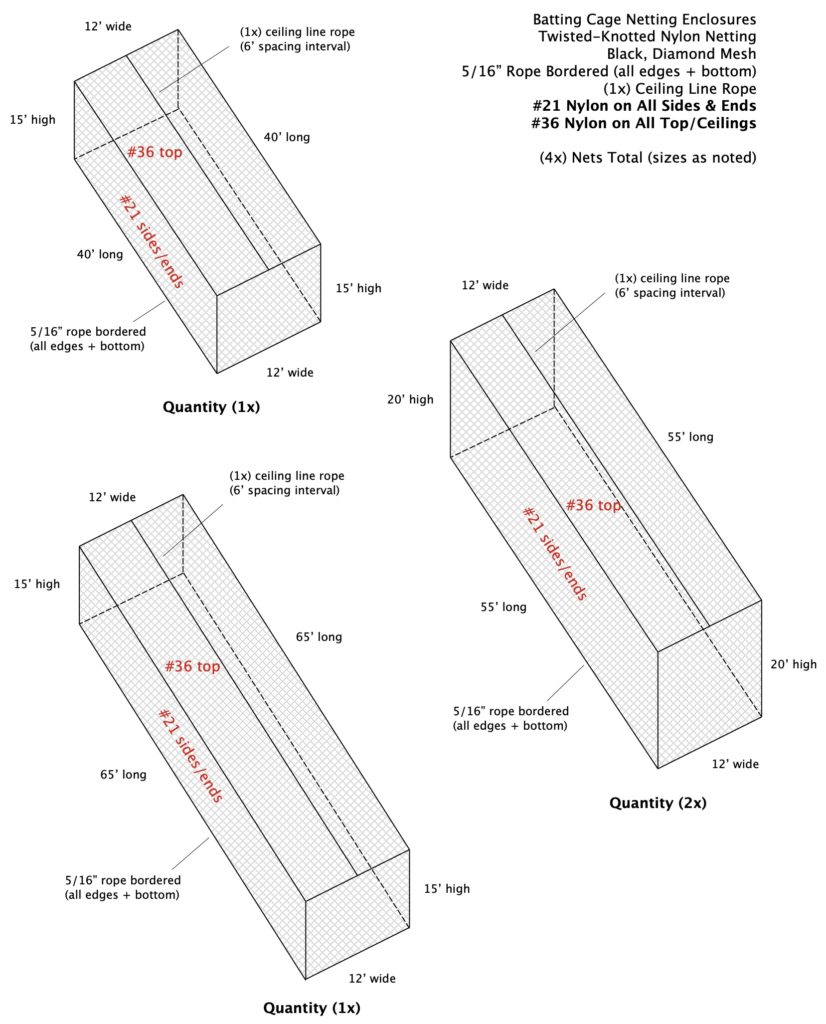 Custom Sports Netting Built Per-Order
Gourock.com specializes in the supply of custom netting productions that are prepared per-order, allowing you to source the best possible netting solutions for you projects and needs. Athletic netting and sports nets are a very popular product that we have shipped out for over 20 years, and our convenient Online Custom Netting Calculators provide you with immediate online ordering access for netting that is built according to your preferred sizing requirements. If you have more unique production needs for your job or location, such as the professional batting cage netting products shown above, absolutely feel free to get in touch with us directly at Gourock.com and we can correspond about your goals. Many thanks again to all of our valued custom netting customers and clients! We appreciate your business very much and it is our pleasure to be your trusted and dependable netting supplier!
– Josh Grzyb @ Gourock Nets