Building Triangle Nets with Durable Materials: Nylon Mesh and Polyester Rope
There are many instances in which the most effective netting solution is a custom net that is built to a triangular shape. This can be for a wide variety of reasons, but generally-speaking the triangular nets are most preferred for spaces or areas that don't have the correct room or available area to use a square/rectangular netting panel. For instance, filling in the corner space of an area, following the slope of a roofline or wall, and needing to contour the netting to only block a certain portion of a framing structure or similar. Luckily, Gourock Netting can provide you with netting panels that are constructed according to your own particular sizing and shape needs – allowing you access to very high quality custom triangle-shaped nets that will have the best performance for your needs.
Generally speaking, the triangular shaped custom netting panels that we have shipped out over the years are typically constructed from the DuPont® Type 66-728 Twisted-Knotted Nylon – which is available from us in a variety of different mesh sizes and twine thicknesses. This knotted nylon netting is a really durable, dependable, high quality material selection that is 100% Made in the USA – and the custom triangular sizing that you may need for your project can be easily facilitated by Gourock in most cases. The rope bordering that surrounds the perimeter edges of the mesh is a 5/16″ braided Dacron® polyester – and the completed custom nets are well suited for full-time outdoor or indoor usage applications.
The Online Custom Netting Calculators that we offer throughout our site are very convenient for ordering your own square or rectangular areas of netting – so if you have something more custom in mind for your needed (such as a triangular shape), simply drop us over a line with your request and we'll get a correspondence and quote underway for the netting aspects of your project. Most customized nets that are built to triangular shapes are built and ready to ship out within a working week or two (based on volume), and we have experience shipping out custom triangle nets that have been produced to a wide range of finished sizes.
Custom Triangular Netting Projects
Here are some great examples of custom triangular nets that Gourock.com has facilitated in the recent past, and hopefully these product design images will provide you with some good context on these sorts of nets. These triangle netting productions were needed for indoor golf facilities, collegiate soccer training establishments, and for residential location storage/safety needs. Fabricated from a variety of different netting types – including #15 X 3/4″ knotted nylon, #21 X 1-3/4″ knotted nylon, and #72 X 1-3/4″ knotted nylon – these triangular shaped custom netting panels were all built per-invoice and ready to ship to our customers within 5 working days of their orders being placed. Custom nets like these allow you to achieve the most efficient netting barrier or exclusion coverage for situations in which the triangle configuration works best – and they are another great netting solution offered by Gourock.com.
Many thanks again to all of our custom netting customers and clients – we value your appreciated business very much!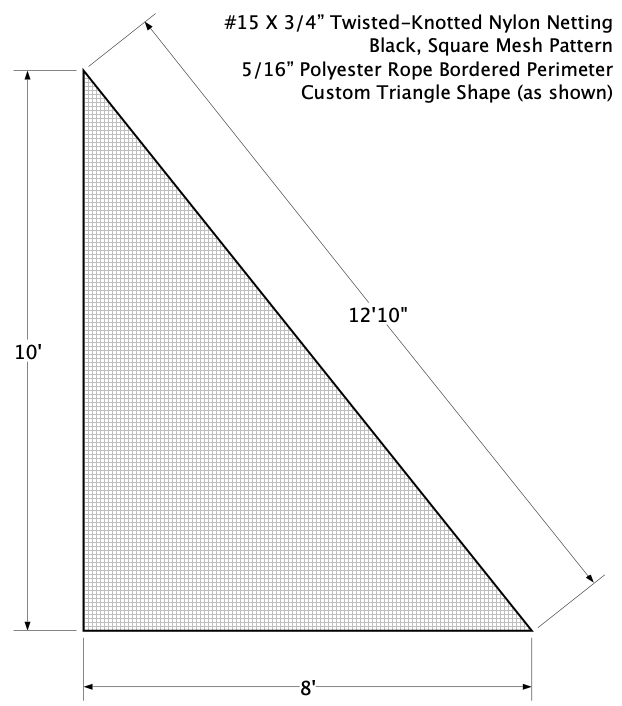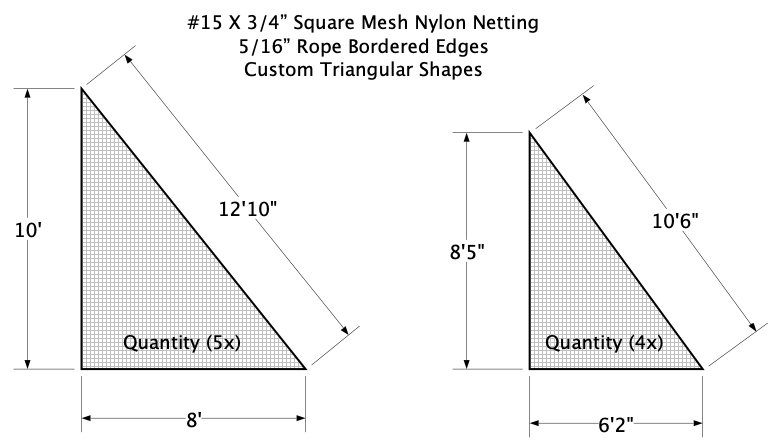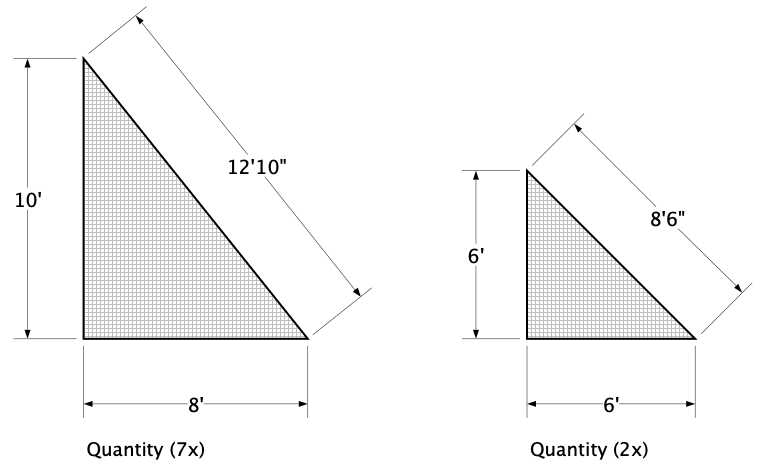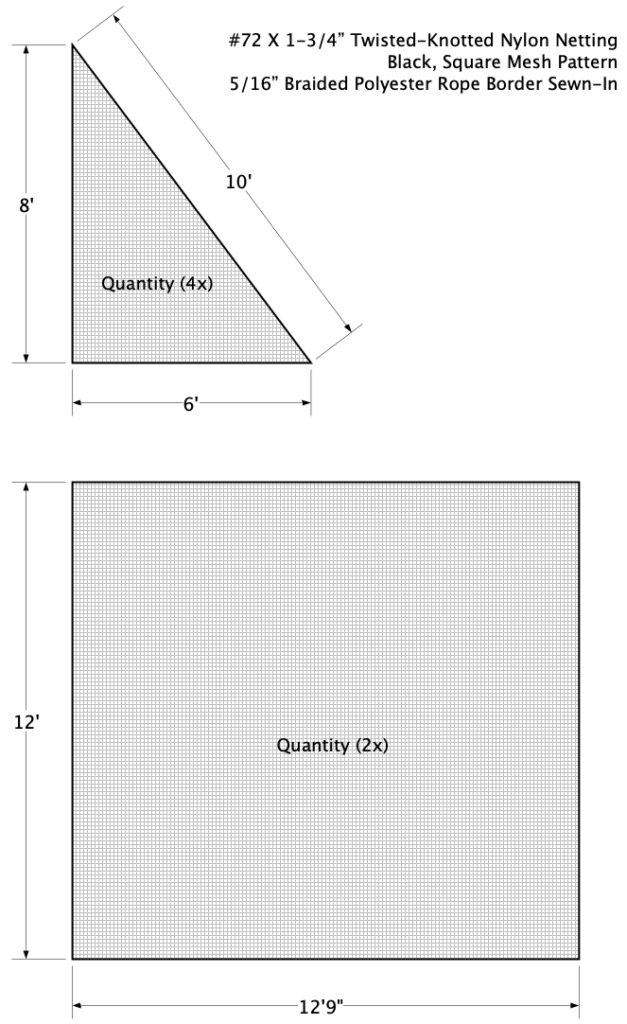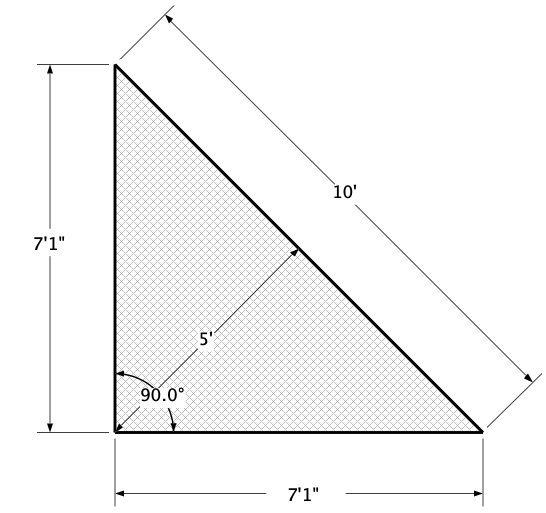 Custom Netting and Custom Nets Built To-Order, Including Triangular Shapes