Custom Netting Solutions for Pickleball Barrier and Ball Containment Needs
At Gourock.com we supply pickleball barrier netting that is available to be prepared to your own preferred custom dimensions, which can be conveniently ordered online through our Online Custom Netting Calculator. Nets for pickleball and pickleball court containment are supplied for commercial, industrial, municipal, and residential applications – and are chosen for barrier installations in both outdoor and indoor settings. There are a few recommended netting types and sizes used for pickleball barrier and containment net purposes, all of which are available according to your own custom sizing.
1-3/4" mesh netting is recommended for pickleball containment netting, and we supply that mesh in a range of twine thicknesses. All are constructed from 100% Made in USA DuPont® type 66-728 twisted-knotted nylon.
#21 and #36 twine thickness nets are recommended for pickleball courts, indoor divider nets, barrier nets, spectator protection, indoor training center nets, gymnasium barrier, tennis and pickleball bubbles, and most all multipurpose pickleball barrier netting installations for residential, scholastic, municipal, commercial, and professional uses.
#12 twine thickness is a good selection for lightweight and low-impact general pickleball containment and protection, and is popular for high-ceiling protection, lighting and sprinkler barrier, indoor window barrier, and other multipurpose pickleball uses where the thinnest and lightest netting option is preferred.
Most net options are black in coloring, but for pickleball barrier netting installations that may require some alternative colors, consider the #40 X 2" or #26 X 1" knotless nylon netting selections which can be supplied in Black, White, Blue, and Yellow. The 2" mesh knotless nylon netting selection is very recommended for pickleball court containment netting as well, and is very popular, durable, and dependable. The 1" mesh knotless nylon netting is great for pickleball barrier netting installations in which a smaller mesh sizing is preferred, either for netting aesthetic or for nets that may also need to block or contain smaller objects as well.
Over the last few months we have worked with a new local indoor pickleball facility here in Bellingham, WA (where Gourock is located) named Volli. From their site: "We are proud to bring the First Pickleball Sports Center to Washington State and Whatcom County. It is the largest, dedicated, indoor pickleball facility in the Northwest. We created Volli in 2021 to provide a space for personal connections and physical activities. Since it rains many days each year, we wanted to provide northwest Washington with an indoor family entertainment center – a place where the community can come together to eat, play and drink. Volli boasts a 24,000 square foot indoor space, with an additional 500 square foot mezzanine for elevated viewing. We have room for everyone to whack pickleballs, swing golf clubs, toss cornhole bags, throw darts and slide pucks."
One of their needs for the facility was court surround nets and court divider netting in order to make each playing area efficient for blocking and keeping balls within each court area. Over the course of a few weeks we supplied Volli with custom nylon netting panels for their pickleball court needs in a series of 19 different nets that were to be located in various different court placements within the facility. These nets were built from the #36 X 1-3/4″ square mesh twisted-knotted nylon netting, with a 1-1/2″ webbing border edging sewn-in around the perimeters of each panel. Along the top edge and side edges of each net there were #2 brass grommets stamped into the webbing border on 6″ intervals. At Volli they then installed tensioned cables between their support poles, and used the grommets of the netting to weave the aircraft cable through and tension the nets into place with turnbuckles.
It was a great pleasure working with Dave, Kathy, Matt and everyone at Volli during the construction of this new facility – and we appreciate your business very much! It is our pleasure to be your trusted and dependable pickleball containment netting supplier, and we look forward to working with you for future facility builds!
Here are some photo examples of the pickleball court containment nets that we supplied Volli, and should you ever have any inquiries into similar pickleball netting needs that you may have we invite you to contact us here at Gourock.com and we can certainly assist!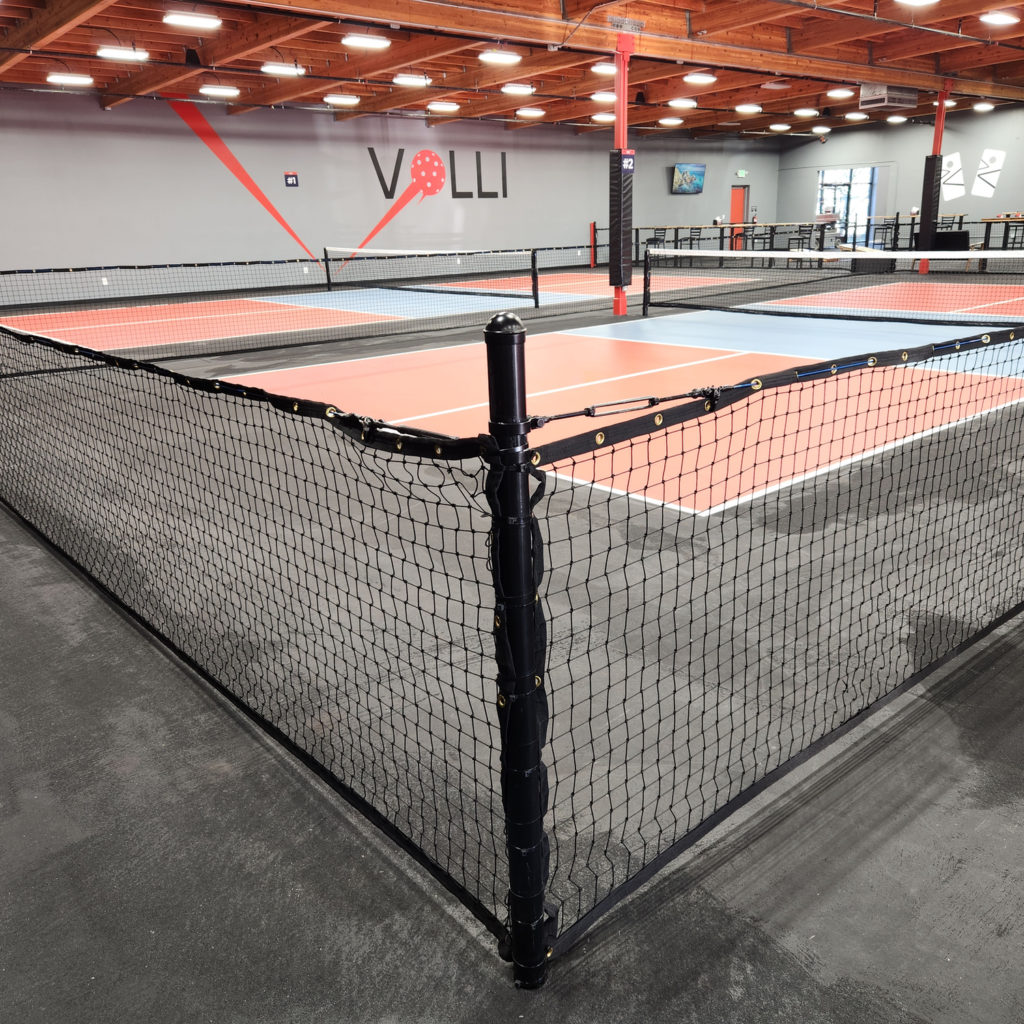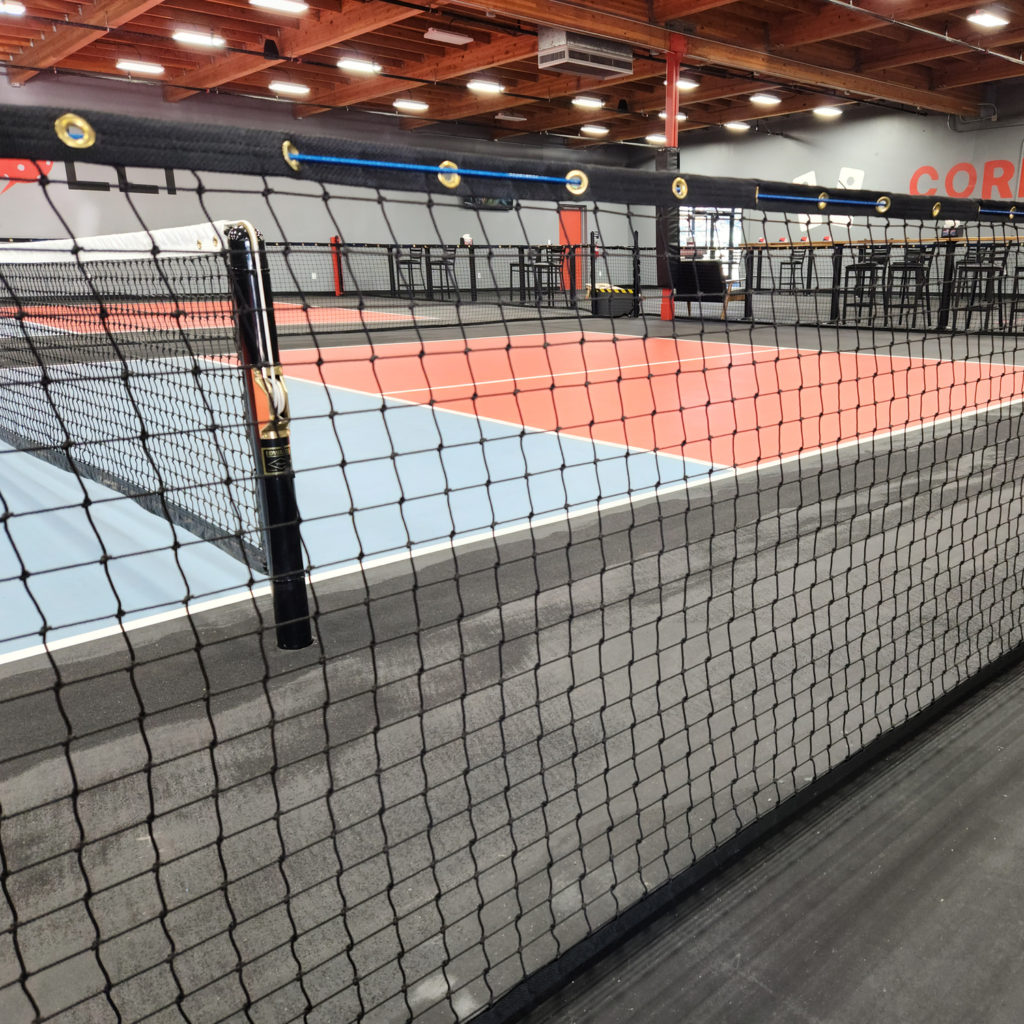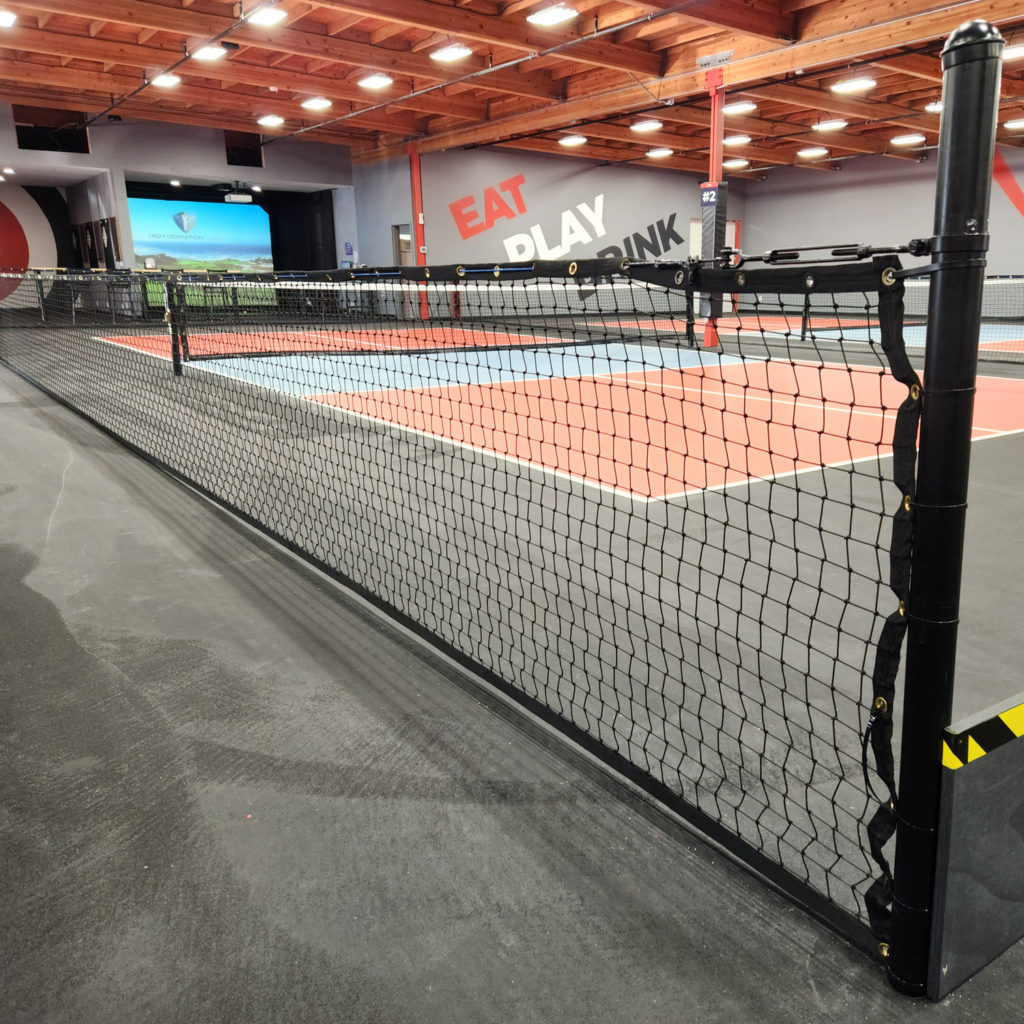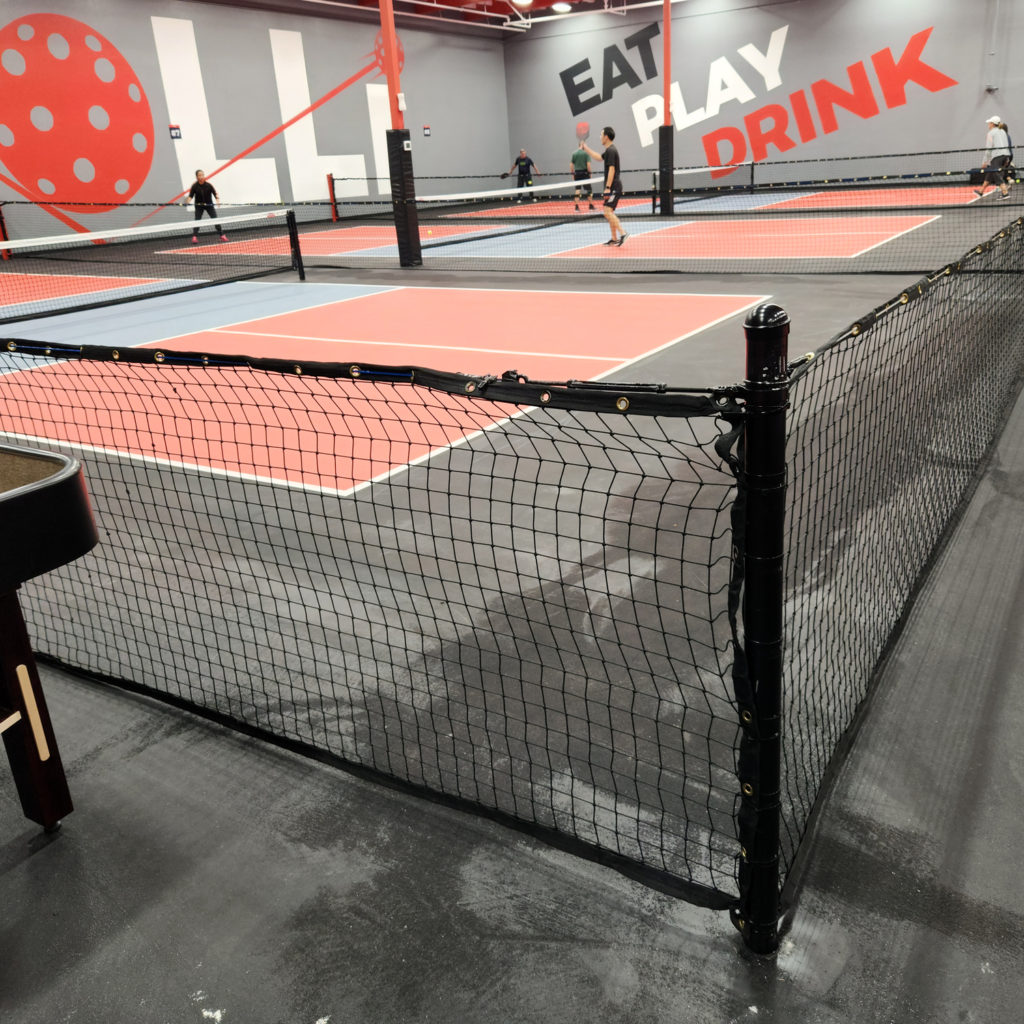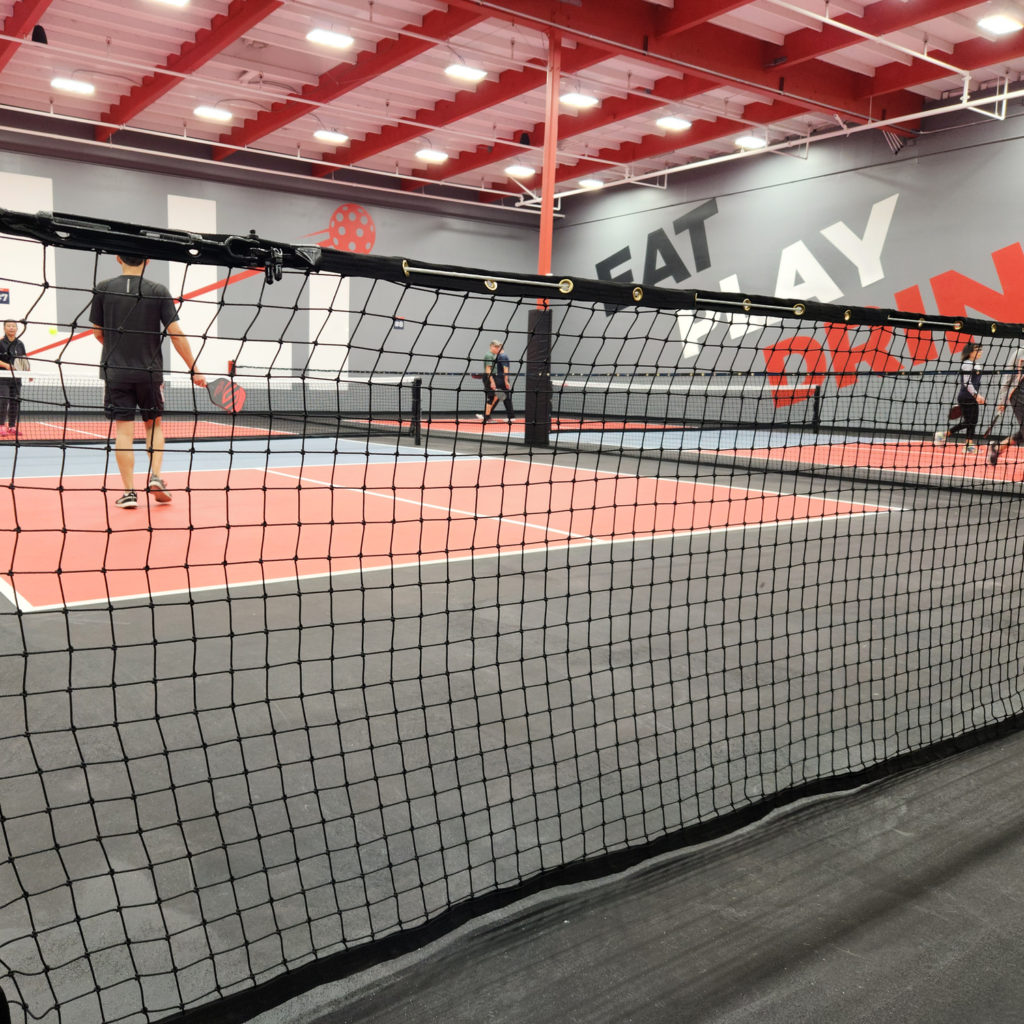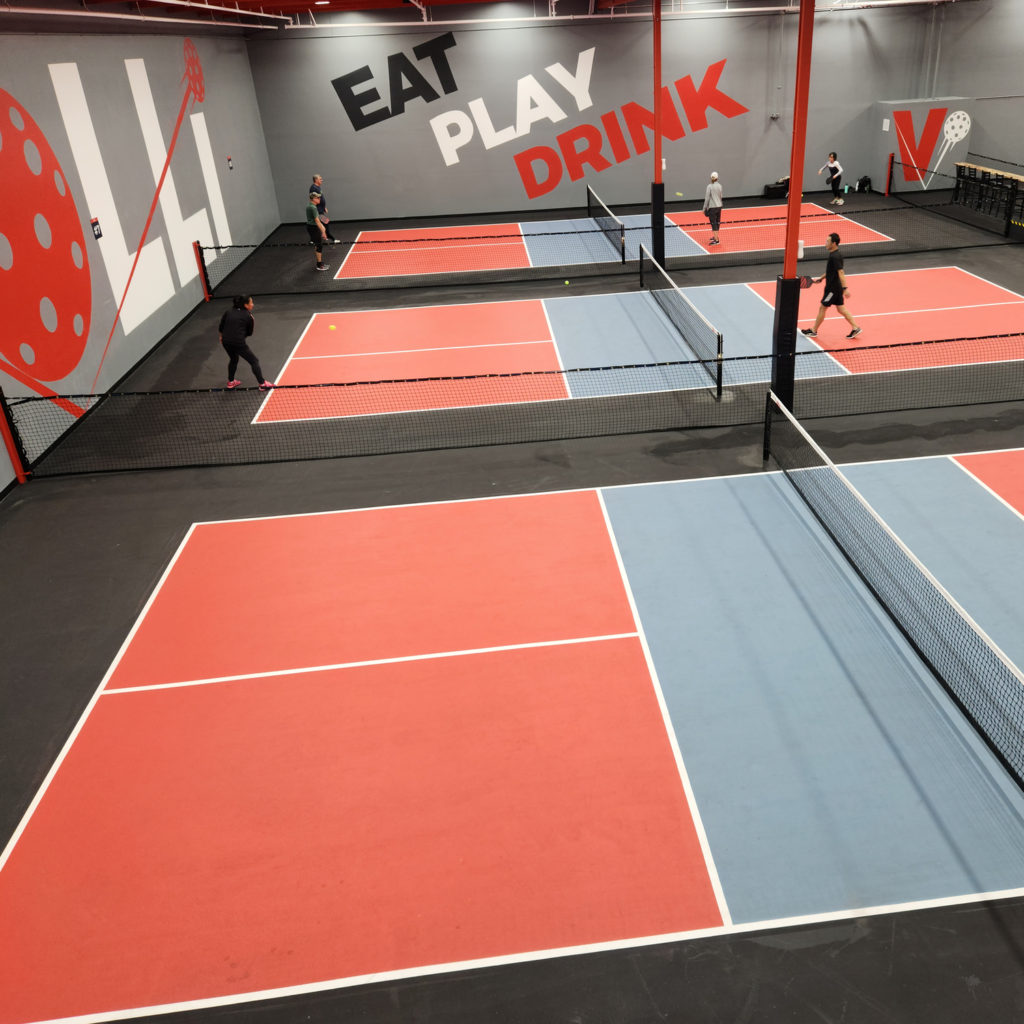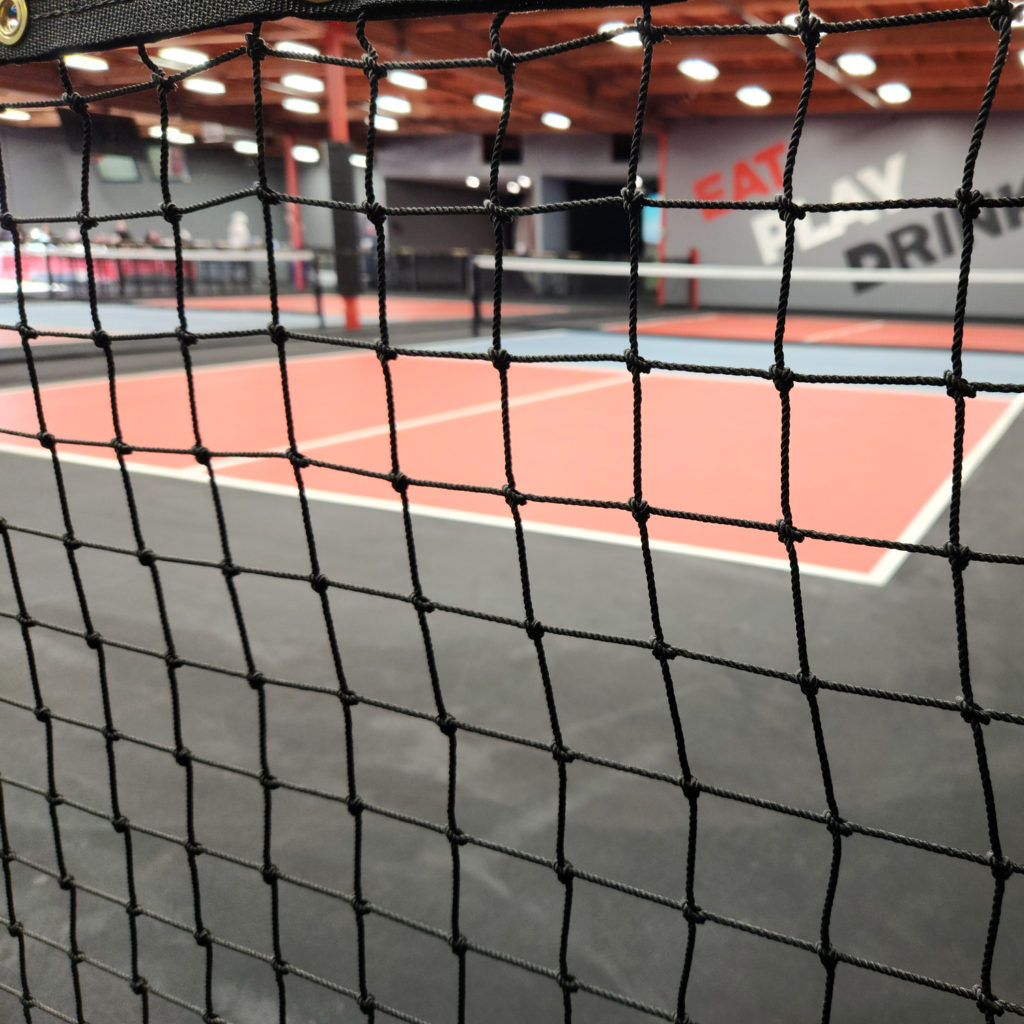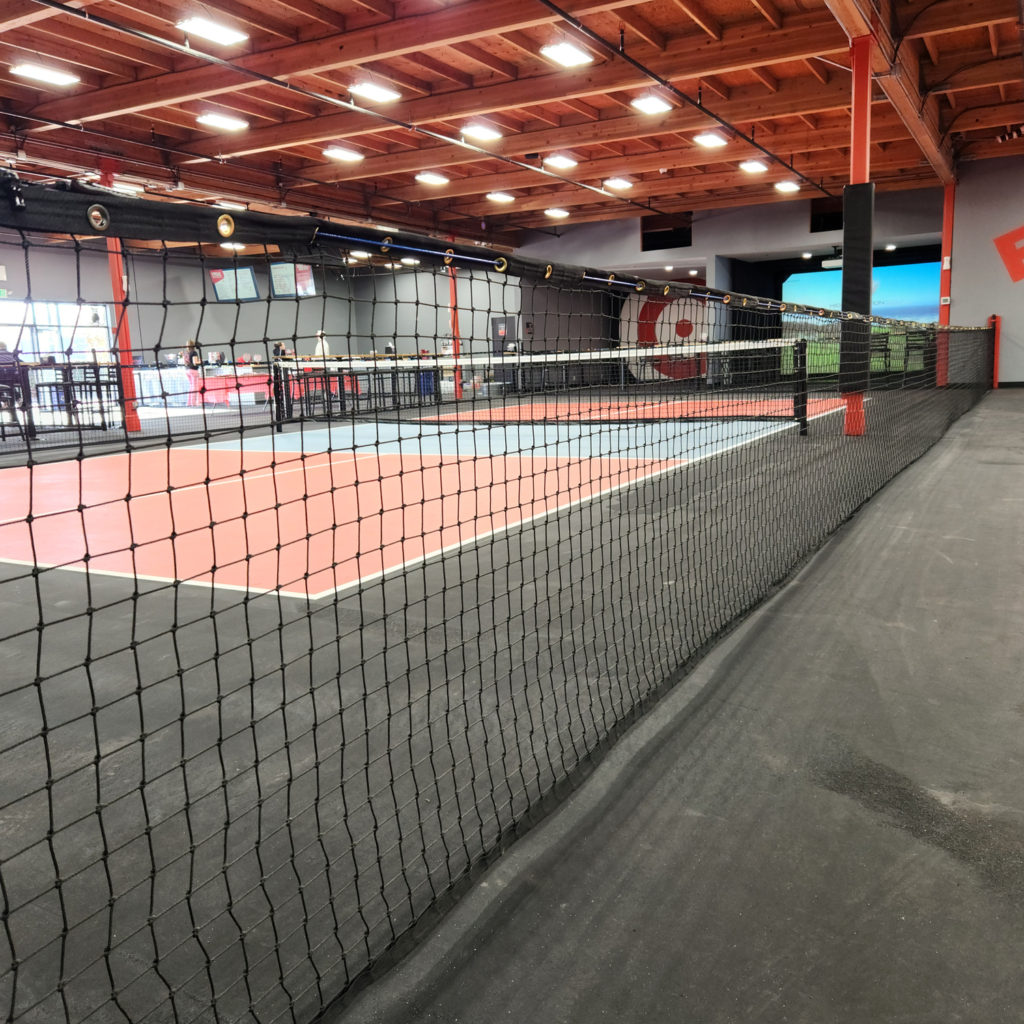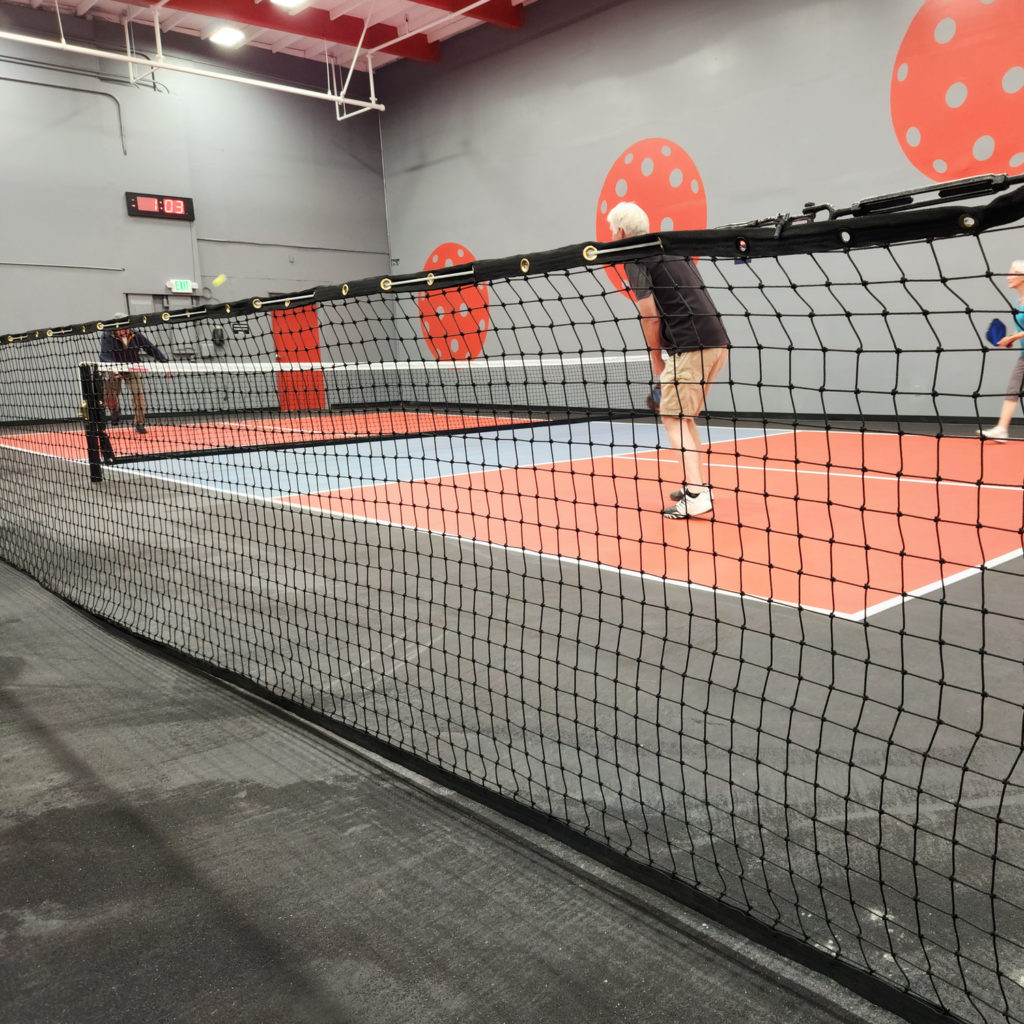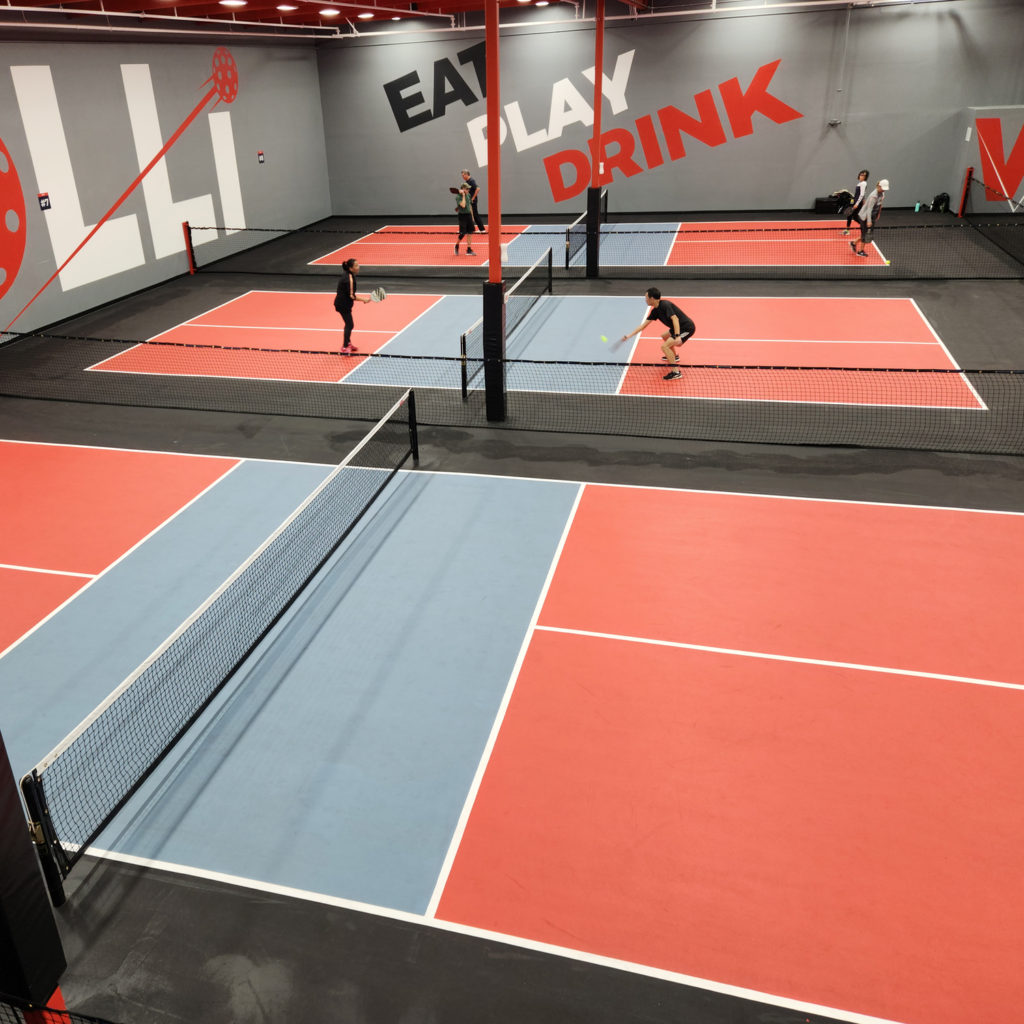 – Josh Grzyb @ Gourock Custom Netting