Custom Sports Netting for Indoor Training Facilities: Tailored to Meet Your Needs
Custom netting is used at sports training facilities and athletic practice locations for a very wide variety of protective needs and functionality requirements. For instance, many indoor sports training facilities require ball containment nets, court divider nets, and netting for spectator protection. Other examples of netting that is needed for indoor sport facility uses include batting cage nets, golf hitting nets, and general purpose barrier netting to keep balls and equipment enclosed with a particular space. In addition, there are many uses for sports netting within training facilities that are installed for protecting structural aspects of the building, such as ceiling nets for blocking lighting and pipes, window protection nets, scoreboard protection netting, netting to block doors and entrances, safety nets for loft and mezzanine locations, as well as railing nets for surrounding walkways and passages.
Gourock.com has always specialized in the supply of custom sports nets that are used for indoor athletic training facilities, and we have many years of experience with shipping out netting products for a huge number of unique training locations and intended netting uses. Many of our sports netting clients are professional level training organizations, municipal facilities, collegiate sports facilities, commercial sports training field houses, scholastic and team sport gymnasiums, as well as private individual athletic locations. Throughout the Gourock.com website and within this blog you can view dozens of examples of custom training facility nets we have shipped out – and here are 3 unique recent examples from the last few weeks of some additional sports nets that we have delivered to our customers at indoor sports training facilities that needed some specific athletic nets built for their needs.
This first custom sports netting example shows a recent golf cage net that was constructed and shipped to a golf course for their indoor training facility. There were a series of golf impact nets and cage nets produced for the entire job, but this particular golf cage net demonstrates some of the more unique sizing and shape needs that they had. In this case our customer needed to have the golf ball containment netting built so that it would closely follow the contour of their ceiling roofline within the indoor training space that they utilize. For this custom golf cage netting build the height of the front hitting end was 14′ tall, and then the height of the back impact end was 11′ tall – so over the course of the 8′-6″ depth of the netting enclosure the ceiling tapered downwards at an angle. The overall width of the golf net was 10′ wide. This custom golf cage enclosure net was constructed from #15 X 3/4″ Twisted-Knotted DuPont® 66-728 Nylon Netting, and was rope bordered with 5/16″ braided Dacron® polyester rope. To add additional durability and abrasion protection, also included in the production of this golf cage net was a secondary layer of #21 X 3/4″ twisted-knotted nylon netting that was 14′ high X 10′ wide. Our customer's plan was to layer the secondary impact netting over the entire 11′ X 10′ back end of the cage and then continue the secondary layer of netting up the tapered ceiling by an additional 3′.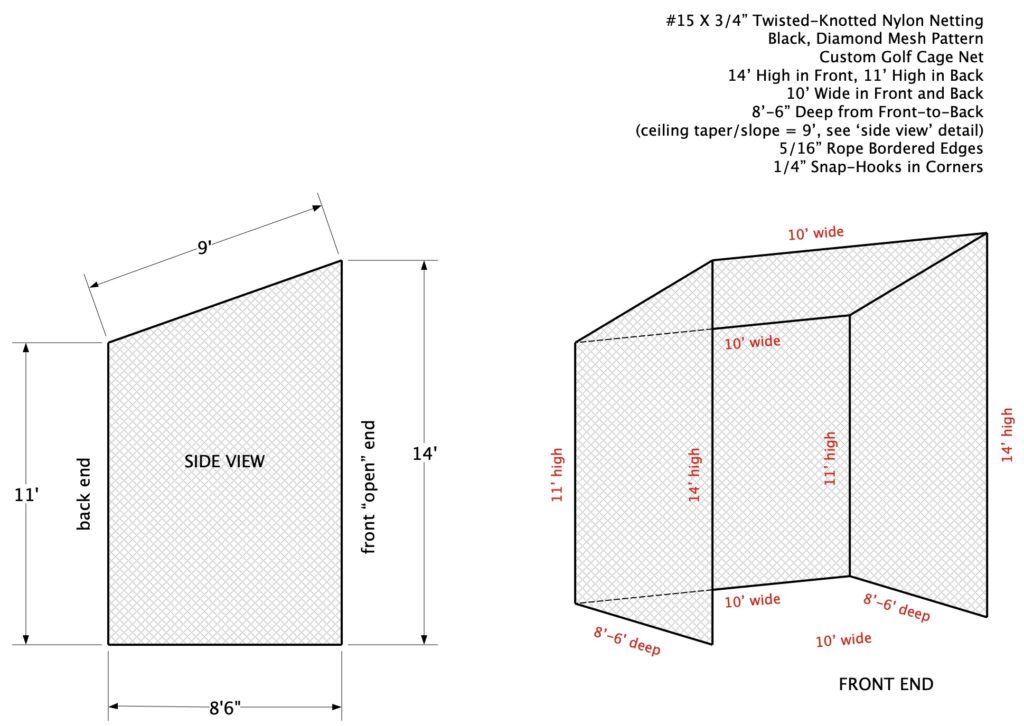 This second example of custom indoor sports training netting shows a very unique design that has an overall measurement of 13′-6″ high X 55′ wide. There were 4 of these same netting panels ordered by our client, who needed them at their indoor soccer training facility for soccer ball barrier purposes and soccer ball containment netting purposes. At this soccer training facility they utilize barrier netting over the top of a surrounding run of perimeter boards, in order to keep the balls within the field area. The netting selection in this case was the #36 X 4″ twisted-knotted nylon, which is a square mesh netting in black coloring that is optimum for soccer net and soccer ball containment netting uses at training facilities. Unique features on this sports netting production was a series of notches incorporated into the overall area to line-up with some entrance gates and central soccer goal locations. In addition there were some 2′ tall rope bordered pass-though slits built into the net above the gate notches – allowing players and coaches to enter and exit the field through the gates a bit easier (but also keeping the netting mesh relatively sealed-up in those areas as well). The entire perimeter of all 4 of these custom soccer nets was built with a 5/16″ polyester rope border sewn-in.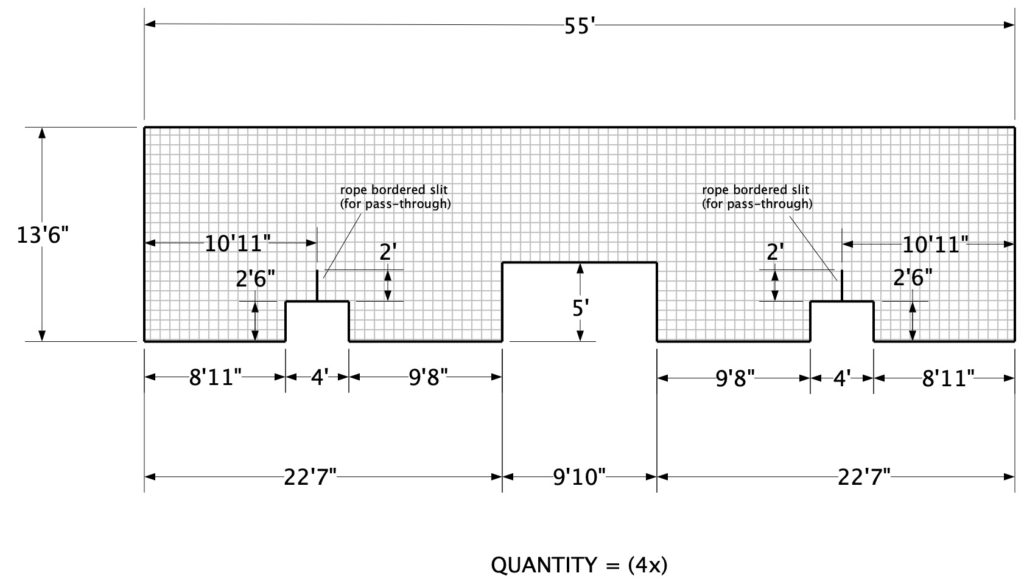 In this third custom sports facility netting example from the last few weeks, you can see a relatively large area net that has an overall coverage area of about 38′-3″ high X 103′ wide. However, the far left and far right sides of the netting panel were constructed to shorter heights of 23′ tall and 29′ tall. The purpose for this netting panel was to cover an entire wall area of an indoor sports training facility to completely block all balls and objects from leaving the playing field area. So in this case our commercial customer needed a custom netting panel that lined-up with the slope of their roofline as well as the different heights of the building walls. The netting used for this barrier net was the #21 X 1-3/4″ DuPont® twisted-knotted nylon, in a diamond mesh pattern, with a 5/16″ polyester rope bordered perimeter edge. The 1-3/4″ mesh size is the most multipurpose athletic netting selection we typically supply to facilities that are dealing with a wide variety of sports and object sizes that are about tennis ball-sized and larger. This netting choice is great for baseball barrier netting, tennis containment netting, basketball nets, soccer barrier nets, volleyball containment netting installations, lacrosse ball exclusion nets, and a huge variety of other multi-sport uses and needs. At Gourock.com you can get the containment nets and barrier netting panels you need for your specific space, built to the sizing that you prefer to be working with – just like this sports facility netting panel in this particular example.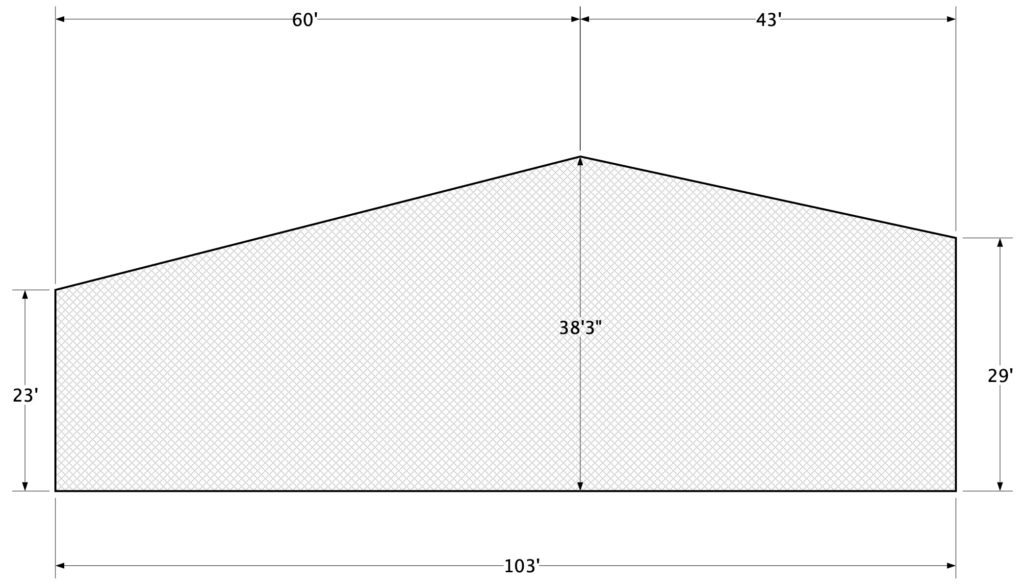 Many thanks again to all of our very appreciated customers and clients for field house nets, sports training facility nets, and athletic facility containment netting! We are proud to be your preferred choice for high quality custom netting products and net designs!
– Josh Grzyb @ Gourock Custom Netting