Netting for baseball training facilities, indoor and outdoor ball containment nets, and custom built batting cage netting enclosures.
Custom baseball netting offers a versatile solution with numerous benefits for a variety of applications. Whether for batting practice, player training, property protection, or improving practice locations, custom netting systems are a game-changer. These tailored nets are designed to fit your specific needs, ensuring optimal functionality. When used for batting practice, they provide an excellent barrier to contain balls, enhancing safety and efficiency during training sessions. For player development, custom nets can be set up in various configurations to simulate game scenarios, helping athletes refine their skills. Additionally, custom netting protects nearby property from stray balls, reducing the risk of damage. Whether you're practicing outdoors or indoors, these nets create a controlled environment, making it easier to focus on skill improvement. Generally speaking, custom baseball netting is a versatile solution that enhances safety, training, and property protection, making it a valuable addition to any baseball facility or practice area.
Custom baseball netting benefits immensely from the use of nylon material. Nylon's twine strength is a game-changer, ensuring that custom baseball netting can withstand the rigors of intense training and gameplay. Its exceptional abrasion resistance guarantees longevity and reliability, even in challenging weather conditions. The superior product quality associated with nylon translates into top-notch performance and peace of mind for players and facility owners alike. The ease of use of nylon nets simplifies setup and maintenance, saving valuable time and effort.
These advantages of nylon extend across various settings, including sports training facilities, baseball stadiums, school and municipal playing fields, making high quality nylon netting a versatile choice. Custom sizing options further enhance its performance, fit, and aesthetic appeal, ensuring that it seamlessly integrates into any environment. Whether it's a small practice area or a sprawling stadium, custom sports netting crafted from nylon material stands out as the premier solution, providing unmatched durability and functionality for a wide range of applications.
Custom Nets Built to Size for Baseball and Softball Training Needs
Gourock.com specializes in netting productions that are built per-order, according to the unique sizing and specialty requirements that our customers require. For many of our custom sports netting customers, the nets we ship out are intended for batting practice needs for their baseball and softball training purposes. One of the most effective types of netting designs for batting practice uses is an enclosure of mesh – also known as a batting cage net. Batting cage nets generally feature side walls, end panels, and a ceiling cover of netting – all seamed together into a box-like configuration. This type of netting design completely encloses the hitting area and ensures that all baseballs and softballs are properly contained within the given space. Batting cage nets are installed and used in both outdoor and indoor locations, and the netting from Gourock.com performs to high performance levels in both environments.
For most baseball and softball training facilities, the best solutions for batting practice and ball containment is the use of enclosure nets and tunnel netting designs that are customized in sizing and shape features. Batting cage enclosure nets that are built to specialized sizing have the benefits of being specifically matched to the framing structure or installation area, resulting in the best possible fit. When the fit of the containment nets are well considered from the start of the project, the end result is a professional appearance that maximizes the available volume of hitting area – and allows the netting to perform with the highest expectation of durability and function. Gourock.com specializes in custom batting cage nets that are readily available to order directly online though our convenient Custom Batting Cage Netting Calculator. These sports nets are 100% Made in the USA from premium DuPont® Type 66-728 Twisted-Knotted Nylon Netting, and are handcrafted with expert construction materials and expertise. Custom baseball netting is available from Gourock.com with fast turnaround timing and excellent service.
Recent Nylon Batting Cage Net for a University Indoor Training Facility
Custom baseball netting is a popular supply specialty of Gourock's for many different university and collegiate athletic programs. Over the last couple decades we have shipped out large volumes of specialty athletic nets for premier sports programs all over North America. High level collegiate facilities require netting products that are specifically tailored for their training facility locations, due to their preferences to maximize the netting effectiveness for both protective and performance factors. To add some context into the types of custom batting cage productions that Gourock delivers to national sports programs, we present here a recent example from the last couple weeks that was built and shipped to a university baseball team practice facility located in Indiana.
This recent custom hitting net was built to our customer's specific sizing needs of 12′ high X 28′ wide X 60′ long, constructed from #36 X 1-3/4″ DuPont® Type 66-728 Twisted-Knotted Nylon Netting. This baseball netting design also incorporated some other unique features, including the addition of 3 additional rope lines on the ceiling net (on 7′ spacing intervals), a weighted rope bottom edge, and a pair of entrance doors located in the center of one of the end panels. The entrance doors were built as 3′ overlapping netting flaps that allowed for player entrance into and exit from the enclosure netting – oriented for either a left or right side entrance direction. All additional edges of the design were finished with 5/16″ polyester rope borders. In addition, there was a separate divider netting panel included as well – which was 12′ high X 60′ long and also had the weighted bottom rope edge with the polyester rope finishing on the top and side edges. The custom batting cage netting enclosure with divider panel net was completed within 2 weeks of the order being placed, and shipped direct to our university client's location via LTL trucking service.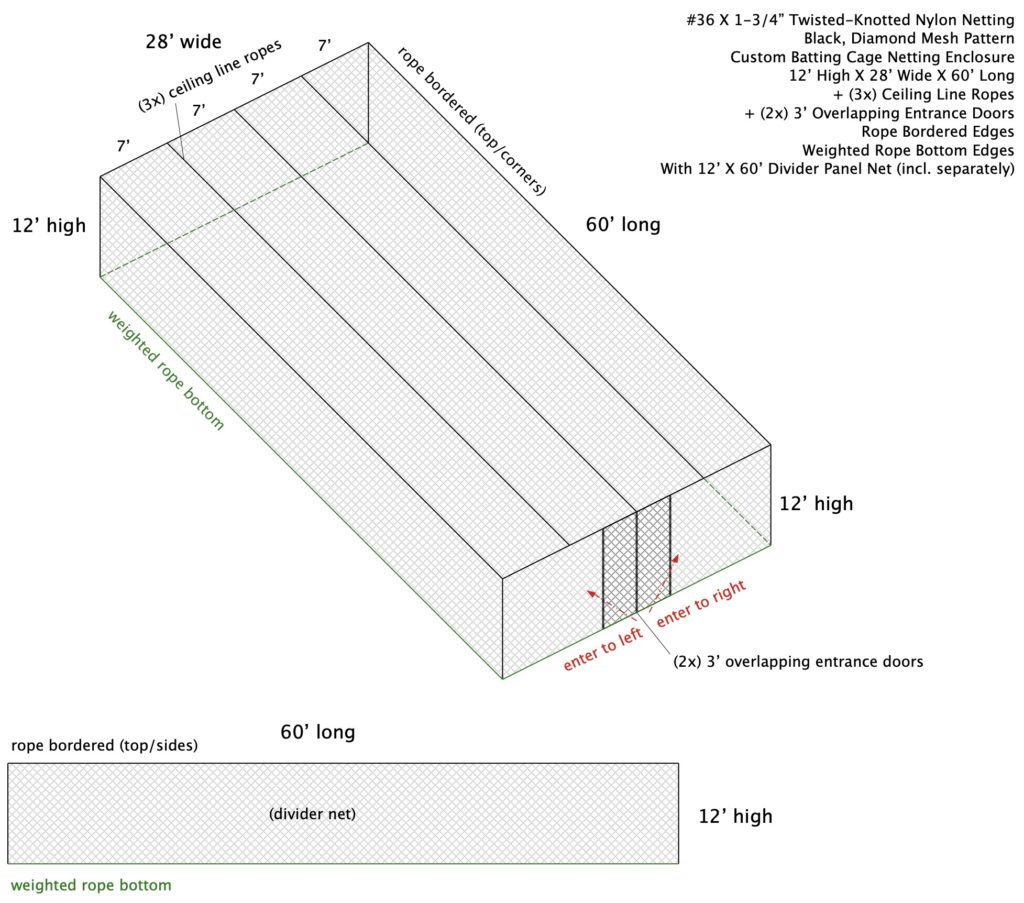 Many thanks again to all of our custom baseball netting customers and clients! At Gourock.com it is our pleasure to be your trusted and dependable netting product supplier, and we appreciate your continued business very much!
– Josh Grzyb @ Gourock Nets