Custom Batting Cage Nets and Golf Cage Nets Built to Size, Featuring Nylon Netting Construction
Custom sport netting cage nets are a game-changer for athletic training and various sports-related activities. These specialized nets offer a multitude of benefits, making them an essential asset for athletes of all levels. Whether it's baseball batting practice, golf driving and hitting sessions, or simply containing balls during sports activities, custom sport netting provides a secure and controlled environment. These nets ensure that balls stay within designated areas, minimizing the risk of injury and property damage. Furthermore, they offer precise target practice, aiding in skill development. Custom sport netting cage nets are not just about containment; they enhance safety, focus, and efficiency in athletic training, making them an indispensable tool for sports enthusiasts and professionals alike.
Sports netting is a valuable asset for player training and property protection in various sports and recreational settings. These nets serve a dual purpose by providing a safe and controlled environment for training and preventing stray balls from causing damage to surroundings. Customization of netting sizing plays a pivotal role in tailoring the net to unique areas of play, ensuring a perfect fit for specific sports and hitting needs. Nylon emerges as the optimal netting material due to its durability, strength, and resistance to wear and tear. Its exceptional performance characteristics make it the preferred choice, guaranteeing longevity and reliability, making it an excellent investment for any sports facility or training area. Whether you're honing your skills or safeguarding your property, sports netting with customized sizing and nylon material delivers a comprehensive solution for your needs.
Custom Athletic Nets Constructed to Specialty Sizes and Dimensions
Gourock.com specializes in the production and supply of netting products that are constructed to custom dimensions and sizing needs. Athletic nets, sport netting, and netting enclosures are very popular products that we ship to a huge variety of clients and customers – ranging from private users to huge commercial or professional organizations. Gourock.com is a firm that has an expertise in a wide range of netting uses and industry applications – including athletic cage netting enclosures for sports training and ball containment needs. Using the highest quality DuPont® Type 66-728 Twisted-Knotted Nylon Netting and expert hand-craftsmanship, the custom netting products from Gourock are 100% Made in the USA and prepared per-order with fast turnaround timing and dependable service.
Within our product line, custom batting cage nets and golf cage nets have always been a popular athletic netting choice for player practice and training. Batting cage nets and golf cage nets from Gourock.com are constructed to customer-specific sizing needs, allowing for the netting to perfectly match the installation framing or hanging space that they will be used within. This allows for a great fit that ensures that the hitting area functions very well for ball containment, to maximize the volume of the training space, and to result in a great professional appearance of the overall practice netting space.
#21 Twisted-Knotted Nylon Netting, a Popular Selection for Sports Nets
Throughout the Gourock netting product line there is a convenient selection of different twine thicknesses and mesh sizes to consider for different sport netting projects. We offer netting products that feature very light twines, and also very thick/heavy twines. In addition, there is availability for several mesh sizes – which means that our customers have dependable choices available to consider as the best match for their particular sport netting applications. Within the nylon netting options offered, one of the most popular twine thicknesses that is often used for custom sports nets is the #21 twisted-knotted nylon. The #21 twine thickness has a robust 210 lb. minimum tensile strength, and a physical twine thickness of 2.0mm. From our normal product line we offer the #21 twine thickness nylon in mesh sizes of 1-3/4″ and 3/4″. The 1-3/4″ mesh is great for sports such as baseball, softball, pickleball, tennis, and other athletic balls/objects that are 2″ in diameter and larger. The 3/4″ mesh size is most popular for golf ball containment for closely impacted balls – such as golf hitting nets and close-range driving nets. So with these general characteristics in-mind, you can see how this netting type is a very popular choice to be used for sport netting cage nets and enclosure uses.
Custom batting cage netting and golf cage nets from Gourock.com are often built with the #21 twisted-knotted nylon netting. These types of speciality sports nets are typically built and supplied for any type of sporting application that will benefit from hitting training and ball containment – for both outdoor and indoor athletic practice locations. Average Gourock customers for custom nylon enclosure nets are training facilities, schools, teams and organizations, private property owners, and recreational establishments. Over the last 20+ years we have facilitated hundreds of batting cage nets and golf cage nets that were all built to customer-specified sizing needs, and here are a couple of #21 nylon net examples from the last few weeks that help demonstrate some of the design features available for your consideration and sourcing needs.
Custom #21 X 3/4″ Nylon Golf Cage Netting
In this first recent custom sports netting example we are showing a golf cage net that was ordered by a school for their golf team practice requirements. This net was fabricated from #21 X 3/4″ DuPont® knotted nylon netting, and has the overall outer dimensions of 11′ high X 33′ wide X 14′ deep. The total enclosure area incorporates a sewn-in divider net at the midway point, which breaks the total width into a pair of individual hitting bays – allowing 2 golfers to be functionally hitting into the netting at the same time, ensuring that each bay properly contains the driven golf balls. This golf cage net was to be installed within the school's indoor golf training location, so the sizing specified by Gourock's customer was to maximize the available hitting area volume and to allow for multiple golfers to be practicing at the same time. There were also 5/16″ rope bordered edges sewn-in to the netting, along with 1/4″ steel snap-hook clips in all corners and on the divider net. Fabrication timing for this customized golf netting was 2 working weeks, and it shipped directly to our customer's location.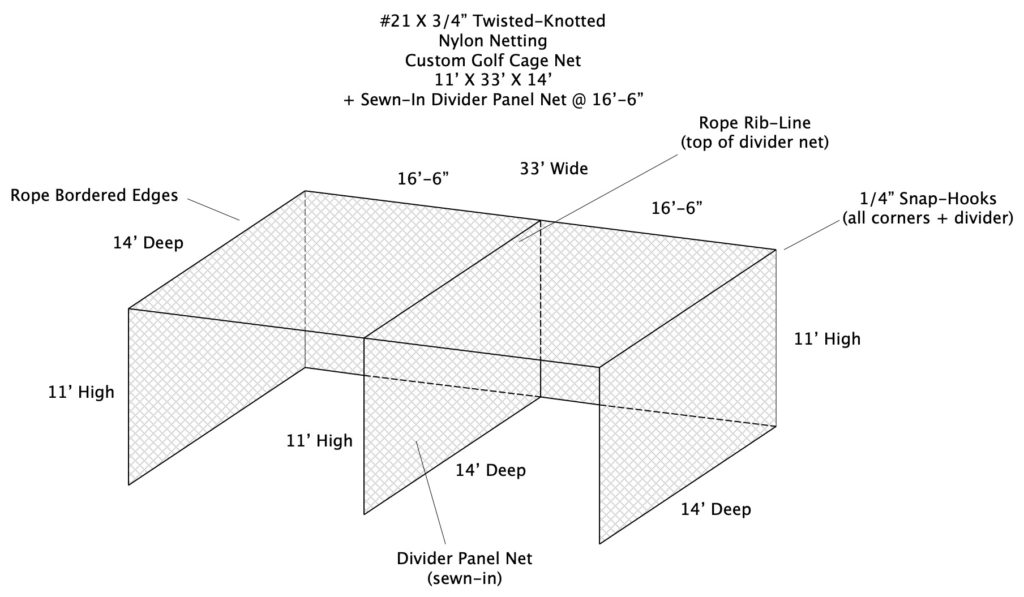 Custom #21 X 1-3/4″ Nylon Baseball Netting
In this sports netting example we show a recent custom batting cage net that was constructed from #21 X 1-3/4″ DuPont® type 66-728 twisted-knotted nylon netting. In this sport netting project the enclosure netting design was built to the sizing of 11′-6″ high X 20′ wide X 27′ long, and was ordered by a private residential customer of ours that was setting up a baseball and softball batting practice space at their indoor location. Also incorporated into this hitting net design was a 3′ overlapping netting entrance door in one corner, allowing for convenient access into and out of the batting cage enclosure. 5/16″ rope borders were on all outer edges of the netting enclosure, as well as a center-ceiling rope line at 10′ in order to have a functional attachment point for the middle of the upper netting. The production timing for this custom batting cage net was 10 working days and it was finished, packed up, and shipped directly to our customer's home location.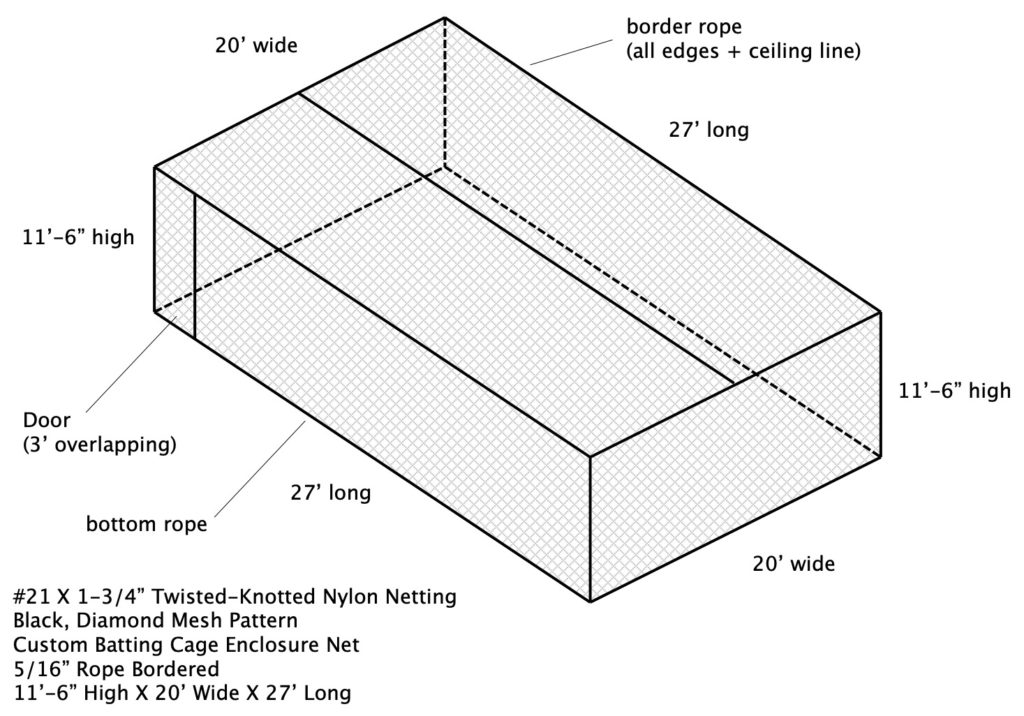 Many thanks again to all of our very appreciated custom netting customers! It is our pleasure to be your trusted and dependable sports netting supplier, and always feel free to get in touch with us directly at Gourock.com and we can assist with your custom athletic netting needs!
– Josh Grzyb @ Gourock Nets