Angled and Tapered Sports Netting Panels for Enhanced Athletics Protection
At Gourock.com we specialize in the supply of custom nets and customized netting productions that are produced to specialized sizes and dimensions, and are utilized for a wide variety of different safety and protective applications. For many different types of sports and athletic uses the custom netting panels that are available from Gourock are very well suited to maximize protection and barrier requirements for sports facilities, practice fields, and public properties. Sports netting is a very popular and recommended solution for many safety needs to protect players, spectators, public property, equipment, infrastructure, and other unique situations based on a particular location.
The sports netting and athletic netting materials and options available from Gourock.com are utilized for all types of ball sizes, installation areas, and intended protective necessities. For instance, there are 1″ mesh size netting selections that we provide that are intended for golf barrier applications at golf driving ranges and sides of golf courses. In other cases there are 1-3/4″ mesh size netting choices that are intended for spectator protection at baseball stadiums, interior sports facilities, and for outdoor multi-sport arenas and facilities. And for instance we also have 4″ mesh size netting selections that are built for ball containment needs at soccer fields, volleyball court centers, and football stadiums. Of course, there is a huge array of athletic safety needs that are well suited to be handled with protective netting, and Gourock.com is a premier source for custom-built nets that are specifically built to the sizing needs of each individual location. This maximizes the protective function of the netting, allows for the most pleasing overall look and appearance, and enhances the overall durability and reliability of the netting over time.
In addition to offering sports netting panels that are built to custom heights and lengths, Gourock.com also provides nets that incorporate tapered edges and angled shapes as well. For many athletic facilities, stadiums, arenas, and sports complexes there are protective needs that are best suited for nets that are non-rectangular in shape. For instance, there may be tensioned wires or cables that the netting is being hung from – and those cables may be installed on a sloping angle. In other cases there may be roofline angles in which the barrier netting is made to match the contour – resulting in proper coverage within the area. And for another common example there are often grade differences along the ground at outdoor sports fields or driving range locations, requiring barrier nets to be built to follow a tapered path. There are also many other unique situations that are best suited for custom tapered or angled protective netting panels – and if you have some inquiries into the best match for your particular project you can always get in touch with Gourock.com and it is our pleasure to assist!
Here are four different examples of custom netting productions that we have recently facilitated for different sports and athletic protection projects. Each of these jobs were facilitated with the highest quality 100% Made in the USA DuPont® Type 66-728 Twisted-Knotted Nylon Netting – with 5/16″ Braided Dacron® Polyester Rope Bordered Edges. The mesh sizes and twine thicknesses all vary per-project, based on the intended sport barrier needs, expected abrasion, and customer preference. All of these nets were constructed to our client's specific sizing needs, and all incorporate a tapered edge or angled shape. Hopefully these custom netting examples help demonstrate some of the sports safety netting options available for your consideration from Gourock.com – we look forward to potentially working with you for you athletic netting needs!
This first example shows a custom netting panel that was built from the #12 X 1″ tarred twisted-knotted nylon netting, and was constructed for use as a golf barrier net along the side of a golf course fairway. The tapered slope of the property required that the net feature a bottom edge that angled along the grade, allowing for a great fitting net that maximizes the safety properties of the golf ball exclusion mesh.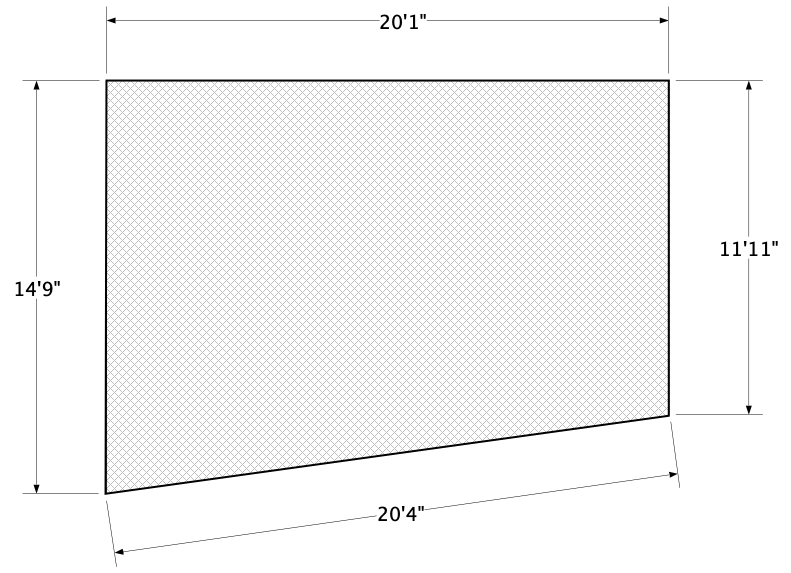 In this second custom netting example you can see a netting panel that has an upper edge that is tapered and sloped, which was designed to line-up with the roofline of an indoor baseball and softball training facility. This customer needed a barrier net for a particular area of their hitting space to block errant baseballs and softballs. The custom baseball net needed to correspond with the roofline of the indoor training facility, and was constructed from #36 X 1-3/4″ square mesh knotted nylon netting, with 5/16″ polyester rope bordered perimeter edging.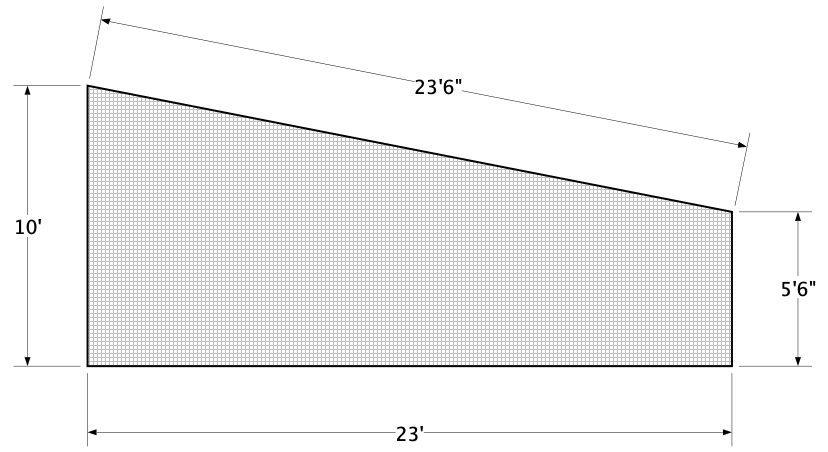 This third custom netting example demonstrates a recent job that includes five unique netting panels, with two of the nets being built with angled top edges on them. These were all constructed from #21 X 1-3/4″ twisted-knotted nylon netting, and were 5/16″ rope bordered around the perimeter edges. All of these nets were being installed at an outdoor baseball field as spectator protection nets and foul ball barrier nets. The pair of nets that have the tapers incorporated into their shapes were made to line up with some installation cables on-site that angled downward between poles.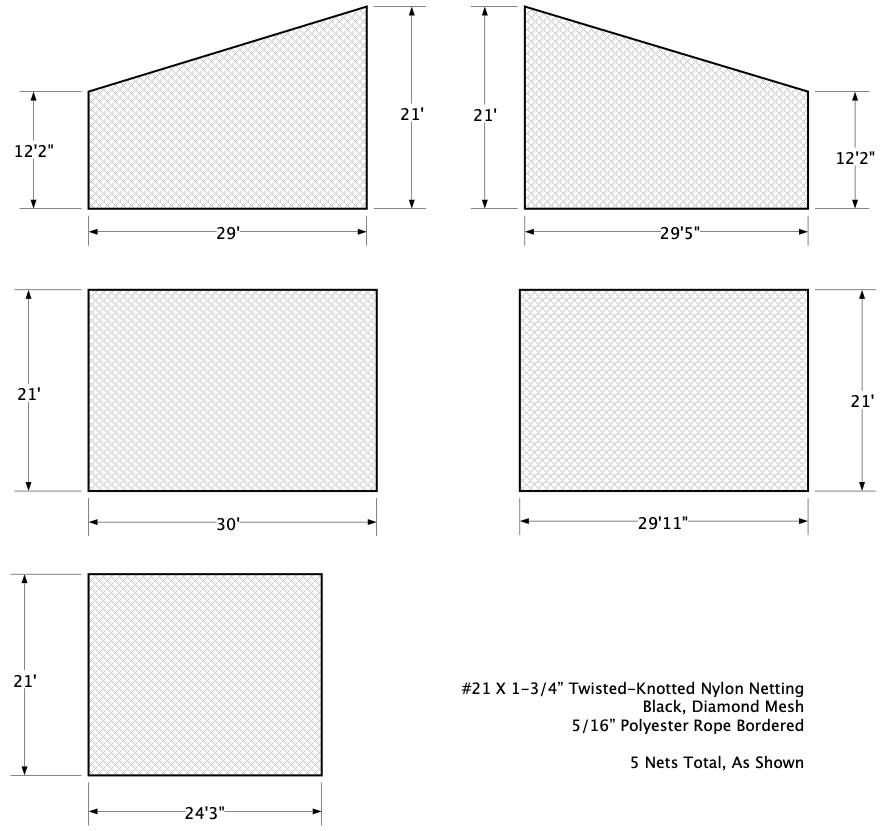 This fourth custom netting examples demonstrates a pair of nets that were built for another baseball training facility. These athletic nets were constructed from the #21 X 1-3/4″ DuPont® Type 66-728 Twisted-Knotted Nylon Netting, with 5/16″ Braided Dacron® Polyester Rope Bordered Edges. Both of these baseball barrier nets were intended to block errant balls from passing from one side of the field house to the other, and were designed to line-up with the roofline of the building. Protective nets like these are fantastic products to protect players, coaches, spectators, and property from errant baseballs and softballs.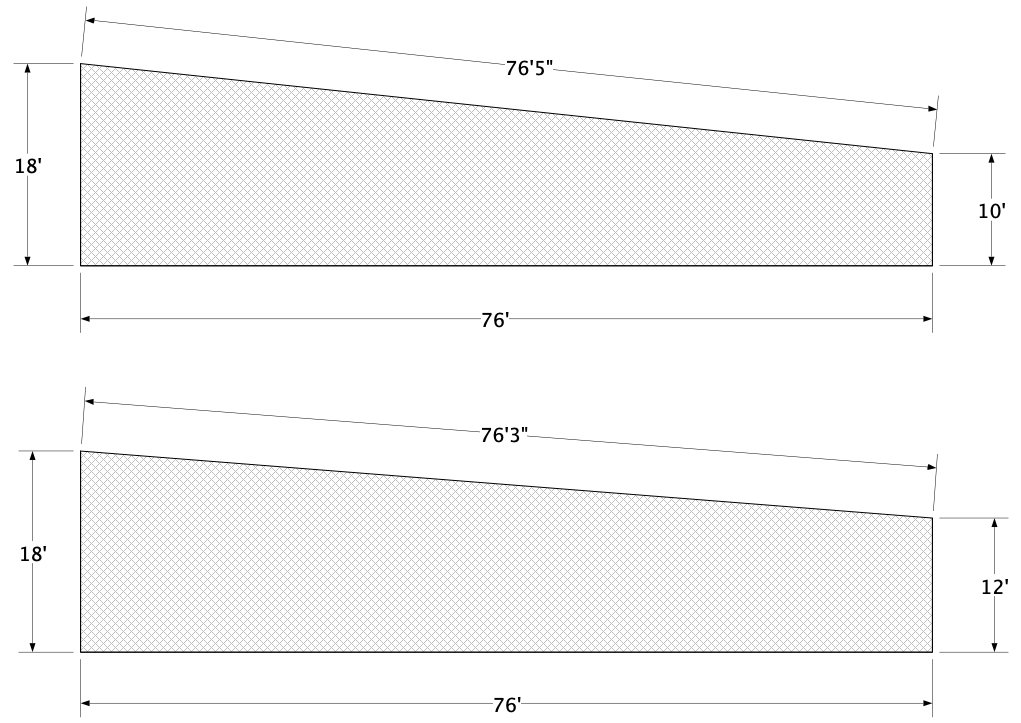 Many thanks again to all of our very appreciated custom netting customers and clients! It is our pleasure to be your trusted netting supplier!
– Josh Grzyb @ Gourock Custom Netting