Keeping the Game Going: Durable Sports Netting for Golf and Baseball Fields
Sports netting is a very popular product offering from Gourock.com, and we supply it for a very wide variety of different athletic needs and sports safety netting applications. Barrier safety netting is used in athletic settings to protect players, coaches, spectators, equipment, and property – along with a host of other unique protective needs for both indoor and outdoor sports installations. Over the years a couple of the very strong markets for barrier nets and sports netting are for baseball and golf safety requirements and customers. Baseball netting and golf netting is a fantastic solution for enhancing the performance and safety of baseball batting cage facilities, golf driving ranges, baseball fields, stadiums, golf pro shops, field houses and training establishments, as well as private property baseball and golf locations.
Gourock.com has years of speciality service for baseball nets and golf netting productions that are built from the highest quality materials and expert craftsmanship. Featuring DuPont® type 66-728 twisted-knotted nylon netting and 5/16″ braided Dacron® rope bordered perimeter edges, the sports netting panels from Gourock are 100% Made in the USA and prepared per-order according to whatever custom sizing dimensions that our athletic netting clients require for their particular projects. In addition to convenient availability of nets made to specific sizing needs – which are available to order online directly through Gourock's Online Custom Netting Calculator – there are also many golf netting and baseball netting productions that we provide that incorporate additional custom shape characteristics as well. Baseball protective nets and golf barrier nets are the types of netting applications that perform to their maximum safety and dependability expectations when they are constructed to exactly match the spaces or area that they are to be installed within. When sports netting panels have the combination of high end quality, strength, and customization – such as the nets that Gourock provides – you achieve a very high performance safety netting solution for dependable protective situations. These characteristics make Gourock.com a preferred choice for baseball netting and golf netting clients of all sizes, ranging from professional athletic organizations, to major university and scholastic installations, to private training facilities and properties. To help demonstrate some of the unique sports netting designs that have been supplied for golf protective net and baseball safety netting installations, here are 3 recent examples of custom nets that were made to-order according to each client's sizing and shape needs.
In this first custom net example we show a baseball netting production that was produced for a baseball training facility and batting cage establishment that required protective netting to cover a particular area of the field house in order to block errant baseballs. Because it was being installed at a professional level training location, the thickest twine netting selection was used for this custom net in order to maximize durability to abrasion, wear-and-tear, and ball impacts over time. This baseball exclusion safety net was constructed from the #72 X 1-3/4″ twisted-knotted nylon netting, in a diamond mesh pattern, with a 5/16″ polyester rope bordered perimeter edge sewn-in. The overall sizing of the netting panel was 17′-9″ X 46′-8″ and it was built to incorporate a custom 7′-2″ X 3′-6″ notch in one corner, which was needed by our client so that the netting would fit their area of coverage accurately. Baseball barrier netting and baseball safety nets like these are well suited to protect players, coaches, spectators, and equipment from hit baseballs or errant baseballs that may be flying through the air at high velocities and travel speeds. The thick twine #72 is optimal for the highest degree of tensile strength and impact resistance within a commercial sports establishment. This net was fabricated and ready to ship out within one week of the order being placed.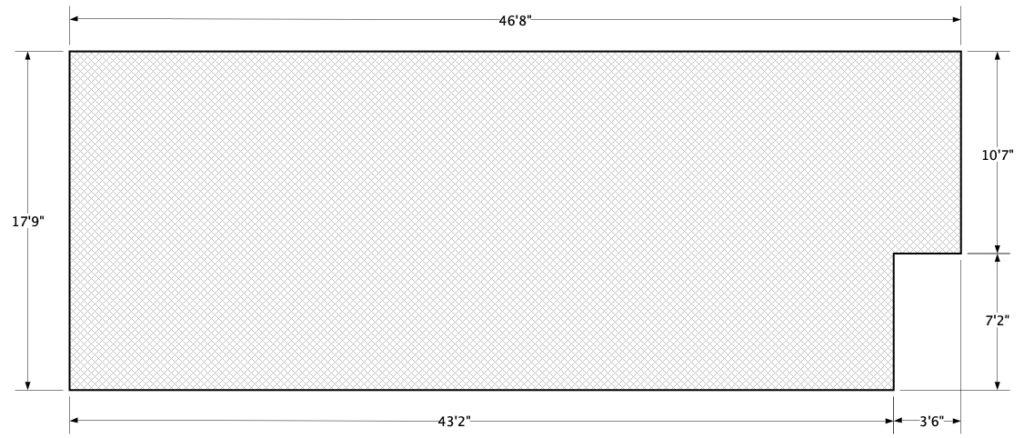 In this second example you can see a pair of custom nets that were built and produced to some custom sizes and shapes, and were intended as golf barrier nets at part of a golf course facility. One of the areas of netting coverage was a standard rectangular 9′-1″ X 31′-4″ in sizing. However the second area of netting coverage required a more customized shape in order to follow the sloping property grade and the available connection points for installing the net. So that particular golf barrier net was constructed with a tapered shape resulting in the left edge being about a foot taller than the right edge. Golf ball exclusion nets like these are most dependable and perform to the highest degree when they are made to properly match the areas of protective coverage, and in this case the custom shape considerations worked out very well. The netting type used for these golf barrier netting panels was the #12 X 1″ tarred DuPont® type 66-728 twisted-knotted nylon netting, in a diamond mesh pattern, with 5/16″ polyester rope bordered perimeter edges. These two nets were manufactured and ready to ship out within 10 working days of the order being placed.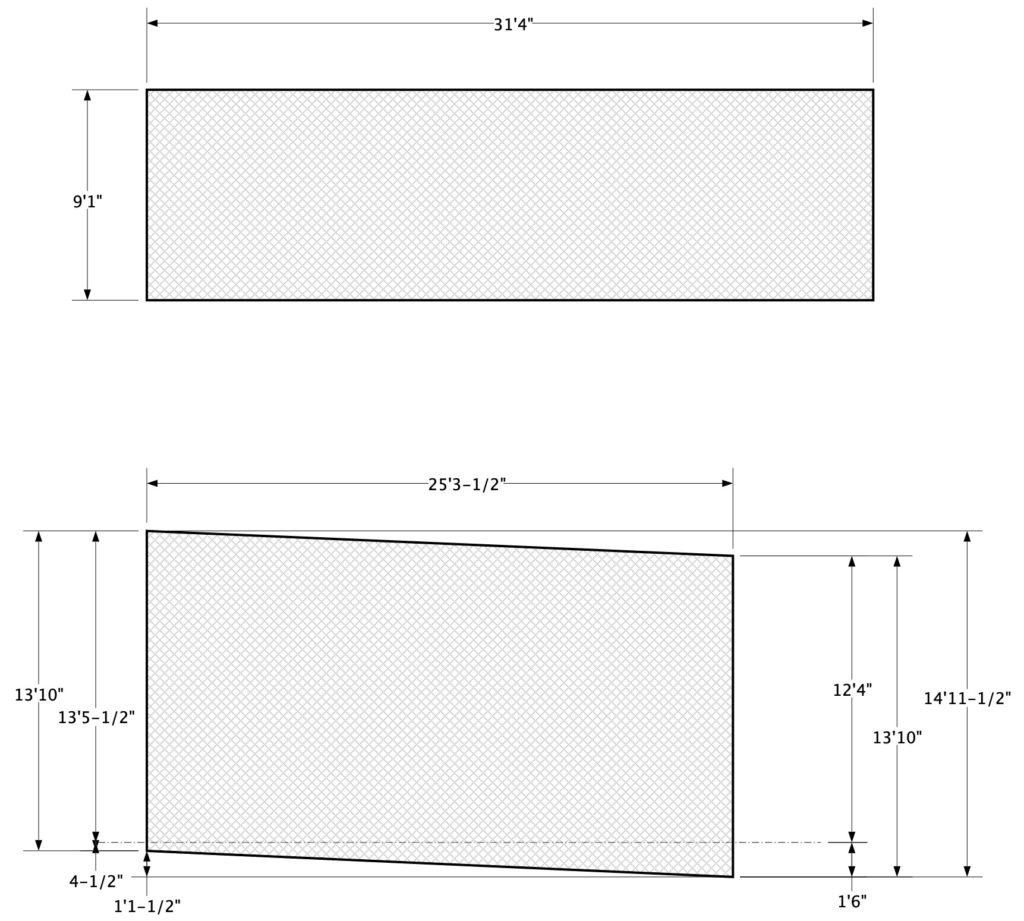 And then in this third custom netting example we show another golf barrier netting panel that was designed and built with a specific shape as well. This golf ball exclusion net was also built from the #12 X 1″ tarred knotted nylon netting, but this time in a square mesh pattern. It was also 5/16″ polyester rope bordered and was being installed as a private property location along the side of a golf course fairway. This golf ball exclusion net was needed to protect a home patio and window area from errant golf ball shots from the fairway, and due to the way that the building walls and patio space was designed there were some special shape considerations needed for the netting to cover the area accurately and efficiently. On this custom golf net the overall size was about 16′-6″ X 22′-3″, and then the top edge included a series of direction changes and notch features that lined-up with the area of protective coverage needed. This golf net was being installed horizontally, which is why the square mesh pattern was selected in this case – since square mesh netting typically remains more flat/level in end result when being suspended as a horizontal roof-style cover net. This custom golf barrier netting production was completed and ready to ship out within 10 working days of the order being placed.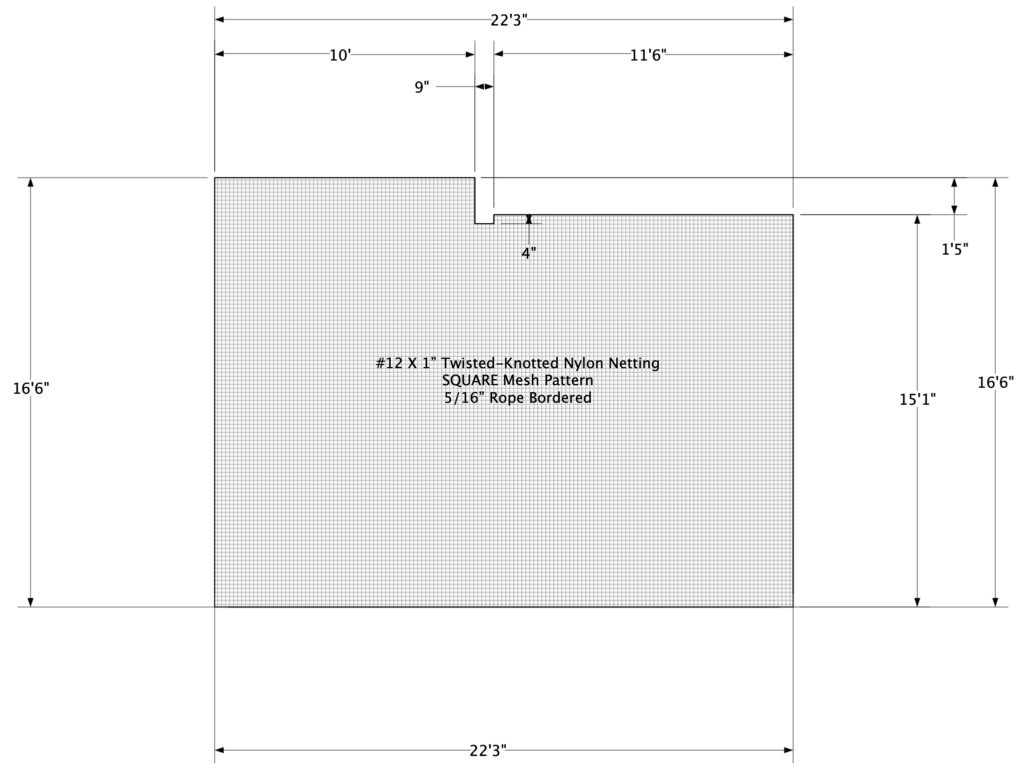 Many thanks again to all of our very appreciated custom netting customers! It is our pleasure to be your trusted source for custom protective netting productions for your unique locations!
– Josh Grzyb @ Gourock Custom Netting