Protecting Athletes and Equipment with DuPont® Twisted-Knotted Nylon Netting
Gourock.com specializes in the supply of netting and custom nets that are required for a very wide variety of different applications and user needs. In many instances, our clients are needing nets that are intended for various heavy-duty, high abrasion, and increased wear-and-tear types of installations. Netting subjected to lots of potential and expected abrasion are typically accounting for situations in which the mesh will be consistently impacted by objects, and also exposed to a lot of UV and environmental factors. The high end nylon baseball netting materials available from Gourock.com are very well suited and are very popular in many industries for these types of baseball netting situations.
Gourock.com provides nets and netting productions that are custom-built per order, allowing for you to source nets for heavy-duty uses that will fit your space correctly for maximum performance over time. Out of Gourock's entire line of available netting selections, one of the most frequently ordered product type for heavy-duty organizational use and high-abrasion uses is the #36 X 1-3/4″ DuPont® Type 66-728 Twisted-Knotted Nylon Netting. This netting construction features a high tensile rating, high abrasion resistance, and fantastic ease-of-use. It is 100% Made in the USA, and is featured in custom netting productions including flat panels, enclosure net designs, and other customized netting jobs that incorporate unique features or shapes. The #36 X 1-3/4″ knotted nylon netting is frequently supplied to commercial organizations, municipal or scholastic customers, professional athletic locations, industrial clients, and other similar facilities or sites that require nets that are expected to be subjected to intense usage. Here are 3 very helpful recent examples of some different high-intensity netting clients that have ordered custom net products produced in the #36 X 1-3/4″ twisted-knotted nylon – and hopefully they help demonstrate some of the unique sizing features and commercially-oriented uses for the heavy-duty custom nets we have available for you.
Baseball Netting Cage Nets
This first example shows a series of nets that were supplied to a professional baseball training facility that required 3 custom batting cage net tunnels built for their location. These batting cage nets each featured construction in the square mesh pattern #36 X 1-3/4″ DuPont® nylon netting, along with custom sizing dimensions, including of entrance doors, specifically-located ceiling lines, and also the inclusion of sewn-in central divider panel nets on the 2 larger cage enclosures. 2 of the batting cage nets were fabricated to the sizing of 13′-6″ high X 26′-6″ wide X 50′ long, and the third baseball net was built to 13′-6″ high X 15′ wide X 50′ long. As you can see from the netting production drawing, the 26′-6″ wide batting cage nets incorporated 2 entrance doors in a couple of the corners, as well as the sewn-in divide panel net (which splits the overall cage net into 2 individual tunnels). The 15′ wide batting cage net was its own standalone tunnel, and included one entrance door on one of the corners. Entrance doors on custom batting cage nets are constructed as 3′ wide overlapping netting pass-through areas, which allow the cage net to always remain perfectly enclosed while conveniently allowing for access into and out of the enclosed spaced by pass through the 2 layers of mesh. All of these nets included 5/16″ polyester rope borders sew-in to every edge, and this job was completed and ready to ship out in 3 weeks from the order date by our client. They packed and shipped direct to their location via LTL trucking, and were ready to install right away.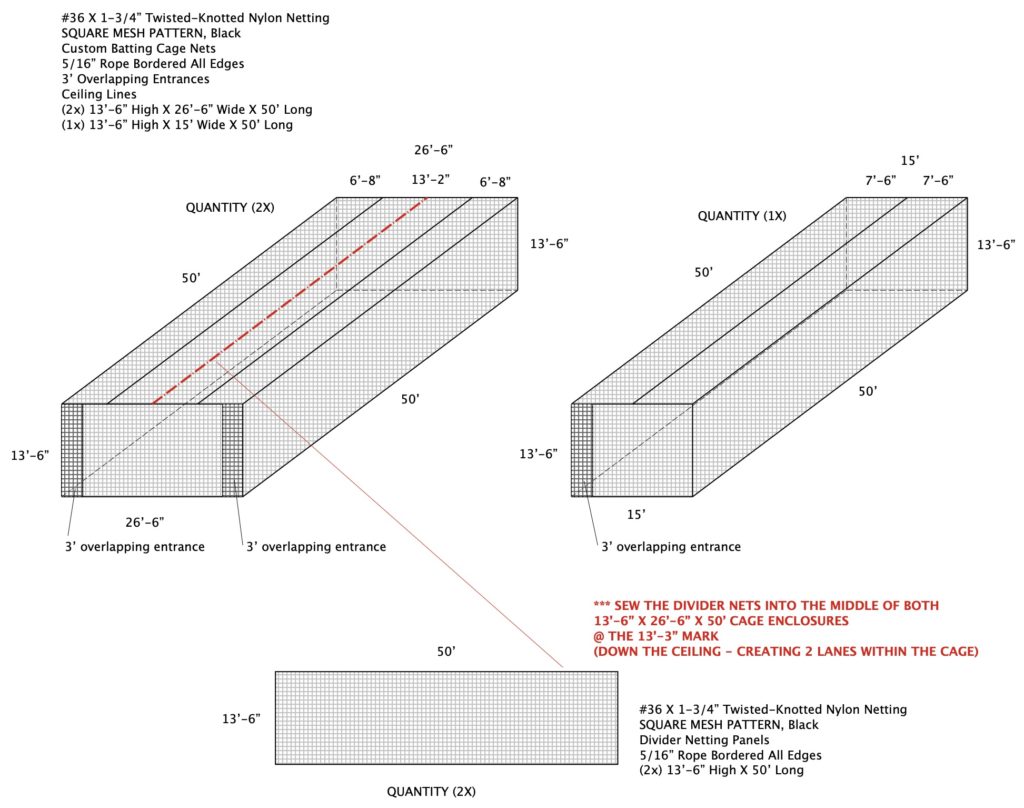 Baseball Facility Netting
In this second custom netting example, the #36 X 1-3/4″ was selected for use at a commercial sports training facility that needed to provide a barrier and containment net that was to be installed at the back-end of some existing cage/tunnel locations that they already had on-site. Basically they required a customized barrier netting panel that would completely cover their area of 16′ high X 60′ wide and then allow for players and trainers to conveniently access both sides of the net without needing to lift it up from the ground to get under it. So in this case, the netting panel included 4 pass-through entrances that were built from 3′ overlapping netting mesh, and were located at the specific locations needed by Gourock's client. All entrances were to be entered in from the right side, and they were all spaced-out so that each of the 4 tunnel areas could have their own individual pass-through door/entrance to get in and out of the space. This custom netting design was constructed from #36 X 1-3/4″ knotted nylon netting in a square mesh pattern, with 5/16″ polyester rope borders sewn-in to all edges of net and entrances. This custom sports netting production was built and ready to ship within 2 business weeks of our client's order with Gourock.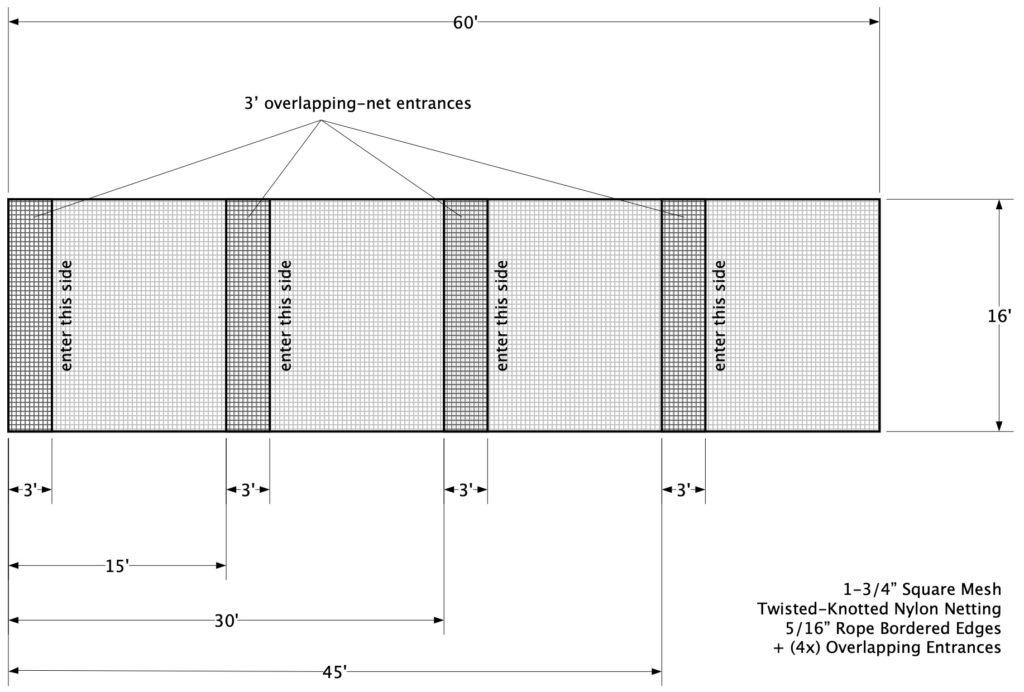 Outdoor Barrier Nets
In this third custom netting example we feature a series of 9 barrier netting panels that were all built from #36 X 1-3/4″ DuPont® knotted nylon netting, in a diamond mesh pattern. Each of these nets were constructed with 5/16″ Dacron® polyester rope bordered perimeter edges, as well as a centrally-located rib-line rope running horizontally through the netting panel. 8 of the nets were built to the finished sizing of 25′ high X 100′ long, and the 9th net was built to 25′ high X 70′ long. The nets were being installed to tensioned cables that spanned from pole-to-pole at the site, and their cables ran the top and bottom – as well as through the middle at 12′-6″ (which acts as a stabilizing line for wind considerations). These heavy-duty barrier nets were produced for an industrial client that installs them around the surrounding areas of penitentiaries and correctional facilities, and they are to be permanently hanging outdoors to reinforce some of the security protocols of the locations. The #36 X 1-3/4″ is selected for its longterm durability to both UV and moisture exposure, as well as its high tensile rating so that it can be a dependable mesh selection for the pressure applied by wind and friction over time. These 9 custom barrier nets were produced and ready to ship out to the site within 3 weeks of the order being placed – and were delivered to our client's logistics warehouse via LTL trucking service.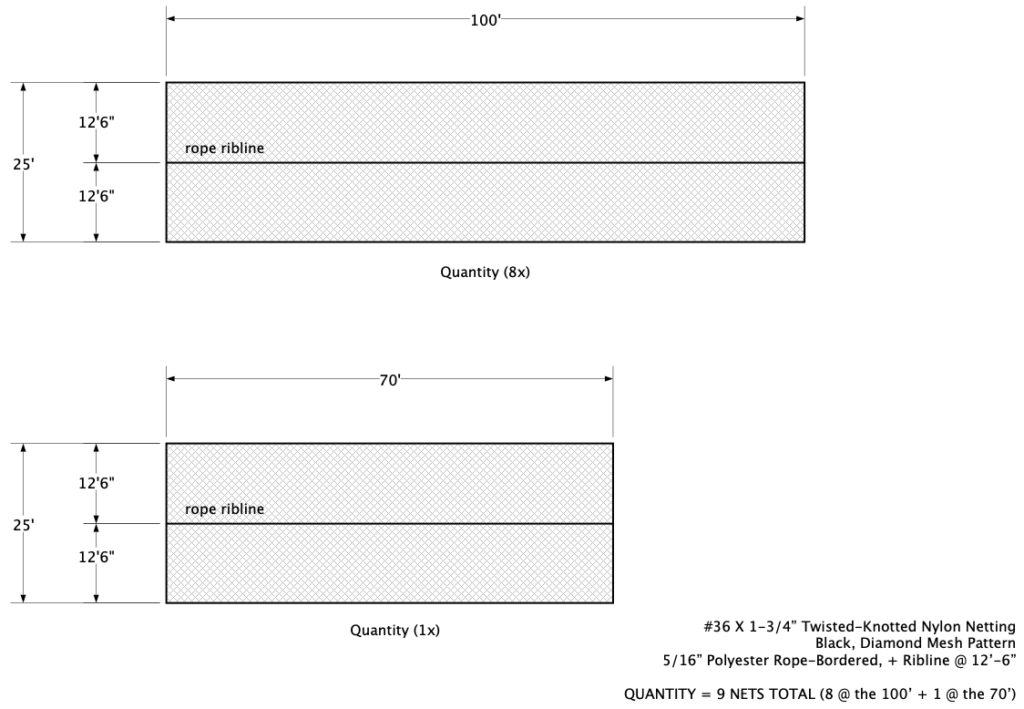 If you have inquiries, questions, or quotation requests for your netting projects that require custom nets – absolutely feel free to get in touch with us directly and it is our pleasure to assist! Many thanks again to all of our very valued custom netting customers and clients, we appreciate your business very much!
– Josh Grzyb @ Gourock Netting