Custom Netting Solutions: Notches, Webbing & Unique Sizing.
Gourock.com specializes in the supply of custom nets and netting productions that are built to a very wide variety of finished sizing, and are used for a huge array of intended uses. Our clients and customers for custom nets come from many different industries, and utilize netting for their own particular protective or containment needs. Throughout the Gourock website and custom netting blog you can research great information about the netting selections available for your consideration, as well as multiple examples of how netting is applied for different uses – ranging from athletics, to property protection, to industrial uses, and many other applications. Most barrier nets and custom netting panel productions are built to rectangular or square shapes that have rope bordering sewn-in around the perimeter edges. Barrier netting panels from Gourock.com can be constructed to most any 2 dimensions needed – and we offer a fantastic selection of mesh sizes and twine thicknesses for whatever your netting project may require.
Netting Built to Unique Sizing Needs
In addition to the supply and production of 2-dimensional netting panels, at Gourock.com we also offer very custom shaped nets that incorporate many different shape, size, and construction details that are uniquely constructed for each customer's particular need. Whether it is a private residential client, or a huge global industrial firm – Gourock.com is your source for custom nets that are built to best suited for the project at-hand. Here we present some examples of custom netting productions that all feature notches that are incorporated into the overall netting design, and also each have a 1-1/2″ polypropylene webbing border sewn-in around the perimeter edges (as opposed to a 5/16″ polyester rope border). Each of these custom netting examples were for a different type of client and for a different intended need for the netting usage – but were all facilitated and shipped to our customers over the last several weeks. Should you have some inquiries into utilizing netting as a solution for your project, absolutely feel free to get in touch with us directly with your inquiry and we can always take a look and get some quotes and correspondence underway with you!
In this first example we present a custom shaped net example that was constructed for a firm that installs solar panel protective nets. Golf barrier netting is a great solution for overhead protection of solar panels to keep them protected from incoming golf balls that come in from the sides of fairways and nearby golf courses. The golf barrier netting from Gourock.com is also used for solar panel nets to act as a protective barrier from large hail and other airborne debris that can damage the panels as well. Over the years the most popular and recommended product selection for solar panel nets is the #12 X 1″ DuPont® Type 66-728 Twisted-Knotted Nylon Netting – which is what was used for this particular production and supply job as well. This solar panel net was built in a square mesh pattern with overall outer dimensions of 12′-7″ X 29′ – and in all 4 corners there was an incorporated 1′ X 1′ notch in the final design (by our customer's request). The notches were requested by our client since they would aid in their installation plans at the work site. The remaining edges of the netting mesh had a 1-1/2″ webbing border sewn in – without any grommets stamped into it, since the installation plan on their end was to slide a thin wire through the folded webbing and then tighten the netting into place over the solar panels. For reference, the webbing is a 3″ folded-and-sewn border, which results in a 1-1/2″ border of doubled-up web material. This net was built and ready to ship down to our solar panel customer within 2 weeks of the order being placed.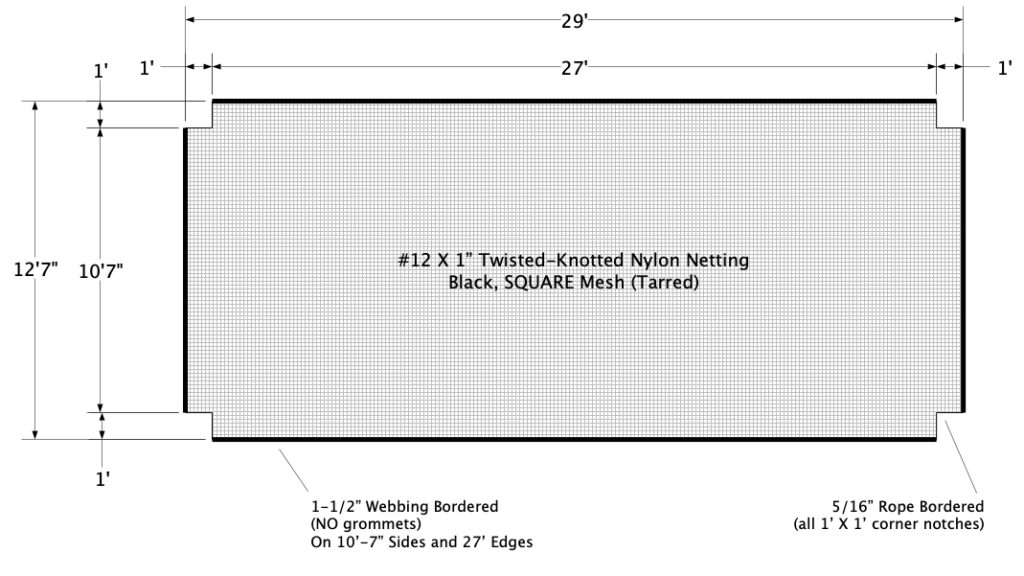 This second custom netting example shows another custom shaped net that also incorporates some special notches in all 4 corners. In this case the netting for the product was the #15 X 3/4″ DuPont® Twisted-Knotted Nylon Netting with a 1-1/2″ webbing bordered perimeter edge. 4 of the perimeter edges of the net had brass grommets stamped into the webbing on 12″ intervals (no grommets installed within the corner notches). This job was a koi pond net that was to cover the top of the pond area, and was going to be affixed to some attachment points along the surrounding rock wall that surrounded the pond. This was ordered and built for a private residential customer of ours that required the custom pond net in order to protect their koi fish from herons and other predatory birds and animals. 3/4″ mesh size knotted nylon netting is a very popular selection for pond nets, especially for koi ponds and similar pond protection needs. This custom nylon pond netting was constructed and ready to ship out to our customer within 2 weeks of their order being placed.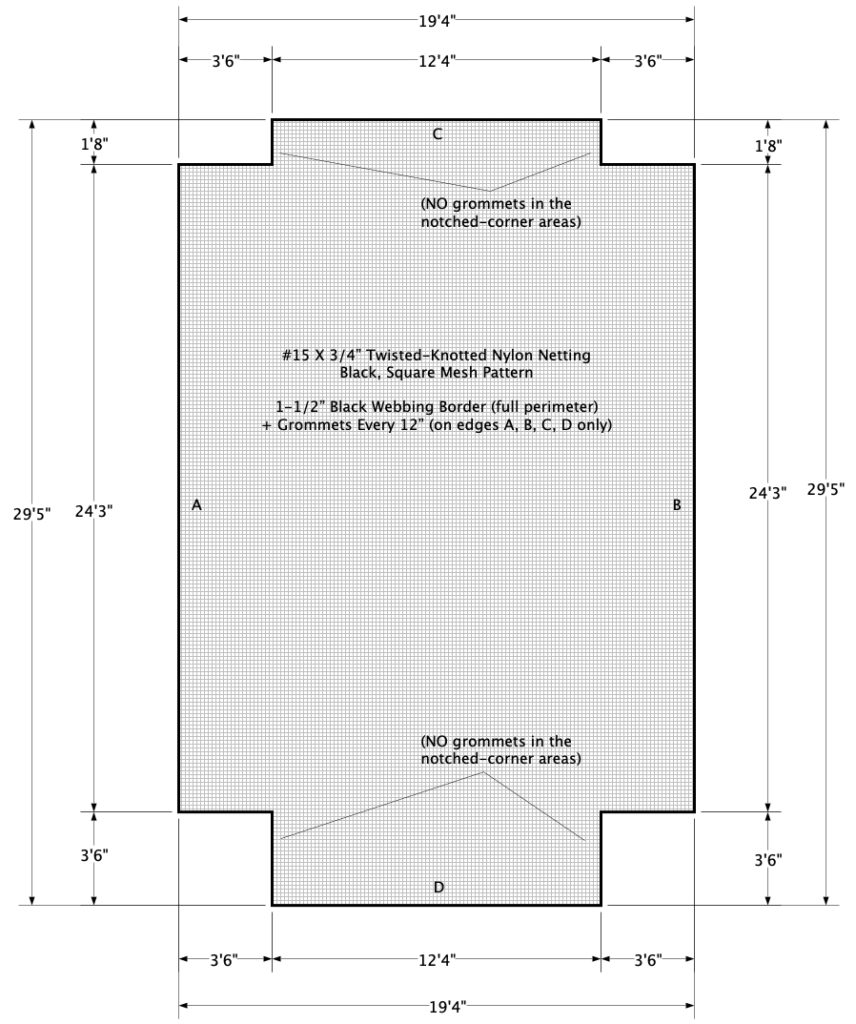 In this third custom netting example we present a production that was shipped to one of our commercial sports and athletic facility installation clients, as the needed a protective barrier net for a training facility to block and contain golf balls within a certain area of the indoor site. The overall dimensions of this golf protective net was 14′-2″ X 44′-7″ and was being spanned between a couple walls of the sports training facility. However, within the area of netting coverage there were some beams, pipes, and building equipment that needed to be accounted for – since they would impede the installation of the netting as it spanned across the space. So our client provided us with the locations of the areas of impedance, and using those locations we had the golf netting panel built to incorporate notches to line-up with those beams/pipes as needed. The end result was that the training facility achieved the full netting coverage they wanted, using a professionally-built net that had an appealing aesthetic and performance when installed. The netting in this case was the 1/4″ Polyester Mesh, since the sports client preferred a very tight mesh for this usage – and the full perimeter of the netting panel was 1-1/2″ webbing bordered with brass grommets stamped every 12″. This custom golf protective net was built and ready to ship to our customer within 2 weeks of the order being placed.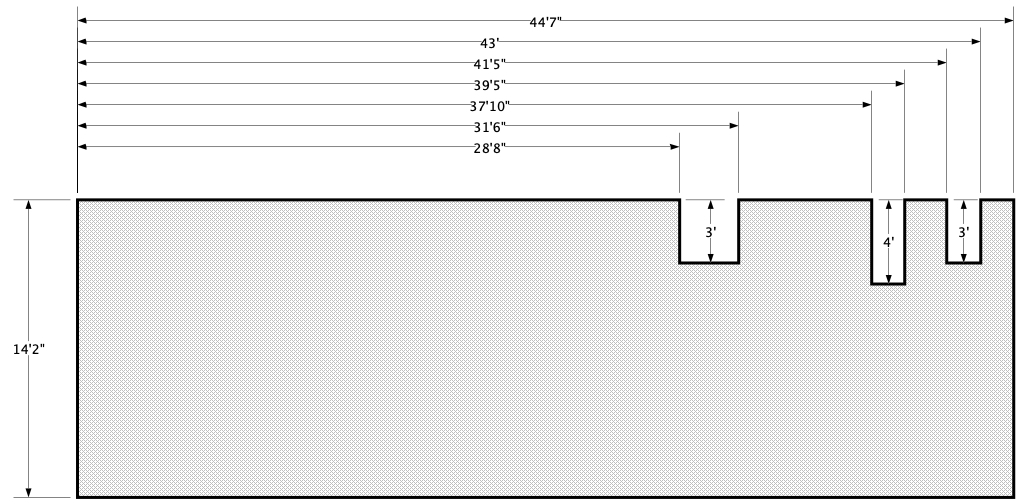 Many thanks again to all of our custom netting customers and clients! We appreciate your business very much and it is our pleasure to be your trusted netting supplier!
– Josh Grzyb @ Gourock Custom Netting