Protective Netting used for Stadiums, Sports Complexes, Spectator Safety, and Ball Containment Needs
Safety netting plays a crucial role in ensuring the well-being of spectators at stadiums and sports complexes. These protective nets serve as an essential safeguard, providing a range of benefits for both fans and event organizers. First and foremost, safety netting acts as a reliable barrier that prevents objects, such as balls or equipment, from inadvertently entering the spectator areas. By effectively intercepting these potentially dangerous projectiles, safety netting significantly reduces the risk of injuries to fans, enhancing their overall safety and peace of mind. Moreover, the installation of safety netting promotes an improved viewing experience, allowing spectators to focus on the game without concerns about unexpected flying objects. This enhanced comfort level leads to increased attendance and fan satisfaction, contributing to the success of sporting events. Additionally, safety netting helps protect nearby property and facilities, minimizing the chances of costly damages. From an organizational standpoint, these nets serve as a proactive measure to mitigate liability risks, ensuring compliance with safety regulations and potentially reducing insurance premiums. Overall, safety netting is a vital investment for stadiums and sports complexes, prioritizing the welfare of spectators, enhancing the overall fan experience, and mitigating potential risks for organizers.
Custom Nylon Netting for Baseball Stadium and Softball Field Needs
Nylon stands out as a preferred netting material for baseball stadiums and softball fields due to its numerous advantages and superior performance. One key benefit of nylon netting is its exceptional durability, enabling it to withstand the rigorous demands of outdoor sports environments. Nylon's high tensile strength ensures that the nets can withstand the impact of hard-hit balls and maintain their integrity over time, minimizing the need for frequent replacements. Additionally, the professionally prepared nylon netting from Gourock.com is highly resistant to UV radiation, making it well-suited for outdoor installations that are exposed to sunlight for extended periods. This UV resistance helps to prevent the material from deteriorating and ensures long-lasting performance. Furthermore, nylon possesses excellent elasticity, allowing it to absorb and distribute the force of impact when balls strike the net. This property helps to reduce the risk of ball rebound and offers increased safety for players and spectators. Nylon netting also boasts excellent visibility, providing an unobstructed view of the playing field without compromising safety. Its fine mesh structure allows for clear sightlines, ensuring an enjoyable viewing experience for fans. In summary, the outstanding durability, UV resistance, elasticity, and visibility make nylon an ideal choice for stadium netting at baseball and softball fields, delivering optimal performance and safety for players and spectators alike.
DuPont® Type 66-728 Twisted Knotted Nylon Netting, #36 X 1-3/4″
Dupont® Type 66-728 twisted-knotted nylon netting emerges as a preferred choice for sport netting applications, thanks to its exceptional strength characteristics and superior performance. The dependable twisted-knotted construction of this netting provides resilient strength, allowing it to withstand the intense impact of high-velocity balls and frequent use. This premium durability ensures longevity and minimizes the need for frequent replacements, making it a cost-effective solution for sports facilities. Furthermore, the twisted-knotted design enhances the netting's resistance to unraveling, maintaining its integrity over time. The high-strength properties of Dupont® Type 66-728 twisted-knotted nylon netting make it an ideal selection for various sports, including baseball, softball, and other dense object containment needs.
At Gourock.com we have many different nylon mesh selections available for your stadium netting projects, and in many instances the best suited product choice is the #36 X 1-3/4″ configuration. Featuring a high tensile strength rating of 350 lb. minimum, along with being latex/urethane bonded against moisture and outdoor exposure, the #36 twisted-knotted nylon netting is optimal for sports complexes, backstop nets, spectator protection nets, concession stand netting, and foul ball containment netting needs. Gourock specializes in supplying custom nets that are fabricated according to most any sizing requirements our customers have – and have been shipping backstop nets, netting panels for stadiums, and sports field safety nets for over 2 decades. Ranging from professional stadium netting applications, to university and collegiate sports field locations, to municipal and scholastic team training properties, Gourock.com has been a preferred sports netting supplier for all custom athletic barrier netting projects. Our #36 X 1-3/4″ twisted-knotted nylon netting is 100% Made in the USA and prepared per-order, built according to specified sizing needs and product features.
Recent Examples of Custom Backstop Nets and Stadium Netting Projects
#36 X 1-3/4″ twisted knotted nylon netting is a highly recommended product selection for backstop nets and stadium safety netting. In this first supply example we show the production drawing for a stadium netting supply project that was built to the sizing of 25′ high X 100′ long, and there were 4 netting panels of this sizing needed for the location (for a total of 400′ of barrier netting coverage). Each sports net was constructed from diamond mesh pattern #36 X 1-3/4″ knotted nylon netting, with a perimeter 5/16″ Dacron® polyester rope bordered edge sewn-in. In addition, there was a central rope rib-line installed horizontally through each net at the mid-point (12′-6″) which was intended to line up with a wind-line cable located between the poles at the stadium.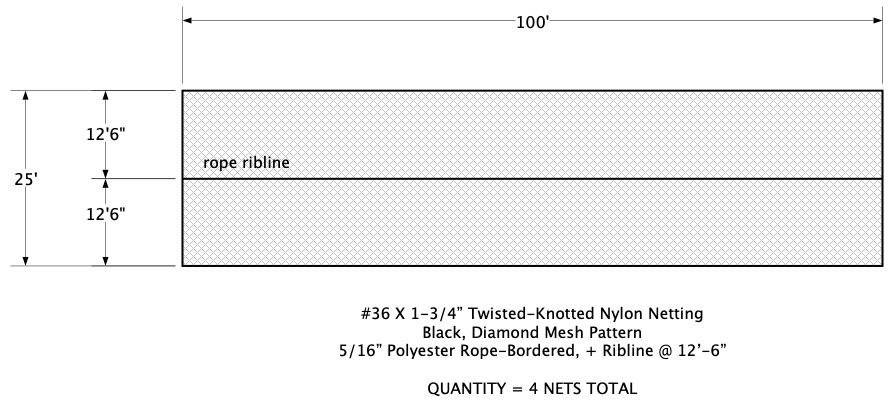 In this second recent example we are showing the details for 3 different backstop netting panels that were built and shipped for a baseball field location. Each of these backstop nets were constructed to a height of 22′, with varying lengths of 29′-2″, 17′-11″, and 29′-7″. In many cases for backstops at baseball and softball fields there is a net that is located right behind the plate, and then a net that runs up each baseline as well – which was the case in this particular order. All of these nets were built from the #36 X 1-3/4″ twisted knotted nylon in a square mesh pattern, and with 5/16″ polyester rope bordered perimeter edges that were machine-sewn into place.

And then in this third recent stadium netting example we show a protective barrier net for a municipal softball field location. This was a spectator and property protection net that was built to the sizing of 20′-6″ high X 51′-10″ wide in the diamond mesh pattern #36 X 1-3/4″ nylon netting. It also incorporated a series of sewn-in 5/16″ polyester ropes, which included perimeter bordering as well as 2 horizontal rib-lines and 4 vertical rib-lines. The rib-lines were installed in those particular locations to line up with the fencing tubing rails that were already in-place at the softball field location, and the net was to be strapped directly to those existing rails.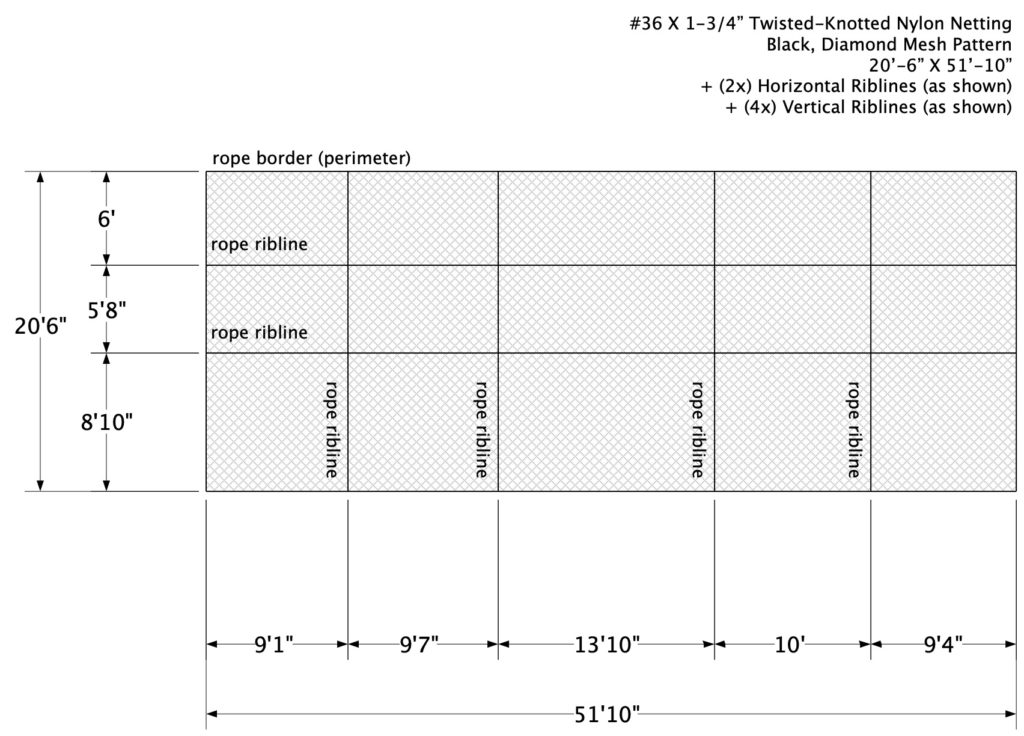 At Gourock.com we specialize in the supply of custom nets and netting productions that are prepared specifically for your stadium netting needs and installation areas. You can order directly through our Online Custom Netting Calculator, or get in touch with us directly for more customized requests and quotations. Many thanks again to all of our very appreciated netting customers! It is our pleasure to be your trusted and dependable netting supplier!
– Josh Grzyb @ Gourock Nets