Batting Practice and Golf Driving Practice: Enhanced with Custom Netting
At gourock.com we have always specialized in the supply of custom sports nets and custom athletic netting products that are well suited for commercial training facilities and organizational netting installations. Many training facilities require indoor sports netting enclosure designs which are meant to completely contain balls within a particular area, such as in batting cage or hitting areas, golf impact areas, and other spaces that will have similar sorts of ball containment needs. At Gourock we have always been a go-to source for custom batting cage nets, custom golf cage nets, and custom sports enclosure netting designs that are constructed according to most any sizing needed for our client's requirements at their site.
Indoor sports netting enclosure designs typically feature 2 side walls of netting, 2 end panels of netting, and a ceiling net – which are all seamed together into a 3-dimensional enclosure design. This sort of sports net is intended to block and contain all balls and objects of impact within the area – and are very popular for baseball hitting, softball batting practice, and golf driving applications. Many of the athletic facilities that we supply with netting enclosures are using them for multi-sport needs, including lacrosse, hockey, cricket, soccer, and other popular sports.
Indoor Sports Netting Products
Primarily constructed from premium DuPont® Type 66-728 Twisted-Knotted Nylon Netting, the custom sports nets, professional batting cage nets, and golf cage enclosure netting products from Gourock are 100% Made in the USA with top-quality materials and hand-craftsmanship. We can facilitate custom sizing and dimensions of the completed indoor sports netting productions, as well as incorporate other unique netting features such as entrance doors, additional support ropes, impact panel nets and divider panel netting, angled shapes and tapered nets, weighted bottom edges on the netting, and other characteristics that make the enclosure nets very customized. There are many examples we note throughout our company blog and website, and here are a couple more recent examples from the last few weeks that may help provide you with some decent context into the custom netting options available to you for your project.
In this first recent example we demonstrate a custom golf cage net that was produced and shipped to a multi-sport training location. This netting enclosure was fabricated from #21 X 3/4″ knotted nylon netting, which is a mesh that is recommended for golf impact applications – making it a fantastic selection for all multiport training and containment needs for golf ball-sized objects and larger (baseball, lacrosse, softball, etc.). This fully-enclosed custom net was built to the sizing of 15′ high X 14′ wide X 40′ long and also came with a secondary layer of golf impact netting that was 15′ high X 14′ wide. The netting was completely rope bordered on all seams with 5/16″ braided Dacron® rope borders, and the entire bottom edge for the cage net and the impact net incorporated weighted-rope. In addition, this golf cage net had a 3′ overlapping netting entrance door built into one of the corners, located there by our client's preference. Intended to be clipped and installed to a series of tensioned cables/wires at the indoor training facility, the cage netting also has a central ceiling rope-line installed through the middle in order to have another dependable connection point to the upper wires. Construction of this net was completed within 2 working weeks and then shipped via LTL to our client in eastern Washington State.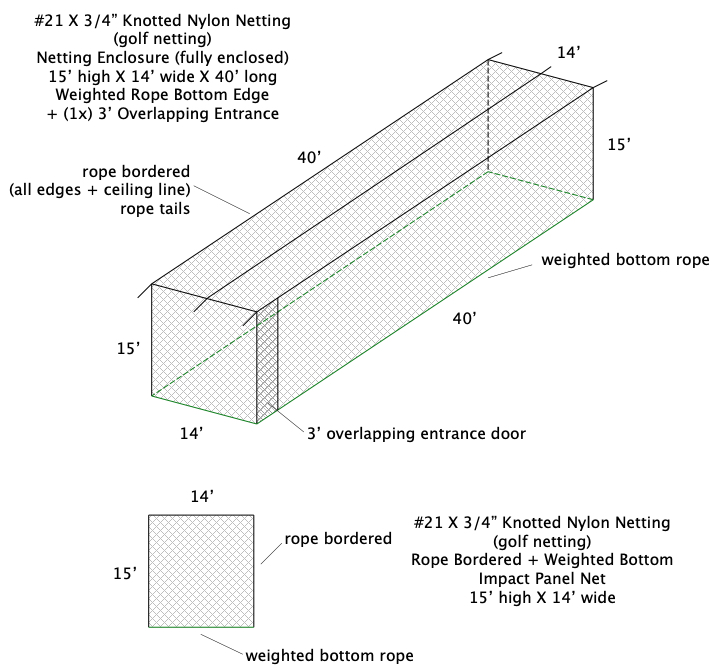 In this second netting example you see a very heavy-duty baseball batting cage net that was constructed and shipped to a professional training facility in Arizona. Constructed from heavy-duty #72 X 1-3/4″ twisted-knotted nylon netting, and rope bordered on all edges with 5/16″ Dacron® polyester rope – this extra large batting cage facility net was built to the sizing of 15′ high X 38′ wide X 72′ long. In addition there were a pair of divider netting panels needed by our client that were also included with this job, measuring 15′ high X 72′ long and 12′ high X 38′ long. At the baseball training facility this netting was intended to be installed within an indoor training space and clipped up to a series of tensioned wires/cables and suspended for usage, so there were also a couple additional ceiling line ropes installed at 12′-8″ intervals to be used for that purpose. This netting production was completed for our client within 3 working weeks and shipped direct to the training facility location via LTL transport.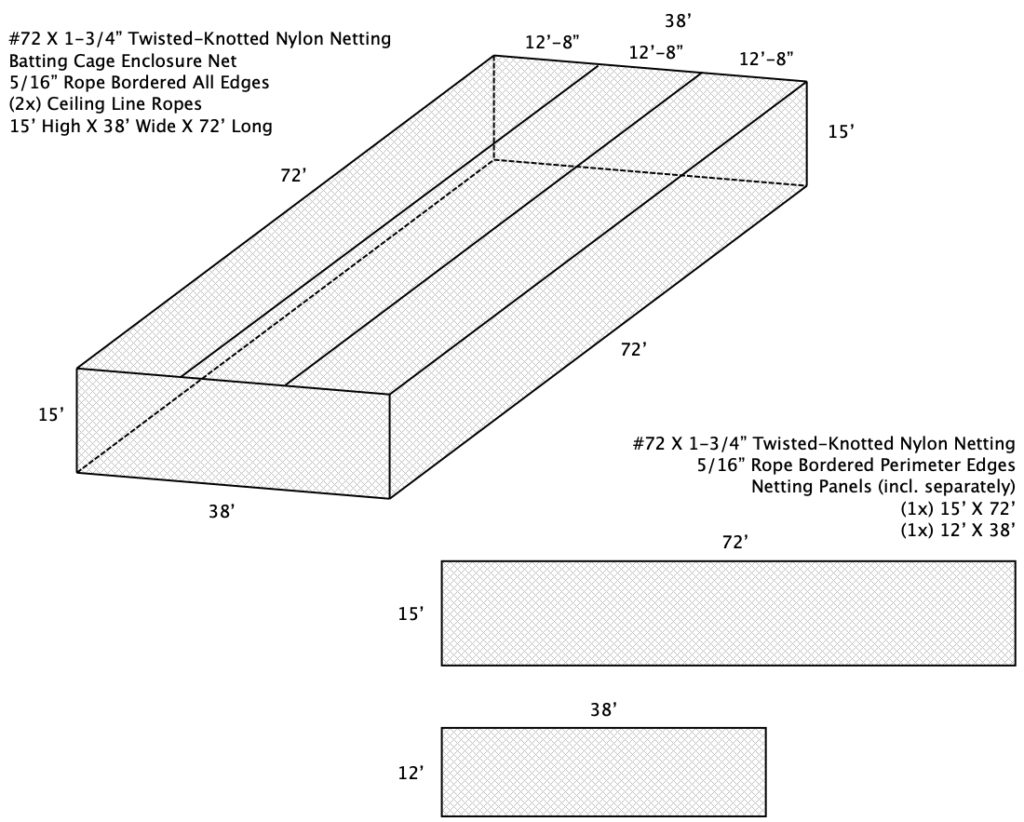 Many thanks again to all of our very appreciated sport netting clientele, and we appreciate your business very much! It is our pleasure to be your trusted and dependable source for high-quality premium custom netting products and fabrications, and we look forward to servicing your netting needs for years to come!
– Josh Grzyb @ Gourock Netting