Netting for Sport Court Ball Containment and Multi-Sport Barrier Nets, Custom Netting Designs
At Gourock.com we have always had an expertise in supplying netting panels and custom nets that are needed for sport courts, athletic courts, and multi-use sports playing spaces. Some of the reasons why these types of sport court areas require nets is to contain balls and objects within the space, to avoid needing to consistently retrieve errant balls, pucks, and other sports equipment from flying out of the area. For many locations there are issues with hills, woods, roads, ponds, neighbors, or properties/structures that always need to be considered when playing or practicing within the sport court. Installing netting in strategic locations is a really functional and beneficial approach to making a sport court a much more efficient and enjoyable location for everyone.
Depending on the types of sports or activities that the sport court is intended to be used for, there are really durable netting selections and mesh sizes available from Gourock to be ordered. The mesh size of the netting will determine what types of balls/objects can be functionally contained or blocked by the nets. If the only objects that need to be contained have larger diameters like basketballs, volleyballs, footballs, or soccer balls – than you can use a bit of a larger mesh size of netting, such as a 4″ square mesh knotted nylon. The smaller the mesh size, the smaller the objects that can be dependably contained by the barrier nets. So for instance, for tennis courts or multi-sport courts that need to block mid-sized objects like tennis or baseball – going with a 1-3/4″ mesh size netting is recommended. And if the sport court needs to block small objects that are golf ball sizes and larger, you can go all the way down to a 3/4″ mesh size nylon netting for that.
With Gourock.com you have immediate online access to sport court containment nets that are produced custom per-order, so you always can get the specialized dimensions and sizing that works best for your individual project. Directly through the Online Custom Netting Calculator, along with the many different product categories we offer for sports netting and containment netting, you can order netting panels that are built per-invoice and are 100% Made in USA materials and fabrication.
Many different basketball court, tennis court, and multi-sport court installations require their containment nets to be constructed with several different features to consider. Since the netting productions available from Gourock are made per-order, several different characteristics of the finished product include aspects like custom sizing and shape details, as well as additional ropes or support lines. At Gourock.com we supply nets for sport court installations that range from commercial locations, to scholastic and municipal locations, to private residences. Here are 4 recent examples from over the last few weeks that help demonstrate some of the custom sport court netting options available to you from Gourock:
This netting production features 5 custom netting panels built from #21 X 1-3/4″ DuPont® 66-728 twisted-knotted nylon netting, along with 5/16″ Dacron rope bordering. The sport court in this case was at a private residence that needed to surround the perimeter area to prevent objects that are tennis ball sized and larger – and the court was located at the top of a hill with woods below. Our customer also wanted to incorporate some space within one of the nets to fit a soccer goal within, and also needed to include an entrance spot through one of the other nets.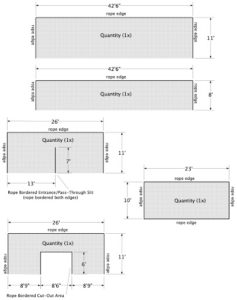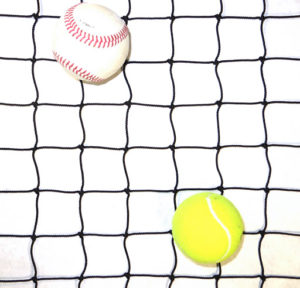 This next example features soccer barrier and soccer ball containment netting for an indoor sport court facility at a commercial training location. The #30 X 4″ DuPont® 66-728 twisted-knotted nylon netting, along with 5/16″ Dacron rope bordering is what was used for this particular sport court net. Our customer needed to have a specialty entrance area built into the finished netting product design, and also needed specific dimensions of overall coverage as well.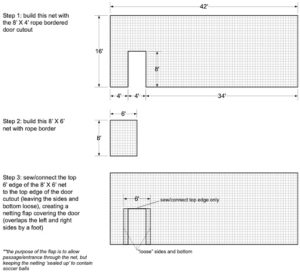 The following example of custom sport court netting is this #21 X 1-3/4″ DuPont® 66-728 twisted-knotted nylon net. This nylon netting example shows that the panel needed rope bordering around the perimeter edges, but also running through the central area of the mesh as well. The central support rope is intended to line-up with existing poles at the court, allowing for an additional connection rope to hook/clip to. This net was for a private residence sport court that needed to block and contain baseballs within a particular batting and pitching area.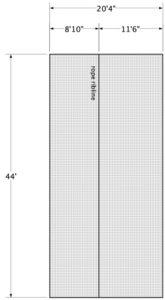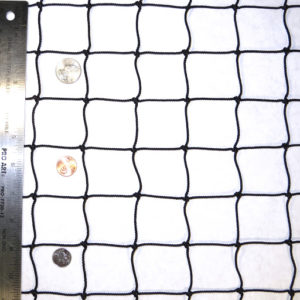 This fourth custom netting example shows a pair of nets that were being installed on a couple sides of a residential
basketball court
and pickle ball court at a private residence. The
#21 X 1-3/4″
DuPont® 66-728 twisted-knotted nylon netting, along with 5/16″ Dacron rope bordering is what was used for these sport court nets. Our customer also wanted to incorporate an additional attachment rope running vertically through each panel, in order to have a solid line to affix the netting to a corresponding pole that was already installed at the site.