Custom Softball Batting Cage Net at a Private Residence – Nylon Softball Netting
At Gourock.com we specialize in many different types of netting products and net designs that are customized according to the sizing needs of our customers. Over the years we have supplied hundreds of customized sports nets and netting productions for softball applications, including softball batting cage nets. Softball batting cage nets are netting designs that are enclosures of containment net, in-which softballs are contained within the practice space for batting and pitching. Generally speaking, there are side walls, end panels, and a ceiling net that are all seamed-together with rope bordering – resulting in a 'box' of softball netting. At Gourock.com you can have softball batting cage nets constructed according to any particular height, width, and length that you require for your space. We offer premium softball nets directly online through our Online Custom Batting Cage Calculator, built from premium 100% Made in USA DuPont® Type 66-728 Twisted-Knotted Nylon Netting.
In addition to custom nets that are built to customer-specified dimensions, at Gourock.com we also facilitate batting cage nets that require additional custom shape and construction features as well. The main benefit of this available option is that you can get specifically constructed netting enclosures that end up being the best fit for installation areas that require more attention to unique considerations. Some examples of the types of custom features that Gourock.com can integrate into batting cage netting designs include angles and tapers, entrance areas, additional rope lines, notches and portals, secondary netting layers, and other unique details. For batting cage netting projects that require more complex or customized design features, feel free to contact us directly at Gourock with your inquiry/details and we can correspond about getting it produced for you.
Here is a great photo of a finished softball batting cage net that we supplied for one of our very appreciated private property customers over the last few weeks. This particular net needed to integrate customized dimensions, a tapered wide wall, a tapered end panel, and a central netting overlap entrance on one side wall. This specific design was built in order to install within our customer's raised patio training area in which they had a series of vertical poles to suspend the netting between. At the top each each steel pole there is a tensioned aircraft cable running the length of the area, and the netting is clipped to that cabling using 1/4″ steel snap-hooks. The netting used in this batting cage is the #36 X 1-3/4″ DuPont® knotted nylon, and all edges are finished with 5/16″ Dacron® rope bordering.
This is a really great example of utilizing a unique space at at private residence to allow for function softball batting practice, and with Gourock.com you have fantastic access to the custom nets and netting in order to get the job done. Many thanks again to all of our very appreciated custom netting customers! It's always great to see the finished jobs with the custom nets!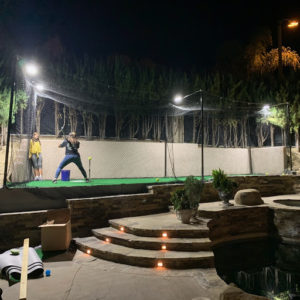 -Josh Grzyb @ www.gourock.com