Netting Surrounding Basketball Court, Customer Photo of Finished Netting Installation
Here at Gourock.com we supply a large volume of netting that is intended to be installed around basketball courts and basketball hoop areas. The purpose of the netting in these cases is to properly contain errant basketball shots and passes so that players are not continuously chasing or retrieving balls from leaving the court space. Many of our basketball barrier netting customers are dealing with situations in which their court or hoop is above a hill, close to structures or roads, next to a forest or pond, or other unique locations that are not optimal for errant basketballs. The use of containment nets and basketball barrier nets is a really feasible and dependable solution to enhancing the enjoyment and functionality of many different types of court and hoop areas.
Gourock.com supplies many different types of netting selections to consider for basketball court and sport court containment purposes. We specialize in 100% Made in USA DuPont® Type 66-728 Twisted-Knotted Nylon and can facilitate nets that are constructed according to most any particular dimensions you need for your barrier netting project. This custom netting availability allows you to achieve a professional appearance and performance from the basketball barrier netting, which also maximizes the longterm dependability of the final net installation. Since each of our netting customers has a unique set of sizing and installation considerations, Gourock.com offers fast turnaround on custom nylon sports barrier nets that are built to-order.
Here at Gourock we specialize in the netting, and also have a variety of popular installation accessories available as well. The nets and netting products we ship out to our clients can be hung, suspended, and installed within a very wide variety of different structures or supports. For instance, many customers will be installing some posts, poles, or framing structures to affix their nets to. Or, there may be a series of tensioned wires or cables spanning between walls, poles, or buildings in which the netting will be clipped to. The nylon barrier nets that we offer are very user-friendly and can be hung from most any stout/dependable installation structure you will be building or already have available at your location.
A recent customer of ours needed some custom containment nets built for him so that he could encapsulate the end and sides of his residential basketball court. The main considerations in this case were errant passes and basketballs that are below the level of the hoop, since the court sits on an elevated pad on the property. The primary objective here was to keep basketballs from rolling off the elevated pad and down into the lower lawn, fence, and garden regions. Since the only objects needing to be contained were basketballs, the best netting selection was the #30 X 4″ knotted nylon netting with a 5/16″ polyester rope bordering sewn-in around the perimeter edges. Our customer had installed his own series of 2″ diameter steel poles around the space, and then we supplied the custom built netting panels to match the measurements of the installation area. In this case it was a pair of netting panels that were 7′-6″ high X 23′-5″ wide for the sides, and then one more netting panel of 7′-6″ high X 31′-1″ wide for the end of the course behind the hoop. The custom netting panels were affixed and suspended from his poles using the Bungee Ball Attachment Straps that we also have available through our store.
As you can see from the photo provided by our customer, this netting installation looks really fantastic and professional, and certainly enhances not only the enjoyment of their basketball court but also has a very nice aesthetic for the property. If you have any inquiries into similar projects, here at Gourock.com we can always assist with the netting aspect of things – so feel free to get in touch with us if you have any questions or are seeking netting guidance!
Many thanks again to our very appreciated custom netting customers! We always love to receive feedback and photos of finished barrier net installations, and this one looks really awesome!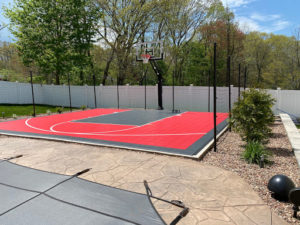 -Josh Grzyb @ www.gourock.com