Nylon netting that is available in custom sizes for dog containment and animal barrier applications – a recent customer photo, feedback, and online review.
At Gourock.com we have always specialized in supplying custom built nets and netting products that our customers and clients use for a wide variety of different and unique applications. All throughout our website and this blog you can reference numerous netting projects, uses, and installations for projects both large and small. Whether we're supplying to very substantial industrial, military, scholastic, municipal, or commercial establishments – to private individuals, residential, and small business clients, it is our pleasure to a trusted and dependable netting source for everyone. We always appreciate the business that we do with every customer of ours, and strive to provide custom netting, nets, and availability for everyone!
For instance, one of our recent custom netting customers required a solution to contain their dogs within their garage space, and required a strong and effective barrier that also was easy to work with and not visually obtrusive. The DuPont® type 66-728 twisted-knotted nylon netting that we provide is a perfect match for this type of need, and is a popular selection for dog containment and animal barrier applications. Using Gourock's Online Custom Netting Calculator and our convenient online access to ordering nets, she was able to efficiently source the exact sizing required for her location – and made a perfect selection with the #21 X 1-3/4″ knotted nylon netting in a square mesh pattern. This is a very durable and high tensile strength netting selection that is very dependable for dog barrier and containment needs. We were very happy to see her recent online review of her material, experience with Gourock.com, and her included photo of the end result. Many thanks again Carol! Your business and feedback is very appreciated, and we're very glad to see that you were able to achieve the result that you were aiming for!
"My order arrived quickly and the netting is very sturdy, good quality. I used it to make a net for my garage door so my dogs can be in the garage with me when I'm working. Being able to order the specific size made it much easier to set-up."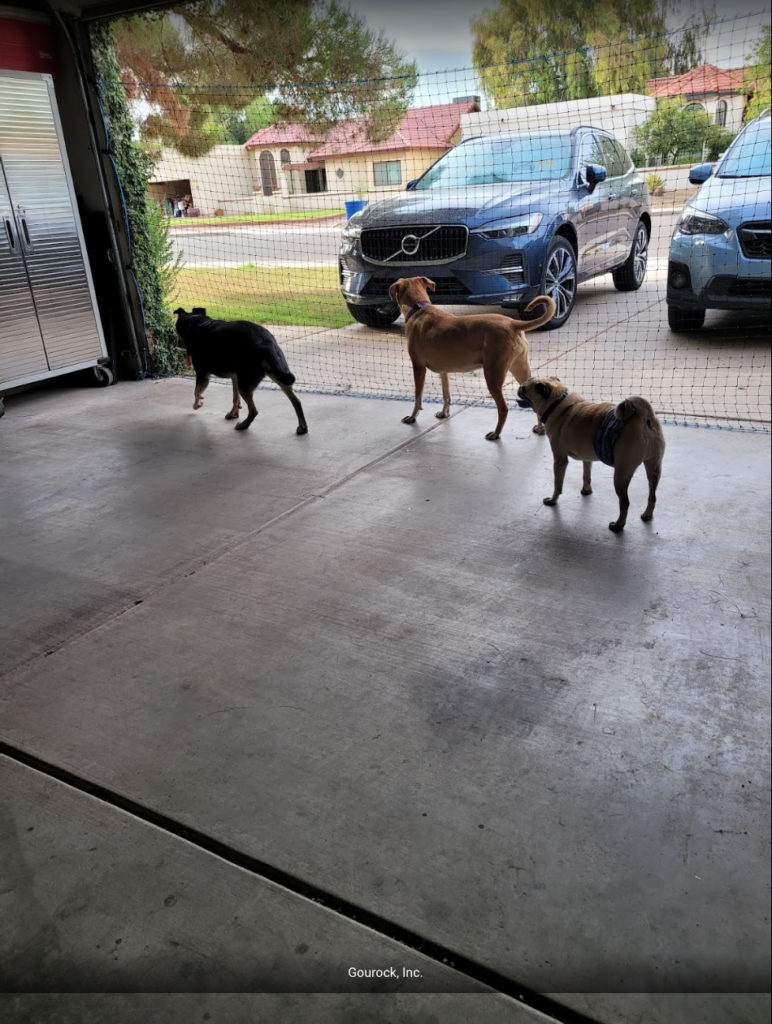 Thank you again to all of our custom netting customers and clients! We always appreciate your business and feedback, and it is our pleasure to be your trusted netting supplier!
– Josh Grzyb @ Gourock.com Netting