Custom Batting Cage Netting: Tailored for Commercial Baseball and Softball Training Facilities
At Gourock.com we have always specialized in the supply of custom nets and netting productions that are utilized by a wide range of professional, organizational, and commercial establishments. Gourock is a supplier of premium netting products that are built with expert craftsmanship, and with the highest quality netting materials – providing our clients with nets that are durable, dependable, and built according to specific sizing needs and requirements. Using 100% Made in the USA netting, composed from DuPont® Type 66-728 Twisted-Knotted Nylon, and completely manufactured in Washington State – Gourock.com is a go-to source for custom batting cage nets, pitching and hitting tunnels, and custom ball impact containments nets for hundreds of high-capacity sports training facilities and locations.
Many baseball and softball batting facilities have unique sizing or shape needs for the hitting nets they require at their establishments. In many cases the batting cage nets need to have expanded dimensions, overall larger volume, or other increased sizing features. And then in many other instances the hitting nets that we ship out to training facilities require other very unique shape details such as tapers, angles, or sloping transitions in the netting design. For the last 20+ years we have facilitated customized sports nets, enclosures, and netting tunnels that include all of these sorts of specialized construction features – and can always assist with your inquiries and orders of specialty batting cage nets for your facility or training location.
Throughout the Gourock.com site and this company blog there are many examples of custom batting cage nets and tunnel enclosure nets that we have shipped out over the years – including some very unique and specialized netting designs. Our clients at training facilities and commercial batting practice establishments routinely order nets throughout the year, usually due to expanding operations or adding netting to their existing locations. Here are a couple of recent custom batting cage netting productions and shipments from the last month that further demonstrate some of the custom netting capabilities that Gourock offers, along with some of the features or details you can consider for your own custom netting needs. Always feel free to get in touch with us directly with your questions or inquiries into customized batting cage nets, netting enclosures, or other batting practice net requirements!
This first recent example is a pair of custom enclosure nets that were constructed from #36 X 1-3/4″ DuPont® Type 66-728 twisted-knotted nylon netting, and shows an extra-wide sizing design. This pair of batting cage nets were built to the sizing of 14′ high X 46′ wide X 56′ long, and incorporated 5/16″ braided Dacron® rope borders on all edges. In addition, there were also a series of 5 additional rope ceiling lines installed at 7′-8″ spacing intervals – which are used to clip/suspend the enclosure netting up to the cables/wires that is was being hung from at the facility. On one of the 14′ X 46′ end panels there were 3 entrance doors installed, which are 3′ overlapping layers of netting (7′ tall) that players can pass-through to enter the cage. The entrances were located on the far left and right corners of the enclosures, and also in the center. Our client's plan was to be able to also separate the overall 46′ X 56′ space into individual tunnel areas with the use of divider nets. So for each batting cage netting enclosure there were also 2 divider nets included in the job as well, each measuring 14′ high X 56′ long – and also 5/16″ Dacron® rope bordered around the perimeter edges. This custom netting project for the 2 extra-large batting cage enclosure nets along with the 4 separate divider panel nets was completed within 3 working weeks and then shipped out direct to the facility location in Michigan via LTL truck delivery.
The second recent batting cage production shows a very unique netting design with many customized features and construction details. This net was for a longtime Gourock client that needed to add more hitting space to their facility, and has very personalized construction aspects for their nets. This net was constructed from #72 X 1-3/4″ DuPont® type 66-728 twisted-knotted nylon netting, and has 5/16″ Dacron® rope bordered perimeter edges. The general overall dimensions of the netting enclosure are 10′-9″ high X 15′-10″ wide X 37′-4″ wide, however as you can see in the production drawing there are many different shape and design features incorporated into the final product. There is a tapering ceiling shape with an "open" end panel space, a sloping/tapered shape to the side panels, and a custom upper end panel top net with a specialized notch incorporated into it. In addition, the ceiling net has 3 evenly-spaced rope lines with rope tails off the ends. To add to the enhanced durability of this net, the batting cage enclosure also was built with secondary layers of #72 X 1-3/4″ mesh on both side walls as well as over the tapered end panel area. This created a "double-wall" of netting for all of the areas of highest abrasion and ball impact by the batters over time. This very custom net was produced in 3 working weeks and shipped out direct to the facility location in New Jersey via LTL trucking.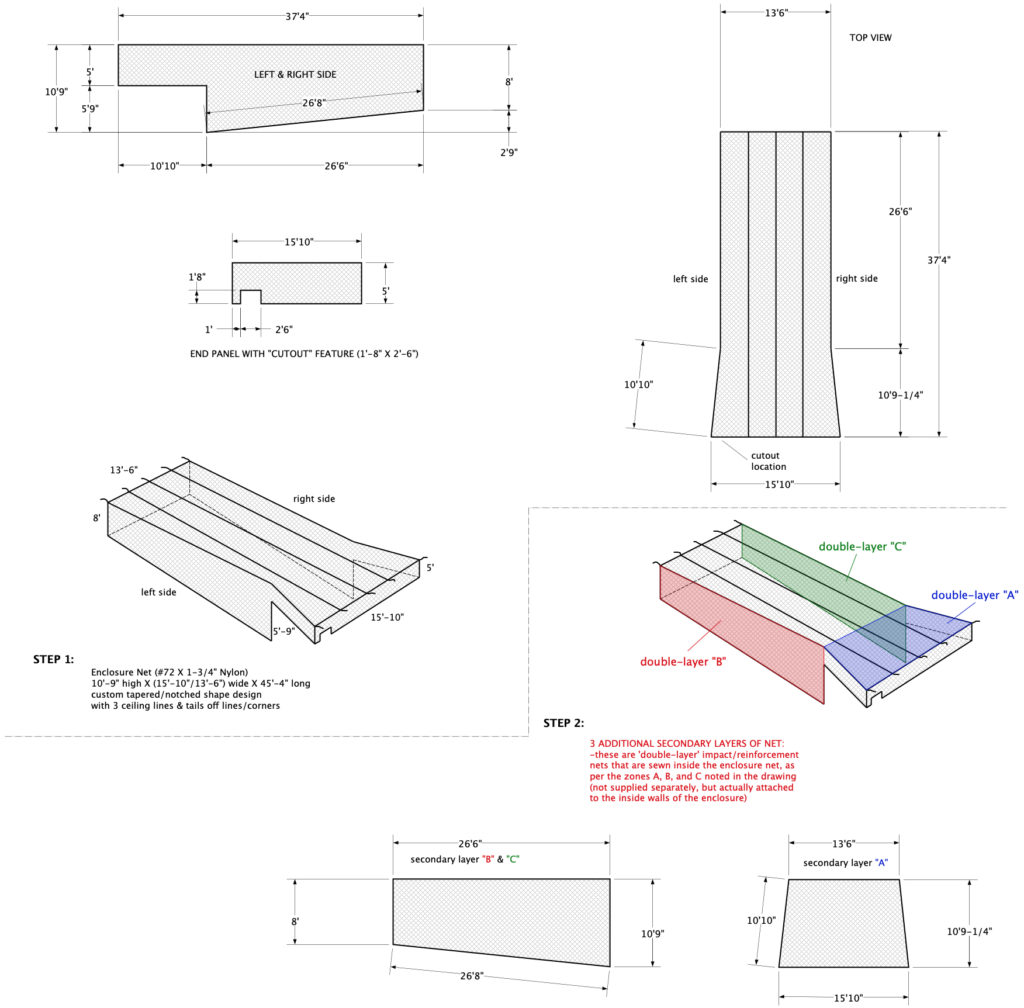 Many thanks again to all of our very appreciated custom netting customers and clients! It is our pleasure to be your trusted source for durable and dependable sport netting and heavy-duty netting productions for your unique needs and applications!
– Josh Grzyb @ Gourock Nets