Custom Netting Enclosures: A Perfect Fit for Large Spaces
Here at Gourock Nets and Custom Netting we have a couple decades of solid experience supplying large custom batting cage nets for commercial sports facility installations. We specialize in custom nets that are constructed according to most any sizing or dimensions needed – including nets that are required to cover large areas and spacious volumes at sports training facilities.
Typically produced from #36 X 1-3/4″ DuPont® Type 66-728 Twisted-Knotted Nylon Netting, the large volume batting cage nets and containment netting enclosures from Gourock.com are 100% Made in the USA and fabricated with fast turnaround times and expert craftsmanship. The #36 twine thickness nylon netting is an excellent consideration for high abrasion sports applications like baseball and softball, due to its great combination of tensile strength, friction resistance, physical weight, and durability. Many sports and athletic training facilities need nets to encompass large spaces within their walls, in order to maximize usage of their practice floorspace. There are also many types of large volume tunnel nets needed at batting cage facilities that have pre-existing framing structures at the location that require replacement netting built to size.
Commercial Batting Cage Nets
Here are a couple of great custom batting cage netting examples from the last few weeks that were built for commercial sports training establishments. These 2 nets help demonstrate some of the unique netting options available for your consideration, especially for our clients that are typically requiring custom nets for large spaces and areas.
In this first commercial batting cage enclosure netting example, the sizing for the netting was pretty large at 15′-6″ high X 58′ wide X 58′ long. It also incorporated a series of entrance doors spaced out along one end-panel (the doors are built as 3′ double-overlaps of pass-through netting). Our customer wanted to enclose the majority of their total indoor training space, and then utilize a series of divider nets that could be used to separate the total area into individual tunnels as preferred. There were 3 divider netting panels included in this production, each being 15′-6″ high X 58′ long. This custom netting design was made from the #36 X 1-3/4″ knotted nylon netting in the diamond mesh pattern, with 5/16″ polyester rope borders and finishing edges throughout. Production lead-time on this custom batting cage net was 2 working weeks from the day of order to being ready to ship.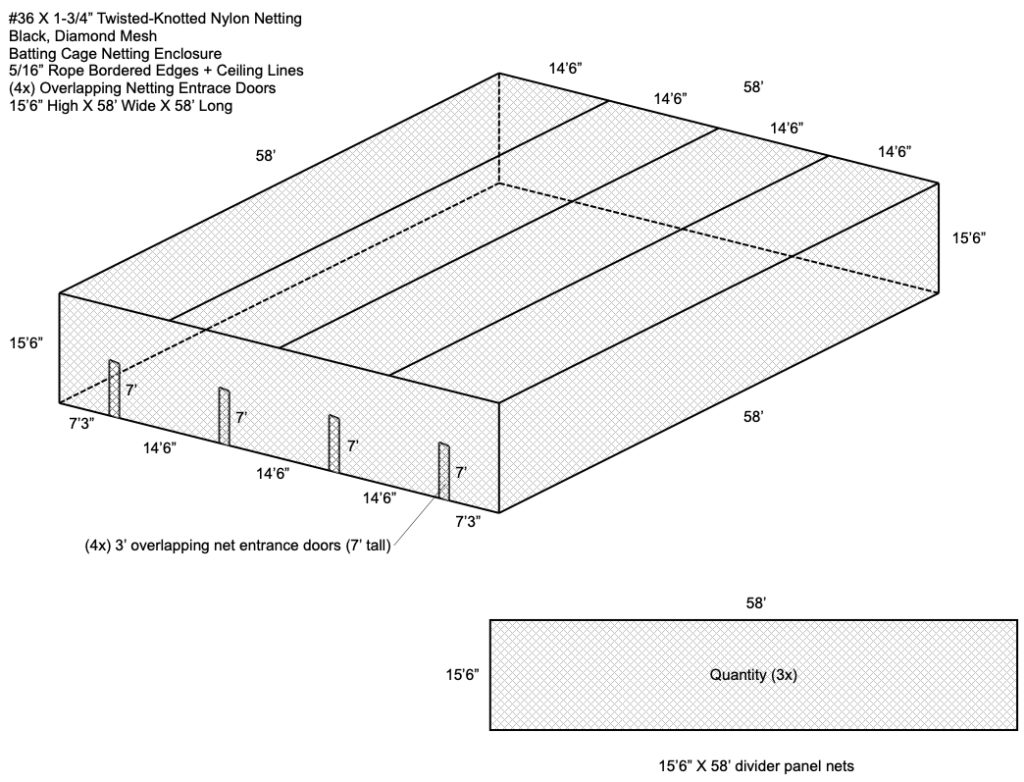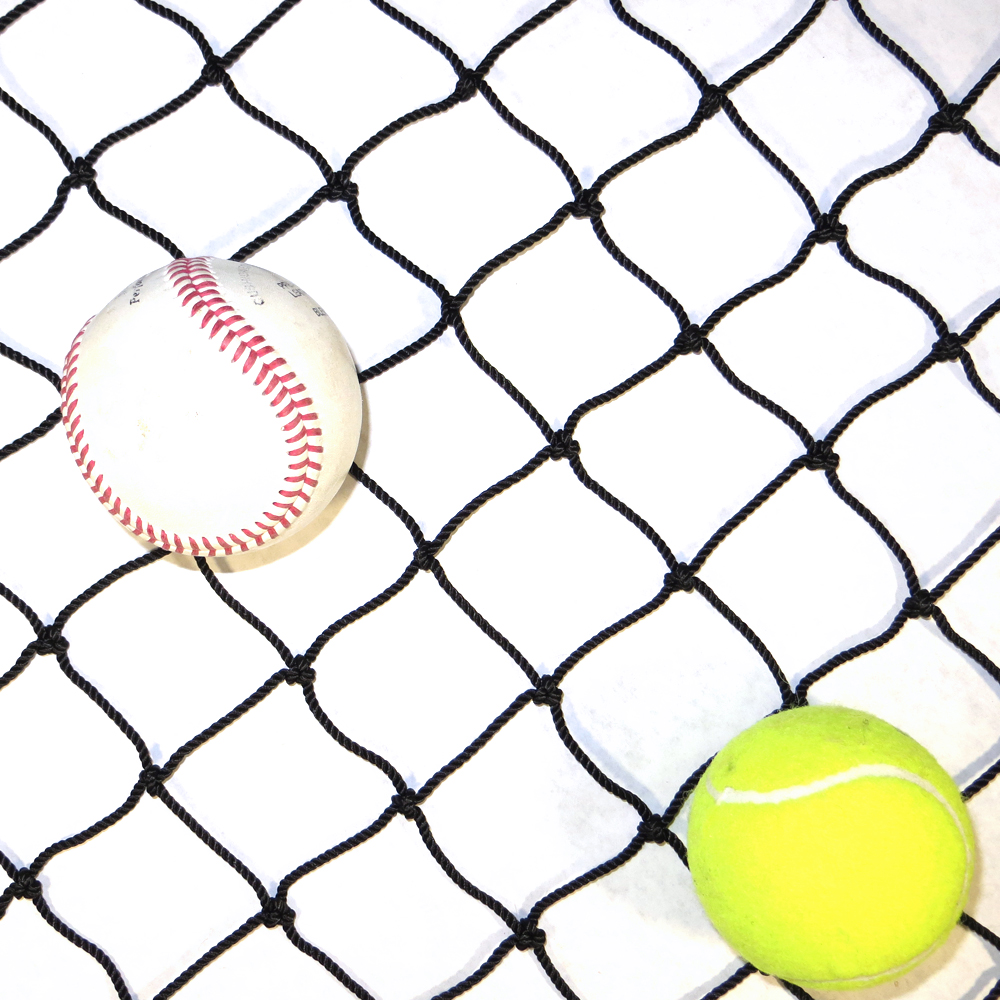 In this second example, the custom batting cage netting was required to be built to an extra tall height in order to function correctly with an existing installation structure that our customer already had on-site at their athletic facility. This net was built to custom sizing of 20′ high X 14′ wide X 70′ long, making it an extra-tall hitting tunnel for baseball and softball batting practice. This custom hitting net also incorporated a pair of 3′ wide overlapping netting entrance doors, as well as a series of extra rope-lines built into the walls and ceiling nets that were needed to line-up with pulleys and attachment points on their framing. This net was constructed in the square mesh pattern #36 X 1-3/4″ knotted nylon netting, with 5/16″ Dacron® polyester rope bordered edges and finishing lines. Production lead-time on this custom batting cage net was 2 working weeks from the day of order to being ready to ship.