Custom Batting Cage Nets and Batting Cage Netting Designs
Gourock.com is a high-quality supplier of custom netting products, including customized batting cage nets and netting enclosure designs. Batting cage nets for baseball and softball hitting and training have always been a very popular netting product that we supply, and they are constructed according to any particular dimensions needed for your batting area. With Gourock.com, our custom batting cage nets are built with DuPont® Type 66-728 Twisted-Knotted Nylon Netting, are hand-prepared per-order, and are 100% Made in the USA. Our netting supply options include different twine thicknesses of the 1-3/4″ mesh size baseball netting, so we have great availability for all batting cage installations – from private residential spaces to high-traffic professional and commercial establishments.
Directly through Gourock's Online Custom Batting Cage Calculator you have immediate access to batting cage nets, pitching tunnel nets, and a variety of dependable netting construction options. We offer you the opportunity to easily order custom batting cage nets online, with fast turnaround timing for production, shipped directly to your location. Because you can specify the netting height, width, and length – with Gourock.com you get batting cage nets made for the best fit within your installation framing, structure, or suspension area. The DuPont® knotted nylon netting is a very durable and dependable baseball net and softball net material to use for long-term strength and abrasion resistance. Fantastic for both outdoor and indoor netting installations, Gourock's custom nylon nets deliver premium performance and ease-of-use. If you have any particular questions or quote requests for your softball or baseball batting cage netting project, always feel free to contact Gourock.com directly and we can assist!
In addition to nets that are built to custom dimensions, we also provide batting cage nets and enclosure netting designs that incorporate other unique features that our customers prefer as well. For instance, there are batting cage net designs that have open ends, entrance doors, tapered shapes, extra rope lines, and a variety of other custom construction requests. Throughout the Gourock website and on our company blog we list many previous examples of really great custom netting designs that have been shipped out over the years – and here are 3 more custom net jobs from the last couple weeks that also help outline some of the convenient custom netting options available for your consideration.
Many thanks again to all of our great customers and custom netting clients! We appreciate your business very much!
Custom Batting Cage Net #1:
This batting cage net features an extra-wide sizing, along with some additional ceiling rope lines for hanging and installing underneath cables/wires. Every other edge has a rope bordering installed, and the netting used was the #36 X 1-3/4″ twisted-knotted nylon. This net was produced for a school district in Texas and is being used for scholastic, organizational, and team batting practice and training. Production leadtime was 7 working days and the net was shipped out to location.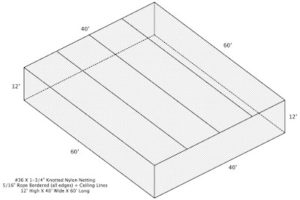 Custom Batting Cage Net #2:
This batting cage net was built from the #21 X 1-3/4″ twisted-knotted DuPont® nylon netting, and features a very traditional set of dimensions for full-size batting cage practice. All edges with the exception of the bottom have a 5/16″ rope bordering installed, and there is a ceiling line down the top netting as well. Our customer requested an entrance door in a particular corner, which was built into the net as a 3′ double-overlap of netting. This batting cage tunnel net also shipped with a cable suspension kit, and is installed at a residential location for private-use batting and pitching. Production leadtime was 6 working days and the net was shipped out to location.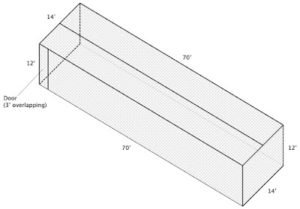 Custom Batting Cage Net #3:
The batting cage netting in this order was very customized with many different unique features. The sizing is extra wide, with a height difference between the back end-panel netting compared with the front and sides. Our customer's preference for this feature was to account for some bottom edge cabling/wiring considerations they needed to work with. Also, this net has an open-end on it, with a secondary netting panel included on the side. The secondary netting panel is being used as a curtain to close-and-open the overall enclosure as preferred. The netting in this job was the #36 X 1-3/4″ twisted-knotted nylon, and the batting cage net design also includes rope bordered edges, weighted-rope bottom perimeter, and additional rope ceiling-lines for installation needs. This commercial-style net is installed at a private training installation in Texas. Production leadtime was 7 working days and the net was shipped out to location.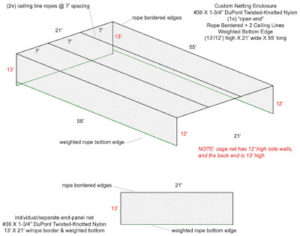 -Josh Grzyb @ www.gourock.com