Custom Netting and Net Productions for Bird Barrier, Gymnasium Lighting Protection, and Baseball Containment
Gourock.com specializes in custom netting supply, and nets that are built to custom sizes and dimensions. The use of netting is a perfect solution for a huge variety of different safety, protection, exclusion, and containment situations and applications. Gourock is a longtime market leader in e-commerce availability for custom nets, netting products, and barrier nets that are constructed to customer-specified sizes. Featuring the highest-quality netting materials including: DuPont® 66-728 Twisted-Knotted Nylon, Type 6 Braided-Knotless Nylon, DuPont® Twisted-Knotted Kevlar, and Twisted-Knotted HMWPE – we are your direct source for 100% Made in USA netting panels and net designs that are prepared according to nearly any sizing needs you have.
The custom netting that we provide is used by our customers for many different needs that they have, usually for various situations in which objects need to be blocked or contained within a particular space or area for safety, protective, or preferential reasons. For broad context, for athletic installations the nets that we ship out are often installed to protect spectators, property, or surrounding areas from errant balls, pucks, or other sports equipment. In another example, within industrial sites and warehouses the nets that we supply are often used for bird exclusion, pallet racking containment, railing barrier, or conveyor belt safety netting requirements. And for many indoor locations the nets that we ship out are often intended to protect lighting, windows, or ducts – and also to dependably contain objects within specified spaces.
At Gourock.com you can get nets and netting prepared according to your own preferred sizes directly through our Online Custom Netting Calculator. We offer a plentiful selection of mesh sizes and twine thicknesses, allowing you convenient access to the best-fitting and performing nets for your intended uses and needs. In addition to nets that are rectangular or square-shaped, at Gourock we can also accommodate many different tapered or angled custom shapes for most netting options as well. Should a more customized shape design for your netting be preferred, we invite you to contact us directly at Gourock.com with your inquiry and we can assist and quote you!
Examples of different custom netting productions are always helpful – and here are 3 recent examples from the last couple weeks for some unique nets and netting productions that we have facilitated. Each of these following examples were quoted and prepared according to customer-specific sizing needs – and a common thread for each is that they incorporate tapers and custom shapes within their design.
Example #1:
This netting production is a very custom shape that has a series of tapered edges along one side that are meant to closely line-up with the roofline of an outdoor industrial storage pavilion in Maine. Our client has a series of storage pavilions at their industrial location, and they need to block birds from getting inside. Bird netting and bird exclusion nets are a specialty of ours, and the best netting selection for this particular barrier application was the #18 X 1″ tarred twisted-knotted nylon netting with a perimeter 5/16″ polyester rope bordering installed. This new net from a couple weeks ago is actually a re-order and duplication of a series of the same netting design that we have previously done a couple times over the years – and the material performs perfectly in the Maine climate. 1″ mesh size knotted nylon netting is a fantastic selection for bird exclusion nets, and the extra tarring treatment to the #18 twisted-twine enhances the netting netting durability and longterm dependability. A net like this is generally completed and ready to ship out within 7-10 working days from the order date.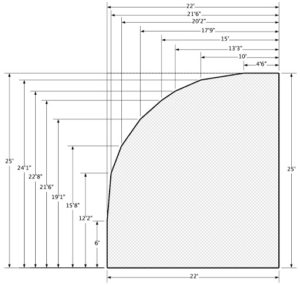 Example #2:
This is a great example of a custom netting enclosure that features a couple different tapered shape requirements that our customer required in order for the net to fit correctly within the installation space. The production image shows the Top View of a baseball batting cage net that demonstrates that one of the netting walls and one of the netting ends both required an angled-shape design. A batting cage net is a 3-dimensional enclosure of netting that has 2 sides, 2 ends, and top/ceiling netting all seamed together with rope bordered edges. From within the enclosed net area you can then do all sorts of baseball and softball batting, pitching, and training while containing the balls within the space. This custom batting cage net was 11′ high X 12′-6″ wide X 35′-10″ long and was built from the #36 X 1-3/4″ twisted-knotted nylon netting. All edges were 5/16″ Dacron® rope-bordered, and there was also a custom entrance door feature installed on one side net as well. A net like this is generally completed and ready to ship out within 7-10 working days from the order date.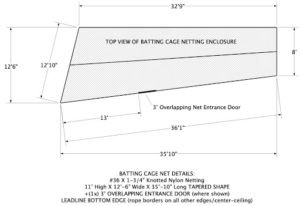 Example #3:
We supply a lot of netting that is built to protect lighting, ceilings, duct-work, and sprinklers within indoor training establishments such as gymnasiums, field houses, and arenas. A very popular type of location that benefits from barrier and containment netting are soccer field houses and indoor soccer field training gyms. Soccer is a type of sport that generally always has some some of ball containment considerations needed to be accounted for, whether the playing location is indoor or outdoor. For the indoor soccer training spaces, Gourock.com often supplies ceiling cover nets and netting panels designed to cover lighting, windows, or other structural aspects that need to be protected from soccer ball impacts. This custom netting panel example shows a net that is 43′ X 54′, with a tapered side that is incorporated into the shape of the finished product. This panel was constructed from the most recommended soccer barrier netting selection we supply, which is the #30 X 4″ twisted-knotted nylon netting. The tapered side of the custom netting shape is to account for an angle in the walls that our customer has at his indoor soccer facility. This netting is covering the ceiling area and is a soccer ball exclusion net to protect the facility lights and vents. A net like this is generally completed and ready to ship out within 7-10 working days from the order date.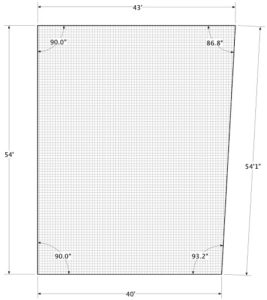 Many thanks again to all of our great customers and custom netting clients! We appreciate your business very much!
-Josh Grzyb @ www.gourock.com